"What song is this" – How many times it happens that after listening to music for a song, you get curious to know the lyrics and name of that song? Almost every one of us loves music, but when it comes to streaming music online, downloading free Mp3 music online or buying new music DVD, we frequently depend on the lyrics and name of the music album. However, it becomes tough to ask for particular song collection in DVD shop when you have no clue of song name or lyrics.
Even if you are looking to download Mp3 music via the internet, neither Google nor any other search engines are of any help to you without knowing the lyrics or name of the song. Because Google and other search engines need keywords related to your desired song but when you are completely unknown of what is the name of this song then how will you come to know what keyword is this song in?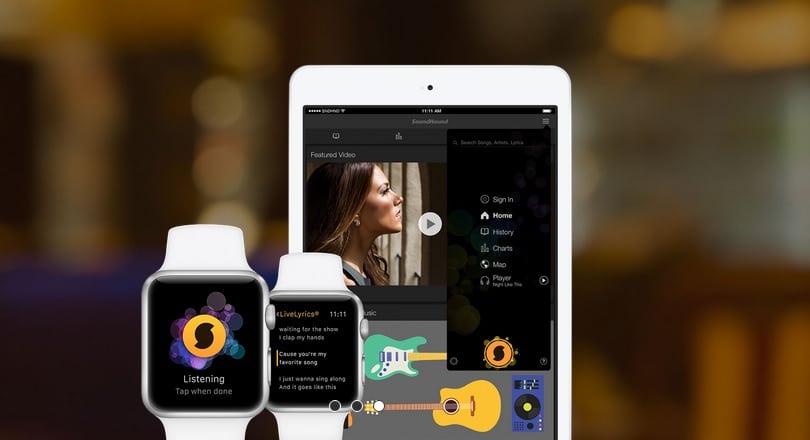 Well, to overcome this difficulty of song recognition, I have a complete guide for you dealing how to identify a song without knowing the song lyrics and how to use various song identifier apps to find song name with the hum of a song.
In this article you'll:
Learn How to Identify Song Using Google Search App on Android with the Help of Google Now?
Know How to Know What Song is This on iPhone Using Apple's Siri?
Find out How to Recognize What Song is This on Windows Phone Using Zune Music Search?
And apart from this, you'll know that why all these music recognition methods fail in identifying the song. And finally, you'll come to know what song identification methods work effectively in telling you the name of the particular song.
Check out: Top 10 Best Mp3 Download Sites for Free Mp3 Music Downloads
1. How to Identify Song Using Google Search App on Android with the Help of Google Now?
The latest Google search app for Android has got smarter with music search and recognition feature. There is a neat trick to know the song name, song lyrics, album name, artist name as well as music download link for that song track.
All you have to do is, while the music is playing around your surrounding, hit the microphone icon on your Google search app, and Google will listen and automatically find the song name and all the details as mentioned above about the song.
Remember: you primarily need not command "Okay Google, what song is this ?" before Google Now feature will listen music playing around your surrounding.
Also Read: 127+ Amazing Google Now Voice Commands to Do Magical Things With Google
Why this song identification method fails?
There are three reasons why the song recognition process using Google Now on Android fails:
Google Now music search feature is available in the US only. So the rest part of the world suffer.
Your Android device needs to be 4.4 KitKat or above. No support for lower Android OS versions like Jelly Bean, Gingerbread, etc.
Google Now may listen to you only in quite surrounding. So how Google will listen what song is playing in a noisy place like when you are in traffic? Apparently, it fails. 🙂
Try: Top 10 Best Mp3 Downloader Apps for Android to Download Mp3 Music
2. How to Know What Song is This on iPhone Using Apple's Siri Command?
During the initial beta release of iOS 8, Apple announced that Siri in iOS 8 would be able to identify what song is playing with music recognition search engine powered by Shazam as Siri would automatically start listening music playing around and will also automatically try to find information related to that song.
But the final public beta of iOS 8 showed that Apple developers removed the automatic listening of music by Siri, and you need to manually command Siri to identify the song by asking, "Hey Siri," "What Song is This" or "What Song is Playing" etc. similar questions.
Though this music recognition method is somewhat effective as it finds the music ID from iTunes and shows various information about song lyrics, artist name, album name including the link to download that particular song. Despite being effective, this identification method fails.
Why this song recognition method fails?
There are three reasons why "what is this song" identification method on iOS using Apple's Siri fails:
When you ask, "Hey Siri, What Song Is Playing" it shows the information related to the song that is playing in your device's music library.
When you try to know what that song is, by asking "Hey Siri, What Song is This" while turning off the music on your iOS device to help Siri listen what music is playing in your surrounding in better way, Siri starts identifying the song being played but fails to categorize the sound of air conditioner, sound of your breathing, sneeze, etc. in the background also. Obviously, you'll not get the desired result with perfection.
If Siri fails to identify the song, you may get an answer like this: "You are not playing any song right now."
Checkout: 11 Best Online Music Streaming Apps for iOS and Android Users
3. How to Recognise What Song is This on Windows Phone Using Zune Music Search?
Windows allows you to find song playing on your Windows Phone as well as other information about it, such as the song title, artist, album, and ways to listen to or buy it. To search for music that is playing, you just have to press the search icon on your phone and tap on music while the music is playing.
After scanning the song music, your Windows phone will answer the song title, artist, album name, and album art will appear for songs that are recognized. But this song recognition method also fails.
Why song identification process by Windows Music Search fails?
There are two reasons why song identification process by Windows Music search fails to identify song:
The Music search can only recognize recorded music, which means it isn't able to know music from live performances or humming.
You need to help Windows in listening to the song by playing a louder song or taking your phone closer to music otherwise it won't be able to recognize the song and hence, you'll get "no matching songs" error message again and again.
Know: 13 Excellent Microsoft Edge Browser Tips and Tricks for Windows 10 Beginners
What Song is This? – Which Song Identification Truly Works? (a.k.a.) Best Song Identification Methods to Identify Song
There are many ways to find song name either using song identifier apps on smartphone mobiles and desktop, using various sites to tell what song this is or using a method to identify music with the help of humans.
A) Top 4 Best Song Identifier Apps to Identify Song on Smartphone/Mobile
Shazam is one of the best music identifier apps that makes discovering music easy. It allows you to identify music, get song lyrics and discover new music also. Using Shazam, you may instantly know what song is this. Simply install the app and let Shazam app listen to music by holding your phone near to music source and Shazam automatically does the work. It completes the process of identifying music and provides you with the various information needed for the song.

With the free version of Shazam, you may identify only five songs each month considering if the tune is not recognized, it doesn't count in tracking limits. However, for unlimited tracking of songs you may take into account buying a paid subscription. Though Shazam works with only pre-recorded music and it can't recognize song with live performances like humming song etc. It is a great song recognition app worth trying.
Musixmatch is the world's largest lyrics catalog where you may listen to the songs in your music library with synced lyrics. It allows you to identify lyrics of the song that you love as well as search for the lyrics of the song while music is playing around you.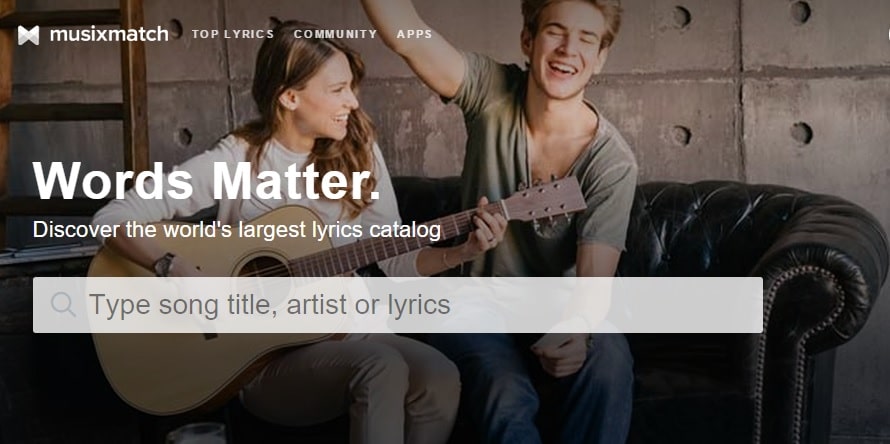 By searching for the lyrics of the song, you'll instantly get the lyrics you're looking for and play the song from YouTube or Spotify. However, if you can't remember the song title or any part of the song lyrics, only take your phone near to audio source and with a simple tap you can identify the song and the lyrics from the Radio, TV or any other audio source.
SoundHound is yet another powerful song identifier app that lets you search, discover and identify music playing around you. To identify any song playing around you, you just have to install the app and tap on the orange button while the music is apparently playing. It automatically searches and finds the song name, lyrics of the song and other information like artist and album name, etc.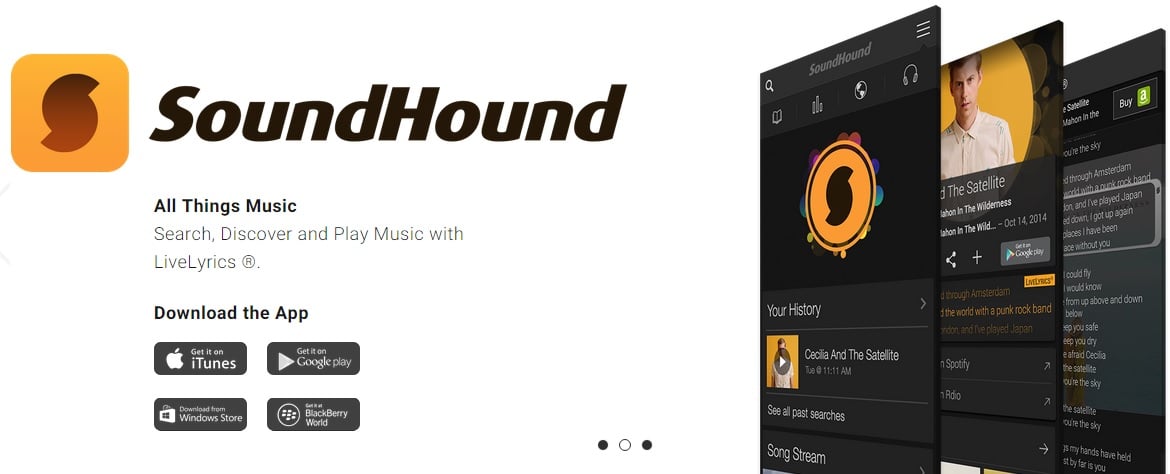 SoundHound is a free music search engine that enables you to find song name after performing music search by singing or humming into SoundHound. As it works on sing/hum search technology, it is perfect song identifier app to find the song name with hum without knowing lyrics.
MusicID is the ultimate music companion for music recognition and songs lyrics identification. It allows you to identify music using your mobile phone. With over 28 million songs in its database, MusicID has a very powerful music search and recognition feature that lets you find song name easily.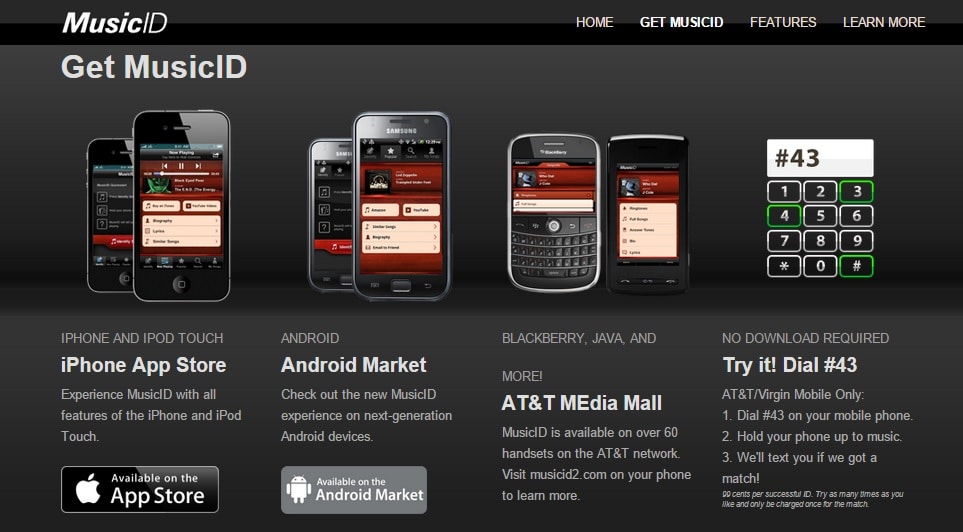 You may download MusicID iOS app to identify music on iPhone, Android app to find music name on your smartphone as well as other mobile phones like Blackberry, Java, and many others. However, if you want to find the name of the song without downloading any software or apps, you may also get music identification by dialing #43 on AT &T and Virgin mobile and holding your mobile near music source. No download is required.
B) Find The Song Name Using Virtual Keyboard
Musipedia is the open music Encyclopedia that lets you search for and identify song even if you know nothing other than the melody of song. It uses MelodyHound music search engine to empower music search functionality.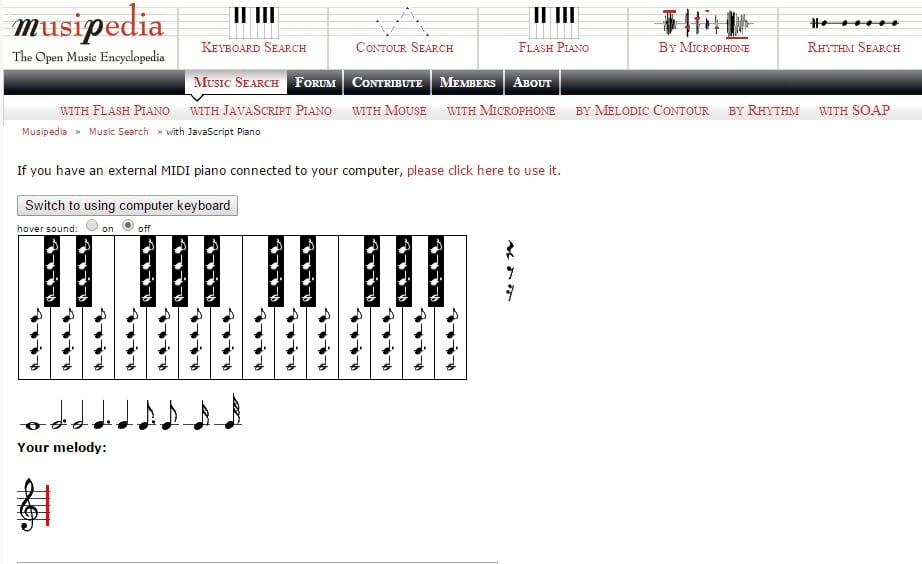 You may search and identify music by entering flash based piano's keyboard, Java-Script-based virtual piano keyboard, by dragging the mouse or using a microphone. Musipedia is a very powerful song name finder as it allows you to find the melody of the song by tapping the rhythms of the song on computer keyboards.
MelodyCatcher is yet another useful online music search engine that lets you find the song name by entering melody of the song with the help of a virtual keyboard Piano. It allows you to play the wanted melody by clicking the keys on Piano, listen to the melody and correct it if there is correction required before searching the tune name.

Finally, as you click the search button or press enter key on your keyboard, MelodyCatcher searches the name of melody and provides you various song names as well as other information with a download link to that song name.
FolkTune Finder is a search engine for finding folk tunes. Using FolkTune Finder music search engines, you may find traditional tunes as well as folk tunes quickly. It offers two types of tune search functionality – Title search to search and find tunes using the title of the tunes while Melody search to search and find a tune using the melody of the tune.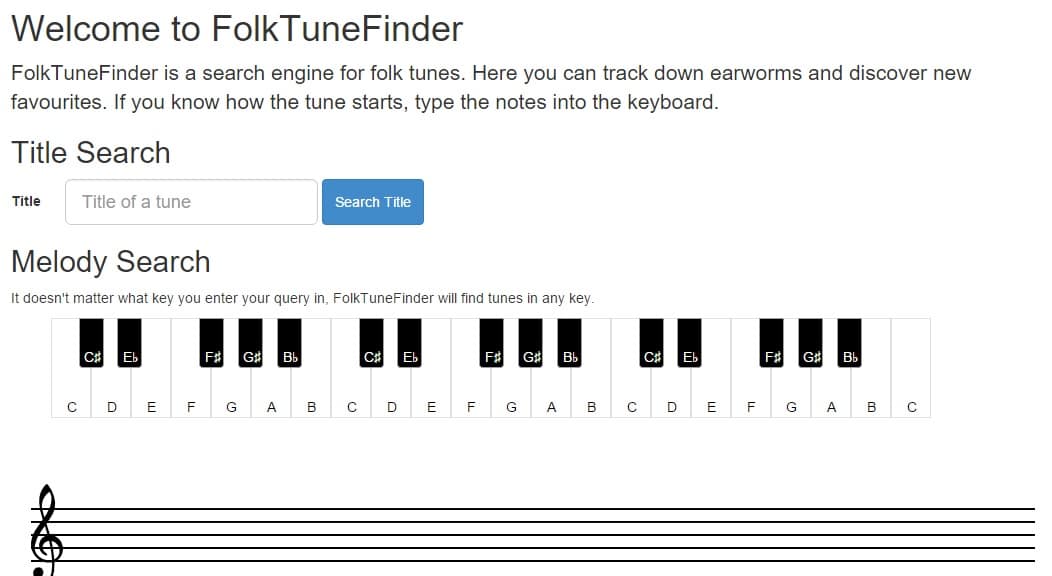 Using the melody search functionality of FolkTune Finder, you may enter any key as the notes on the keyboard, and the FolkTune Finder will automatically find the tunes for you. You may also navigate through other options to find song name and tune like the search for tunes, browse all tunes, random tune, etc.
Also Read: 6 Best Internet Radio Services to Listen Radio Online
C) Find Song Name with the Help of Humans, When Computer or Smartphone Apps Fail in Identifying Music
It often happens that when you fail to know what that song is called as neither the song identifier apps/websites nor song recognition software for Mac, Linux or Windows PC etc. may answer the name of song. So how will you come to know "what song is this ?" when digital devices fail to identify ?
The best way is to ask the creator of these digital devices – Human beings, who have all the answers. Just record a short Mp3 audio of the song or your own humming of the song and upload it to a song identifier community site – WatZatSong (pronounced, "What's That Song). You'll quickly be able to find the name of the song as soon as someone listen to your music sample and answer with the song name.
D) Know "What Song is This" Using Other Song Recognizer Tools That Help You Find Song Name Using Your Own Voice
Name My Tune is yet another web-based song recognition app that lets you find the name of any song by humming. When you need the name of a song, just allow Name My Tune to access your camera and microphone. You hum the song, Name My Tune listens your humming sound using the microphone and automatically searches and finds the name of that song you were humming.
Midomi is the ultimate music search engine that offers instant music search and discovery powered by SoundHound for iPhone or Android. The web-based app of Midomi lets you search and find the name of the song using your own voice.
If you have an unknown tune whose title or song name is not known to you, only use your microphone to sing or hum the song in your own voice and know the song name by searching it through Midomi music search.
Tunatic is a free software to find name of the song on Windows PC or Mac OS X. It is basically a free music identification software that allows you to search music name. Simply download it for free and install on your PC. Though it works offline but to find the song name from its database, it does require internet connection. Tunatic is one of the best song finder software that works smoothly in finding a song name on your PC.
Check : How to Capture Windows Screen ? – Top 10 Best Screen Recording Software for Windows 10
The Pro Review from TechreviewPro
Now that I have provided the complete information about song recognition methods including various song identifier apps, you need not to ask "what's this song is called ?" as you yourself will be able to know what song is this even without knowing lyrics of the song.
Do you know any other song identification method? Do let me know how do you find what is the name of this song?
Don't Miss: