It is no brainer to use free email services like Gmail, Yahoomail, Hotmail, Outlook, etc. while sending business emails as sending business related emails with [email protected] doesn't make a good impression. You must have heard, "the First Impression is The Last Impression" which is true is this case also. If you are going to send an email to anyone other than your friends, family, and relatives, you must use your custom email domain name.
Using your personalized custom email domain name makes your email look professional and provides you advantage over other non-professional looking emails. So if you are going to contact your clients, customers, co-workers, sponsors, other experts in your industry or any other person for business deals, use your personalized custom email domain name to make a long-lasting first impression.
One reason why your emails don't get a reply is that they are just ignored after being considered as other usual emails that are already present in people's inbox. So it is highly recommended that you use your custom email domain name like [email protected] as it helps you receive a quick reply and better open rate.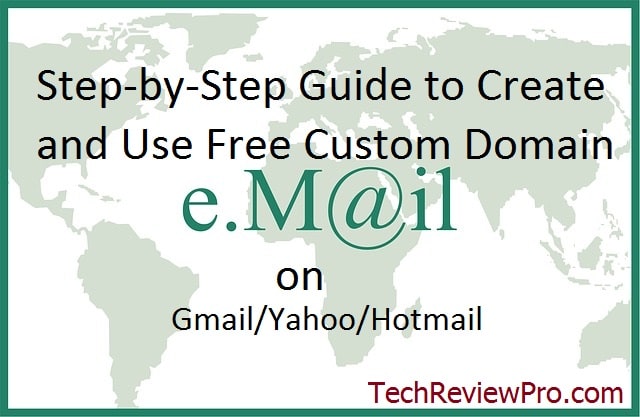 But one common excuse for not using custom email domain is many people don't know how to create a custom email domain name and those who know, find it a little bit confusing to access through webmails or other email clients.
However, you don't need to worry as in this post I'll guide you [Step-by-Step] through creating free custom email domain name and setting up to access right through your Gmail/Yahoo/Hotmail or any other free email service that you use every day.
Checkout: 15 Best Gmail Tips and Tricks to Use Gmail Like A Pro
How to Create Your Own Free Email Domain?
The first step is to create your domain email like the one I have [[email protected]]. If you have already got your custom domain email like [email protected], then you may skip this section and jump to next section. But if you don't have, let me tell you it is very easy to create your custom email domain. And more importantly, it doesn't cost anything to do so.
Many popular domain registrars allow you to create your domain email for free. But I prefer to create from my web hosting service provider. Your choice may be different, but the process is quite similar. So you may select your domain email name provider depending upon your choice.
Since we host TechReviewPro on Bluehost, so I will show you how to create custom email domain name using Bluehost Cpanel. Again the process is quite similar to other hosting services like Hostgator, DreamHost, etc. also.
Step #1
First of all, go to your hosting CPanel, and look for email section where you have to click on email manager. This would take you to a new page where you would be able to create your new email domain name.

Step #2
Next step is to create your custom domain email account. So enter the values like desired email, password, mailbox quota, etc. Make sure you choose a secure password. After entering these basic values, hit create account as shown below.
That's it! You are done with free custom domain email creation, and on the next page, you'll get a message of successful creation. Now the important thing is to configure your custom domain email to access it using Gmail/Hotmail/Yahoo etc.
How to Configure Custom Email Domain Name to use Inside Gmail/Hotmail/Yahoo etc. ?
Now, you'll be able to see some custom domain email accounts that you have created recently inside your email manager section. Just click on More and then select configure email client from the drop-down menu.

Step #3
Now note down the various data for a manual configuration setting from your custom email domain name hosting server. The most important one that is required for configuration is incoming server port address and outgoing server port address.
Step #4
Now login to your email account – Gmail, Hotmail, Yahoo, etc. whatever you prefer. And click on wrench icon from top right [in Gmail] to select settings.
Now in settings, navigate to Accounts and Import tab and click on add another email that you own, a pop-up will ask various details like incoming/outgoing server address, port address, connection type, etc.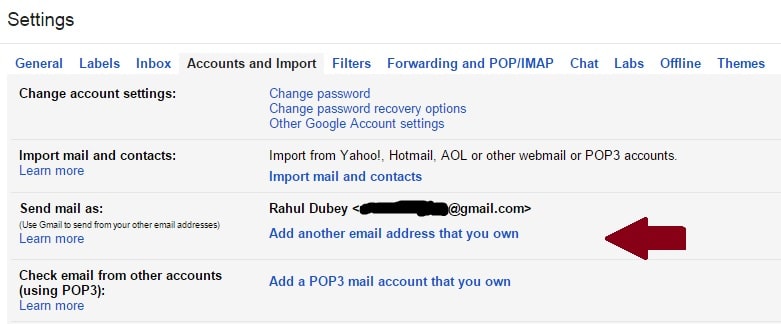 Provide these details to Gmail as you had noted down earlier in step #3, these credentials are necessary to let Gmail successfully verify your server. As you'll get successful server verification message, next step is to verify your ownership of this custom domain email account.
Check your Gmail inbox, a verification email with confirmation code might have been received. Note down the confirmation code and verify your ownership. You are done and all set to access your free domain email using Gmail. Based on your preferences, you may make it default email for every reply also.
Step #5
Finally, click on Add a POP3 mail account that you also own and do similar settings again to make it able to fetch incoming emails so that you could easily check email of your free custom email domain name account quickly inside your Gmail.
Once done with all verification, your incoming emails will automatically be received into your Gmail account, and you don't need to visit your CPanel to check emails.
Well, that's it! It was the process of configuring custom domain email to be accessible using your Gmail. But for Yahoo and Hotmail domain name configuration also, the process is not much different.
Read: How to Know Who Hosts A Site – Discover Web Hosting Provider Behind Any Website
The Pro Review from TechReviewPro
If you are a blogger, internet marketer and offer any online service or simply say, owner of any online business which has an online presence through a website, you must prefer to use your personalized custom domain email for business related conversations. This not only makes a good first impression but also help you gain more customers, clients, deals and better relations.
So do you use your custom email domain name? Do let me know what you think. Also, share any other method to use free email domains (if you know). Use comment box below.
Also Read: