Let us face a truth! Starting a new blog and writing well-crafted creative articles for readers doesn't guarantee your blogging success. To make money blogging, you need traffic! Almost every one of us knows that there are uncountable thousands of ways to drive traffic to the new blog and many of them help you to increase website traffic. But all of them are not worth your efforts.
If you keep focusing on all those ways to boost your blog traffic, you'll surely see a massive overall growth of your blog as the number of people visiting your blog, spending time in reading your blog posts, comments made by them, your social share counts would start increasing. But the sad part is that doing so requires a considerable amount of time as well as hard work.
No doubt, bloggers are very hard working. But if you are a busy blogger and you don't have enough time to go out everywhere to publicize about your newly published post, you need to find out what places are highly productive for you so that you can rely on those sources for maximum increase website traffic.
If You'll Try to Make Everyone Happy, You'll Be A Looser – Unknown.
Now, reverse this quotation –
If You'll Try to Make Only Few People Happy, You'll Surely Be A Winner – Rahul Dubey.
Right, if you focus on only a few places for blog traffic, you'll easily create a good presence there which as a result, would make you the winner. But how will you find out those highly productive traffic sources? It is quite tough!
Don't worry! I'm going to share exactly what you want to know. After reading this post thoroughly, you'll come to know some highly productive places where a few shares of your blog post would result in massive increase website traffic. Overall, my aim is to make you a productive blogger who can get a large chunk of visitors to his/her blog with fewer efforts.
To see, feel and experience a tremendous growth in visitors on your blog, you need to find out people who would like to read your blog posts and share it with them. Because if you just keep hitting publish button and wait for search engines to send massive visitors to your blog posts, it would be like throwing a stone in darkness without exactly knowing what you want to hit.
And hence, it would take years to grow your blog unless you have some excellent search engine optimization techniques that win Google and other search engine's heart. If you don't have those excellent SEO skills, you need to keep reading this post. However, if you have got excellence in search engine optimization then also you need to read this because it can help you get even more visitors to your blog.
So here we go with our list.
1. Facebook Groups
Facebook is the largest social network on this planet. Whenever people don't like to work, they are on Facebook. So it becomes quite easy to find your target audience on Facebook. Usually, brands create a Facebook fan page where they connect with their potential customers. If you have a brand, your one update via fan page will bring out a huge number of visitors to link shared by you.
But if you are not a brand and relatively new to Facebook marketing, you need to do this.
Join Facebook Groups of your niche. Just search with "tech" if you are in tech niche, and a large number of groups you'll see in results. Visit each one and click on "Join Group." Wait for admin approval, and you are all set to go.
The group having a large number of members should be preferred but not at the cost of quality as many groups are filled with useless users who never visit the groups. Make sure you join only a few but active groups having quality members.
Read the rules of the group and share your latest posts accordingly. Some groups are open only for discussions and helping each other members while some other let you do free promotion.
The Facebook groups that let you share your post and links be more active in those groups and share your latest posts after publishing. This will help you get massive increase website traffic.
While sharing your post, don't just put a link but better use an attractive description with a magnetic headline and eye-catching image so that viewers may not avoid them clicking on your shared link.
Finally, please maintain Take and Give rule. If you wish to see a massive increase in website traffic due to the visit of other members of the group, you need to visit there too. This way you can maintain the quality of group without spamming.
Bonus Tip: Create your own Facebook Group like [we have] Blogging Star and add quality members, share each other's posts and turn it into a network of huge targeted members.
2. Google+ Communities
Google Plus is the second largest social network. Yes, you heard it right! Now it has left Twitter behind in terms users base and growth.
The links shared on Google+ have great SEO values. It is not something new for search engine optimization professionals that if you want to rank something high in Google, simply get lots of share on Google+. After all, a key point worth noticing is – Google+ is a social network owned by Google itself.
But, there is a similar case with Google+ brand page as you need lots of people in your connection for a large number of shares and driving maximum quality traffic to links shared by you via your Google+ brand page. However, you may overcome this difficulty by sharing your latest blog posts in Google+ communities.
However, it is worth noting that the Google+ communities moderators and admins are very strict with their community rules and guidelines. Spammers are banned immediately, and if they report, your entire Google+ profile or even other Google product and services may be banned by Google itself.
So better follow these tips to see massive increase website traffic from Google+ communities.
Search for communities related to your niche and interest, and join communities.
Read terms and guideline rules for community members as breaking rules may get you banned. [Discussed above]
Now, the rule is quite twisted here on Google+. Instead of "Take and Give," it is "Give and Take" now! So first give, then take. So start hitting +1 on links shared by other users, commenting on their links and first build a good friendly relationship with them.
Make sure you don't share your posts in your initial interaction with community and community members.
Once you started being noticed by other members, start sharing yours. But don't leave doing +1 and commenting on their posts so that you may easily maintain a friendly relationship with them. Google+ community members are very quality members as compared to Facebook group members. They can be a great source of huge website traffic forever; you just need to show your friendly attitude.
Again while sharing on any social media, the rule of thumb is to have an eye-catching featured thumbnail image and attractive description to make viewers eager to click and visit your links.
Maintain relevancy, as there is no point in sharing the post about "social media marketing" in the community of "WordPress Developers."
3. LinkedIn Groups
A few years back, LinkedIn was meant to be only for professionals. But LinkedIn is no longer a community for professionals only. There is almost all category of users with different choice, taste and interests present out there. So all you need is to get best out of them and turn them into your potential audience.
LinkedIn allows you to create and manage groups of your choice [like Facebook]. So follow these tips to increase website traffic using LinkedIn groups.
Join Groups of your interest or niche.
Read groups rules and guidelines and share your blog posts accordingly.
Before sharing, maintain Give and Take practice. Interact and build relations with other professionals.
Many professionals have a large following on other social networks, so if you got noticed, their one share or one tweet could bring out an unbelievable large chunk of visitors to your blog post. And you can become a blogging star overnight.
To build a strong presence in LinkedIn groups, you must be willing to devote some time and remain active in the group.
4. Blogging Communities
There is a common phrase in Blog-o-sphere. To have fun with link minded people, bloggers hang out at Blogging Communities. But is that true? Yeah, indeed. But it is not all about having fun only.
Blogging communities can be a great source of driving quality referral traffic to your blog posts. Here what I mean by quality is that traffic that matters. The concept is that most of the members of blogging communities are bloggers, so they definitely would help you get more comments which indirectly help you build your blog as a trust-worthy brand and improved SERPs ranking.
So you have to join and share your blog posts in popular blogging communities. Here is a list of recommended popular blogging communities:
IndiBlogger [My Favorite, Made in India and Only for Indians]
Inbound.org
BizSugar
However, without an effective working strategy, it is not possible to see massive increase website traffic using blogging communities. So to help you succeed I have included all tips & strategy here.
First of all, register and join the various communities. There is no hard and fast rule here like joining niche oriented communities as in every community; there are many categories for almost every type of bloggers.
After sign up, fill out your profile by providing various details including your blog URL which is a must. This will be helpful in getting some quality backlinks as well as promoting your blog.
Don't rush away for submitting your blog post initially. Do read rules and guidelines as some communities have set specific rules for link submission and approval. Be smart here, look for someone who is very active and popular in that community and submit his/her blog post for the first time. You'll get approval very easily with this submitted link.
Once approved, start sharing yours. Again good attractive description and catchy headline matters.
Again, you have to Give here. Do vote other users' post, comment on their posts and in return, they'll vote and comment on yours too. A large number of votes will take your blog post to the home page which means your server is going to crash obviously, due to a large number of visitors. [PS: Make sure you have a top quality web hosting service like Bluehost, Hostgator, DreamHost, etc. ]
5. Blog Commenting
Though not so easy but blog commenting is most effective way to increase website traffic which is often over-looked by many bloggers. There are thousands of articles present out over the web which would tell you the various reasons why you must do blog commenting and I'm not going to cover those reasons here but one thing I would say is –
Blog commenting is a short form of guest posting by which you have got a golden chance to market yourself as an authority and promote your blog as a brand before the crowd set by others if you leave a meaningful attractive comment that adds value. – Rahul Dubey.
Sadly, blog commenting has reached to unwanted height of dirty link building as many people just comment with a motto to get a backlink without adding values. Such people are known to be spammers. But I must say, if you don't meant to belong to spamming group, you can leverage this as a great way to increase website traffic.
Now don't blame me if your website traffic would sky rocket within a week using these tricks for driving massive traffic from blog commenting.
Find Out some top blogs in your niche.
Subscribe to their RSS feed so that you must be the first to know when a new blog post is published on that blog.
After the notification, rush instantly there and read the article completely and leave a meaningful comment that adds value. Quick comments like "Awesome post," "Nice post," "Thanks" etc. without getting the idea of a message being conveyed by that post will not do. The reason is that your comments will never be accepted. So it would certainly be a waste of your efforts.
But if you got successful in leaving a meaningful comment as top 1-10 comments on that blog, you would easily be able to drive a good number of visitors from those well-established blogs.
Now, you must be thinking – "If this post is about sharing the latest blog post for maximum increase website traffic, how the latest post can be shared by blog commenting ?" Okay, I'm here to tell you.
Find CommentLuv enabled blogs; they let you include URL of your latest blog post thus linking to your last published blog post which in turn can give you huge traffic boost if you have drafted a clickable headline.
Bonus Tip: Commenting on ComLuv enabled dofollow blog can also increase your backlinks which indirectly help you boost your site's SEO.
Aha ! 2200+ words and you are still reading! Slow down, take a break and don't forget to share a cup of coffee with me. Because it's going to be lengthy. Meantime, share this post with your friends and call them to join this coffee party with you and me!
6. StumbleUpon
StumbleUpon is a content discovery network where you can discover and stumble new, exciting and interesting content. People all around the web love to stumble interesting articles. If you can deliver some interesting articles which other users will like then StumbleUpon can be very beneficial for you in driving a huge number of quality visitors to your website.
By now, you must have understood what I mean by quality visitors!
There is a large number of user base so called "Stumblers" StumbleUpon has and is growing very quickly. So you need to have an effective technique to drive massive traffic from StumbleUpon to your website. Like this :
First of all register for a free account at StumbleUpon and create a stunning profile that catches everyone's attention.
Now follow like minded people and start exploring various useful and interesting stuff.
You can go ahead and share your articles at this stage, but I would rather recommend to wait for few days and initially share some fascinating and useful content from the web. This way you can build trust in your community as a non-selfish member.
Be active and once you got a feeling like you are helping the community to make it a compelling community, start exploring yours. But make sure you don't only share your own. Attach importance to kinds of stuff from other members too.
While sharing stuff, use proper images, description, and tags in the appropriate category.
Just share and let the number of Stumbles grow and then wait to see the magic.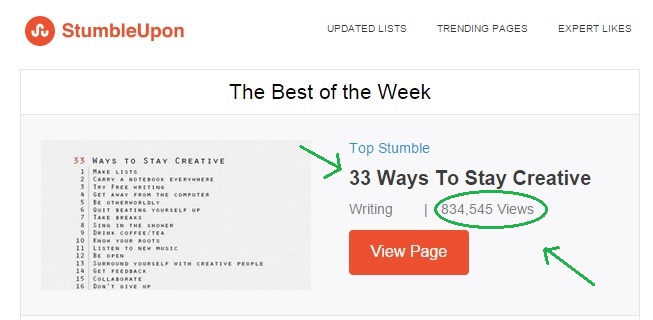 Bonus Tip: List posts like "22 Effective Productivity Tips to Stay Ahead in 2015" works best on StumbleUpon. If your post got lots of views and stumbles, you would be surprised to see the magical analytics figures.
7. Question-Answer Communities
The primary purpose of blogging should be to share useful information in your articles and help readers via your blog posts. However, you can help users by answering their queries in question-answer communities also.
But the smart idea behind this concept is to include your blog post URL as a reference to your answer to help them further. If your blog post covers a useful tutorial or guide, just share your post link on these communities, and you can get massive increase website traffic.
There are many question-answer communities present out there. I include few very active communities here.
Mahalo.com
Answerbag.com
Now the key idea and efficient strategy that works in driving massive website traffic from these answer communities are as follows:
First of all, visit all of these question-answer communities and register for a free account.
Some of these like Quora, let you set up your profile. So complete your profile providing basic details. Make sure you include your website/blog URL in your profile.
Follow few topic of your interest and popular members also. Following topic of your choice would help you grab basic idea about how other experts in your niche topic are answering and helping needy members while following popular members will help you track their activities and you'll come to analyze how they are leveraging the power of answering communities to drive massive traffic to their website.
Now when you are ready with basics, start answering. For example, if you have a detailed tutorial about taking complete WordPress database backup automatically, visit any of these communities and search with "WordPress Backup," you'll see various questions asked about WordPress backup. Now visit each of them and write a quick answer and include your blog post URL of the tutorial.
That's it! Just use this strategy and devoting 5-10 minutes daily can drive massive evergreen quality and targeted traffic to your blog post.
But make sure you don't spam with just placing your irrelevant URL as some communities have very strict guidelines for spammers. Also, this way you can help them maintain the quality of these beautiful communities.
Bonus Tip: Quora is a very active answering community with a good page rank so that you can grab some quality backlinks also.
The Pro Review from TechReviewPro
As I discussed earlier in this post, there are uncountable thousands of ways to increase website traffic, but here I have shared only productive places from where you can drive massive traffic effortlessly by devoting few hours(or even lesser) every day.
So you have learned the comprehensive strategy to drive traffic by your own efforts. So stop worrying about traffic. Just start rocking!
Stop Complaining ! Stop Worrying ! . . . . . . . . Start Acting ! Start Rocking !
By now, we have reached 3000+ words. And now, I'm quite sure you are ready to take this challenge. Why not take one more challenge?
Take this challenge and share this post with your friends on Facebook, Twitter, Google+ etc.
I'm sure you love winning challenges ! Okay, here concludes our complete guide that would help you to get more visitors to your website. Thanks for reading and sharing this post. However, if I missed any, please use comment box below to add more to this story. I truly love hearing from you.
Which is your most productive place to drive maximum visitors to your site?
Bonus Reading: 5 Things You Must Care About Your Blog
Exclusive :