Want to try iOS on Android? That sounds crazy! Who might want to do that? Well, you'll be surprised that the best iOS launchers for Android which offer iOS-like interface are in high demand at the Play Store. And, the primary reason (mostly) for you to come here is that you want to try out how iOS feels like. If you want to make your Android phone look like iPhones, there are many good iPhone launchers for Android that will help you do that.
However, even the best iOS launchers for Android would fail to give you the real experience of an iOS system. But, it is something almost similar to the user experience in an iPhone (At least considering the look but not performance). Although your Android device won't turn into an iPhone after installing these iPhone launchers (obviously!), but you could realize a fact here that Android comes baked in with more customization abilities than iOS ever had (sorry iOS users!) which even makes your Android look like an iOS device.
Also Read: What is the Best Launcher for Android? – Top 7 Best Android Launcher Apps
5 Best iOS Launchers for Android to Make Android Phone Look Like iPhones
So, we've made a listicle which includes five of the best iOS launchers for Android to help you along!
#5. Launcher for iOS 10
It's quite surprising when you get such polished iOS like polished UI in an Android launcher for free. Well, that's what this being one of the best iOS launchers for Android proves to be. It offers a great iOS-like experience. Icons are well designed and sharp. It's easy to use and consumes less RAM. So, yes, it is a resource-friendly iPhone launcher for Android if you have a device that does not perform much faster than expected.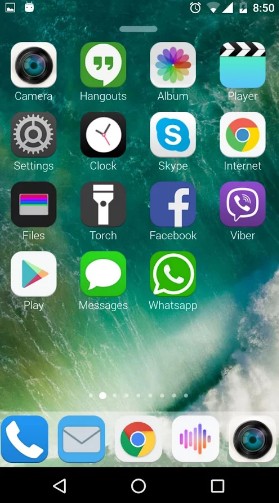 Launcher for iOS 10 is the best we could find. If you are searching for the best iOS launchers for Android and at the same time, you want to experience the latest iOS 10 UI, it proves it's worth. In addition, it provides a built-in lock screen which resembles the look of an iPhone. So, you'll get a complete treat of having an iOS launcher and a lock screen theme to resemble that of an iPhone.
#4. xOS Launcher
xOS Launcher is a free iOS launcher for Android. However, it doesn't come with an iOS native style lock screen add-on. But, it does offer you creative HD icons which aren't as stock iOS icons but look great on your home screen. Not much of features but you would be only able to enable/disable the status bar.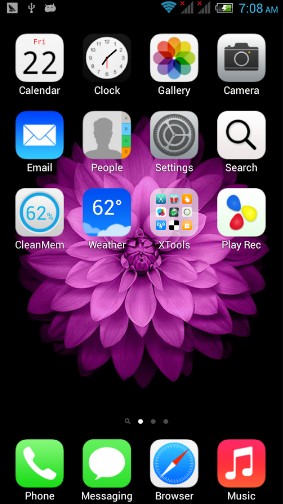 You'll definitely like using this iPhone launcher on Android for a longer period because of its icon pack. The icons seem very natural and perfect to resemble the look of an iOS device.
#3. Pro 8 Launcher
Even as the name suggests – "Pro," but it is free to use with no in-app advertisements. If you are looking for a free iPhone launcher for Android, Pro 8 Launcher is one of the best iOS launchers to have. Here, you will observe a slightly modified interface, but it looks great and supports transparent status bar as well which would help to blend in the iOS look on top of Android.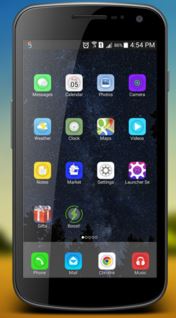 The iOS launcher for Android comes baked in with HD Retina-ready quality wallpapers. You would be glad to set the preloaded wallpapers. You might not require additional wallpaper apps for Android because the wallpapers offered with the launcher are very impressive! So, it seems that the developer knows what suits the best with the launcher. Well, that's not the end of it, it also provides a separate lock screen with pin lock enabled. Alternatively, you can also use the native style – "slide to unlock" lock screen style which the launcher offers.
#2. One Launcher
One Launcher is yet another popular iPhone launcher for Android that resembles the original UI quality. The icons have been modified but are very sharp and of high quality. It supports various transition effects which include- Windmill, Bulldoze, Cube, Rotate, etc.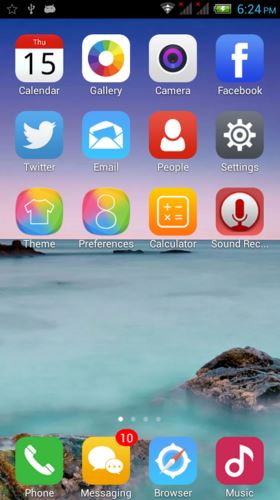 One Launcher is one of the best iOS launchers for Android that provides a clean user experience along with a broad range of features supported. It also includes some of the smart widgets/features, one being the desktop clock and another would be a dynamic calendar icon which changes the date automatically according to your system's time.
#1. i Launcher OS 9
i Launcher is a completely free iOS launcher for Android. Don't worry; the launcher does not contain in-app advertisements. So, it would provide a clean and intuitive UI which looks quite similar to that of a true iOS system. It is smooth, and the icons are sharp as well. Doesn't demand much of the resources, and works well on a dual-core processor powered device.
Even after you pay a large sum of amount, you won't easily get the perfect iOS look as this launcher delivers being a free app at the same time. You can get the free icon packs which you usually use it on Nova or Apex launcher and apply it on iLauncher to make it look even better. With this launcher installed if you integrate a keyboard app that looks exactly like an iOS keyboard, you might feel using an iOS device (not necessarily, but this launcher does make a significant difference).
Also Check: What are the Best Android Icon Packs? – Top 13 Best Paid Icon Packs for Android
The Pro Review From TechReviewPro
You would want to install one of these launchers on Android just for simulating how iOS looks like, or you may even take it as decision-making processes to think whether you should switch to iOS or not (considering the UI experience). If you've got some extra bucks, you may go ahead getting a paid iOS launcher. But, if you regularly explore different launchers, I don't think you should go for a paid iOS launcher for Android (because you won't be using it for too long!).
Did we miss any of your favorite iOS launchers available for Android? Let us know in the comments section below.
Don't Miss: