It is a known fact that Snapchat is one of the most popular messaging apps out there. It has millions and millions of users that can't go a day without using or enjoying whatever new features the app has for them. Snapchat's popularity has grown to such an extent that even other apps like Instagram, copy features Snapchat already has.
As you can see, Snapchat receives all kinds of attention, but unfortunately, that also includes the kind of attention no one wants; the wrong kind. There are hackers out there that either try to bring the app down or try to get into the user's account by hacking them.
First, let's see what signs you should look out for to confirm that your account has been hacked and how to recover Snapchat account once it's been confirmed that someone else has taken control of your account. If you are sure that your account is compromised, it won't hurt to change Snapchat password; it's something that the experts recommend you do from time to time.
Also Read: How to Hide Best Friends on Snapchat? – Quick Guide to Hiding Best Friend List on Snapchat
How to Identify if your Snapchat Account is Hacked?
When a Snapchat account has been hacked, certain signs will confirm it. It's important that you watch out for this signs to either confirm or deny that someone has illegally accessed your account.
Suspicious behavior to look out for is if your account sends out spam that you know you didn't send. It's important to stay on top of this since sending spam to other users is a reason why Snapchat might lock you out of your account.
Have you received an alert notifying you that a Snapchat session has been started from a device or location other than the one you use? Don't ignore those signals since that is another important sign.
Another sign of a hacked Snapchat account is always having to sign into Snapchat every time you want to use it. Many might ignore this one thinking that maybe the app is simply not working, but don't be fooled. Most Snapchat users are careful as to who they have on their contact list. If you see a contact that you know you didn't add, that is another sign to identify hacked Snapchat account.
Make sure that the phone number or the Email that's related to your account is the right one. If you notice that it's not the same, well, you know what that means.
How to Change Snapchat Password or Recover Hacked Snapchat Account?
Now that the worst is confirmed, it's time to recover hacked Snapchat account and get your account back. No one likes to have their accounts hacked, but it has a tendency to happen. The first thing that you need to do is change Snapchat password. Snapchat has a page especially for that so you can protect your account. When choosing a new password, create a complex password for Snapchat. Refer to this quick but comprehensive guide to create a strong password which is easy to remember.
Create one with that at least 8 characters long, has numbers, letters, symbols, lower and upper case. Whatever you do, don't create a password that consists of anyone's birthday or personal information. These kinds of passwords are easy to guess and if you use that sort of password again, don't be surprised if you get hacked again.
Now that you have a strong password, and it's time to set and verify your Email address. You can do this by opening Snapchat and tapping on the ghost at the top. You should see the gear icon on the upper right-hand corner, tap on that too.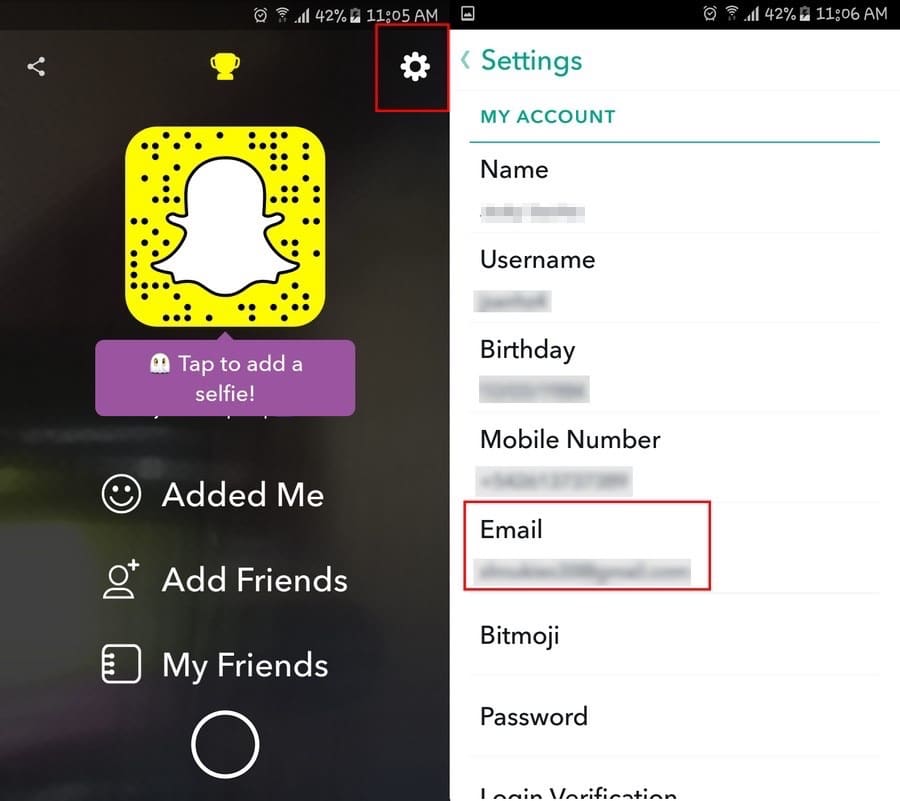 Once you are in Settings, tap on Email. You will know that you haven't verified your Email address because your Settings gear icon will be red. If you are guilty as charged of not confirming your Email, you can do that now.
Tap on the red gear icon that appears in the upper right-hand corner of your Profile page. Select your Email in the Settings screen that should also be highlighted in red. You will now have to wait for an Email to be sent your inbox. The Email is going to have a set of easy to follow instructions you will need to follow.
Enable Login Verification to Enhance Security After Changing Snapchat Password
Enabling Login Verification will also add an extra layer of protection to your Snapchat account. To access this feature go to Settings like you did before. Scroll down and right below Password, you should see Login Verification.
Snapchat will send you a verification code to confirm, and once you or your phone enters the code, it's all set up. From now on, anytime you want to access your Snapchat account from a device the app doesn't recognize, you will need to enter your password and the code the app will send to your phone.
Also Read: What Happens When You Block Someone on Snapchat? How to Unblock Someone on Snapchat?
How to Stay Safe on SnapChat?
It's hard to know how a hacker can get into your account. Except for the 2014 Snapchat hack where users information was published on a public site, that was later taken down. That was a devastating blow to the app, but you can bet that they took the necessary measures, so that doesn't happen again.
Those kinds of hacks rarely happen, so that means that it's the users that can regularly do things that will put their account in danger. The biggest mistake you can make is to think that you will never be a victim of anything. That those kinds of things happen to other people and not you. Then you are careless with your security settings.
Try not to use third-party Snapchat apps that are from unknown sources. Those kinds of apps don't have a multi-million dollar budget and probably can't offer you the security settings your account needs to keep your account safe. Don't send snaps to people that use apps such as Snap Save to save that images you send. These Third-party apps just might be the reason your account is compromised.
If you have done everything mentioned, but you still don't feel safe, you can always change your phone number. It is easier said than done for some, but if it's not a big deal for you, then I recommend you do that. The phone number changing process is probably different with each carrier, and some might charge you while others will do it for free.
Turn Off Find Friends Feature
To keep your account safe, Snapchat has also turned off the Find Friends features that requested your friend's phone numbers. If you want to add another layer of security to your Snapchat account, make sure that you always have this feature turned off. If you share your phone with someone or let your kids play with it, it's a good idea to check every day that it's turned off.
Also Read: Find Snapchat Friends: How to Find Friends on Snapchat?
Don't Keep Your Snapchat Information Online
The reasons as to why you would keep your Snapchat information online for future reference are endless. Maybe you want to be able always to remember your Snapchat username for friends. That way others can add you anytime and anywhere. You may also want to make sure that you can always access Snapchat from another device.
If this is a must for you, don't save that information on apps that you have on your phone. Even if you have locked that app with a password, that app itself could get hacked. By doing that, you have unnecessarily put your Snapchat account at risk.
If you had stored the information on a USB drive or at least encrypted it, you wouldn't be having this problem right now.
Also Read: 7 Best Instagram Collage Apps for Making Awesome Instagram Collages
The Pro Review from TechReviewPro
As you can see, the more popular you are the more the enemy targets you. Popular apps such as Snapchat are always beefing up security to keep you safe, but it's also a good idea that you put some effort into it too. If you do, it will be less likely that your account will get hacked.
The precautions you take will certainly pay off and you will enjoy the peace of mind that you have done everything to keep your account safe. Has your account ever been hacked?
Don't Miss: