One of the many things you use your smartphone for is to listen to music. Whether you go for online music streaming or listening downloaded music from best music downloader, music is a great way to stay entertained while you are on the bus or waiting in the doctor's office. Besides keeping us entertained, it is something that doesn't always require an Internet connection.
To enjoy your music, you are going to need a good music player, some good headphones and a dull moment that will give you the distraction-free moment you need. Unfortunately, not all Android devices have a music player that includes a decent equalizer sound booster that will help you set up the sound just the way you like. Thankfully, there are many equalizer sound booster apps for Android that help you boost sound quality on Android.
Adjusting the Sound Settings to Boost Sound Quality on Android Device
The sound settings your Android device has is nothing compared to what the following equalizer sound booster apps have to offer, but it doesn't hurt to get to know them. If your Android device has Android 6.0 Marshmallow you can improve your device's sound by going to Settings > Sound and Vibrations > Scroll down to Sound quality and effects > Toggle on SoundAlive+ and Tube Amp.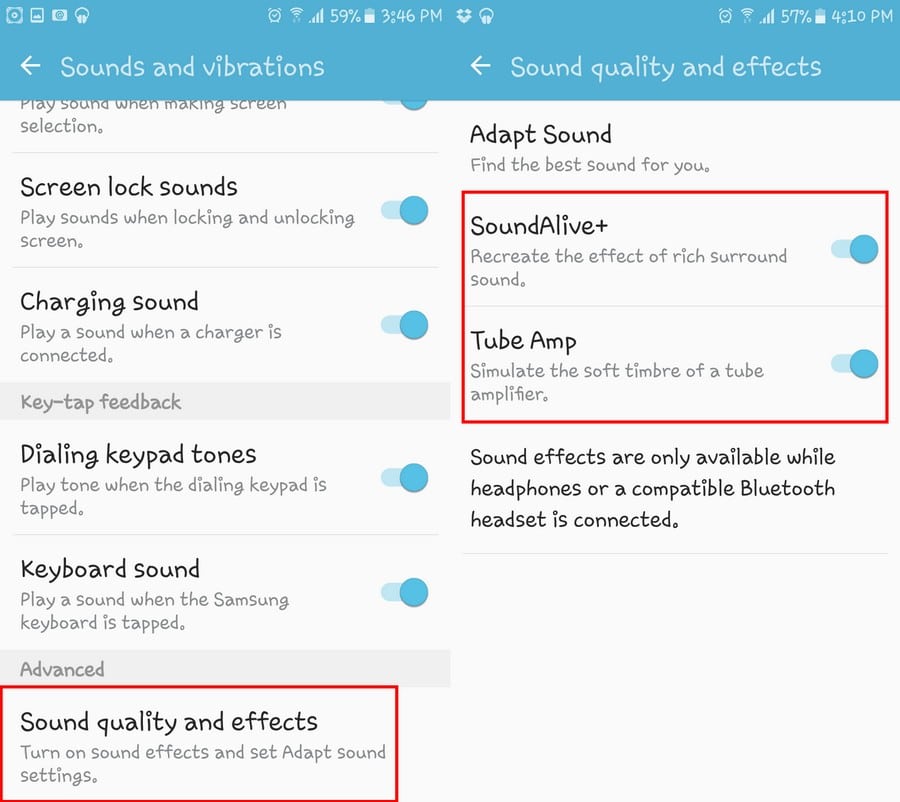 What these features do is that they recreate the effect of rich surround sound (SoundAlive+) and simulate the soft timbre of a tube amplifier (Tube Amp).
I would recommend turning these features on before downloading equalizer sound booster apps to see if they can give you the sound you are looking for.
How Does an Equalizer Sound Booster App Help Your Android Device?
Depending on the kind of music you like, you are still going to want to listen to your favorite music in the best way possible, right? The thing is that not all Android devices are prepared to give you the sound quality you want.
Devices such as the Samsung Galaxy S7 Edge has a feature where you can configure the sound for it to either sound more high pitched or not. Despite that feature, it doesn't mean that the music might sound exactly how you want it to.
Also Read: Top 7 Best Ringtone Downloading Apps for Android for Free Ringtone Downloads
Top 7 Best Equalizer Sound Booster Apps for Android to Boost Sound Quality on Android
A phone can't guess if you want to highlight the vocals or make the music sound a certain way. That what equalizer sound booster apps are for, but since not all phones have them, here a seven sound booster apps for Android, you can try out.
A very popular equalizer sound booster app on Google Play is Music Volume EQ. It is an Android sound booster app that is free to download but will make you stare at an ad at the bottom.
You can choose between five band equalizers such as 60Hz, 230 Hz, 910 Hz, 3kHz, and 14kHz. Other options include a bass boost, Master gain control alongside a VU meter that features green-to-red indicators.
If you go to Settings, you are going to find all the goodies that are also going to make Music Volume EQ one of your favorite equalizer sound booster apps. In Settings, you can enable the fullscreen mode, change the theme, make the home widget transparent, have the equalizer sound booster app start on its own when you turn on your phone.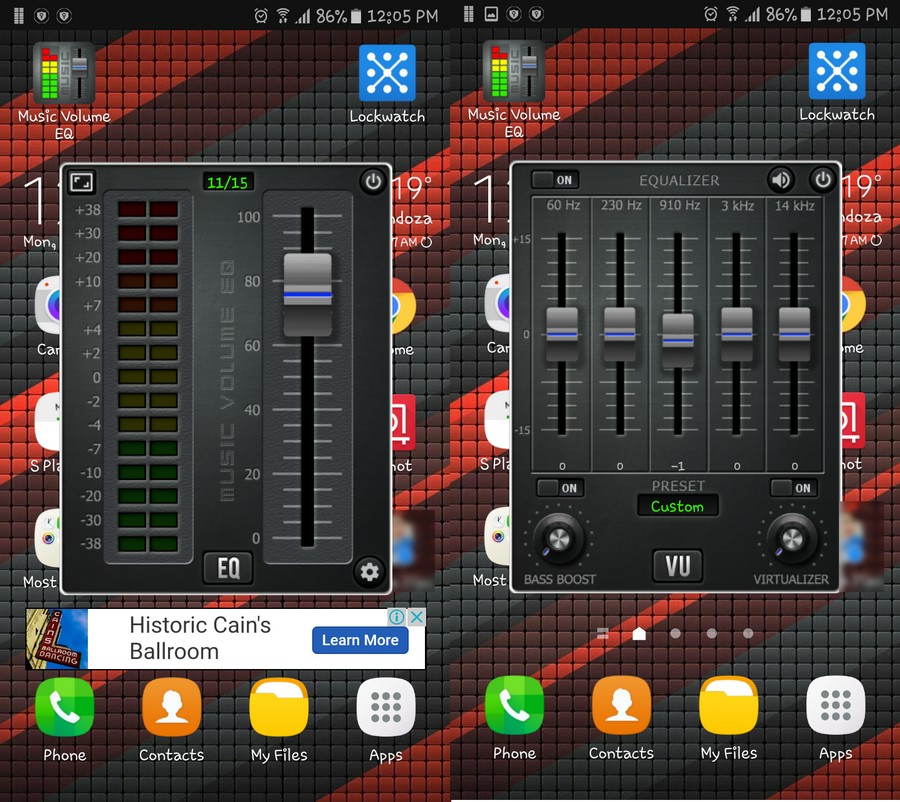 You also have the option to Lock the media volume so audio can only be changed by the gain slider on the app controls sound output levels. Almost forgot, you can even program the background service to stop when the volume to at 0.
Other options you will find in Settings is to start the equalizer screen first, for the app to start on status bar notification click and Auto start or stop the equalizer.
Bass Booster is another equalizer sound booster app you are going to love. It is free, and it has over 10 million downloads on Google Play. It features 5 Bands Equalizer (6 on some phone), 20 presets and a customizable preset.
The presets are fantastic for beginners. If you have no idea what settings the app should have if you are listening to Pop, tap on the up triangle and select the genre of music, you are going to listen to. After that, the Bass Booster app will make the necessary changes so you can enjoy the best sound possible. Let the equalizer sound booster app do the work for you.
By tapping on the gear icon on top, you can go to Settings. There you have the app boost the volume when the phone rings or during a conversation. So, if your friends tell you that they have a hard time hearing you, now you know what sound booster app for Android to get.
You can also change the color of the equalizer. You can choose between colors such as Bollywood, Green, Fire, Vintage, System and default.
With over 50 Million downloads, you can say that Poweramp is the most popular equalizer sound booster app for Android out there. Poweramp is a music player with a ten band equalizer so you can get the precision you want. The equalizer sound booster app also has other things you can fiddle with such changing the balance, the volume or Stereo sound.
The sound booster app can play all kinds of formats such as MP3, MP4/M4A (incl.alac), OGG, WMA, FLAC, WAV, Ape, WV, TTA, MPC, and AIFF. Poweramp features a tag editor, configurable lock screen, four widget types, scrobbling, fast library scan, and then there are the separate Bass and Treble adjustment tool.
If you want to sing along to the song you are listening to, don't forget to use the lyrics support so you know what to sing and you'll want to include lyrics search through the musiXmatch plugin. Set the song you are listening to as your ringtone without ever leaving the app by going to Settings and selecting Ringtone. As you can see, it is a very useful equalizer sound booster app for Android.
With a six-band EQ, Equalizer FX wants to be one of the best equalizer sound booster apps you keep on your Android device. You can enjoy features such as presets, bass boost, and visualization settings. With this sound booster app, your custom profiles will be safe and sound.
For example, let's say that you want to listen to some Rock music. Create a profile called Rocking and then set the audio to the necessary settings. By doing this, all your settings will already be personalized whenever you feel like listening to different types of music such as Rock.
Equalizer FX offers 12 presets, and under the Effects tab, you can manually set the Bass Boost, the virtualization, and the loudness enhancer. If you are looking for an equalizer sound booster app for Android with a user-friendly interface, then Equalizer FX is the app for you.
You can easily navigate section to section by either tapping on the name itself or slide your finger to the sides.
5. Music Equalizer
Music Equalizer is a volume slider with a five-band equalizer virtualizer and a bass booster. If you have a device that lacks volume control, this would be of great help. You have nine preset equalizer profiles to choose from that are the primary that come in every equalizer sound booster app.
If you don't see the profile you need, you can always create your own. Another feature you can use is the volume lock option, so you never accidentally change anything and change the settings to took you so much time to set up. Besides that, there is not much else to the equalizer sound booster app. If you are looking for a volume booster app for Android that keeps things simple and straightforward, this is a good option.
Equalizer and BassBooster can also give you the tools you need to improve your Android's sound. It will increase the API to give you an audio improvement with 15 levels of settings. It can also give you 12 settings for bass boost and the same amount for sound virtualization.
I couldn't leave the five channel equalizer out with options such as 60 Hz, 230 Hz, 910 Hz, 3.6 kHz, and 14 kHz. You also enjoy great visuals while you are listening to your music. The equalizer sound booster app also offers a visualizer if you are using the compact version of the app or if you are using the full-screen mode. I encountered a few ads here and there, but it wasn't too annoying, and the ads were easy to close. If you want to go Pro, you can buy that version for $2.99.
If after reading what this volume booster app can do for you, you want to buy it, it can be all your for $4.44. First, let us see what this equalizer sound booster app has to offer before you buy it, shall we? PlayerPro Music Player is a music player and a complete one for that matter. It has a 4.6 rating on Google Play, an indicator that this will not let you down like it didn't let me down.
PlayerPro is also a five-band app but offers a larger option when it comes to choosing a preset. It has Bass and a virtualizer knob for easy access and adjustment. In the Reverb tab, you can select the area where you are listening to music to for better enhancement. You can choose between Small, Medium, or Large room. It also covers Plate, Medium, and large halls as well. Make sure that your device supports Reverbs effects since it will not work on all devices.
By sliding your finger from the left side of your display, you gain access to kinds of files. You can gain access to your videos, songs, playlists, Genres, Composers, artists, albums and search. The search feature is great when you have too many files and don't have time to search file by file.
The trial version of the equalizer sound booster app is only good for two weeks. But I think that that is more than enough time to decide if you want the app or not. This might not be the most important part of the app, but it has one good looking interface. It was the sound booster app that provided the sound settings I was looking for in an equalizer sound booster.
Also Read: What Song Is This? – 11 Best Song Identifier Apps to Know "What Song Is This" Without Knowing Lyrics
The Pro Review from TechReviewPro
Equalizers work with bands or ranges. Thanks to the equalizer sound booster apps for Android, you can boost and cut the low and high ranges. In other words, the treble and the bass. The more bands you are working with, the better since you dealing with more divisions in the large range of human hearing.
Ever wonder why those professional music systems sound so amazing? It is because those type of music systems use 20 to 30 bands, wow! Since each band manages a limited range of frequencies, it has more control over the sound. Which equalizer sound booster app do you think you will download? Share your thoughts in the comments.
Don't Miss: