Android Tower Defense games are usually addictive. The reason – you have a responsibility to save your territory from being attacked! It becomes a second virtual world to you. Of course, you should not take it much seriously that you start getting real crazy.
But, it offers so much of fun to experience. Not just fun, but it also keeps your brain busy in a good way. The better you defend, the sharper your brain is. Yes, it does require utilizing human brains. Playing games is not an unproductive thing (not always!), it's much more than that!
Also Read: How to Play Atari Breakout Games? – 6 Best Websites and Apps to Play Atari Breakout
Top 10 Best Android Tower Defense Games [Free and Paid]
So, to let you experience the best, we have compiled a list of best Android tower defense games that you would dig for.
Packed with great choices of TD (Tower Defense) weapons. Tower Madness 2 is one of the most popular tower defense games for Android. It gives a 3-D experience. As mentioned earlier, you get a good set of weapons which include – Stun, Missile, Railgun, Plasma, and mortar as well. The game offers different maps to keep you engaged.
You have to protect your sheep and defeat the evil Aliens from invading. As you play, upgrade your weapons to prove the aliens that they are not the only with evil power!
Bloons TD5 is one of the funniest and challenging Android tower defense games. The graphics quality is excellent and doesn't need a good performing device. In a nutshell, it works quite well even on a low-end device.
Here, you play the role of a special agent (a monkey), and according to the points, you can hire better agents to defend the tower. You will need to invest the points/money in the monkey lab. Besides, it provides three different game modes. Unfortunately, it's a paid Android tower defense gaming app that would cost you around 1.5 USD. But, I must admit, its worth it!
An impressive Android Tower Defense game which presents a legendary storyline. You are one of the prime defenders. Of course, you are a skilled master, but the invaders aren't weak as well.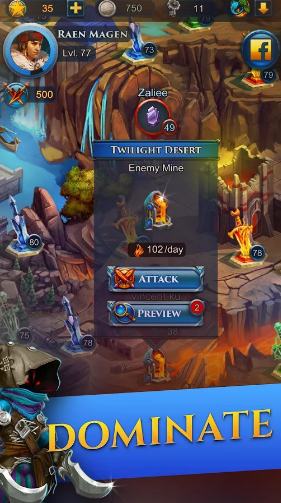 Yes, invaders, they have come to steal your precious treasure. You get to use the magical powers and dominate the attackers. As you play, you will be able to unlock deadly spells which would be enough to kill them all at once. It offers an immersive gameplay, and we would recommend trying it out!
Developed by Electronic Arts, this Android tower defense game is an expected mega hit among the various best tower defense games for Android. It doesn't fit exactly in the "tower defense" category. But, you need to protect your brain by deploying plants strategically and upgrade them to kill the evil zombies.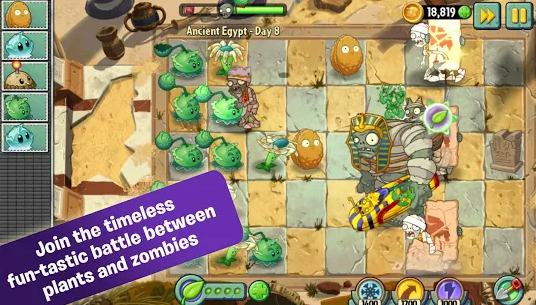 The zombies would look funny to you at the start, but when you fail to defeat them, you'll find them to be challenging. The game is free, but it's not a small packaged game (but 629 MB in size). It is also one of the best "no WiFi games" that you can play without WiFi.
Tower Defense: Infinite War is yet another good Android tower defense game. The game offers a clash of clans type experience. Well, that would differ for various users according to their taste. It is an engaging tower defense title. An action-packed strategy game as well. A mixture of puzzle exists as well.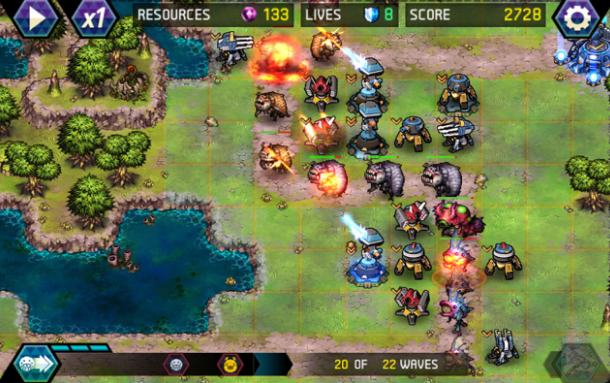 You need to earn more resources to upgrade and deploy weapons to defend. It offers three game modes which include – Single campaign, challenge, and infinite. It also provides 5 different world themes. The enemies do look aggressive and evil, but you will love killing them!
Alien Creeps TD is one of the most loved tower defense games for Android. The graphics quality is damn impressive! It offers an engaging experience. If you are the one who gets bored enough with classic tower defense games, this one is for you.
Alien Creeps presents modern action-packed heroes and villains. You get to command powerful heroes and a lot of powerful weapons to utilize as well. Well, unquestionably, you would be the ultimate hero but do not underestimate the enemies here. The enemies are elite soldiers as well!
Radiant Defense is one of the unique Android tower defense games available on the Play Store. It may look weird to some, but there are a lot of users who love the user interface and colors presented in this game.
It is based on a similar storyline of Alien invasion. However, the game gives access to several unique weapons of choice. Each weapon with a different ability and having pros/cons makes the game exciting and challenging. You can play this game on an Android TV as well.
Following a similar concept, as you would find with the Alien Creeper, this Android tower defense game offers a lot more action. If you are in search for a modern, rich in graphics and a good storyline in an Android tower defense game, this would be the ultimate choice.
It offers advanced weaponry which would keep you hooked on playing it all day. Surprisingly, even with a demanding graphics, it blends in to perform well on low-end devices as well. Also, we observed, at some point in time, guessing and strategizing properly would let you win the level easily.
9. Castle Defense 2
Castle defense presents a situation where the demons have started attacking the human race. We have some legendary heroes to help defend them. The heroes won't be useful unless upgraded continuously.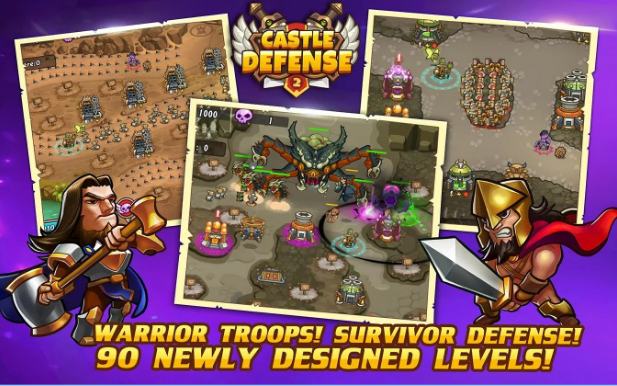 Also, you will get to use ancient magic to kill the demons! It offers 90 different types of newly designed levels. The graphics quality is promising, considering the file size of the game (34 MB). So, it performs good, even on a low-end device.
Kingdom Rush is one of the award-winning tower defense games for Android. It is also among the highest rated Android tower defense games on the Play Store. The game is interactive, and the graphics quality looks pretty polished. A great collection of terrains to play on.
The game brings in 40 different types of evil enemies. This time, you can't win defending against the soldiers. After you kill a particular kind of creature (enemy), you get into boss fights, where you will have to kill the leader of their species. That won't be easy!
Also Read: 8 Best Pen and Paper Games to Play on Paper and Have Fun
The Pro Review From TechReviewPro
There are several other Android tower defense games. However, not every game deserves to be called as the best. My personal favorites would be – Epic War and Alien creep. The simplest but yet an excellent pick would be Plants vs Zombies 2. If you love animals, you should try playing the role of a special agent monkey with Bloon TD 5. And, the rest would depend on your personal preferences.
Did we miss one of your deserving favorites? Spotted a fresh new tower defense game which deserves to be featured here? Let us know about your thoughts on the comment section below.
Don't Miss: