Stickman game character would always be loved. The fact that the character blends in any gaming genre are what people like. No matter if you are a shooting game fan or a soccer game lover. Stickman would always be there! From stickman fighting games or stickman shooting games to stickman soccer games. Stickman gaming character is fantastic.
We have already taken a look at the best stickman games for Android (overall). However, for the people who admire shooting games do need to look at this list as we list some of the best stickman shooting games or stickman fighting games.
Do note that we have not ranked these stickman fighting games according to the number associated with it. We would leave the task of choosing the best stickman fighting games to you and help you with the best available at the Play Store.
Also Read: 9 Best Racing Games for Android – Paid and Free Android Racing Games
7 Best Stickman Fighting Games – Best Stickman Shooting Games for Android
So let's take a look at 7 of the best stickman fighting games that stickman shooting games lovers will love.
Gun Fu is a highly addictive stickman fighting game available at the Play Store. It is indeed one of the best stickman shooting games we have had.
Gun Fu offers a decent graphics quality being a simple game for shooting. It tests your reaction time while putting you into an intense situation being attacked from every corner of the screen. You have to be quick enough to kill, or you will be killed.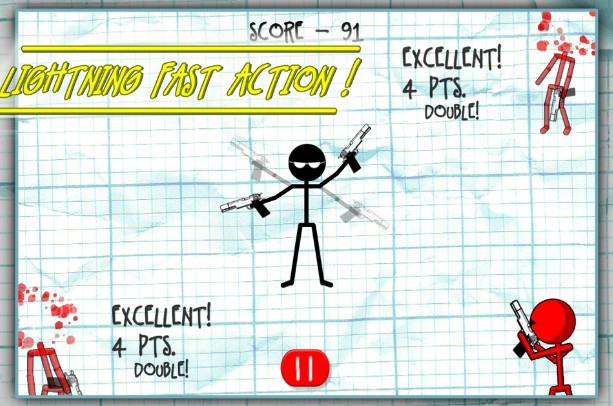 It is similar to a quick gun session but only with more opponents to deal with at once. As you play on, you will unlock a variety of characters armed with a broad range of weaponry. The game offers several types of guns (paint gun, silent gun, rocket launcher, ninja stars, and so on) which makes things interesting.
2. Stick Squad 4 – Sniper's Eye

Stick Squad 4 is an exciting stickman shooting game available for Android. Here, a young billionaire has sent two assassins to complete what needs to be done.
The billionaire would put you through the missions with a particular set of objectives. If you complete all the objectives associated with the mission, it leads getting yourself a three star along with achievement to share on the social network. It offers a decent graphics quality and a great gameplay experience. The stickman fighting game also brings in some of the coolest locations to carry out the mission to success.
With Stick Squad 4, you deal with sniping missions with sniper rifles, handguns, and assault weapons. As you progress through the missions, you can earn points to upgrade your weapon of choice. The more you upgrade your weapons, the faster it is likely for you to complete the missions. Stick Squad 4 does include in-app advertisements, but you can get rid of them by paying a small fee via in-app purchases.
3. Stick Squad 3 – Modern Shooter
Stick Squad 3 is a prequel to the stickman fighting game mentioned above. However, it is not the same. Stick Squad 3 deals with a different weapon set, a different take, and a different set of missions.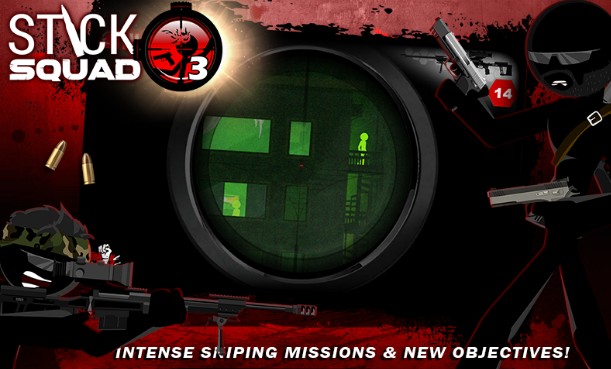 You will have to find and hunt down the head of a big criminal organization responsible for several murder cases. Although you get sniping missions, the game focuses more on assault weapons.

Stick Squad 3 is one of the best stickman fighting games for Android featuring intense assault missions. Similar to the sequel, it lets you get rid of the in-app advertisements via in-app purchases.
Stickman Battlefields is one of the perfect stickman fighting games which justify being a complete package of an action-packed 2D battlefield atmosphere.
The game features a variety of weapons, gadgets, and vehicles. You can upgrade the weapons and gadgets to improve your chances of completing a mission. Stickman Battlefields offers both Single player campaign mode and an online multiplayer mode as well.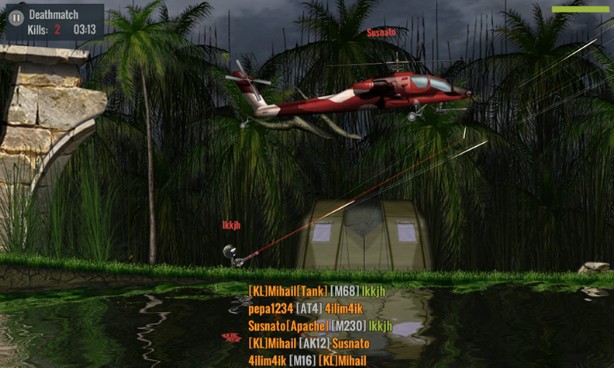 You can board vehicles and tanks to kill all of your enemies quickly. It also offers you a unique gameplay experience by providing realistic terrain structures where you get to destroy trees and buildings to make your way killing all of your enemies. The parachute makes it even way cooler. If you have ever played on online gaming sites such as Miniclip, then it may remind you of the Commando game which is a super popular online game that people still enjoy at Miniclip.
5. Stickman Shooter 3D
Stickman Shooter 3D presents you a 3D action-packed stickman fighting game. The city is being flooded with crazy stickmen who are eager to get kill you.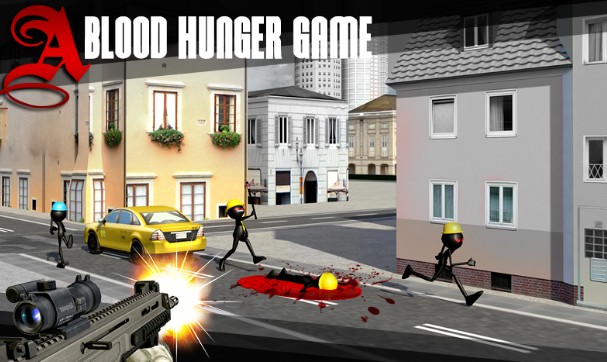 It is not an easy task killing all of the stickmen who are approaching to attack you. No doubt, you have got weapons and ammo to kill them. However, you have limited ammo to deal with each mission. So, you need to conserve the ammo and improve your shooting skills to kill as much as possible with the least number of bullets (i.e., a headshot is your only option to survive for a long time).
Stickman Shooter 3D presents a decent gameplay experience but could have more missions to look out for in the next update.
League of Stickman presents warrior action scenes. The game is a bit similar to Shadow fight but a lot different regarding the storyline, graphics, and the powers of the characters.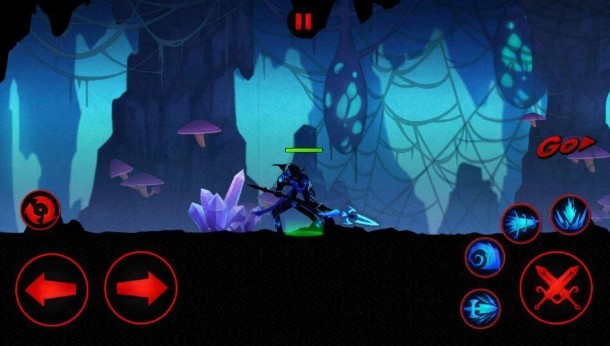 As you play on, you get to unlock powerful characters which would help you progress in the game and finally kill all of your equivalently powered enemies. In the League of Stickman, each character offers a different set of skills. You will have to decide before putting them to the test.
The stickman fighting game also brings in the leaderboards where you can team up and compete with the players all around the world. What could be more interesting? Give it a try!
Stickman Revenge 3 is yet another impressive stickman fighting game available for Android. Here, revenge is what it takes to kill all of your enemies in a single pass.
Stickman is furious than ever, and there are new characters introduced with great powers. In this stickman game for fighting, you can unlock pets to assist you in the fight with their special abilities. You may think of the pets as one of your Pokemon to help you along.
Also Read: Top 10 Best Android Tower Defense Games [Free and Paid]
The Pro Review from TechReviewPro
We do have a lot of stickman fighting games available at the Play Store. However, the above ones are the best stickman games for shooting we could pick for you to experience. 
Did we miss any of your favorite stickman games for Android? Let us know your thoughts in the comments section.
Don't Miss: