Invoicing is one of the most important functions of a business. You need to create detailed invoices for your transaction to keep a record and manage your accounts. Without proper invoicing, managing business accounts and clearing payments would become almost impossible.
However, creating invoices manually can be quite a daunting task. You will have to create a perfect format and then fill in the details, which can take hours if you are not used to working with tools like Word or Excel. Thankfully, there are developers out there who make things easier for us. There is a number of websites that will let you create and send invoice online.
Also Read: Top 10 Free Online Receipt Generator and Invoice Maker to Create Custom Receipts
9 Best Online Invoice Creator to Generate Invoice Online for Free
All you will have to do is fill in the details of your services and the rest will be handled by the invoice generator. The free online invoice creator can create an invoice, send it to the recipient and even track payments for you. Below we have listed the 9 best online invoice creators that are simple to use and will create an invoice online for free.
If you are a bit confused about how to create an Invoice and what details to enter, then FreshBooks Free Invoice Creator is the best place to take help from. They have a very hand-holding interface, which will let you create a full invoice with step-by-step instructions. You will have to complete each step in order to move to the next one, and there will be a full explanation of what you need to enter.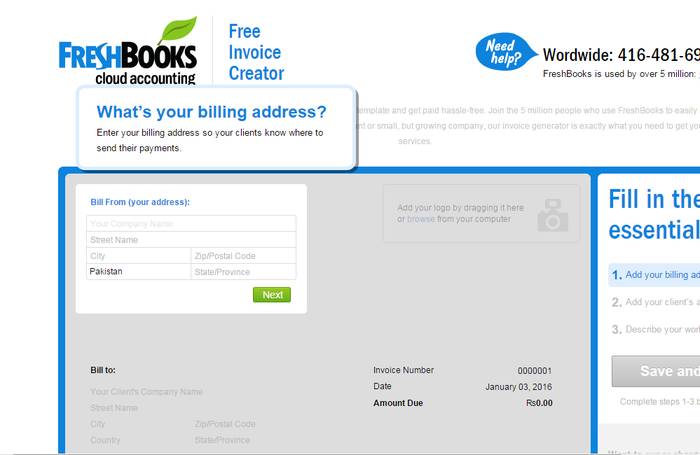 You can change currency, manage tax and discounts and even add a logo of your company. You can sign up with FreshBooks to further enhance your invoice and manage it.
Read: Top 20 Best Ticket System for Free Online Business Support
Zoho is a renowned software company that offers reliable solutions for business. You can use Zoho Online Free Invoice Generator to create invoices online and also manage them. It has a very simple and easy to follow a template, which can be easily edited. You can provide details of the client and yourself and provide invoice due date to get notifications.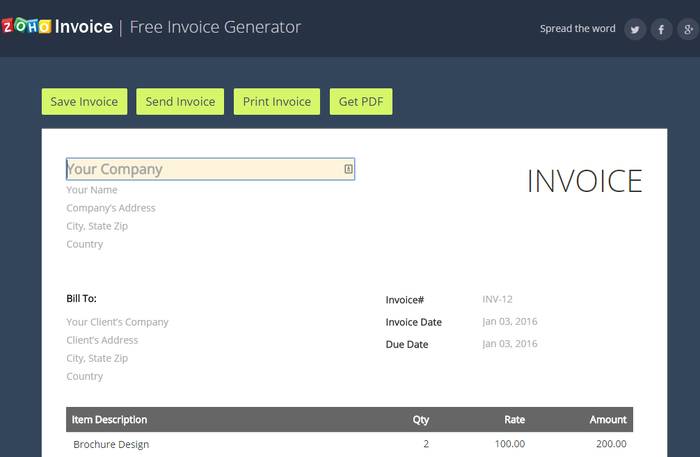 Once the invoice has been created, you can print it out or save it as a PDF on your PC for free. You can also save the invoice in Zoho's cloud storage or send it right from Zoho's website, but you will be required to sign-up for Zoho services. Signing up will also let you manage all your invoices and get notifications of payments and invoices due date.
Checkout: 17+ Excellent Sites to Create Your Own Cartoon Character and Cartoonize Yourself
Free Invoice Maker is an advanced invoice creation tool that offers a very customizable invoice template. It doesn't offer the most intuitive interface, but still, it is good enough for creating a professional invoice. Apart from basic information about your company and your client, you can add a logo to make your invoice even more attractive.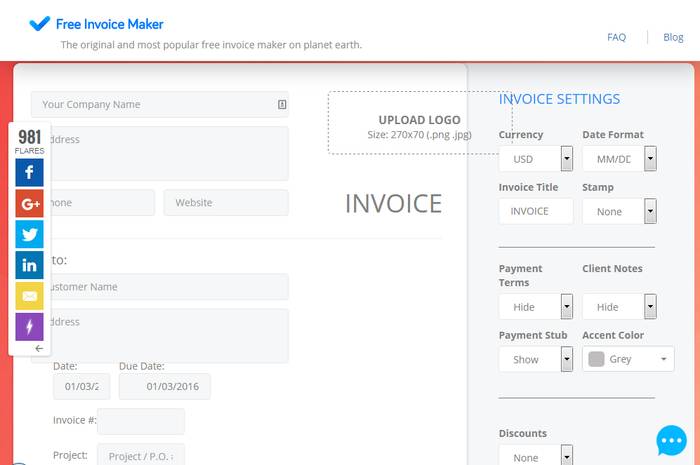 You are also able to define currency, show or hide notes and terms, manage discounts and tax as well as change the color of the invoice to match your company's theme. There is a separate column for "Payment Stub" to keep a record of the payment. The generated invoice can be emailed or downloaded in PDF format.
Also Read: How to Learn Coding Online? – 13+ Excellent Programming Resource Websites
If you are looking for a simple yet feature-rich invoice generator website, then Invoice-o-matic can do a great job. It has a very professional yet simple invoice template, which is completely customizable. You have options to specify your work, including hours, quantity and unit price.
There is a section to enter your payments details as well, so you can easily receive the payment. There is also an option to enter tax details that remains disabled by default. You can click on the "Settings" button to enable this option. While you are in the settings, you might also like to change the currency type as you want.
Checkout: 7 Best Paid and Free Online Meeting Tools for Web Conferencing
InvoiceToMe has an invoice template with an older design, best for companies that still prefer simple tables to include information. It focuses on laying down the details of the products and services used and making it easier to keep a tab on them.
You can add a personal message right in the middle of the invoice to further increase the chances of getting the payment on time. It also supports all the required features like tax calculation and the ability to change currency. The invoice can be downloaded as a PDF file when you are done filling it.
Read: 13+ Excellent Free Large File Sharing Tools to Securely Send Large Files Online
Online Invoices is a place for creating and managing invoices. Although they do offer some paid services, their free invoice creating service is more than enough for most users. Online Invoices lets you choose from a number of free templates to create an invoice according to your requirement. Some invoice templates include Sales Invoice Template, UK Invoice Template no VAT, Construction Invoice Template, Photography Invoice Template, Sole Trader Invoice Template and many more.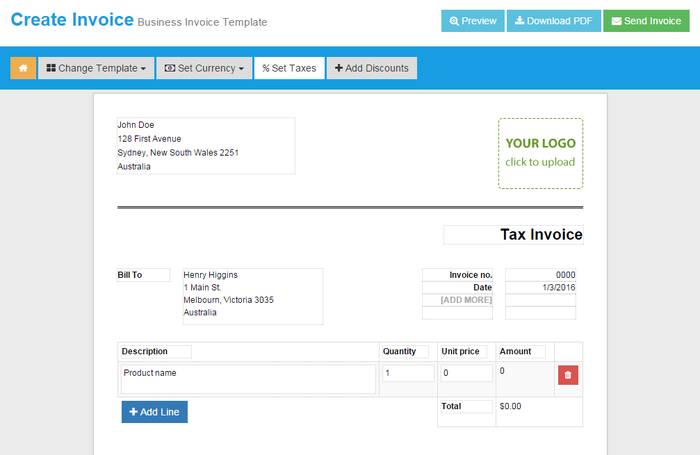 The templates are also quite advanced and intuitive with the ability to change currency and calculate tax and discounts. Once the invoice is created, you can download it as a PDF or Send and track it by signing up with Online Invoices.
Checkout: 11 Best Online PDF to Word Converters and Word to PDF Converters
Invoiced is a paid invoice generating and managing service, but it offers a Lite package that will let you create intuitive and professional invoices. It asks for the least details to be filled in, but still, it covers all the required aspects of an invoice. You can easily add a Logo, change currency, add notes, calculate tax and save invoices to their servers.
You can download the finished invoice in PDF format or send it using the Invoiced service. Furthermore, you can manage payments, receive payments through different services and track invoices.
Also Read: How to Convert PDF to Word Document Online for Free?
Invoice Home offers hundreds of invoice templates to choose from and all the templates are extremely easy to edit. There aren't any specific spaces to fill, just big text boxes with headings to write up a text according to your requirement. You can add your own logo or choose from a list of logo and clip art to make your invoice attractive.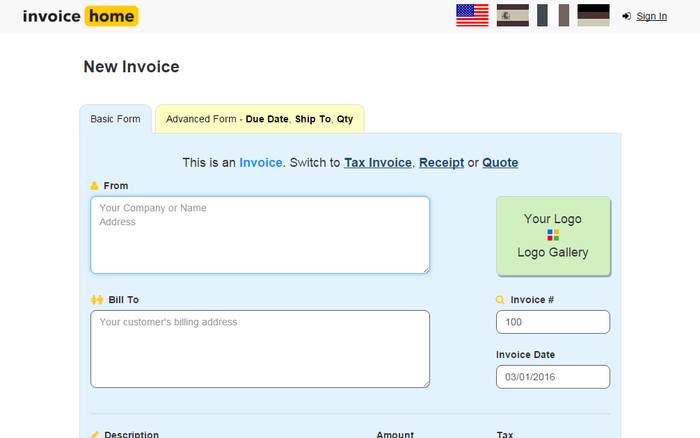 You can change currency, calculate tax, provide shipping details and calculate the cost. Likewise, you can download, print or send the invoice using Invoice Home, but you will have to register with Invoice home to do so.
Checkout: 11 Best Online Resume Builder Sites to Create Creative Resume CV [Curriculum Vitae]
Free Invoice Generator is a customizable invoice creating tool with many features that can be easily customized. They never store your invoice data in their servers, so if you are concerned about privacy, then it is a good option. All the data is stored in your browser which can be easily deleted with a simple click on the delete button available on the Free Invoice Generator website.
You can edit everything in the invoice and there are options to change currency, calculate tax, discount and even shipping charges.
The Pro Review From TechReviewPro
If you are looking to create a professional invoice to impress your clients, then the above-mentioned online invoice generator tools will be of great help. Online Invoices and Invoice Home are great for advanced users who want more options and the ability to create fully customizable invoices. However, Zoho Free Online Invoice Generator will work better for novice users who want to create a quick template.
If you are running a business and want to manage your invoices, then you might like to try out some paid features as well. Paid services from the above-mentioned invoice maker tools will handle all your invoices for you, they will track, manage, notify, and request payment for you.
Don't Miss :