In this era, gaming is a big entertainment, with billions of dollars being spent on e-sports. From amateur gaming, many professional players have sprung out who get paid millions of dollars to play at professional level. The competition is just getting stronger and stronger, especially in PC gaming with genres like MOBA, FPS, RTS and Fighting.
With such head-to-head competition, your skills won't be the only thing that will need improvement. You need to have perfect hardware as well to ensure you get the best performance and experience. In most PC games — such as MOBA or FPS — your PC mouse matters a lot. So you need to make sure you have the most responsive and feature-rich best gaming mouse to get the best experience.
Check out: Top 10 Best Wireless Bluetooth Headphones for Running
Top 6 Best Gaming Mouse for Your Gaming Needs
That is why we have compiled this list of best gaming mice to help you find the best mouse for your gaming needs. Whether you are looking to have an entirely customizable mouse or one with a good DPI rating, you can find them all below.
If you are a big fan of MMO games, then the Razer Naga Epic Chrome is made for you. It is a highly customizable gaming mouse with a great design and reliable responsiveness. Its design is quite big, which can be a good thing or a bad thing depending on your taste. There are 12 buttons on the left side for your thumb to feast on, which is one of the reasons, why it works best for MMORPG games like World of Warcraft.
These buttons will let you use all your skills just with your thumb, no need to jump around on the keyboard anymore. The buttons are completely customizable, and you can create profiles for separate games. Additionally, it is a wireless mouse and also comes with a wire if you like/need a wired connection.
A cleverly designed mouse with a simple yet functional design. Proteus Spectrum is a middle sized mouse that is perfect for both claw grip and palm grip mouse users. It has three big thumb buttons that are easy to use and ideal for most game genres. Although it comes with a massive DPI of 12000, its buttons are DPI-sensitive so that you could change DPI on the go.
It is a multi-color mouse with customizable colors and separate profiles for them. Additionally, you can create automatic profiles for buttons to load up as soon as you launch your favorite game. It has an adjustable weight system to adjust and also add more weight to the mouse. Along with that, you can use its surface testing features to test the surface where you will use the mouse for smooth operation.
Kone XTD is similar to Proteus Spectrum when it comes to design, making it perfect for both claw and palm grip users. It comes with a total of 12 buttons with most buttons located on the centre line of the mouse, above and below the mouse wheel. Two thumb buttons are big and comfortable to use, and buttons in the middle can be accessed quickly as well, with an exception of 2 further below buttons.
The buttons are completely customizable with DPI sensitivity to use the desired DPI when you need. It comes with adjustable weights at the back in the form of four 5 gram pieces. Furthermore, its four lights are also customizable to get an attractive look according to your taste.
If the above mentioned highly customizable gaming mice are a bit too much for you, then Razer DeathAdder Chroma will be a perfect simple mouse for you. The design of DeathAdder is similar to any other standard mouse, but it comes with two thumb buttons and great illumination features.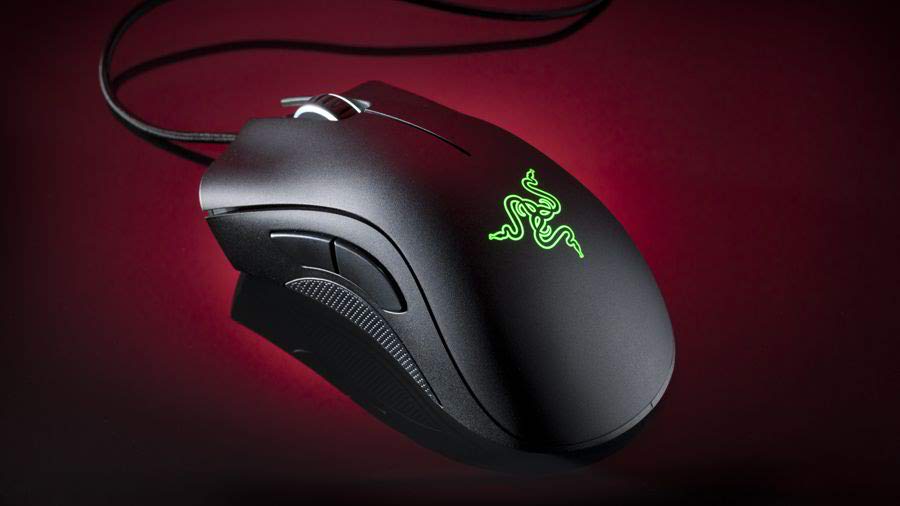 It has a simple design and functionality that is what makes it the first choice for many users. However, don't get fooled by those simple looks, its software makes it extremely customizable regarding both buttons and illumination. You can customize buttons in any way you like, and you can use any color of light from a full spectrum of illumination. Its software is what makes it a perfect choice, offering features like surface-testing, adjustable polling rate, adjustable DPI (200-10000) and completely automatic assigning profiles.
5. Mad Catz R.A.T. Pro X
You have the right to get scared by the looks of this mouse, but if you are looking for customization, there is nothing better than R.A.T. Pro X. The prices of R.A.T. Pro X and design make it perfect for professional gamers who just want the best. The mouse comes with the ability to change its parts according to your need. It comes with three types of scroll wheels, two types of resting the feet, and multiple resting areas for the thumb, palm and fingers.
You can customize this mouse in any way you like, so as far as the design is concerned, you have everything. However, its software might not be the best in its class. You can do everything the other mouse software can do, like to adjust DPI, set keys, manage polling rate, etc., but it can get a little complex. The menus are not that straightforward and also a bit limited, for example, you can't assign keys to left/right click buttons, and there are only three DPI options.
Razer Mamba is another simple yet durable gaming mouse offered by Razer similar to Razer DeathAdder. It is an upgrade to DeathAdder with beautiful colors and two extra buttons. The design is very comfortable and similar to DeathAdders, so you should have no problem. It has two extra buttons below the scroll wheel for adjusting buttons and has multiple lights that can be customized in any way.
The mouse runs same Synapse 2.0 software like other mice by Razer, so you will find the interface to be simple yet highly customizable. You can easily assign any key to the mouse buttons and change many other settings like DPI, Polling rate, colors and more. If you want a bit more than the simple DeathAdder, then spending few extra bucks on Razer Mamba will be worth it.
Also Read: Top 9 Best Free Games for Mac OS X Users
The Pro Review From TechReviewPro
Your PC mouse plays a significant role in your gaming activity, and the above-mentioned best gaming mice will surely give you the best experience. We covered both simple and highly customizable gaming mice in this post, and you can choose the one best gaming mouse that fits your needs best. If you are looking for a simpler option, then Razer DeathAdder is an excellent choice with a cheap price tag. Otherwise, Razer Naga Epic is a good choice as well if you want loads of buttons and customizations.
Which one of these gaming mice do you like? Do let us know in the comments below.
Don't Miss: