We always want to look good, but what matters the most, is to stay healthy. And, that simply means low cholesterol, intermediate blood pressure level and also includes various other factors. Well, if you are thinking to appoint an expert to help maintain yourself (and considering you own an Android device), then you'll be wasting a lot of money! Because some of the best fitness apps for Android help you do that for free.
Yes, it is true that the Play Store offers various useful best fitness apps for Android which includes features that your personal health expert can't keep track of. These Android fitness apps are professionally designed to help you keep track of your health and fitness by making your daily workouts easier.
Also Read: Top 7 Best Calorie Counter Apps for Android to Count Calories Everyday
Top 7 Best Fitness Apps for Android to Keep Track of Your Health and Fitness
So, let's move on to the list of seven best fitness apps for Android. Say what? There's even more? Yes, there are loads of Android fitness apps on the Play Store. And, among them, these are the best we would recommend using.
Runtastic Running & Fitness is one of the best fitness apps for Android. It is a free fitness analytics app which is also the Editor's choice at Play Store. However, it offers a pro version as well, priced at 300 INR. To keep things real and straightforward, it provides a real voice coach (giving you audio feedback). If you have GPS enabled, you can monitor your exercise progress and graphically watch your progress on the map. Do you want to stop running? Don't think of opening the app again to pause tracking. It comes with an auto-pause feature, which automatically pauses the session when you stop moving.
By utilizing Google Maps (being the best present out there) Runtastic shows workout progress in 3D (Earth view). It supports Live tracking which is exciting and encouraging when you have some friends online to cheer for you. The dashboard provides a significant amount of detailed data (duration, distance, pace, speed, calories burned, etc. ). If you've played Asphalt 8 or any similar Android racing games which support competing against your ghost/shadow, then you won't miss it here as well. You can challenge your past activities (shadows) and would easily get to know whether your abilities have improved or not. Also, you can enjoy the music by accessing the popular music players (Google Play Music, Spotify, etc.) from within the Android fitness app.
Long story short. Putting on weight is easy (not in my case!), but losing is tough unless you put a significant level of effort. Again, you need a nutritionist expert in managing a good diet schedule. But, with the largest food database, you won't be requiring any expert to analyze which food you should eat and which you should avoid.
It's free, and you can connect with other best fitness apps for Android through it to enhance the level of analysis.
We all have a busy life at some point of time (even the whole life for some people!). So, we can't spend much time for exercise. 7 Minute Workout app for Android provides you series of activities which takes less time but is scientifically proven for maximum results. However, it includes in-app purchases, but there is a workaround for it, you need to watch a sponsored advertisement video to unlock the workout exercise (That's what I did!)
Equality is served! This Android fitness app would be free forever. So, if you don't want to spend some bucks on PRO versions of other best fitness apps for Android or you simply demand an ad-free Android fitness app, it should be your choice! Tracks almost everything and the developers put a great amount of effort by updating it regularly with new features, to compete with other popular fitness apps for Android.
As the name suggests, it tracks only running and cycling activities. However, if you are an interactive social being, then you'll love its ability to socialize your activities. You can share your activities to which others can compete with, or you can compete with others who are connected with you in your social circle. That's fun, right?
Yoga is a mental and spiritual discipline originated in India (Wikipedia!). So, scientifically it has been proved that it works, and sometimes gives a better result than simple exercises do! To achieve that, you don't need to visit a yoga expert. All you would need is the Pocket Yoga app for Android. It includes detailed voice and visual instructions to help you along and also supports to track calories burned in the process. You can visually preview the practice to decide whether you would be able to do it or not.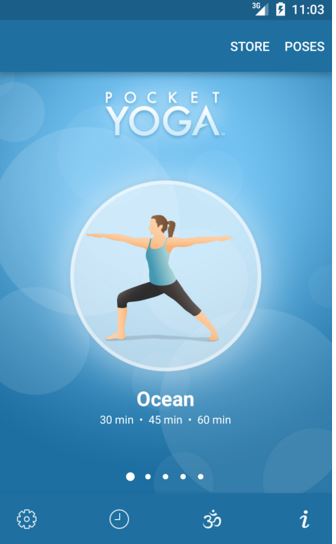 Done with the practices? You can also read about the benefits of each yoga pose from within the Pocket Yoga app for Android. It would help you decide better, which one should you prefer doing according to your health requirements.
One of the largest (in size) fitness apps for Android, bundled at 75.72 MB. 'Sworkit' refers to SIMPLY Work It. I guess there is a personal fight between 7 Minute Workout app for Android and Sworkit Android fitness app. As you can observe at their Play Store description, they have mentioned, "Don't limit yourself to the 7 Minute Workout's boring exercises".
Well, that's somewhat wrong. Although, the app comes with a great UI and offers a good amount of visual experience. It provides a bunch of exercise routines. And, also provides some custom workouts for Android users. You would definitely enjoy trying out different exercises that the app offers.
Also Read: Top 7 Best Pedometer Apps for Android to Count Your Daily Steps
The Pro Review from TechReviewPro
So, don't just keep checking out your body in the mirror. Start looking out for the real figures which would help you to be healthy and fit. If you want to explore different types of exercises and can spend a good deal of time for it, you should try installing Sworkit. And, if you have a limited time, try using "7 MinuteWorkout".
For others, you have the best fitness Apps for Android mentioned in the list. Choose the best for yourself! Well, if you come across any other awesome Android fitness app (if we missed any) in the Play Store, you can let us know in the comments section below.
Don't Miss: