Calorie counter apps are turning out to be a necessity on every device. Well, it is a simple theory when we look at the younger generation. They hardly make out time for physical activities, but spend more time sitting in front of a computer. So, they'll surely be needing one of the best calorie counter Android apps to keep track of their health or diet.
It is actually a quite complicated thing when you choose the one for you. There are a variety of things (features, service, price and so on) you should know before deciding the perfect calorie app for your needs.
Also Read: Top 7 Best Pedometer Apps for Android to Count Your Steps Daily
Top 7 Best Calorie Counter Apps for Android to Count Calories Everyday
So, to make things easier, we have compiled a list of best calorie counter apps highlighting the best of the features you need to know in order to decide which one should you keep as your primary one.
Calorie Counter App by MyFitnessPal is one of carefully crafted calorie counter apps for Android. You need to create an account in order to use it. Or else, you could sign in using your Facebook account.
However, this one being the free version contains in-app advertisements. It does offer a pro version of it which can be availed at 3100 INR (per year) or 620 INR per month. If you upgrade to the premium subscription, you will get rid of the advertisements, avail priority support and also access some of the exclusive content to help you along. You can shop recommended fitness gears as well and set goals to keep track of what you are going to do.
It offers some cool features as well, and the dashboard being completely sound with ample information. You can also access the community forum through the calorie counter app, and get more tips.
Calorie Counter by FatSecret is rather a simple calorie counter app. It requires you to sign up for an account as well by Email, Facebook or Google+. You won't be getting many features here as compared to MyFitnessPal. But, it works as expected and shows the calorie consumed and calorie goal as well.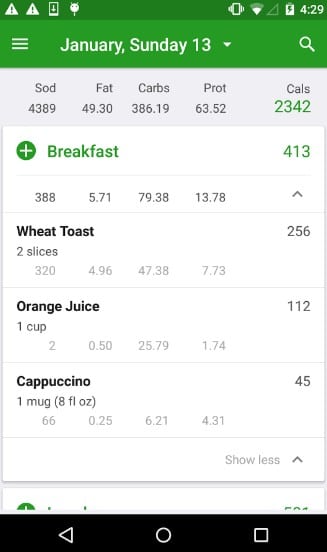 Calorie Counter app by FatSecret also comes baked in with a barcode scanner. Although, you can use it for general purposes, not as a security scanner. It also offers a diet calendar which would prove to be helpful.
Lose It! is another great calorie counter app by FitNow, Inc. "Lose it" brings in a very impressive user interface. The calorie counter app for Android offers a rich set of options which comes handy to use on a daily basis.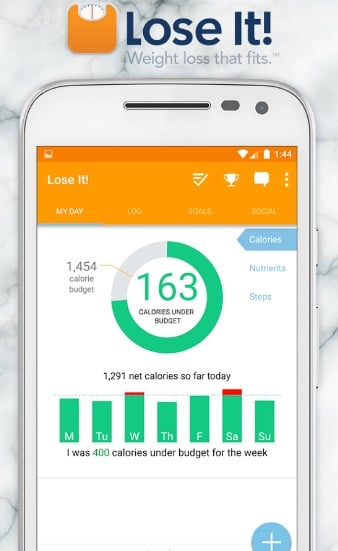 For the current day, it shows the calories, nutrients, and the total calorie budget. It provides a detailed log of your activity, in which you can check out about the calories along with the specified category of time. Let's say, for lunch, for breakfast, or dinner time. There's another interesting feature – "Teams & Groups", with this you can find a group to join and share common interests and goals. You can also take challenges as a game, and participate in it to prove the world.
In addition, you get to set goals for the day. There are custom goals (pre-defined) goals available, which you can use only when you upgrade it to the premium version.
This calorie counter app delivers some quite interesting options while setting up the account which includes – gaining weight, losing weight, and maintaining it as well.
Yet another interesting option to track your progress on what you look like, before and after the diet plan. Never rely on a human or the mirror to see what difference you've got in you, better take a picture with this app when you start, and after a month, check for yourself and call me in for a party!
Do you have a health expert who suggested you to go for vitamins and supplements? Maybe you would have a problem remembering which vitamins and supplements you took this week among various suggested vitamins. So, with this app, you just need to head for the options and click on "Vitamins", here you need to keep a note so that you don't forget what you consume.
The user interface offered is quite good. Although, you can get a better user experience on other calorie counter apps available for Android.
The user interface offered here follows the material design guidelines by Google. When you set up your account, it suggests you contact a health care provider if you have set a targeted weight, which is considered unhealthy.
After you're done with the initial setup, it provides you three types of goals to choose from. The first one gives you an easy goal, the second one brings in the recommended goal for you, and the third one lets you set a custom goal. However, if you're a new user, and never tried using calorie counter apps, then it would be better if you select the recommended goal that MyPlate Calorie Tracker app offers.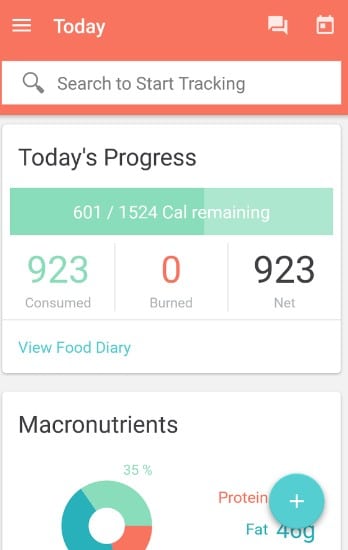 With this calorie counter app for Android, you also get access to a community, where people usually discuss and ask about the most common confusions one would encounter. The community has been divided into several sections, where you can find individual posts that target for motivation, food, nutrition, and so on.
YAZIO presents an impressive user interface for its calorie counter app for Android named "Calorie Counter & Diet Tracker". However, it contains in-app advertisements as well.
The premium subscription for the Calorie Counter & Diet Tracker app for Android costs $2.49 a month if you opt for the 12-month plan. I would suggest going for the premium plan because it lets you add more information to your calorie plan. You get to add all the nitty gritty details like Saturated Fats, Monosaturated Fats, Fiber, Salt and so on. The advertisement banner at the bottom of the Calorie Counter & Diet Tracker app is really annoying.
It also lets you export the data, but you've to go premium in order to use it. Overall, you need a premium subscription to access most of the features present within the Calorie Counter & Diet Tracker app for Android.
7. Calorie Counter & Diet Tracker – SparkPeople
Calorie Counter & Diet Tracker by SparkPeople is yet another feature-rich calorie counter app for Android. The user interface offered is pretty basic. And, the calorie app contains in-app advertisements as well.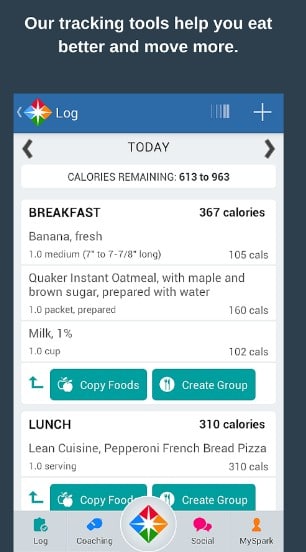 It lets you record the number of glasses of water you've had in a day. You need to add the food you've consumed and the exercises you've carried out to keep track of calories. Calorie Counter & Diet Tracker app for Android does offer a premium version for it, which costs $4.99 USD monthly or you can opt to pay for a single time – $29.99. You can get rid of the advertisements, get access to secret e-books, and get advanced reports. Well, we haven't tried the premium version yet, but if it suits your budget, you can give it a try and let us know how it goes.
You can also interact with the social community within the app. It proves to be useful when you want to ask about something you don't have any idea about. The Calorie Counter & Diet Tracker app by SparkPeople also contains blog posts targeted for health and you can contribute an article to the community as well.
Also Read: 6 Best Currency Converter Apps for Android for Quick Currency Conversion
The Pro Review From TechReviewPro
Technically, it would be difficult to pick any one of the best calorie counter apps for Android mentioned. Hence, it would be your ultimate choice to choose considering the user interface, the app size, features, the price and lot more depends on your personal preferences. If I had to choose one, I would go for Calorie Counter app by MyFitnessPal.
Did we miss any of your favorites? Let us know your thoughts in the comments section below.
Also Read: