Aren't the new generation kids more intelligent than what we were in the early 90s? Well, that's a good sign of evolution when looking at the positive side. And, nowadays, most of the young kids are getting equipped with smartphones which they fail to utilize in a proper way. So, if you're a parent or an elder who wants to keep track of what a child does on his/her smartphone, you would need the best parental control apps for Android.
However, as mentioned, that your kids are quite intelligent, you have to extra careful when setting up the app on their device. There are several parental control apps for Android, but few of them get noticed. And the parents do use them to make things easier and keep a track on their child.
Also Read: Top 5 Best Parental Control Software to Keep an Eye on Your Children
Top 5 Best Parental Control Apps for Android to Monitor Your Kid's Activity
Let's start knowing about the best parental control apps for Android.
SecureTeen is a very effective parental control app that you can find for Android. If you have never used a parental control app, I would suggest trying it out on your device to check whether it works or not.
Fret not, we have tried out all of the parental control applications mentioned here thoroughly, on our devices to let you know how they work. After launching the SecureTeen Parental control app, you will have to sign up for an account. Once you activated the account, launch the app once again and sign in to the service. If you're on Android 6.0+, it would ask for certain permissions and would request to enable the ability to draw over other apps (for accurate monitoring).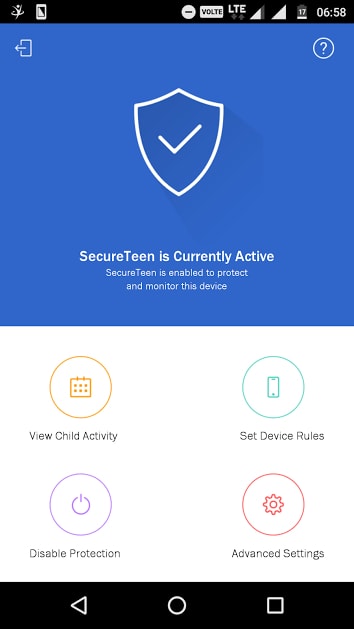 The SecureTeen Parental Control app lets you block certain websites, prevents the use of messengers, and also gives you the ability to keep track of web browsing activity. To set the rules, you must head over to the SecureTeen's official website. From the dashboard, you can check out the exact location of your child, read all the sent/received SMSs. Unfortunately, if you want to block messengers such as WhatsApp, KIK, and LINE, you will have to get an iPhone along with a premium plus subscription. However, don't worry if your child uses Facebook from such a young age, you can monitor it by connecting his/her account with SecureTeen.
FamilyTime Parental Control would be my favorite pick because of the user interface offered along with an excellent set of features. Well, yes, it might not be as popular as SecureTeen Parental Control is. However, if you try this out, I bet you will fall for this.
Does your child sleep in a separate room? Well, it would be difficult to personally monitor when he/she sleeps and how much time does he/she spend using the smartphone. In either case, you might have some work to take care of and have to leave before the lunch time. So, you won't be there to monitor the time your child spends using the smartphone. With FamilyTime Parental Control app installed, you can limit the time your child spends during the lunch, bedtime, study time and so on.
There's an interesting feature to talk about here – geo-fencing. For instance, if you are aware that your child is going to a birthday party, you can set a geofence (set up range), so that it notifies you if your child leaves the range of location you expected him/her to be. You may utilize all of its available features on both Android and iOS devices. You can block specific applications, and here with FamilyTime Parental Control app, you get an option to choose from a wide variety of potential apps that your child may use, and you can opt to keep them or block them.
Norton Family Parental Control is one of the most loved parental control apps available for Android. You might be confused if you already know that it has got a quite low rating at the Play Store. Well, it is just because it is not a free parental control app. You get a 30-days trial period and then you will have to subscribe for a Norton Family Premier account at around $15 for a 1-year period.
It also offers numerous features that anyone would want in a parental control app. It lets you know about the websites your child visits and also helps control access to inappropriate content on the web. If you do not want to monitor your child's activity on a regular basis, you can set certain rules which would automatically take care of the content your child accesses on the Internet.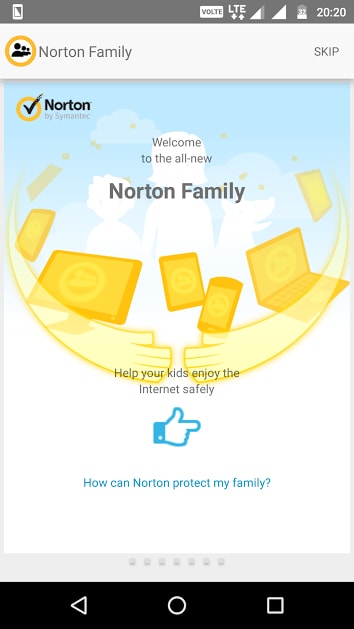 As a treat, it lets you monitor the YouTube video your kid tends to watch. Also, it just does not block the site you don't want your child to access, and it also notifies you when your kid tries to access the blocked site. That's helpful! To get an overview, you can get a complete 90-days of record which you can analyze later to know the emerging habits and the overall online behavior.
Being yet another paid parental control app for Android (with a 14-days premium trial), it has managed to gain more love than Norton's Family Parental Control application.
Screen Time Parental Control app follows an interesting take on how to monitor your kid's activities on a smartphone. You must be aware that it requires a lot of effort to convey important things to your child. So, to make things easier, this app introduces a "Task" concept. All you have to do is put a task for your child to remind, or if you observe a weird online activity on your child's device, you can distract him/her by assigning a task to complete within a limited time frame.
If you enjoy the app and want to go ahead with the premium subscription, you will have to pay $39 (2 months free) per year or $3.99 per month. Screen Time Parental Control app also lets you automatically limit the amount of time your child spends on selected apps each day. Besides, it offers a cool feature of blocking apps and blocking the newly installed applications as well (unless explicitly unblocked). It would prevent your child to try out weird/inappropriate apps on the device.
If you're looking for a basic parental control application that lets you monitor your children's activity, then it's – Kids Zone Parental Controls. Also, it is one of the lightest parental control apps for Android, available on the Play Store being just 1.6 M in size.
If you look at the big picture here, you get to create limited profiles with limited functionalities. So, to get rid of the message encouraging you to upgrade it, and get the ability to add unlimited profiles, apps, automatically reloads, and so on. You will have to either purchase the whole packaged deal at around $3.5. On the off chance, if you are interested just for a single premium feature, you can get each of them for less than $2. So, it is clear that they want you to purchase the complete package that's available for less than $3.5 (at present).
Kids Zone Parental Controls app lets you set a secret PIN for unlocking Kids Zone and the app's preferences. If you want to have a workaround when you forgot the PIN, you should enable the backup PIN. However, it is not recommended to enable it when you have a grown up kid who at least knows what a PIN might be to unlock something.
Also Read: Top 6 Best Private Search Engines for Anonymous Web Surfing
The Pro Review From TechReviewPro
So, it is easy to choose a parental control app for Android when you decide to monitor activities of your kid and keep them on the right track. There aren't many choices out there when choosing the best parental control apps for Android, but each of them offers something unique.
You will have to decide considering the features, free or paid, and your requirements. If you need a quality app with a premium subscription of under 3.5 USD (one-time fee), Kids Zone Parental Controls app would be my best bet. If you are looking for the best free parental control app, SecureTeen Parental Control as well as FamilyTime Parental Control seems to be the perfect pick. And, depending on the features and price, you can choose whether you want Norton Family Parental Control app or the Screen Time Parental Control app.
Don't Miss: