Have you ever tried watching any such YouTube video and not being able to watch as the YouTube content was age restricted? If yes, how do you get access to age-restricted videos on YouTube? If you have a Google account, and you are signed in to YouTube – you can watch any video of your choice if you are older than 18 years of age. YouTube aggressively filters and moderates videos which promote violence and hate speech.
So, the content that you get to access is usually safe for the community. However, no matter whether you are legally above 18 years of age or not – you get restrictions when you try to access any age-restricted videos on YouTube without signing in.
If you are under 18 years, we advise you to consult your parents before you put yourself in trouble. Okay, then! Considering adults reading this, let us take a look at how can we access and watch age-restricted videos on YouTube without signing in.
Why Age Restricted Videos are a big deal for some?
If you are an adult, you probably know why. The more people going online, the more potential uploads on YouTube.
Obviously, YouTube cannot prevent content that promotes cult following, violent activities, hate speech, and sexual content – no matter how much it automates the filtering process.
Yes, it is better than before – but still not completely safe for minors. The videos could influence them to do something bad and brainwash them forever.
It is very easy to say – "No, it is alright, nothing will happen if someone accidentally sees something bad". But, you never know what influences when – and up to what extent.
So, if you are adult, do not let the kids exploit the methods we mention in this article.
How to Bypass Age Restricted Videos on YouTube?
Of course, we know that with a Google account – you can watch age-restricted videos on YouTube if you are 18+ in age.
But, sometimes, when you are outdoors using another system or just want to watch a video on your mobile phone via a web browser, you just don't feel like signing in. Also, when using a public computer, you would avoid signing in just to watch a YouTube video. Isn't it true?
So, if this is an inconvenience for you – we will try bypassing the restrictions to watch the age-restricted YouTube videos without the need to signing up. Cool…?
1. Watch age-restricted videos on YouTube via Web Browser (NSFW Method)
Normally, when you are trying to access age-restricted videos on YouTube without signing in, you will see something like this: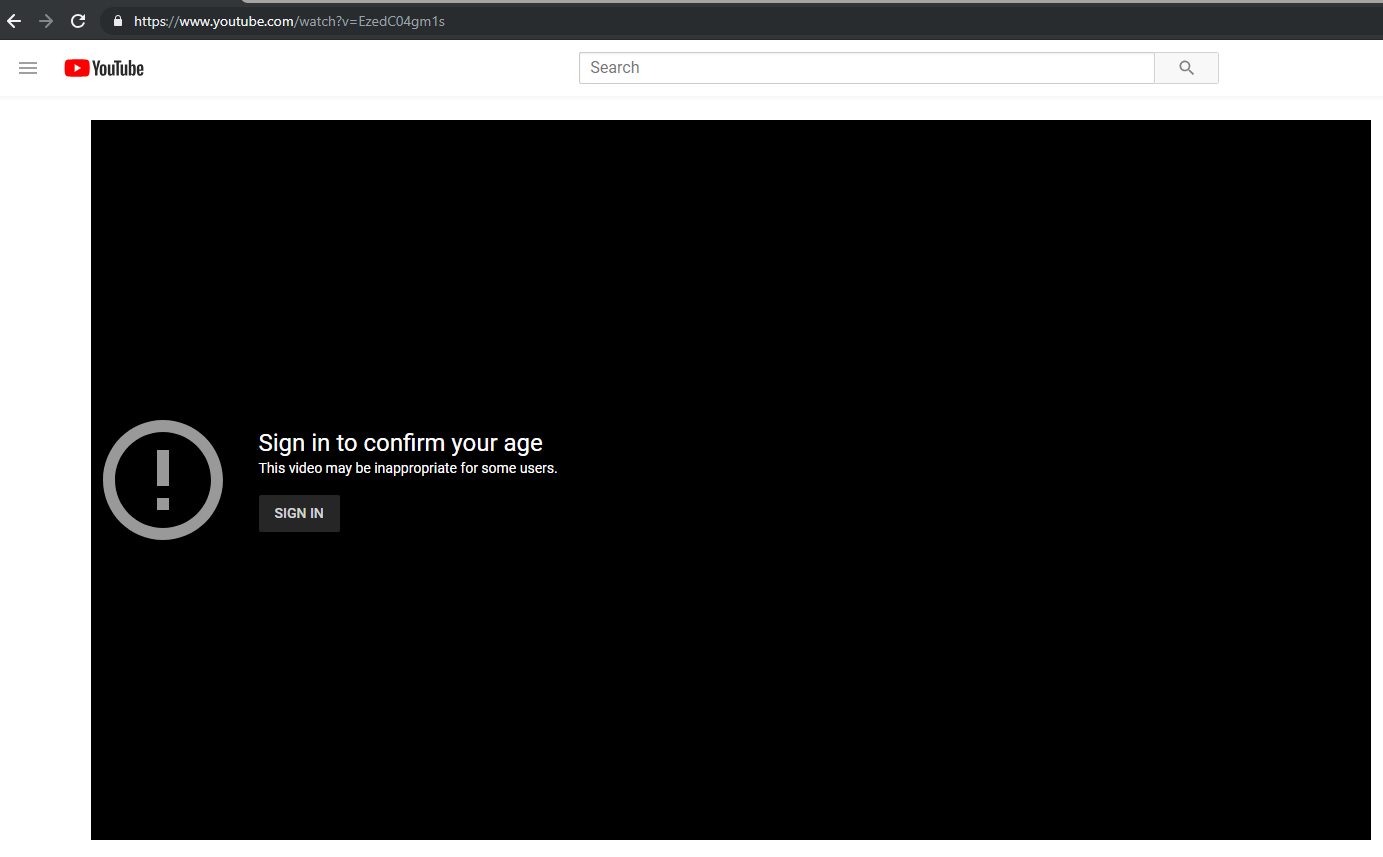 So, it requires you to sign in – in order to watch the content.
Simply, add "nsfw" before the domain name in order to start watching age-restricted videos on YouTube via your web browser. Here's how it should look like:

Do note that you will be redirected to a site that is not officially YouTube. So, take care of that – by ensuring you use a VPN in order to protect your privacy in case you do not trust the service. You can utilize this method on your smartphone browser as well.
There are more tricks to watch age-restricted YouTube content that you can utilize when on a web browser – discussed in the later section of this article.
2. Utilize Android apps to bypass age restriction on YouTube
If you do not prefer using your browser to watch YouTube videos, you can install 3rd party YouTube apps to watch any type of video on YouTube without needing to sign in.
There are many apps like YouTube but the popular Android apps that are available at the Play Store are:
Y-Tube Player (Floating for YouTube)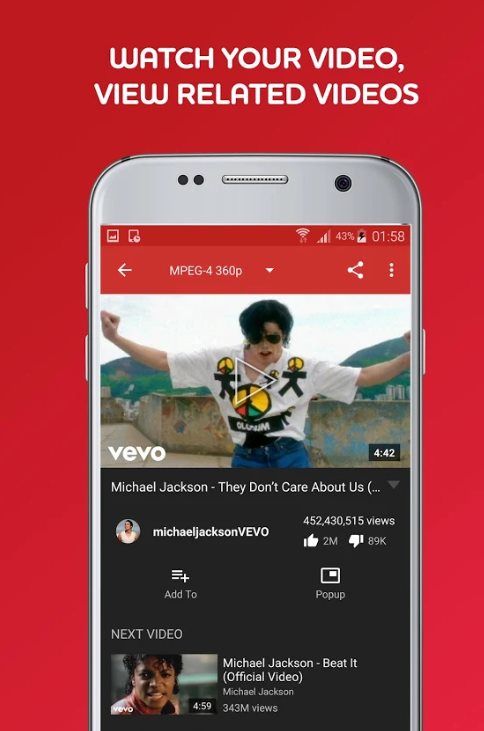 It is definitely not the best 3rd party app to play YouTube videos – but if you want to bypass age restricted videos and do not need to sign in – this is one of most popular apps out there. The user interface is decent – and not bad at all (as you can see in the image above).
Except for bypassing age-restricted videos, it also acts as a floating YouTube app that also continues when you use WhatsApp and Facebook as a floating window. It's an added bonus then? Yes!
Also, you can import your playlist from YouTube's official app installed on your device. You can filter the top content by choosing the country. And, yeah, you also get the ability to select from multiple themes for the best possible user experience.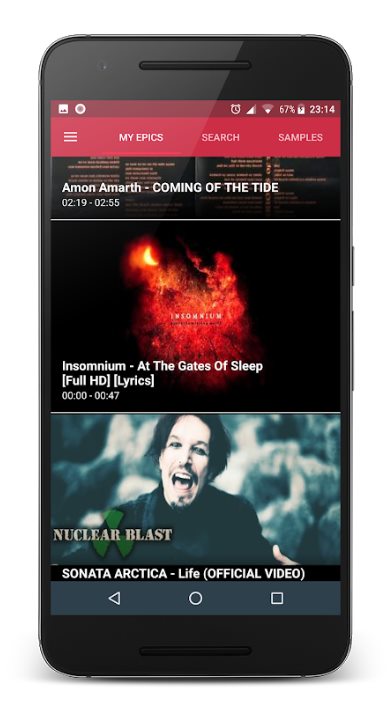 Similar to the app above, you can also utilize floating windows to play a video and also be able use WhatsApp and Facebook at the same time.
In addition to that, you can save the favorite part of your video or save the video and use the widget to play it anytime you like.
Also, you can just put the video on loop and keep playing it on repeat – while also keeping a count of it (for fun, ofcourse!).
Floating Player for YouTube
This app is focused more on the popup mode (or the floating window mode) to let you watch your favorite content on YouTube. The user interface is quite similar to YouTube's official app – if that helps.
You can also toggle the quality of the video that you will be watching. So, that's a good thing to know. Try it out!
3. How to watch age restricted videos on YouTube without signing in on iOS devices?
Well, if it's your desktop (these YouTube keyboard shortcuts are for desktop users) – you can easily do that via the browser – although, we have more tricks in the later section of this article.
But, what about iOS devices? We know that it isn't easy to find a lot of 3rd party apps on App Store – when compared to the Play Store. Unfortunately, you will not get any applications (some did work – but no longer exists) for iOS devices without requiring to sign in.
So, I guess, you will have to launch your browser and apply the tricks we mentioned above.
We have a recommendation though – Player for YouTube. It will help bypass the restriction – but you will need to sign in. So, you can use it – only if you hate the official app – else, there's no point.
4. Use a free Proxy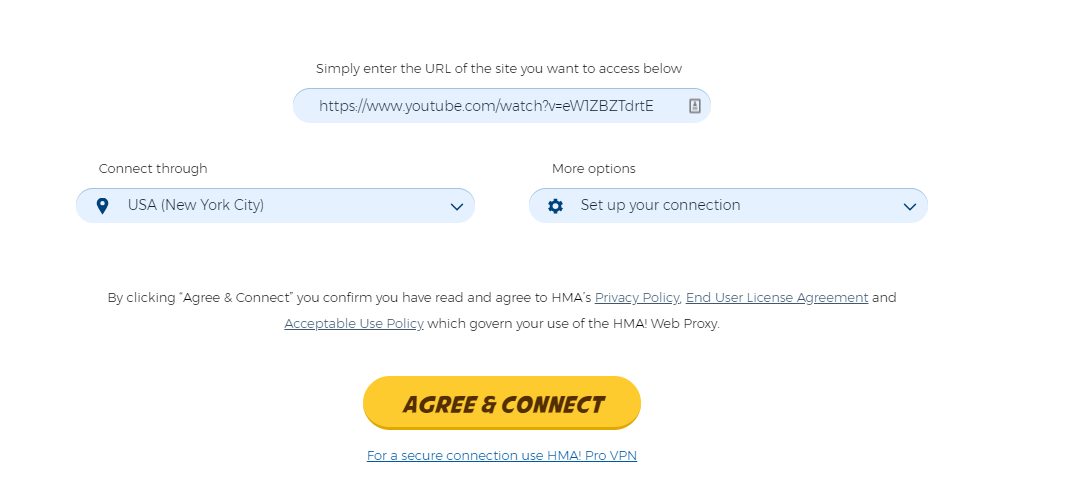 You can use a proxy to hide your IP and also access age-restricted videos on YouTube. You can use HideMyAss's proxy or any similar free online proxy tool.
Just paste the YouTube URL on any service you prefer to use and select "US" servers – if there's an option. You should be good to go.
5. Bypass age-restriction on Web Browser (Repeat Method)
Similar to how you added "nsfw" before the domain name, you can add "repeat" after the domain name like this:

We have already shared how to repeat YouTube videos, you might like to check that article for more methods for repeat mode.
6. Bypass age restriction on Web Browser (Embed Video)
YouTube offers the ability to embed a video on any webpage. And, it has a special URL when you embed a video – which does not include age-restrictions. If you do not want to utilize any 3rd party website services – you can use this method.
Here's how to utilize it:
For example, if the original URL is https://www.youtube.com/watch?v=eW1ZBZTdrtE
After typing it in the address bar, just replace the "watch?v=" part with "embed" word and add a slash sign (/) in the end.
When you do that, it should look like this:
https://www.youtube.com/embed/eW1ZBZTdrtE
For more similar YouTube tips and tricks, check out this article.
Wrapping Up
Now that you know all the possible methods to access and watch an age-restricted video on YouTube, utilize the trick responsibly!
In my personal opinion, I would suggest using the embed feature on web browser (the last method) to bypass restriction. However, if that fails to work – you have other solutions too.
Did we miss a popular solution that you already use to bypass the age restriction on YouTube? Let us know about it in the comments!
Related Resources: