Oh, come on, don't be silly! Why would I need a flashlight app for Android in 2019? Well, I bet, that is what you are probably thinking right now. And, that would be my first though as well – if I was not the one writing this article.
However, there's a lot of useful features offered by a flashlight app that you won't have as the built-in settings. Even if you are not using the stock ROM and have a custom ROM installed – you are not going to get those functionalities – unless you request the developer to add it in the next update.
So, in this article, we will talk about the best Android flashlight apps, why do you want to have them installed in the first place and what are the exciting features that make these Android flashlight apps stand out?
But, before taking a look at the free flashlight apps for Android, let me address some important questions that you might have.
Are flashlight apps for Android malware?
Well, it is a genuine thought that might have crossed your mind. You won't find any big developer team working or maintaining a flashlight app. It will always be some individual developer presenting something new or just making a clone of another flashlight app available for Android.
Yes, let's face it – there's a lot of clone apps at the Play Store. And, hence, worrying about installing a malware is justified.
Of course, a security researcher will be the best person to answer this question – but we can analyze it by checking the permissions.
If a flashlight app needs no extra permissions, it should be safe. If it asks for unnecessary permissions, that could raise a flag.
So, we will limit our list of flashlight apps for Android to the ones that do not require extra permissions.
Note: A flashlight app requires the permission to access the camera at least – in order to control the flashlight. So, if you observe more permissions – just find another free flashlight app for yourself.
How do I get the flashlight on my phone to Work?
Fret not, if you are here just to figure out how to turn on your flashlight, we'll help you out.
You just need to pull down your notification center and then look for a torch icon or something that says flashlight/torch – simply tap on it to enable it.
As you tap on the torch icon, you'll notice that your flashlight is ON. That's how you can flashlight to work on your Android phone.
7 Best Free Android Flashlight Apps that could come handy
Note: The list of free Android flashlight apps are in no particular order of ranking.
Color Flashlight is one of the most popular flashlight apps for Android that you can have installed on your Android smartphone. It lets you utilize your flashlight in an interesting way – to behave like a signal – to mock a strobe light and so on.
If not the flashlight, you can utilize the screen to display different colors to signal someone for help or just a green/red light for someone to notice. You can also make some custom effects to have fun with by tweaking the brightness and color.
A simple flashlight tool to control the brightness of your flashlight and make use of it.
It does contain in-app advertisements – so you can opt for the in-app purchases to get rid of the ad. Ignoring that, it offers a nice little widget for your homescreen which you can just tap to activate your flashlight – even faster than pulling down your notification center.
It also offers a built-in strobe – if that's helpful to you. You would want to have this installed if you just want a widget to enable the torchlight and want to utilize it as a stroboscope – nothing more fancy here.
It is yet another impressive flashlight app for Android smartphones. You can choose to utilize the flashlight of your device or use the screen to display different signals/signs/colors.
You can also try sending a morse code with the pattern, mock police lights for protection, and have the strobe light as well.
This app does have in-app advertisements but doesn't offer any kind of in-app purchases. So, if the ads are annoying to you – read on for more such apps.
No strobe light, no fancy signals – just something to enable your powerful flashlight along with a widget to make it easy. If that is not the case, you can use your screen to display a color light lamp.
If you want a dead simple flashlight app – with a widget and something that works on most of the devices – this should be the popular one you can have installed.
And, yes, it does contain advertisements and offers in-app purchases.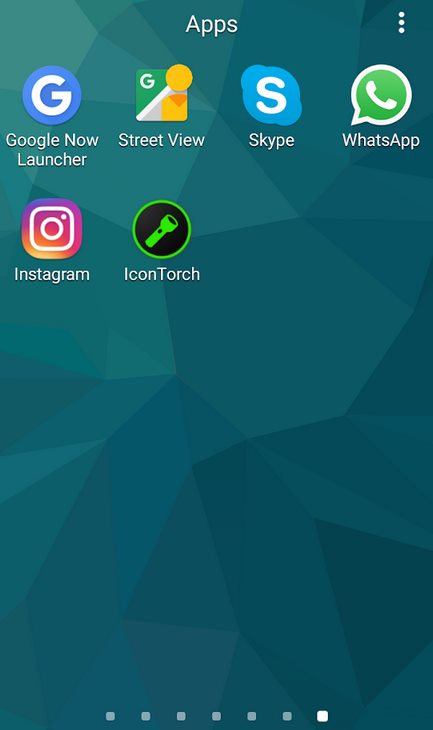 A really interesting flashlight app for Android that works just with an icon – without any settings offered.
And, also, it isn't a widget to be interacted with. The app icon itself acts like a widget, when you tap on it – you activate the flashlight. And, when you tap on it again – you deactivate it. That's how it works.
Yes, I know, that it does not offer any fancy features – but it does not contain any advertisements either. So, if you are someone who loves ad-free apps for Android phones, this is lite simple flashlight app to have installed.
Just want simple flashlight app alternatives? Well, here's one for you.
It does not contain advertisements and also does not seek extra permissions to make it work. So, you can be sure that no personal information is being collected by these kind of flashlight apps – even though we handpicked them.
Just launch the app, enable/disable the flashlight – not rocket science, right?
7. Super-Bright LED Flashlight
It is one of the most popular flashlight app on the Play Store with a whopping 9 million+ reviews on the Play Store.
It is also the most actively maintained application – even though it is a damn simple app. You can opt to use the strobe light, utilize the screen for signals, and use the flashlight for reading.
In addition to that, you can also customize your incoming call alerts with the LED flashing – just like older iPhones.
Even if it contains in-app advertisements – it is a wonderful free Android flashlight app to have installed.
Wrapping Up
There are hundreds (if not thousands) of flashlight apps for Android at the Play Store – I could have missed one of your favorites. But, the ones I listed are the most popular flashlight apps available for Android smartphones.
Do you happen to use any of them? If not using already, which one will you prefer to use? Your favorite flashlight app?
Let us know your thoughts in the comments below.

Related Resources: