Do you get bored as soon as you start reading a long book? Don't have much time to sit back and read a book for long? There is a simple solution to it when considering that you want to know what's written in the book but you don't have time for it, or you don't feel anything interesting reading a whole bunch of pages to the end, i.e., – Audiobook Apps. If you own a smartphone, it would be clever, if you would start using the best audiobook apps for Android.
What is an Audiobook?
An audiobook is simply the spoken version (recorded version) of a book presented in a short, crisper, and more engaging manner. It is more like a text-to-speech conversion but presented in a better way than a smartphone, or a robot does.
Advantages of an Audiobook
Portable
Less Time Consuming
Interactive / Exciting
Easily Accessible
Less Expensive
So, if five of these advantages make you feel that it's beneficial than reading a book, you could immediately start experiencing a variety of audiobooks using your Android device.
Also Read: 15 Best Sites to Download Free Audio Books Online
Top 7 Best Audiobook Apps for Android
To help you out, we've compiled a list of the best Audiobook apps for Android.
The audible app is an Amazon company which keeps the largest Audiobook database ever. By "largest," we mean a vast collection of best sellers and almost all top Audiobooks that you might be searching for.
If you're an Amazon Prime member, you'll get unlimited access to Audible channels that consists of a lot of original series and handcrafted choice of playlists. Do you want to share or prove to your friends that you're one of the most enthusiast audiobook listeners? Audible, has got your back.
You can keep track of your progress, and it rewards you with suitable achievement's badges which you can show it to your friends. It's based on simple factors of engaging with the audiobooks, so your friend can't cheat with a badge if he/she isn't fond of audiobooks. It also makes it convenient for you by allowing offline downloads. So, even if you end up frustrated at a place with almost zero Internet data speed, you can still convert it to your story time and relax for a while. It also presents you with a wide selection of categories to choose from.
There's even something for your kid, and for your business. If you have a friend who is fond of the same thing, you can send one of the books from your library with him/her (the first book is on Amazon whenever shared to your friends). Other features include – sleep mode, variable narration speed, and Whispersync for Kindle.
Audiobooks.com brings in a free solution to the users who aren't much fond of paying to access Audiobooks. They just simply want to enjoy listening to a couple of audiobooks irrelevant of whether it is the best seller or who the narrator is.
Of course, it provides you additional access with added functionality if you go premium. And, it includes more than 4500 of audiobook collections for the free section. You can also download your favorite audio books. If you have this installed, and luckily if you have a supported infotainment system on your car, you can never miss listening to your favorite audiobook while you drive as well!
You can also find a bunch of religious audiobooks if you're in need of them. The audio book app also offers a variety of audio courses to learn more than 45 types of languages. It'll be definitely easier to learn a language when you get an audio medium in place of a written book.
3. LibriVox Audio Books Free
LibriVox Audiobook app offers even a larger database of audiobooks for free. The mentioned number of books by the developer team is as close to 15,000. Well, that's huge! And, after trying it out, if you think that the free audiobooks you get are good to listen and are interesting, you won't be needing to look for alternatives.
On the off chance, if you want access to a lot of hot/trending audiobooks which are impossible to access for free, you can opt for a premium membership. It gives you access to more than 50,000 of the professional audiobooks. Here, you can stream audiobooks or download them for offline use, whatever looks convenient to you.
The user interface follows the material design guidelines. So, if you are on Android Lollipop or above, you'll get a great user experience navigating through the audiobook app.
OverDrive is an interesting audiobook app for Android which lets you signup using your library card. Finally, integrating it.
Of course, you can sign up for it even without it, but if you have a library card and it has been listed inside OverDrive. And, you don't have to worry about the late fee anymore, because it would automatically return it from your device on time.
You'll get a different set of audiobook collection on this audiobook app for Android. However, the available collection of audiobooks looks pretty neat to me.
5. Free Audiobooks Search
Free Audiobook Search provides a lighter alternative to a bit resource intensive audiobook applications. It's no secret that the applications which deliver an entirely beautiful user experience take much more resources than the simpler ones (ignoring the issues).
This audiobook app is mere of 2.1 MB in size. It serves a simple purpose, i.e., letting you search for an audiobook. You may find best seller audiobooks using this app. But, if you are fond of this, then there are pretty good audiobooks here as well to enjoy listening to.
Unfortunately, you don't get many features to download your favorite audio books for offline use. So, it's the only lighter choice if you have a decent Internet connection almost all the time.
Smart AudioBook is simply an audiobook player app for Android. Why would you need it? Well, we already know that there's something for everyone on Android. So, if you're one of the users who already owns a lot of audiobooks and is looking for a solution to manage them play quickly rather searching through a huge list, Smart AudioBook Player is the solution.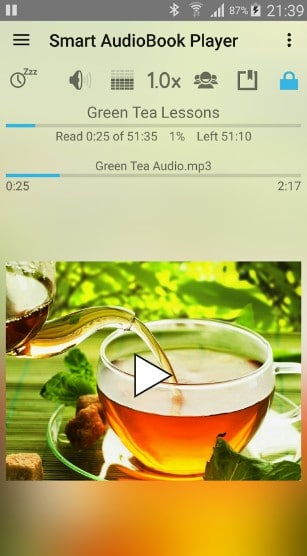 Upon installation, you would find everything is organized very well. You could start listening to your favorite audiobook faster from this audiobook player app. That is quite faster when compared to searching for audiobooks in the file manager apps. The smart audiobook player app for Android also offers widgets. You can keep widgets on your home screen for even quicker access.
Material Audiobook Player comes to the rescue if you don't like the user interface on Smart Audiobook Player app for Android.
In addition to an improved interface, it is an open source project which would let you see how it works and if it is safe for you to use. It's super interactive and manages/organizes your audiobooks well and lets you access them fast.
Material Audiobook Player also offers a sleep mode. It enables you to adjust the playback speed and remembers the last position where you left browsing for your audiobook.
Also Read: Top 10 Free eBook Download Sites to Download Free eBooks
The Pro Review From TechReviewPro
So, there are several good audiobook apps for your Android device. When it comes down to your personal preference, it's a lot easy to choose your permanent audiobook player.
If you're ready for a premium membership and want to experience an unmatched collection of audiobooks, it's definitely audible. If you've got a mixed way of an option, you can try LibriVox, and Audiobooks from Audiobooks.com.
An interesting way of signing up using a supported library card comes with OverDrive. And, if you're up for a simple or a modern audiobook player, two easy choices, either Material player or the Smart player.
Did we miss your favorites? Let us know through the comments section if you've used an audiobook app for Android that is way better than one of the audiobook applications mentioned in this article.
People Also Ask: