There has been a revolution in book reading with the introduction of eReading. There is no need of carrying heavy books with you anymore, or stuffing the shelf with books of all types and then manage them as well. You can get a dedicated eBook reader device, or better yet, get one of the best ePub reader software on any of your current devices like, Windows, Android or iOS and get all your books in one place.
eReading trend is still evolving and there are many people who still prefer paper books for the originality, so it is taking a bit of time for people to adapt to the new reading style. However, millions of people are on the side of eReading, which is why you will find so many eBooks and eReading software to satisfy the big need.
Finding the best ePub reader can be a little hectic as there are many good ePub reader software available and all offer different interface and features. You don't have to worry about anything though, as we will help you find the best epub reader for Windows. We understand your book reading needs, so we have compiled only the best ebook readers for windows, you should be able to find the right one in our list.
Checkout : 15 Best PDF Reader for Android to Read PDF on Android Mobile/Tablets
Top 14 Best ePub Readers for Windows
NOOK is the most popular ePub reader and available on all major platforms, including Windows, Android and iOS. You can download the app for free and even get 2 free eBooks (pre-selected) and 12 Magazines just for signing up. The app will let you customize fonts, change themes, flick pages, auto-sync, move to any page and even download free and paid eBooks.
Price: Free
Compatibility: Windows 8
Adobe Digital Editions is a feature rich eBook reader with tons of different features and support for both eBooks and PDFs. You can easily download books from anywhere on the web and read them both offline and online. Some of its handy features include, personal library, ability to add comments, print books (if allowed) and support for 11 languages.
Price: Free
Compatibility: Windows 10, Windows 8, Windows 7 and Windows XP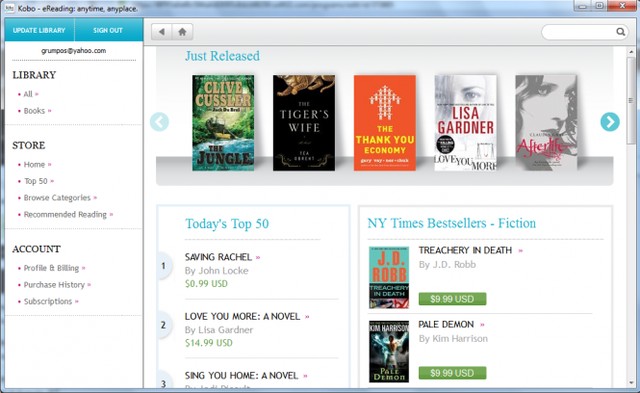 A really simple yet functional ePub reader, Kobo offers a simple interface where you can easily search new books to read. It will sync all your books to all your devices, including which book you are reading and where you left off, so you can continue on any device. Furthermore, using its handy built-in search function, you can find free and cheap eBooks from over 4 million eBooks.
Price: Free
Compatibility: Windows 10, Windows 8, Windows 7 and Windows XP
If you are looking for an advanced eBook reader, then Icecream eBook Reader is a good choice. It supports many different formats like fb2, pdf, cbz, epub, mobi, and cbr, and offers many handy features like night mode, bookmarks, flick to turn page, move to any page, etc. Although, its free version will only let you add maximum 10 books to the library.
Price: Free/ Pro version for $19.95
Compatibility: Windows 10, Windows 8, Windows 7 and Windows XP
If you are looking for a really simple ePub reader, then Sumatra will fulfill your needs. It is a really simple eBook reader that supports many different formats, including pdf, cbz, mobi, fb2, xps, epub, and cbr, etc. It also has a portable app that you can take anywhere you like and read books directly.
Price: Free
Compatibility: Windows 10, Windows 8, Windows 7 and Windows XP
A well known eBook reader for Windows, FBreader is another simple ebook reader that focus completely on making it easier to focus on your reading. It will not confuse you with special menus or button, just a plain ebook reader that lets you both manage and read books at the same time. Its supported formats include, ePub, html, cbr, rtf and mobi.
Price: Free
Compatibility: Windows 8, Windows 7 and Windows XP
AZARDI offers both online and desktop eReaders that are full of features. Its features include, customizable interface, full screen mode, screen lock for tablets/phones, support for 38 languages. change fonts, multi screen, magnify, add notes and many more. It is a completely free reader and will work on all Windows devices.
Price: Free
Compatibility: Windows 8, Windows 7 and Windows XP
EpubReader is a paid eBook reader app, and definitely worth paying for. It is a all around well designed and feature rich app for reading ebooks on Windows 8 and Windows 10 devices. It will let you download and purchase ebooks from any website online. Its features include, change font, size, spacing, color, night mode, flick to turn pages, easily navigate between chapters, and OneDrive support.
Price: $2.49
Compatibility: Windows 10, Windows 8
Calibre focuses on providing best reading experience while managing your ebooks. It's power comes from its simplicity, it will let you handle all your ebooks in one and edit them as you please. The reading experience is quite simple as well, with least buttons and simple navigation.
Price: Free
Compatibility: Windows 8, Windows 7 and Windows Vista
Bookviser is a great ebook app that offers tons of features in a simple yet professional interface. It offers tons of free books to read as well, and comes with amazing animations to make sure you have experience of reading a real book. You can easily customize fonts, change themes, adjust spacing, change animations, full screen mode, bookmarks, add notes and much more.
Price: Free
Compatibility: Windows 10, Windows 8
Just like many other readers in this list, Freda is a simple and feature rich ebook reader tool. It supports formats like, fb2, epub, HTML, and TXT, enough to run almost all types of ebooks. You can change fonts, colors of text and background, works with Onedrive and Dropbox, purchase/download books online and annotations. It even supports text-to-speech for listening to books.
Price: Free
Compatibility: Windows 10, Windows 8
Yet another simple ePub reader app in our list, Legimi can manage your ebooks in your device or Onedrive. You can sign up for Legimi account to easily sync all your books to other devices. You will find all basic to advanced features like, change font style/size, change margins and spacing, navigate between chapters, adjust brightness, bookmark, Facebook integration, start from previous location and more.
Price: Free
Compatibility: Windows 10, Windows 8
If you are looking for a beautiful interface for your precious ebooks, then MoHoo Reader is the way to go. MoHoo Reader is only available for Windows Phones, so only expect best for your Windows phone. It has some advanced features like, Password protection, tons of customization options for reading and add ebooks from different source, like Onedrive, SD card and even via Wi-Fi. The animations are quite smooth with great colors.
Cover is the best comic book reader that supports all comic book files like, CBZ, CBR, WEBP, CB7, PDF and EPUB. It has specific tools for reading comics and supports image formats as well. Although, it works best for comics, but you can also read other ebooks with the support of epub and mobi formats.
Price: Free/ in-app purchases
Compatibility: Windows 10, Windows 8
Checkout : 15 Best Sites to Download Free Audio Books Online
The Pro Review From TechReviewPro
With the world going green and moving from traditional books to ebooks, having a great ePub reader is important. Previously, we have shared top 10 best eBook download sites to download free eBooks. Today, we have listed down the best epub readers for Windows above, they will let you read ebooks on all your Windows based devices. Most of these tools are free, but you can opt for paid apps like EpubReader if you want something extra.
Some of these ePub reading tools also support other platforms like Android and iOS, do check it out if you want to sync your books to these devices. What do you think about our list of best ePub readers for Windows? let us know in the comments.
Don't Miss :