No wonder that there a lot of good paid apps for Android available on the Play Store. But, is there a way to download paid apps for free on Android?
Yes, but not everyone talks about it. You might have read blogs recommending APK sites which provide you the APK file to sideload the paid app for free on your device or just grab a cracked or modded APK package.
We do not encourage that here. In this article, I'm going to talk about the legit ways with which you can actually get paid Android apps for free and the problems with downloading paid Android apps from an APK marketplace for free.
Why You Shouldn't Download Paid Apps for Free from APK File Websites?
When you get the APK file of a paid app from an unauthorized marketplace for free, first, it is not legal usage technically.
Not just limited to that, but if the app has been subjected to reverse engineering, you might end up installing malware (through a modified code) through the app.
Yes, if you are lucky, the app might work as expected – but you can never trust it. It may sneak in some nasty malware or just collect your personal information without your consent.
So, you should always avoid any shady websites or methods to download paid apps for free on Android.
5 Ways to Get Paid Apps for Free on Android
As I mentioned, here, we will focus on the legit ways to download paid apps for free on Android. So, let's take a look at them:
1. Holiday Sales on Play Store
This is one of the best ways to get paid Android apps for free. You just have to make sure to scramble your news feed to check for Google Play Store deals during summer or Christmas (or any similar holiday season).
Of course, most of the deals will be dirt cheap. So, you can grab paid Android apps for an incredible price. But, you will also find some paid apps going free for a limited time.
A good place to keep an eye on this would be Google Play Store's Twitter handle. In addition to that, you can keep up with some of the popular Android news portals like Android Authority, and Android Police on your list to keep tabs on such deals or offers.
2. Using AppsFree
AppsFree is a popular curator app on the Google Play Store. The app does all the work to collect paid Android apps that are available for free (for a limited time) and lets you filter out all of those.
You can simply browse and explore the paid apps available for free as per your country or the currency.
Personally, I've used it for downloading a lot of apps to test and write about them. So, you can try it out too.
3. Using myAppFree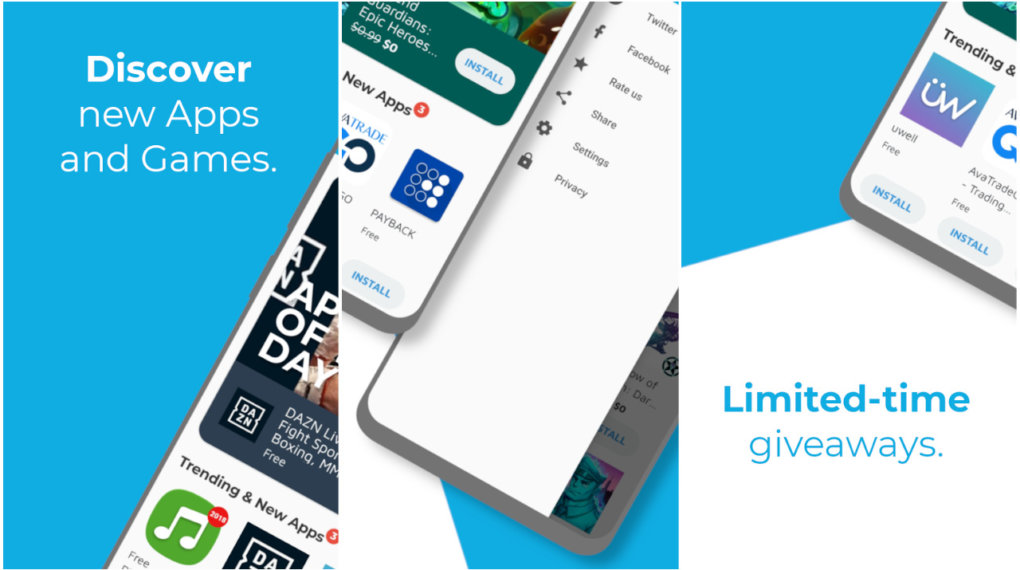 myAppFree is yet another app available on the Google Play Store that helps you filter-free paid apps.
Unlike the previous one, it also includes several deals to get the in-app or in-game items for free as promotional offers. Of course, no matter what it is, if you're getting it for free through a giveaway or offer, it should be perfect.
If you are looking for free in-app or in-game content, myAppFree is a better pick. Even though it does not list a lot of free paid apps, yet it is still useful at times.
4. Using AppSales
AppSales is yet another popular app that is good at monitoring and notifying paid apps going for free on Android.
Of course, the curation differs from other applications mentioned above. In addition to the free app deals, you will also be able to monitor the price change of applications. So, you can decide to purchase an app if required by waiting for a flash sale or a holiday sale.
Personally, I like the user interface of AppSales app and it is easy to navigate as well. It also includes a dark mode, which is an added bonus for the experience.
5. Stay Tuned to our Blog
Of course, this should not be a surprise. If you're a new visitor to our blog, you may choose to bookmark our blog for useful resources on everything tech.
We do not exclusively post about app deals, but you might get some ideas on something useful from one of our articles, who knows? It's free to read after all.
You may also subscribe to our YouTube channel for similar videos.
Conclusion
Now that you know about some of the best ways to get paid apps for free on Android. Start exploring and filter out as per your requirements!
In addition to the mentioned sources above, you can also keep an eye on social media networks to spot any app giveaways (official ones), that could be yet another sweet treasure as well.
Have you tried getting a paid Android app for free yet? How's your experience so far? Let us know in the comments below.
Related Resources: