Reddit is a great social media platform. Unlike Facebook/Twitter, Reddit is all about communities in contrast to individuals. We'll keep the discussion separate as to why you prefer to use Reddit – but for me, it's just a superior social media platform information/quality-wise.
But, why are we talking about Reddit apps for Android while there's an official app available? Well, even though the official Reddit app is a decent one – it is no match for the 3rd party Reddit apps available on the Play Store. They provide a better user experience and the ability to utilize every native feature easily right from your mobile.
In this article, we talk about the official Reddit app alternatives that you can use to get started with a refreshing Reddit experience on your Android smartphone.
Top 7 Best Reddit Apps Available for Android
Do note that the list of the Reddit apps mentioned here has been picked as our subjective recommendations. If you think we missed your favorite, feel free to tell about it in the comments section below.
1. BaconReader for Reddit
BaconReader is a very popular Reddit app among Android smartphone users. It offers a basic material themed user interface that is easy-to-navigate while offering a good user experience too.
Even though this may not be the best looking Reddit app there is. It surely features the dark mode and some other custom grey shades to customize the look and feel of the app. Not just limited to smartphones, it works great on Tablets as well.
In addition to all the basic features of interaction, it also offers a draw mode to create memes and supports adding multiple accounts with secure login.
2. Boost for Reddit
Boost for Reddit may not be the most popular around – but it is a well-deserved addition to this list of the best Reddit apps for Android. Similar to the above app, it utilizes the Material design theme but with a better user experience overall. Of course, that will be subjective – so that's just my opinion.
It supports dark mode, card view, and lot more things. You can even choose to customize the theme, font, and size. And, you don't need to do that repeatedly, simply save the theme preset instead.
It also lets you add multiple accounts while supporting split-screen mode as well. If you're really picky about certain features, this will not disappoint you. Do give it a try.
3. Relay for Reddit
If you want a richer user experience along with necessary features, Relay for Reddit really gets the job done.
The Material design UI has been beautifully applied here coupled with some sweet animations. It might just look like you downloaded an official Google remake of the Reddit app, it is that intuitive. If you're wondering, it also supports multiple user accounts and customization options to tweak font sizes or styles.
4. Now for Reddit
If you are a sucker for beautiful interfaces, you will probably be confused between Now for Reddit and Relay. They are both good-looking and intuitive applications. So, as a description here -I'll mention the key features, but you should try out both of them to see what you like more.
So, it lets you color code comments, save images, supports Reddit gold features, and a few more things. You can also add it as a widget on your home screen – which is super useful.
I'm not sure about the spoiler tags because I didn't come across any during my time of the test. So, you can try it out to test whether it supports spoiler tags or not.
5. Joey for Reddit
Are you looking for a simple user experience that works fast and offers a ton of features as well. Joey for Reddit is an example where the UI is quite simple, if not flashy – but also being able to provide all the functionalities Android users look for in a Reddit app.
Personally, I want a great user experience (with the best possible design) – so I just tested it for you. But, I'd definitely recommend you to get this if you prefer simpler designs.
Unlike 'Now for Reddit', it does support the spoiler tag and customization ability to change font style and sizes.
6. Sync for Reddit
If you are into rich user experiences, Sync for Reddit is for you. It is a full-fledged mobile Reddit experience without any compromises. You can upgrade it to the pro version to have the ad-free version – but that's alright. The ads aren't intrusive at all – so you shall be good to go.
It adds gesture-based navigation control to keep you on the edge of the latest user experiences even without any official Reddit support on this. There's a night mode present – similar to other applications but tailored for AMOLED screens as well. So, that's a bonus.
Along with all the customization options, you get the full spoiler support as well. Fret not, while being a feature-rich app, it is still a pretty snappy experience.
7. Reddit is Fun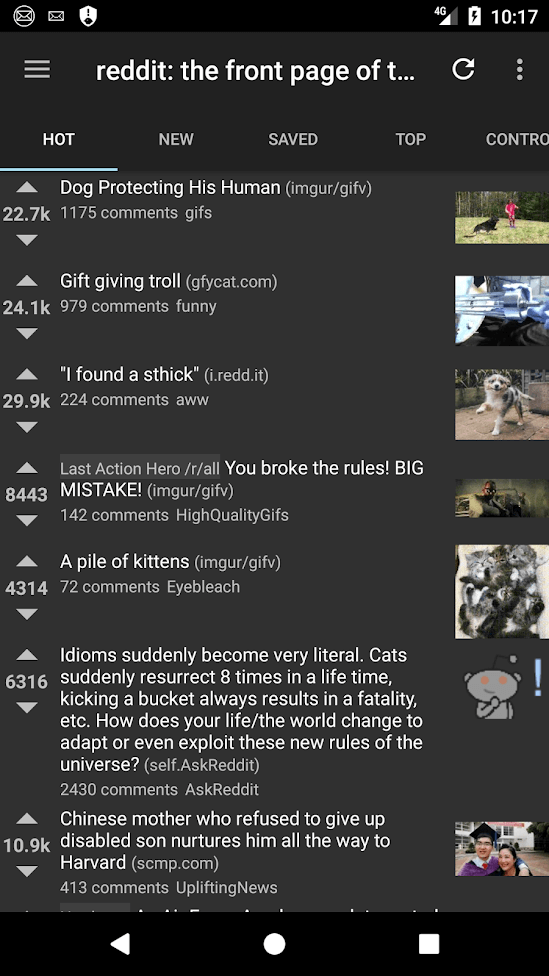 If simplicity is the way to go – there's nothing better than this. If you've used Reddit before (on Desktop), this Reddit app will remind you of the older interface Reddit offered.
This app works super fast and is tailored to do that only. You may miss a lot of features here and there but the fast response will make you want to forget the features you've always wanted.
Of course, you still get to comment, upvote, and post in the communities. But, features like spoiler support, multi-account support, will be missed. I would want you to give this a try at least!
Conclusion
You might find a lot of Reddit apps for Android popping up on social media channels and forums. I've observed that a lot of apps are plain rip-offs or do very little to be appreciated. So, we've tried to list only the best ones for you.
Of course, if there's a new app for Reddit that beats the rest in the list above, we will make sure to add it.
Or, if you think that we missed one of your favorite Reddit apps that deserved the mention, let us know in the comments below.
Related Resources: