Kodi is known worldwide, and many users dedicate a lot of time in creating content for Kodi. Some users set up their own Kodi addon while other stick to creating their own IPTV channel list. Some things are easier to build than others, but if what you want to do is keep your Kodi looking good then that's easy to do with some of the best Kodi skins.
Now the problem could be that with so many good skins for Kodi out there, you don't know which ones to choose. You probably don't have hours and hours to spend looking for the right skin for your Kodi. Not to worry, I'll show you the top 11 best Kodi skins to pimp up your Kodi in no time.
How to Change Kodi Skin?
So you're not happy with the current skin you have for Kodi, and you want to change it. The good news is that changing the Kodi skin is not rocket science and it's something even a beginner can do. So, if you're just starting out with Kodi, here's how you can change the Kodi skin.
Go to Kodi's home screen and slide your cursor to the right until you can highlight the System option.
Slide the cursor down so you can highlight the Settings option.
Once you're in the Settings menu, click enter on the Appearance option.
Move the cursor to the right until you highlight the line Skin-Confluence at the top and select Enter. You should now see a pop-up window with the title Skin and Confluence as an option below.
Confluence is the default skin that comes with Kodi, and the point here is to broaden your Kodi skin options. So, click on the Get more option to the right to gain access to a list of best Kodi skins. Choose the skin you want to add to Kodi, and it installs the skin on Kodi. You will see a notice that asks you whether you want to keep the skin or not.
Choose Yes, but if you waited too long or accidentally hit No, don't worry since you can always go back and click the Kodi skin you want to use.
11 Best Kodi Skins Out There
Now that you know how to install a Kodi skin let's get to the best Kodi skins that are available for you to enjoy. The only problem you're going to have after reading this list is choosing which Kodi skin to choose.
1. Amber
You'll like what Amber has to offer since it's one of the best Kodi skins that offers quite a few features. It's also a Kodi skin that's lightweight and will run like a dream on all your devices. With Amber, you can either personalize the home shelf and either place it vertically or horizontally.
Other great features you can enjoy with this skin for Kodi are a custom home shelf, custom home menu, and add a custom background. Amber is compatible with all Kodi versions, and you can even have the best Kodi add-ons of the setup be added to your favorites. Amber will then show you your favorite add-ons in a horizontal ribbon right above the main one.
2. Aeon Nox
Kodi adds Confluence because it's the best one to start out with but it you want the next best thing, choose Aeon Nox. Just like Amber, it is yet another skin for Kodi that works great with all devices, and it's lightweight. Thanks to the submenu below a few options will make it easier for you to access certain features.
Transitions work great, and you'll also like the visuals. The visuals range from banners, icons to panels displaying cover and information. The low lists allow you to see the title, year, and rating for movies. You can also see a cover image, fanart and other useful information. Overall, Aeon Nox is one of the best Kodi skins you can install.
3. Mimic
Mimic is another great Kodi skin option that has a little of Aeon Nox and ReFocus. It is a skin for Kodi that is available in a variety of colors, and it also allows you to personalize the home items, has touch support, TV show logos and extra fan art.
Mimic is a fast skin for Kodi, and it allows you to configure up to six custom menu items with four submenu items. You can also enjoy 15 visualization modes such as Poster, Shift, BigList, Gallery and more! In the panel visualization, you'll see three shows or movies at a time with its relevant information below.
4. Black Glass Nova
If you're looking for an easy to use Kodi skin, then you're going to love Black Glass Nova. Besides being user-friendly, it also comes jam packed with features and customization options. For example, you can personalize the home items, skin widgets, Artwork downloader, clear art and clear logo.
If you own a full HD TV, then this is a Kodi skin that's going to look great on it. In the Home screen, you're going to be able to use default background, use vertical main menu, use fixed list and turn on the home shelf.
5. Eminence
Since a Kodi skin is something you're going to be looking at a lot, it's style is, of course, going to be important. Eminence is one good looking Kodi skin, and it's fast as well. Eminence is not a Kodi skin with a lot of options, but that is a good thing if you like to keep things simple.
You can change the color theme and choose from a variety of choices for it. One thing you'll love about Eminence is that you can link your add-ons to shortcuts to get streams with the fewest amount of menus and clicks. There is also an option to ass pictures or even some widgets to the background.
6. ReFocus
You don't have to sacrifice beauty for features with ReFocus. With this skin for Kodi, you get a large variety of customization option. ReFocus is one of the best Kodi skins allowing users to personalize their home items, having touch support, artwork downloader, skin widgets and more!
ReFocus has support for Tv Tunes, Cinema Experience and CU LRC Lyrics. These Kodi add-ons are not essential for ReFocus to work but it does have support for them. You'll need to install these manually through XBMC's Add-on browser.
7. Nebula
Sometimes too much design can be a real headache. That's not the case with Nebula since it's a feature rich Kodi skin with a simple design. You can choose from various customization options and work just fine with HD TVs. There are also extra fanart and custom home items.
It also comes with Live TV/PVR, Touch support and you can also switch between two themes (dark and light). Nebula has fluid transitions and movements when you browse through elements and menus. There is also a feature that switches the themes depending on what time of day it is.
8. Titan
If you want quick and easy access to your content, then Titan is the best Kodi skin for you. You won't be overwhelmed with customizations and options that this skin for Kodi offers. And it even has just icons on its home screen that are separated into two rows. The first row includes your media libraries and the second row is for Add-ons, YouTube, and Settings.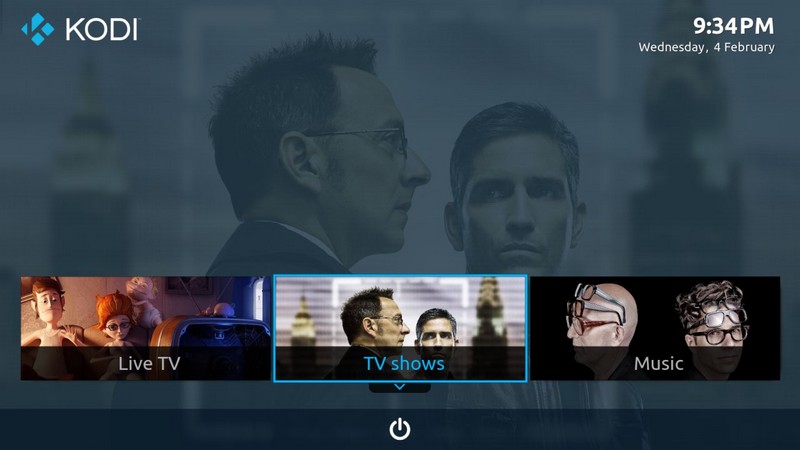 You'll find the power button at the bottom of this Kodi skin just like modern smartphones. Moving tiles around is also possible, or you can also add more blocks for new libraries or add-on shortcuts. If you have Amazon Fire TV, then you'll be happy to know that Titan has the perfect layout for it.
9. Transparency
Did you just love the earlier XBMC style skins? Then you're going to like Transparency. The Kodi skin features large images of modern living rooms and comes with a vertical menu system to the left. It also features a large area to the right for Fanart.
If you like seeing various images being shown for your files and are passionate about the appearance of your media collections, then Transparency is for you. You'll also like this Kodi skin due to its easy navigation and simple layout.
10. Xperience 1080
Xperience 1080 is a full width 1920 x 1080 panel based skin for Kodi that features a horizontal home menu, custom home items, TV show logos, etc. It also features a Windows 10 panel look and a customizable home screen.
You can list your favorite features on the primary display such as the top add-ons, favorite shows or regularly used library. Xperience 1080 will show you your media center, but it won't overwhelm you with too much.
11. Arctic: Zephyr
Last but not least you have another name on the list of best Kodi skins – Arctic: Zephyr. With this skin for Kodi, you'll see the menu system towards the bottom of the screen so you can have more room for media content information.
The menu items are shown in a single row, and you won't have to navigate much to get to your content. It's perfect for Amazon Fire TV remote, and it features an ambient cloud style background. The skin for Kodi is clutter free as well.
Also Read: Google Home vs Amazon Echo: Everything You Need to Know About Google Home
Which Kodi Skin you are Going to Install?
You were looking for the best Kodi skins, and you found them. You can't go wrong with any of the options listed above. You'll get style and a large variety of options. Which one do you think you're going to go with?