Listening to local radio stations on an old radio with antennas is a thing of the past. Now there are tons of internet radio services that will let you listen to the radio online. You can listen to your favorite music with tons of advanced features to make your listening experience perfect.
In most cases, all you have to do is select your favorite artist or listen to your favorite genre and the radio service will start playing stations catered to your taste. You can also skip tracks (limited in most cases), see lyrics and take advantage of many other features that will definitely make your music listening experience out of this world.
6 Best Internet Radio Services to Listen Radio Online
There are many internet radio services available, but choosing the right service is important to enjoy your music. That is why we have listed the best internet radio services to help you choose the right service that fulfill all your needs.
Spotify is definitely the king when it comes to internet radio services due to its huge database of music. Although it is a find and play service, but its radio section is quite feature rich as well. Spotify comes as a desktop app, but you can also access it from your smartphone or its web interface from any browser.
Starting a station is very simple, just enter artist, genre or song and spotify will automatically start a station that will play songs perfect for your taste. Spotify can also recommend a station based on genre if you can't seem to think of one. There is also an option to checkout the lyrics of the currently playing song, along with all the information displayed in the middle.
You can opt for Spotify paid subscription ($9.99/mo) to get an ad free experience with additional features like unlimited skips, download songs, play song in high definition and play any song. Most users should be fine with the free version, but advanced music lovers will enjoy premium subscription.
Also Read : Top 10 Best Music Streaming Apps for Android and iOS to Stream Music Online
Pandora is the leading internet radio service that only focuses on internet radio and features related to it, unlike Spotify. It's an extremely simple yet powerful internet radio service, even its main interface just has a single search bar to get you started in no time. Just enter the name of song, artist or genre and a custom radio station will be created for you.
If you are in mood of discovering, then you may also discover stations made by other users or top charts. You can also check out a full list of genres to create a station out of them. Each playing song has its lyrics mentioned below, and a complete bio of the artist as well. You can also share the music over social media, and buy tracks right from Pandora website (if you wish to download).
Checkout : What Song Is This ? – How to Identify Songs Using 11 Best Song Identifier Apps
TuneIn focuses on playing live radio stations, instead of custom playlists like in the above mentioned services. TuneIn will let you listen to live radio stations related to sports, music, news and talkshows from around the world. Here as well, you can provide your taste about specific stations, like music genre or sport your are fan of.
You can listen to radio station right on the website or download the desktop application for a smoother and feature rich experience. You can also search for stations based on location, so if you just want to listen to a station from your local state, you can easily listen to it on TuneIn. TuneIn also keeps a record of all the previous shows on a station, so if you missed your favorite show, you can always listen to it in your free time.
Also Read : Top 10 Best Sites to Download Free Mp3 Music Worldwide
If you are fan of free services, then you will be pleased by what Jango has to offer. Jango is still an ad supported internet radio service that will let you listen to your favorite music, like Pandora. However, it puts least restrictions on the user, and one of their most loved feature is "Unlimited Skips", which is only available in paid versions of other similar services.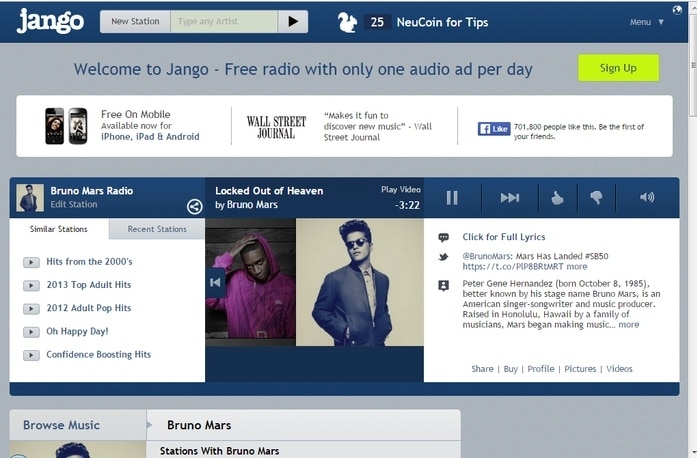 Its ads are also not that much of a pain, it only shows 1 video/audio ad per day. Once you are done, you can stream without any issues. Its interface is a bit cluttered —unlike Pandora — but when you will enter your desired music taste, things get a lot easier with accurate stations to your taste. It also offers lyrics for the songs being played along with a complete bio of the artist.
Checkout : Top 10 Free MP3 Download Sites for Free MP3 Music Downloads
Slacker is similar to Pandora, but it is extremely customizable with complete focus on the user. Just like any other service, you can browse stations or enter your music taste to start listening to stations. However, it offers custom stations that are created by real human Djs who are big fan of music. You can listen to them and follow them if you like their work.
Furthermore, you also have the right to vote to ban a specific artist to create the ultimate list of music that everyone loves. It allows you to save music to your playlist and create a full playlist right on the website. You can opt for paid versions to remove ads and download your favorite songs. You will also get unlimited skips (6/hour allowed in free version), custom playlists and play as well as download music on demand.
Read : Top 10 Best MP3 Music Downloader Android Apps for Free Music Downloads on Android
iHeartRadio is a combination of live radio stations and taste based internet radio. If you are looking for both types of internet radio, then iHeartRadio is the go to place. Its main page shows live radio stations that are catered towards your taste. All you have to do is tell them your preferences and they will list down all the radio stations that match your taste. There are over 1000 radio stations to choose from, so you will definitely be able to find a good one.
There is also an option "Artist Radio", where you can select your favorite artist and all the songs of that artist will start playing. They will show a complete list of famous artist, so don't worry about entering information yourself. There is a section for News and Podcasts as well, you can search for radio stations that air news and podcasts here.
A unique search function of iHeartRadio is "Perfect For", where you can search for stations perfect for specific situations. For example, you can search songs for workouts, running, kids and doing house chores, etc.
Also Read : 15 Best Sites to Download Free Audio Books Online
The Pro Review From TechReviewPro
Radio is a great source of entertainment that is full of surprises and always puts you in the guess work of what is next. In this era of internet, there is no need to listen to stations on your radio or radio app. Just use the above mentioned best internet radio services to listen radio online for free.
You can go for TuneIn if you want to listen to official live radio stations, otherwise, Pandora is a great option as well if you want to listen to custom radio stations. Best of all, just listen to iHeartRadio to get the best of both worlds. If there is any other internet radio service that you use, share with us in the comments below.
Don't Miss: