iPhone X is Apple's latest creation that managed to amaze us all. Being one of the most expensive phones ever, iPhone X has faced many criticisms. Even I believe iPhone X lacks innovations that Apple is known for. While price being higher than any other iPhones, I don't feel it's worth the price. Despite Apple going crazy with its pricing, there are many good reasons to buy iPhone X – bezel-less display, face ID, amazing camera, animoji, and much more. It's a fantastic phone, but since it's expensive and you have put a hole to buy iPhone X, you want to protect it at all costs. Yes, it did cost you a pretty penny, why not get something to protect it as well? The good news is that there are a large variety of iPhone X cases and covers you can buy on Amazon at a great price.
The downside is that with so many iPhone X cases and covers to choose from, which ones are worth buying? The following iPhone X cases are the most popular on Amazon and will not only protect your phone but will also add some style.
Also Read: Top 10 Best Moto G5 and G5 Plus Cases You Can Buy Now
Top 10 Best iPhone X Cases and Covers You Can Buy
If you are looking to protect your iPhone X with one of the best cases and covers for iPhone X, the good news is: you are at the right place. In this article, you'll get to know about some of the best iPhone X cases and covers that you can buy now.
1. iPhone X Case Casy Mall Hybrid Slim Fit
If you are looking for something simple yet stylish, iPhone X Case Casy Mall Hybrid Slim Fit is the case for iPhone X that you should buy. The iPhone X Casy Mall Hybrid case is not only available at a great price ($8.99), but it's also one of the most popular iPhone X Cases available at Amazon. It features an anti-scratch optical clear back panel and a TPU bumper. Even though the case covers the volume and power buttons, you'll be able to access them quickly. Covering the buttons is a good idea since it helps keep the dust-out.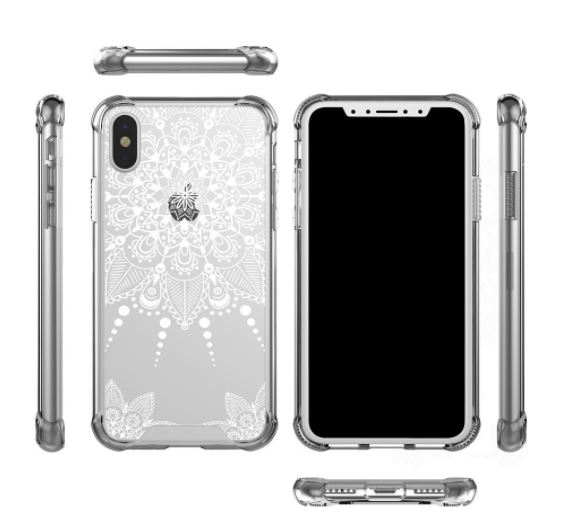 This case for iPhone X is shock-proof, but it won't make your iPhone X feel bulky. There is also no need to remove the case when it's time to charge your phone. The iPhone X case also gives you access to all your phone's ports, only weighs 0.8 ounces, measures 6.4 x 3.8 x 0.3 inches. Unfortunately, the case just comes in silver only. Check out this iPhone X case.
2. iPhone X Casy Mall 3-Layer Heavy Duty Case
Pretty in pink is what the iPhone X Casy Mall-3 Heavy Duty case is. Just like the previous case for iPhone X, this one also has an anti-scratch optical clear back panel and a TPU bumper. The iPhone X case also features a 4-point rearguard that will help keep your phone scratch-free.
The cutout of the case gives you quick access to all the ports, and even though the buttons are covered, they can still be easily pressed. Three layers of heavy-duty plastic will keep your phone safe, and you get all of this for only $8.99. This iPhone X case is only available in pink, but hopefully, more colors will be added soon.
3. Myriann Scratch Resistant iPhone X Case
Currently, iPhone X is available in only two colors – Silver and Space Grey. If you are going to buy the Space Grey model, this black Myriann iPhone X Scratch Resistant case will definitely give your iPhone X some more style. It's tailored made and has a thin & sleek design. The case for iPhone X features defined edges and a smooth finish. It will also absorb shocks thanks to the high-grade TPU and acrylic materials it's made out of.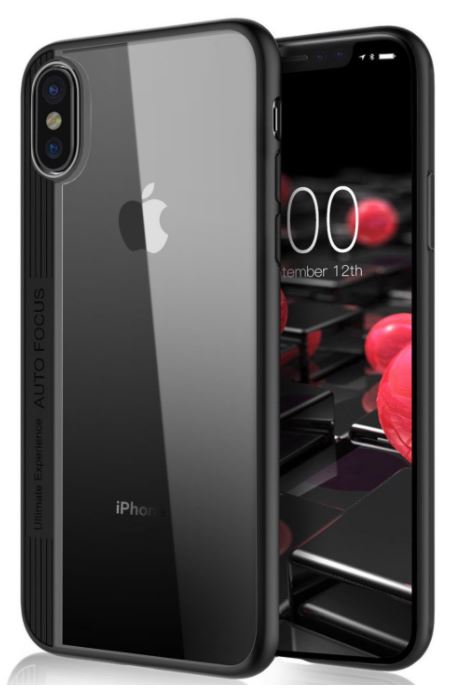 You'll have a good grip on your iPhone X with this case, and it will give you free access to all the buttons and ports the phone has to offer. Thanks to the raised bezel your iPhone X will have extra protection, and it will keep the camera from shattering. If you like the case, it can be all yours for $10.88. Buy it now before someone else does.
4. UAG iPhone X Monarch Feather-Light Rugged Case
$1.25
You can tell that the UAG iPhone X Monarch case is rugged just by looking at it. It's a handcrafted case for iPhone X that features five layers of protection. It's made out of grain leather and metal that won't give you too much weight to carry. You won't have any problems with this case when you wirelessly charge your iPhone X, and it also gives you a good grip with its honeycomb traction grip.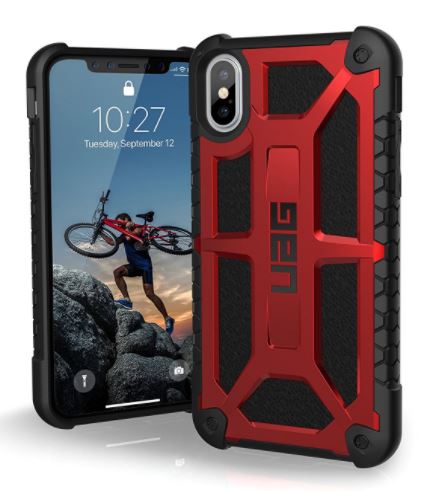 This iPhone X case is made with a soft impact-resistant core and ultra-sensitive tactile buttons. The UAG case also meets the 2X military drop-test standards (MIL-STD 810 G 516.6). The manufacturers are so sure of this case for iPhone X lasting longer that, they are willing to give you a 10-year warranty on it. It's available for $59.95, and you can buy it from here.
5. iPhone X Case Cover with Air Vent Magnetic Car Mount
Are you looking for a futuristic-looking case for your iPhone X? If so, the iPhone X Rugged Armor Hybrid Full Body Protective Case is a great option. It will only set you back $12.99, and it can do more than protecting your iPhone X from the typical scratches and drops.
Thanks to the built-in metal plate it has, it's compatible with the magnetic holder in your car. You won't have to buy the car mount on the side since you get one for free with the purchase of this iPhone X case.
The car mount kit also allows you to use the case as a kickstand so you can enjoy your favorite YouTube videos. The case for iPhone X also features the standard anti-slip, raised edges, full body dual layer protection, and access to all the ports and buttons. You can grab it from here.
6. iPhone X Premium Wallet Cover
No products found.
A case is definitely more practical if you can also use it to carry essential things such as cash and your credit cards. That is what you can do with the iPhone X Wallet Cover. You can get it in either black, brown, blue, purple, or red. It costs $15.99, but it's worth it since it features a unique patent RFID blocking.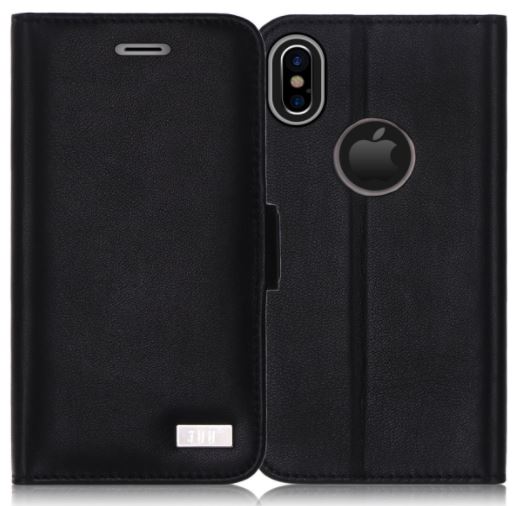 Now, no one can copy your personal information while you're enjoying a night out on the town. The case for iPhone X is made out of genuine and premium leather and is 100% handmade. It also comes with a kickstand function, but at the same time, it gives you access to all the ports and buttons. If you're into the elegant look, you can't go wrong with this iPhone X case. Check out the various colors available for this iPhone X case.
7. iPhone X Glitter Luxury Case
iPhone X Case, Caka iPhone Xs Glitter Case Rhinestone Series Luxury Cute Shiny Bling Mirror Makeup Case for Girls with Ring Kickstand Diamond Crystal Protective TPU Case for iPhone X XS (Silver)
[Rhinestone Series Case Compatible with iPhone X/iPhone XS 5.8 INCH][ 365 days Caka Guarantee Warranty with Amazon 30 days Full Refund Guarantee.]
[Made of high grade TPU material]iPhone X glitter case which is safe and protective, light weight which fits your phone perfectly. You can access all buttons with the case,perfect cutouts and slim design allow you to maximize the functionality of your iPhone X.
[Unique Design]Unique 360 degree rotating ring kickstand allow enviable hands-free comfort use of your iPhone X from any angles.
[Scratch-resistant Mirror Makeup Back]The back can be use as a mirror also provides lasting protection against scratches and scrapes, keeping your case looking new.
[Shiny Sparkle Style]The back of case with inlaid artificial rhinestone diamond, perfect as a gift for your daughter,granddaughter,girlfriend,wife,friends on her birthday or a holiday.she will love it.
Who doesn't want a little bling in their lives, right? If you want to make it shine, get the iPhone X Glitter Luxury Case. It's a beautiful looking case for iPhone X that is available in either silver or pink, and it will only set you back $10.99.
With this case, not only will your iPhone X be protected from drops and scratches but it will also look fantastic! It features a 360-degree rotating ring that can be used as a kickstand and thanks to the scratch-resistant mirror makeup back; you can quickly see how you look. Check out this case for iPhone X.
8. iPhone X Armmorbox i-Blason Case
The Armorbox i-Blason Case is primarily for the iPhone X.  It's available for $17.99, and it comes with a built-in screen protector. You can either get it in black, blue, green, pink, and white. Don't use this case for the iPhone 8 since it's only for the iPhone X.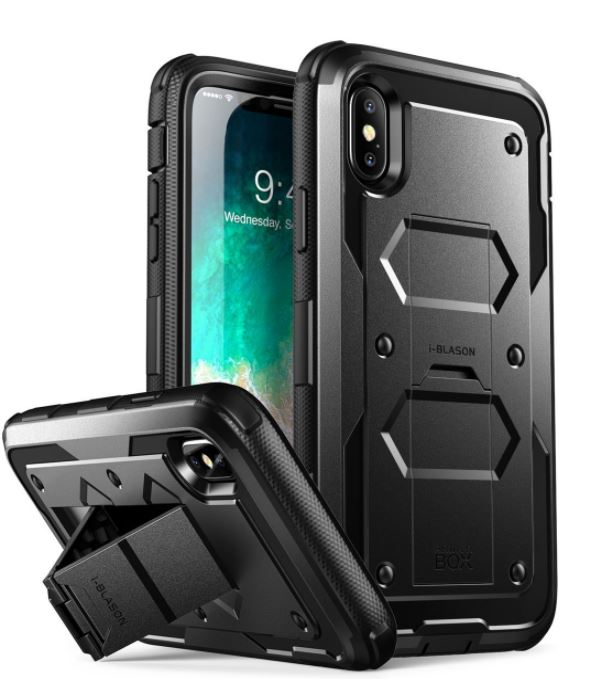 This iPhone X case is made out of hard polycarbonate that's flexible and shock absorbing. Your phone will be protected from scrapes and scratches, and it also features a detachable belt clip holster. The belt clip allows you to use this case with a kickstand making a lot easier to watch videos. It's available in many colors including black, blue, green, pink, and white, but I like this color very much.
9. Case-Mate What's Your Mode iPhone X Case
$5.00
How does having a phone case that can tell you what mode you're in? The Case-Mate What's Your Mode Case does precisely that. It changes color as soon as you touch it so you can know what mode you're in.
It also features military strength impact protection, and it meets the MIL-STD-810G drop test standards. The iPhone X case has an anti-scratch technology and refined metal with a natural feel. You also get a lifetime warranty with this case for iPhone X.
10. iPhone X Toru iPhone X Wallet Case
TORU Wallet Case for iPhone X - Matte Black Solid
Holds up to 3 cards: 2 cards inside the flexible soft TPU cardholder compartment and 1 card inner slot of the hard cover (without mirror installation)
Full protection with double layer impact resistant structure and raised bezels for screen & camera
Easy & responsive access to all control buttons, ports and camera
Included adhesive mirror sticks into the rear compartment (*** Please remove the clear or blue protective film before use for a clear reflection***) NOTE: For safety reasons the mirror is made from plastic
Compatible with Apple iPhone Xs (2018) / Compatible with iPhone X (2017)
Wallet cases are great since they allow you to take essential things with you such as your credit cards. The only problem with that is that they are visible as soon as you open it. With the iPhone X Toru iPhone X Wallet, you can take your credit cards with you but in a secret compartment in the back.
It can hold as many as three credit cards, while still providing protection thanks to the dual layer soft rubber TPU & hard plastic cover. The case for iPhone X frees up all the ports and button on your iPhone X, and it also offers adhesive mirrors sticks that are made out of plastic for security reasons. You can buy this case from here.
The Pro Review from TechReviewPro
The iPhone X is a fantastic phone, but with any of the previously mentioned cases for iPhone X, it's going to look even better. These cases will help keep your iPhone X looking like new so you can concentrate on enjoying your new iPhone X. Which case do you think you're going to get? Share your thoughts in the comments.
Don't Miss: