Having an FM transmitter app on your Android device is always a good idea. The more music options you have, the better, right? Sure you have thousands of songs on your phone, but for some reason, you always end up hearing the same ones. But thankfully, some Android FM transmitter apps will fix it forever.
With an Android FM transmitter app, you'll finally get out of that music routine and listen to whatever song comes your way. There are various FM radio transmitter apps to choose from and all of them with features that will make your music listening experience better.
Also Read: 6 Best Internet Radio Services to Listen Radio Online
Top 10 Best Android FM Transmitter Apps for Free
Are you wondering what are some of the best FM radio transmitter apps for Android? Simple Radio – Free Live FM AM, TuneIn Radio, FM Radio, Radio.Net, My Tuner FM Radio, FM Radio India – Live Stations, iHeart Radio Free Music and Radio, Radio Online, iRadio FM Music and Radio, Radio Online app for Android – these are our pick of top 10 best Android FM transmitter apps.
These radio transmitter apps will work great for your Android phone. Download link for each of these Android FM transmitter apps is provided below.
1. Simple Radio – Free Live FM AM
Simple Radio has 10 million+ downloads and counting on Google Play. The radio app offers over 40 thousand stations for you to choose from any region in the world. So, if you've always wanted to know what kind of music they listen to in a particular country, now you can know.
The app has a very easy to use interface, so you don't have to worry about being bombarded with features you may not even use. The app has a search bar at the top where you can search for the radio station or country you want. The results of your choice will be shown at the bottom, and you can also save them to your favorite list.
2. TuneIn Radio
With TuneIn Radio you have over 100 thousand stations to choose from. The radio station range from topics such as sports, music, and news from all over the world. It also includes over 40 thousand audiobooks and 600 commercial-free radio stations.
If you want others to know what you're listening to, you can always share it on either Facebook, Twitter, Google+, and Tumblr. Effortless launching since you can open the app by only saying, "OK Google listen to TuneIn".
TuneIn Radio has a lot more options than the previous app. The radio is separated into sections such as local radio, music, sports, news, podcasts, talk, trending, by location, by language, and recent.
Also Read: 5 Best Free MP3 Music Tag Editors for Android
3. FM Radio
FM Radio app for Android didn't want to be left behind and thus, offers a large variety of options as well. It also has a favorite list. You won't fall asleep with the radio on, you can count the sleep timer to turn it off for you.
The app won't drain your mobile data, and you can even sync the app with your alarm clock, so it's the radio that wakes you up in the morning. The radio can be from anywhere in the world, and you can easily find one thanks to the built-in search bar.
FM Radio can also automatically tune you into your favorite station as soon as you open the app. As soon as you open the app, it will display all the radio stations it offers, but if you're looking for a particular one, you can always count on the search bar.
You can also look through different genres such as music, top 40, talk, pop, news, rock and more.
Also Read: 10 Best Free Music Downloader Apps for iPhone
4. Radio.Net
Radio.Net is a very well organized app with various options for its users. It separates the radio stations into sections such as local stations, genres, top 100, editor's pick, countries, cities, topics, podcasts, and languages.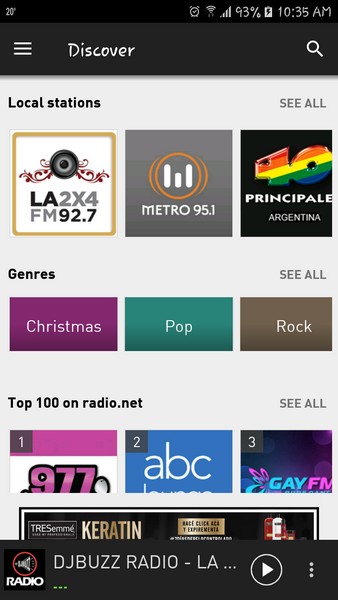 So, if you're learning a new language, the last option will really come in handy. This app has a sleep timer so the radio won't be left on all night and an alarm that can wake you up to any radio station. The app is completely free and that includes the over 30 thousand stations it has and the option to save the songs you hear.
5. My Tuner FM Radio
As you can see, Google Play is full of popular FM transmitter app such as My Tuner FM Radio. The app features 40 thousand AM and FM radio stations from more than 200 countries.
The radio can continue to play in the background even while you use other apps. You can share the radio stations you found with family and friend through Facebook, Twitter, SMS, or Email.
Besides having a very elegant design, it also allows you to save your favorites, search by country, and see what are the most heard songs. There's a charts option where you can find out which songs are the most popular, the most heard, and what new songs are available.
6. FM Radio India – Live Stations
And here comes my favorite. If you are like me who happens to live in India then this is an FM transmitter app you need to try. FM Radio India will bring you the best radio station in India.
You can choose from categories such as Bollywood, Hindi, Tamil, Punjabi, Telugu, Devotional, Bhakti, English, Rock and more. Save your favorite radio stations for later and manage your notifications so you're always informed.
7. iHeart Radio Free Music and Radio
iHeart Radio needs no introduction since there aren't many that haven't heard of it. With iHeart Radio you get commercial-free stations that cover topics such as news, sports, and podcasts.
You can listen to stations near you or look through thousands of other stations or podcasts. In the folder icon, you can save all the stations you want for later and you can also rate the kind of music the station plays.
8. Radio Online – PCRADIO
By listening to the Radio Online app, you'll definitely be one happy camper. You can easily choose what country's radio station you want to listen to and when you've found it, tap on the start so you can mark it as your favorite.
The buttons to skip, go back or play a song are conveniently located at the bottom of your display. So the sound is just the way you like it, the app has an equalizer sound booster that you can adjust. You can modify the sound range compression and preamp.
If you would rather leave it alone, you can simply choose the kind of music you're listening to and the app will make the necessary changes. You can listen to pop, country, news, sports, dance, house and more.
Also Read: 7 GarageBand Alternatives Best Music Making Apps for Android
9. iRadio FM Music and Radio
iRadio FM Music has a free version and a premium for its users. The app will let you enjoy the premium versions for free for seven days so you can enjoy everything the app has to offer. iRadio can show you which are the most popular radio apps in a particular country.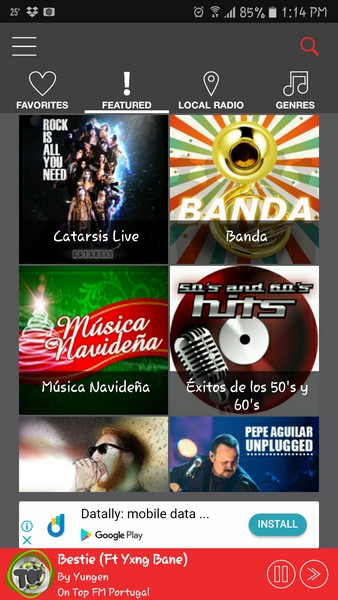 You can choose to listen to local radio or choose the variety of genres the app has to offer. For example, you can choose between, latino, salsa, mixes, 90's, 80's, 00's, classical, country and many more.
Not only can you save your favorite radio station, but you can also save your favorite song, artist, and even have your own custom stations.
10. Radio Online by Alexandr Sotnichenko
Last but not least you have the Radio Online app by Alexandr Sotnichenko. There is another app on the list with the same name but they are completely different apps. Make sure that you look at the name of the developer before installing.
The app will show the top radio stations regardless of the topic it covers. Tap on the start to the right to add the station to your favorites so you'll always have quick access to it. Browse through the hundreds of countries the app supports so listen to any radio station you want.
The app may not have as many features as the other FM radio transmitter apps on the list but it still has great options for you to enjoy. To turn off the button you will need to press the off button or else it will continue to play in the background. It won't cut it by simply closing the app.
Also Read: 7 Best FM Radio Apps to Listen to Radio on iPhone
Conclusion
Listening to your music playlist can get boring because you hear the same songs over and over. With an FM transmitter app, you can listen to a large variety of songs. You may even hear a song that can turn out to be your new favorite.
Which app will you try? Do let me know in the comments below.
Don't Miss: