Looking for the best FM radio apps for iPhone? Why would you need a radio app on the iPhone when there are already many mp3 downloader apps? Well, let us face it, none of the iPhones ever offered an inbuilt FM Radio capability. Even the device has an FM receiver, it's not worth activating it either (unethically). Some of the users just feel absurd when they ponder about an expensive smartphone that does not support FM radio.
It is definitely something weird. But, in order to make that possible, Apple has to bring a lot of changes in its design language, which is not worth the effort as well. So, if you have an active Internet connection, you could still follow your favorite radio stations by utilizing a couple of FM Radio apps for iPhone. You could also simply term them as – radio apps for iPhone because not every of the radio app available on the iPhone would connect you to the FM stations but mostly you will be connected to the Internet radio stations.
So these iPhone apps to listen to radio online are not primarily FM radio apps for iPhone, instead, these are some of the best radio apps for iPhone users.
Also Read: Top 6 Best Internet Radio Services to Listen Radio Online
7 Best FM Radio Apps for iPhone to Listen to Radio on iPhone
Do note that these FM Radio apps does connect to the radio stations but requires an Internet connection for that. Here, we will check out 6 of the best FM Radio apps for the iPhone.
1. Stitcher Radio For Podcasts
Stitcher Radio app for iPhone completely turns the way people listened to the radio stations. Well, you must be knowing that there are specific schedules for shows to go live on radio stations. But, what if you have something important to attend at the same time?
Fret not, Stitcher Radio app for iPhone lets you schedule your shows (records them for offline use), and then you could enjoy the same whenever you want wherever you are. In addition, you will find a lot of news stations (mostly from trusted sources – CNN, Fox News, ESPN, and so on.)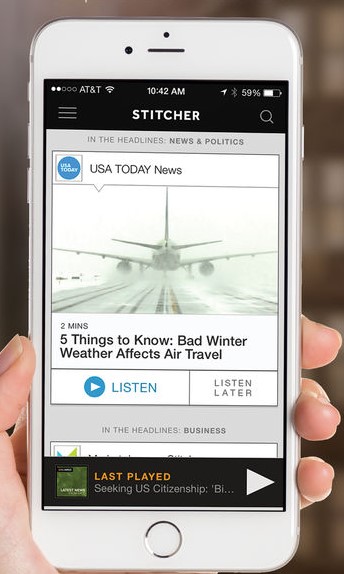 Stitcher Radio app for iPhone recently introduced its premium plans as well where you could opt for monthly or annual subscriptions. It also comes with CarPlay support. Also, you do not have to worry if you have missed an episode of an important podcast series, you still have the ability to listen to them later.
TuneIn Radio Pro is one of the best FM Radio apps for iPhone. It is completely a premium application that would cost you 800 INR (around 10-12 USD).
Maybe most of you would not be willing to purchase a radio app on the iPhone where you could find other radio apps for free. But, do note that TuneIn Radio offers the biggest database of radio stations for a variety of talk shows and episodes from around the world. Fortunately, it does not annoy you with display ads while listening to your favorite radio station but does offer a couple of in-app purchases (plans) you could opt in to get the best radio listening experience. The premium plans would also let you access more than 40,000 audiobooks.
TuneIn Radio Pro also supports CarPlay. In addition, you could experience it even if you are connected to your Apple Watch. Also, it supports Google Chromecast.
Also Read: Top 7 GarageBand Alternatives Best Music Making Apps for Android
3. Apple Music
Apple Music is what you already have. In case, you do not want to install other dedicated applications as radio apps for iPhone, you could utilize the ability of Apple Music to connect you with a lot of music radio stations. You already have it installed on your iPhone!
Although Apple Music does offer other radio stations as other dedicated applications do the job, if you are only looking to tune into the music radio stations, then Apple Music should be your best bet. Unquestionably, the user interface blends in well and gives a perfect user experience.
iHeart Radio is one of the most loved FM radio apps for the iPhone. If you are looking right into a radio app for iPhone that can let you experience several radio stations (including music stations) for free, iHeart Radio is the radio app for iPhone that you can't miss.
Of course, it does offer premium plans where you get the ability to skip unlimited times, record what you're listening to for later use, and create unlimited playlists as well. With iHeart Radio app for iPhone, you can tune in to some of your popular FM stations nearby, and also tune into news/sports radio stations.
iHeart Radio app for iPhone presents a decent user interface. In addition, you can also put all of your favorite radio stations at a single place (My Favorites).
Slacker Radio is yet another impressive radio app for iPhone. It mixes up the radio stations to present you with something extraordinary.
With the Slacker Radio app installed on iPhone, you can grab music stations as well as news/sports radio stations. There might not be your favorite FM radio station listed, but after all when you are utilizing an Internet connection to tune into a radio station, why specifically connect to the ones that are traditional FM radio stations?
You could try a variety of radio stations available. If you opt-in for a subscription plan, you get the ability to play offline what you listen to online. Thus, making you able to listen to music without WiFi.
6. Xtend FM Radio
Xtend FM Radio is a simple radio app for iPhone. It utilizes the Internet to connect you with the popular FM stations that are accessible through it.
Xtend FM Radio might not be a fully-featured FM radio app for iPhone. But, it definitely does the job as expected. Although it does not offer a rich user interface, it works in quite a few places. You should consider trying out Xtend FM Radio on your iPhone.
7. AOL Radio
AOL Radio is yet another interesting radio app available for iPhone. It provides a good user interface. Along with music radio stations, it also lets you tune in to some of the popular news or sports radio station.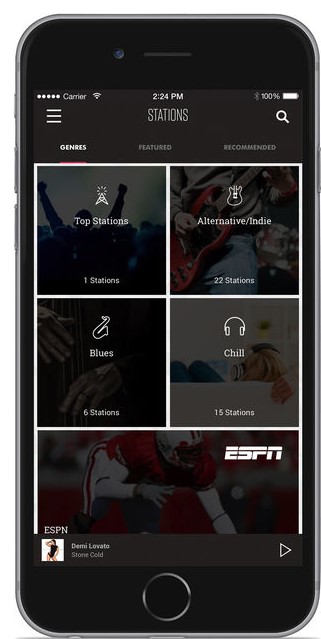 If you opt-in for a premium plan, you could get rid of the in-app advertisements and listen ad-free. On the other hand, the advertisements while you listen to something important might annoy you at times.
Also Read: Top 10 Best Mp3 Music Downloader Apps for Android
The Pro Review from TechReviewPro
There are a lot more radio apps for iPhone but only a few of them offer to connect FM radio stations of your choice. Generally, if your favorite FM radio station presents an Internet radio station, it will surely available using such iPhone radio apps in no time.
Whatever be your purpose, listening to podcasts, news, music, sports, and others, you will have Stitcher Radio for the work. If you simply want the access to a huge database of radio stations from all over the world, TuneIn Radio Pro would come to the rescue. If Music is all you want, Apple Music and iHeart Radio would be sufficient.
Gone are the days of FM radio stations. Did we miss any of your favorite iPhone radio apps that have the ability to connect to your favorite FM radio station? Or do you prefer to connect to Internet radio stations? Let us know your thoughts in the comments below.
Don't Miss: