Music is a very powerful thing. It can either make you feel pumped while working out or it can make you feel sad. The reasons as to why you would listen to music are endless, but most of the time you either listen to music online with music streaming apps or do it without an Internet connection with music downloader apps. However, you may want to listen to a song that you don't have on your mobile device or your computer, and for that, you need to be online. That could sometimes be a problem because your Internet provider could be having problems or you don't have an unlimited plan. Therefore, you need "No WiFi Music Apps" that don't need wifi.
If you are wondering what are "No WiFi Music Apps", let me tell you; "No WiFi Music Apps" are the music apps that don't need a WiFi connection. Using these apps you may listen to music without an internet connection. Becuase these are the music apps that work without WiFi. So if you want to listen to music apps that you can use without WiFi, you should be looking for "No WiFi Music Apps".
Also Read: Top 8 Best Android Music Player Apps to Supercharge Your Music Experience
How are No WiFi Music Apps Different from Music Downloading Apps?
We have previously shared free music downloader apps that you can use for downloading free music on your phone as well as free mp3 downloads sites. But downloading music from the internet is not always a good choice. Music downloader can be illegal. However, "No WiFi Music Apps" are quite different from music downloading sites but quite similar to Grooveshark alternatives.
With the "No WiFi Music Apps", you will be able to save your favorite music onto your mobile device and listen to them without a WiFi connection.
Also Read: Top 10 Free No WiFi Games that Don't Need WiFi – Best Free Games Without WiFi
Top 10 Best No WiFi Music Apps that Don't Need WiFi
If you are looking for apps that let you listen to music without a WiFi connection and not sure what are the best "No WiFi Music Apps", I have explored the top 10 best No WiFi music apps that don't need WiFi. So let's find out the music apps for which no WiFi is needed.
1. iHeartRadio
iHeartRadio is one of the best no WiFi music apps you can get on your phone. This app may sound a little familiar since it is one of the most popular music apps out there. It is and for an excellent reason. It features access to over 800 radio stations, and you can even create your very own custom stations.
You can base those radio station by artist, genre, bands, and songs. This makes finding a certain song a lot easier and definitely saves you some valuable time.
iHeartRadio claims to have 18 million songs, more or less, and 400,000 artists as well. Just in case that wasn't enough, it adds more songs every day. At least with this music app, you won't be able to complain about the lack of options. The no WiFi music app is available for both Android and iOS.
2. Pandora
No, this Pandora has nothing to do with Avatar but has everything to do with offering you good music with no need for WiFi. Pandora doesn't have as many selections as the first no WiFi music app, but that doesn't mean you can't find good music here. Type in an artist or the name of a song and the app will give you a radio station that plays similar music.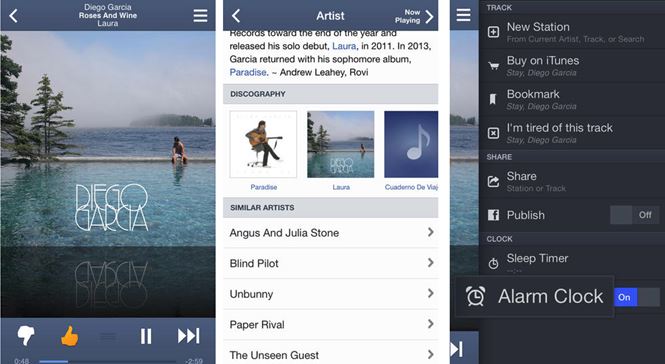 After using the music app for a while, it's going to pick up on what kind of music you like. It does this so it can later offer more of what you like and less of what you don't. The free version of the app does come with ads but if you want to get rid of them, you can by paying $4.99 a month. Android, iOS.
3. Spotify
I couldn't leave Spotify with the list of great no WiFi music apps you can listen without WiFi. Whenever you hear the words music app Spotify is the app that usually crosses everyone's mind.
This app offers its listeners around 20 million songs you can listen to every day and offers a lot more privacy as well. You can share on social media what songs you are listening to or even the songs you liked.
If you use Spotify on your desktop, you can use it for free. But, if you want to use it on your mobile device then you will need to pay $12.99 a month. A small price to pay to listen to great music without WiFi. Android, iOS.
4. Deezer
Deezer is another must-have no WiFi music app on any music lover's device. With this music app, you can listen to good music and create your very own playlist. Your playlist can consist of your favorite artists, songs, MP3s, and Albums.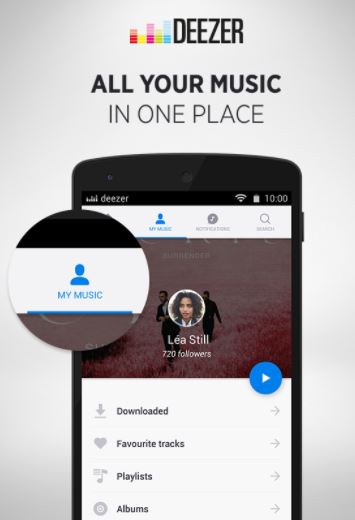 After a while, you'll surely have a lot of music, but thanks to the search feature you'll easily be able to find them. If you ever want to sing along to your favorite songs, you can since the app also adds lyrics to them, just like some of the best Karaoke apps do. Say goodbye to humming to that song because you have no idea what the song says. Android, iOS.
5. Google Play Music
Google has an app for just about everything and why would music be any different, right? With the Google Play Music app, you can listen to the most popular music out there that consist of more than 50,000 songs. It is one of the best no WiFi music app that lets you take music offline and work even without WiFi.
You can either use Google Play Music on your mobile device or on your computer. The offline music features it has allows you to synchronize your iOS device with iTunes in just a few clicks. Android, iOS.
6. Wynk Music
Just like all of the no WiFi music apps on this list, Wyk Music is also available for Android and iOS. It has music I'm sure you're going to love and that you can easily find to listen offline without the need of WiFi connection. You can search for your favorite tunes either by genres such as party, romantic, old romantic, retro songs, Bollywood, and more.
There is also the possibility of searching for music in regional languages such as Gujarati, Marathi, Malayalam, Telugu, Tamil and more. Android, iOS.
7. Beats Music
If you would rather go with a well-known offline music app then Beats Music is one of those no WiFi music apps that don't need WiFi. Just like the other music without WiFi apps, look for the genres and artists you like the most and it'll create the stations for you.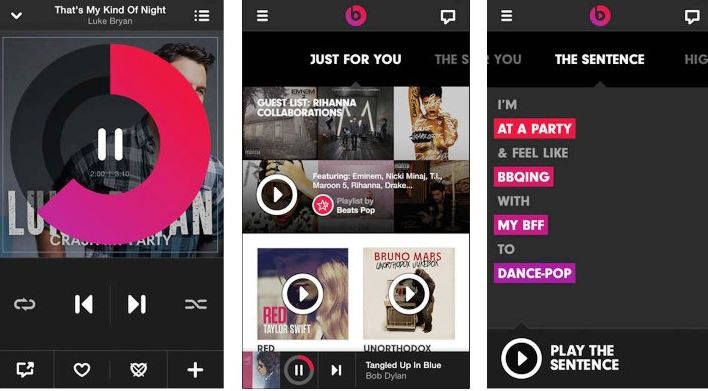 As you can see the app does the work for you so you can sit back and just enjoy the music. The music app also gives you the possibility to locate curated lists from sources such as Academy of Country Music and Rolling Stone.
Simply pick a station based on the artist you feel like listening to and start enjoying the music. To see if this is the app for you can try it for free for a month, but after that, you will need to pay $9.99 a month. iOS.
8. SoundCloud
SoundCloud is another no WiFi music app that I'm sure you've heard of. Besides being able to listen to great music, this app lets you upload your own creations. With SoundCloud, you can either listen to the latest in music or to songs that have been out for some time. Time doesn't matter with SoundCloud.
A feature the app has and that you're going to love is that the artists can also interact with it. If you've ever wondered what your favorite artist listens to while on the road, you can find out with this app. Since lesser known artists can also have great songs that you might like, this music app gives you the possibility of finding them. Android, iOS, Windows.
9. Groove
What better name for a music app than Groove since that's what you do with music anyway. This app may not be as popular as other no WiFi music apps, but it's slowly becoming more and more popular. It's already the number one music app in the Canadian App Store.
This music app will automatically know what kind of music you like since it will tap into your iTunes collection. You won't have to waste time using the app so it can get to know what you like and what you don't like.
Unlike other no WiFi music apps that have the option to use them offline, this app is 100% offline. You can even use the no WiFi music app even if your phone is in airplane mode. This is really going to come in handy whenever you're on those long trips and needs something to keep you entertained. Android, iOS.
10. Musify
Just because Musify is the last app on the list of no WiFi music apps that work without WiFi, it doesn't mean it the worst. It's an app that is just as good as the rest since it also gives you the option to listen to music with no WiFi connection. You can save your favorite songs in one place so you can easily find them.
There is also an option to shuffle and create your own personalized playlist. If you've ever wondered what kind of music is played in a particular country, wonder no more since the app can also organize the music by country as well. iOS.
Also Read: How to Download Personalized Happy Birthday Song Sound Clip with Name?
The Pro Review from TechReviewPro
Music is a great way to unwind after a hard day's work. It can help you forget all the problems you had during the day but with the above mentioned no WiFi music apps, it won't matter if you have a WiFi connection or not. You'll be able to listen to whatever genre you want even if you have your phone on airplane mode. Which no WiFi music app are you going to try first?
Don't Miss: