If you need to secure your Internet connection and enhance privacy protection – a VPN is a must-have. Even though there are a lot of VPN providers out there – it's usually easy to pick the best. You just have to verify whether the provider respects "no logging" policy and offers enough server locations for flexibility with the connections. In addition to this, there are a few more factors like speed and price.
Well, considering all those factors, we found CyberGhostVPN as one of the best VPN services available out there. In this article, we'll test CyberGhost and take a look at all the features offered to decide whether it's a worthy VPN service.
For now, we'll keep this review limited to the Windows platform. If you'd like us to review it for Mac, Linux, Android, or iOS, let us know about it in the comments section at the end of the article.
CyberGhost Features: Let's Talk About them first
Of course, for a VPN, how it works – matters the most. But, if we don't take a look at what it features – we won't be able to properly evalutate its worth.
So, let us start by evaluating the features the VPN service provider offers:
1. Hide Your IP
Isn't that why you're using a VPN in the first place?
A good VPN always hides your IP and utilizes its servers to let you bypass geo-restrictions. To ensure that this really happens we used the IPleak.net tool – and it was all good. Your IP truly remains hidden.
2. Security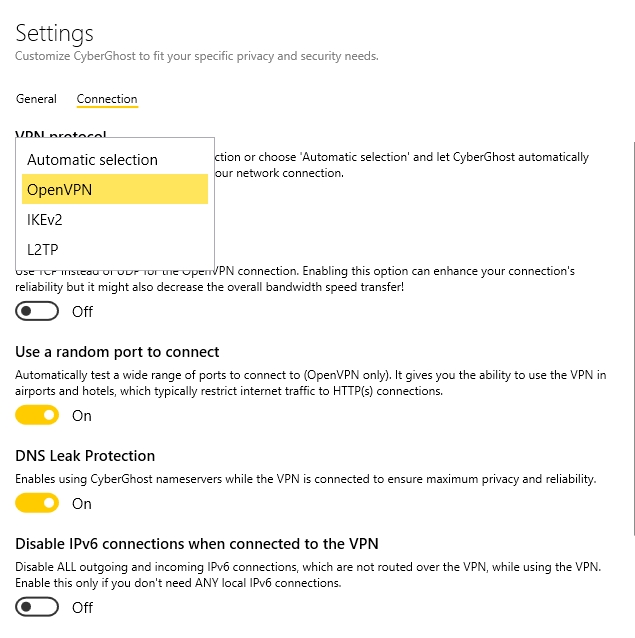 A perfect VPN should support the most popular VPN connection protocols and here, it does. CyberGhost VPN supports OpenVPN, IKEv2, and L2TP protocols to encrypt your connection. It supports the highest encrypting available.
Here, we're going to test the Windows version, but you might want to know that the default connection protocol on your iPhone will be via IKEv2. I'll recommend you to stick to OpenVPN protocol if you're going to decide to purchase CyberGhost VPN.
3. Servers
If a VPN provider does not have enough servers to route your traffic with minimum ping and maximum data speed – it becomes useless to you. Of course, people have different priorities. You may be someone who always prefers connecting through the US / UK server even while compromising the download speed and ping.
But, if you are someone who always prefers to utilize the best location to get the fastest speed possible with minimum ping and jitter – CyberGhost VPN has got your back.
It features a lot of servers (for almost any country) and with multiple separate servers for every single country. We were satisfied with the list of VPN servers available via CyberGhost VPN.
4. Strict No Logs Policy
Altough it doesn't have any independent audit to back up their claim about the zero logging policy. But, considering that CyberGhost has been around for a long time with a huge userbase – you got to take a leap of faith for their promise about no logs policy.
5. Block Ads
If you are going to use CyberGhost VPN, you won't be needing a separate Ad blocker. You just have to head into the settings of CyberGhost VPN's Windows app and enable advertisment blocker. It is definitely a handy feature if you've always used a separate Ad blocker.
6. Block Malicious Content
If you have an Anti-Virus or malware removal tool installed on your Windows machine, chances are – it already blocks malicious URL when you visit such web pages on your browser.
In addition to this, your VPN can also help by checking the URLs you visit to block malicious content. More protection is always good (but that doesn't mean that I'm telling you install two AntiVirus programs – that would be bad).
7. Block Online Tracking
There are some popular browser extensions which help you block trackers deployed on a webpage. Extensions like Ghostery definitely helps. But, if you are not a fan of extensions – or don't want the hassle, you can simple enable this option on CyberGhost VPN.
8. Automated HTTPS Redirect
Yet again, eliminating another browser extension. You do not need a separate plugin/extension to force HTTPS connections on your browser, you can let your VPN handle that.
9. Data Compression
This feature should be very helpful for users with metered connections. When you enable Data Compression – it compresses the images and some other elements on a webpage. You can just turn it on and start saving on your data usage. Hurray! This one is a good feature, I like it!
10. Torrenting Support
You will observe separate servers for Torrenting! What a great thing!
CyberGhost VPN: Testing, Testing!
I'm sure that you will agree that you need to test/try the VPN before jumping to any conclusion. And, we won't mislead you here anyway.
However, you should note that the performance of a VPN often depends on where you live (location) and how good is your Internet connection.
So, consider our tests as an example – if you like what you see – you should try the service because CyberGhost VPN does offer 30-day money back guarantee.
So, you don't have anything to worry about!
Performance: Speed & Ping
Personally, while using it on my smartphone and Windows desktop – CyberGhost VPN proved to be very fast. So, if you ask my user experience – it was great.
The browsing experience wasn't bad at all – neither streaming a video while being connected to the VPN. But, in order to give you an idea – I will have to present you some test results as an example.
Also, I will include some use-cases to see for yourself whether using CyberGhost VPN makes a difference or not.
Speedtest.net Test
Speedtest.net is a handy online tool to give you an estimate of the transfer speed and ping.
Note: The speed and ping also depends on the connection protocol and your Internet connection/location. We recommend using OpenVPN protocol. You can find it in the settings.
We also recommend you to choose the nearest server for the best possible experience. Here's what I found out:
Without VPN Speedtest
With VPN Speedtest (Mumbai Server)
Speedtest Insights (Good, if not Excellent)
As you can see in the image above, the speed difference is significant – for obvious reasons. Also, it will differ in your case – depending on your location and connection.
In a nutshell, you shouldn't have any issues while browsing. However, you need to be very specific if you are using the VPN to download regularly (where your time matters). If that's not a big deal for you, it's worth a try.
Discord Ping Difference
Discord is a voice and text chat app tailored for Gamers. Even the professionals are now starting to use it because of its flexibility and ease of use. In my opinion, using Discord for professional team work is better than Slack.
Anyway, if the ping to discord servers improves with the use of a VPN then you get a better experience with voice/text chats on Discord.
Of course, for games – a VPN may not be required (because some of Multiplayer games might suspend your account for the use of VPN) – so careful with that.
All things considered, let us take a look at the results:
– Discord without VPN:
– Discord With CyberGhost VPN:
Security Check
You want to be sure that you're protected from IP leaks, DNS leaks, and other threats when you utilize the VPN?
Of course!
If it's not secure, it is definitely not a good VPN. So, let's do the security checkup for CyberGhost VPN.
Here's what we'll check for:
We'll perform some basic VPN tests in order to ensure that it's a secure VPN. You can opt for advance tests as well – but you won't require it unless you are working on something super secret or if you're an Enterprise solely relying on a VPN service.
IP Leak Test
You should always check for IP leaks when using a VPN. Every activity and details can be spied upon by the Government agencies and your ISP if your IP leaks.
Your original IP address will have all the information pointing to you – which will help an attacker or an advertiser to fool you or spy your browsing activity.
Would you like it? Of course not.
That's why we tested this using an online tool – ipleak.net – which tests the same.
Here's what we found:
As you can see in the image above, the IP isn't my ISP's, it's what the VPN server assigned. And, I'm not using IPv6 – so the VPN has successfully blocked it.
DNS Leak Test
In the same test above, you can notice that there's a DNS address visible from United States. But, that's not my ISP's DNS server. So, the ISP can't generate or access my DNS logs which usually stores the information of the websites I visit and my IP address.
The results indicate that the VPN is secure enough.
Additional Test
Perfect privacy also offers a tool to check the IP leak and HTTP metadata (browser information). Here's what we observed:
So, it's all good. The browser isn't leaking any data as well. Hence, the VPN is useful afterall.
Final Verditct
CyberGhost VPN is an impressive VPN. Although there might be other VPNs that prove to be better for your location, yet here, we'll surely recommend CyberGhost VPN as our current favorite.
We're using it regularly and it's been an amazing experience so far. The VPN client is easy to use along with a lot of good features.
If your primary aim is to download, then you should opt for the 24 hour trial of CyberGhost VPN before purchasing it – to be sure about the speed. If you browse and stream most of the time – there's nothing wrong with CyberGhost VPN.
Try it out and let us know your experiences in the comments below. Also, if you have any questions, let us know in the comments and we'll be happy to answer.
Related Resources: