Linux is neither best-known for the video editors available for its platform nor for the best Linux video editing software – but more importantly – it is about the free and open source solutions.
Of course, if you are not an open source admirer, you might prefer premium video editing software like Final Cut Pro or Adobe Premiere Pro for your video editing work – for obvious reasons.
But, if you happen to be utilizing a Linux machine and wondering how to edit videos on Linux easily (basic level and professional grade) – we have some Linux video editors as recommendations for your video editing needs.
Top 10 Best Linux Video Editing Software for Editing Videos
In this article, we will mention some of the best video editing software for Linux. No matter whether you are a newbie or a professional video creator, these Linux video editors will help you get the job done.
Note: The video editors are in no particular order of ranking. You will find video editors that are FOSS and some of which are paid tools for professional usage.
Overview Features:
Multi-track video editing
Popular file format support (Audio/Video) – ProRes, H.264, DIVX, DNxHD, etc.
Configurable interface and shortcuts
2D Title creation
Basic effects and transitions
Adjust audio level with the waveform and control color balance with RGB parade/vectorscope
Proxy editing to work with low-res clips on low-end systems and render in full resolution.
Automatic backup
Few online render profiles and title templates available
Timeline preview
Keyframeable effects
Kdenlive is one of the most popular video editors available for Linux distros. It offers almost everything you will ever need for professional usage (not the best, but decent features). It is a free and open source video editor by KDE.
The user interface is simple yet intuitive. It is very easy to learn and offers some decent effects/transitions. If you are on the lookout for a basic video editor with numerous features and file format support – considering the ease of use – Kdenlive should be your best pick for Linux video editing software.
It lets you add multiple tracks (audio/video) in a project and also supports the ProRes video format. Other formats include – HDV, H.264, DIVX, MOV, and AVCHD – based on FFmpeg libraries. So, you won't have to re-encode or convert your video clips to import.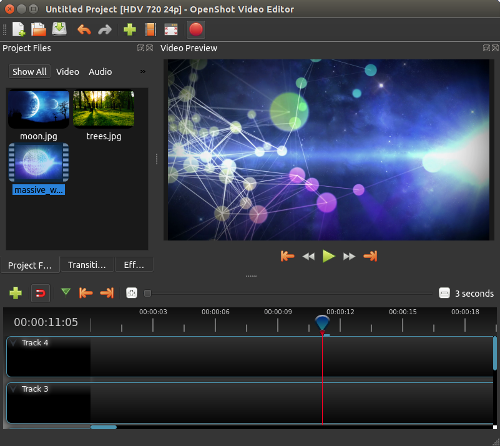 Overview Features:
Trim & Slice
Animation & Keyframes
Video effects
Unlimited tracks
Title Editor
3D Animation
Slow mo and time effects
OpenShot is yet another popular Linux video editor. The user interface isn't very impressive but it does the trick. Similar to Kdenlive, it is a free and open source project. You get to create titles, add video effects, transitions, and 3D animation.
For audio, you get to control the waveform. I wouldn't recommend it for advanced editing – but it's worth to take a look at if you do not have any specific requirements for post-production of your video.
Overview Features:
Easy to learn which is capable of handling basic tasks
Background processing
GNOME desktop integration (if you have it)
Automatic project backups
Framerate independent timeline
Animated effects and basic transitions
If you want to try something unique and simple – you should try Pitivi. It is also a free and open source video editor available for Linux. It is one of the best lightweight Linux video editors available.
The tool utilizes the GStreamer Multimedia Framework, so it supports almost any format you want to import for editing.
It would be one of my recommendations if you just need to trim, cut, snap, split, and mix various clips with a wide range of supported formats.
Overview Features:
A wide range of file format support (FFmpeg libraries, 4K, ProRes, etc.)
Audio Scopes: Waveform, peak meter, and spectrum analyzer
Audio filters
Tone generator
Color wheels
Video filters
Speed control for video clips
3-point Editing
Keyframes
Codec Independent
Shotcut is yet another amazing video editor available for Linux with nearly all the features you want for a basic video editing task. You get to apply filters and effects along with the ability to control the audio and the visual color of the video clip.
It does not depend on the system codecs – so that's a plus. In addition, it also supports batch encoding with job control. The user interface is also good and user-friendly.
It also comes with some specific hardware support like Blackmagic Design SDI and HDMI for input and preview monitoring. Try out this Linux video editing software.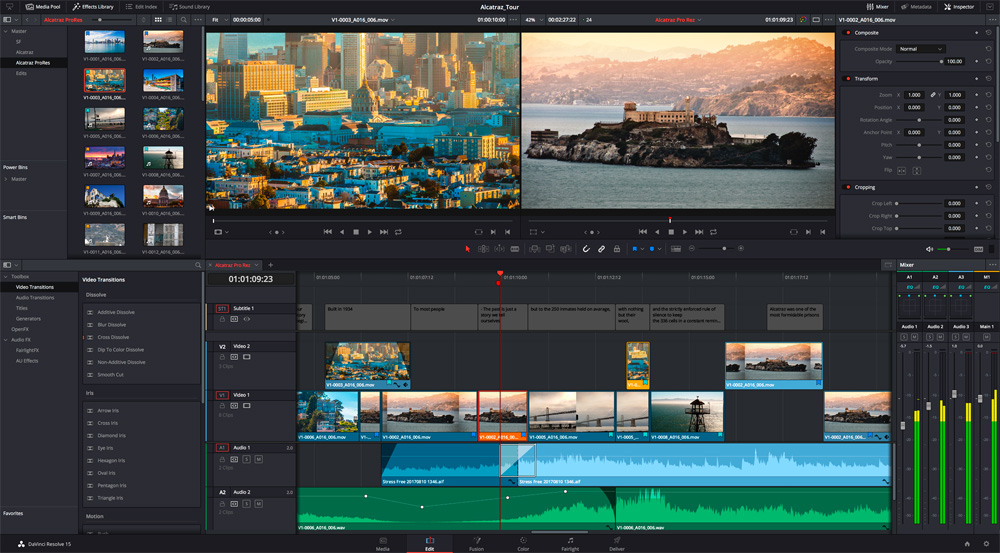 Overview Features:
Wide format support
Auto sync audio
Clone tools
Render Queue
Blackmagic RAW codec
Motion Graphics
3D Tools (pro)
Resolve FX (pro)
Fusion Effects
DaVinci Resolve is a one-of-a-kind tool to edit videos on Linux developed by Blackmagic (which makes some of the creative video tech out there). It is not an open source video editing tool but it offers a free version.
You can either choose to download the free version for the common features that you would expect in all video editors. However, if you want advanced features, FX, 3D animation control, and other similar stuff, you can get the pro version for $299.
Overview Features:
Rendering
Modeling
Animation
VFX
Simulation
Pipeline
Game creation
Basic Video editing tools
Scripting
Blender is not primarily a video editing application on Linux – but it is more inclined towards the creation of 3D content. It is a completely open source and free software.
You can use this Linux video editor to edit the video clips, control the audio and add certain effects to it for your basic requirements.
It isn't an advanced video editor – but an advanced tool fit for 3D animation, game creation, VFX, scripting, and other professional work.
You might want to consider this if you want a basic video editor with a potential to do a lot more powerful stuff without spending a penny.
7. Lightworks (Free/Paid – not FOSS)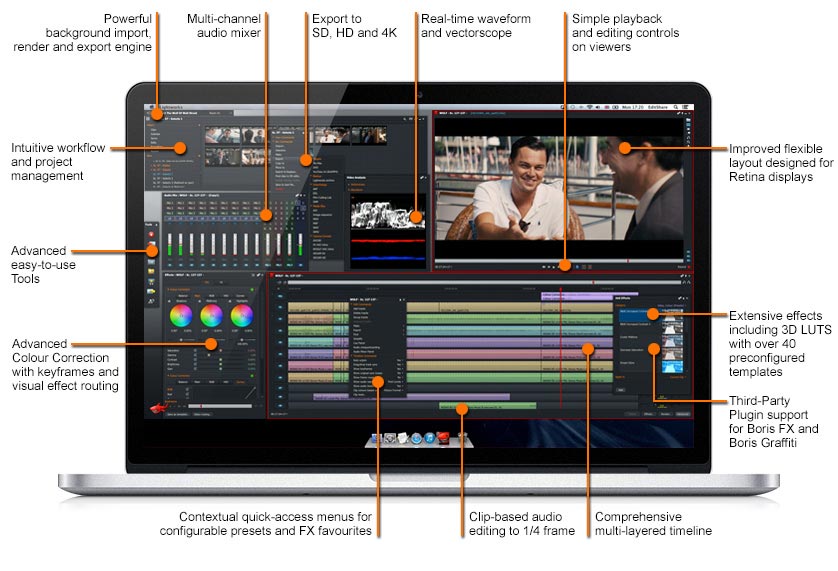 Overview Features:
Wide range support of file formats (ProRes, RED, etc.)
Optimized for speed
Advanced Trimming
Multicam Editing
Inbuilt presets
Boris FX
Boris Graffiti
Lightworks is a premium video editing tool available for Linux. It also offers a free version but with a limited set of features. You can get it for $437.99 or opt for a subscription of $24.99/month or $174.99/year.
It is similar to most of the video editors – but offers the Boris FX and graffiti for some outstanding visual enhancements.
Overview Features:
All kinds of media format supported
Advanced timeline workflow
Animation
Composition & Effects
G'MIC tool
Flowblade is a dead simple video editor which is a free and open source solution as well. It may not be a popular choice among the users – but it does the work.
It features an advanced timeline workflow for the ease of use and also offers G'mic tool to add filters. The user interface may not be the best out there – but it is a good alternative to try.
9. Cinelerra (FOSS)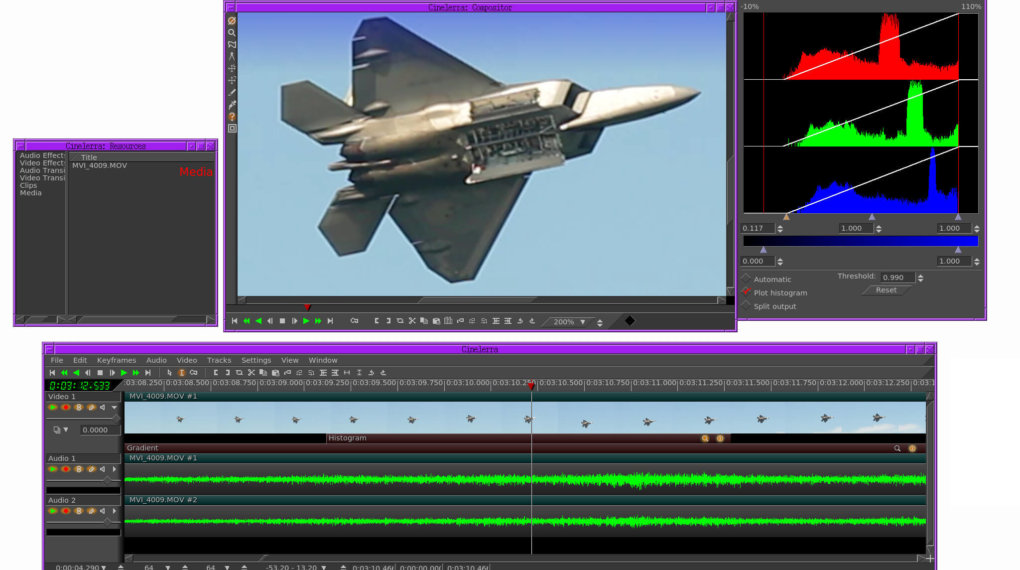 Overview Features:
4K Support
Trimming
Splitting
Audio/Video Effects
Cinelerra is the first 64-bit non-linear video editor for Linux. It has been around since 1998. Compared to the other alternatives – it might be a simpler choice.
So, if you are someone who is in need of some advanced support along with the ability to perform basic video editing tasks – Cinelerra has got your back.
10. VidCutter (FOSS)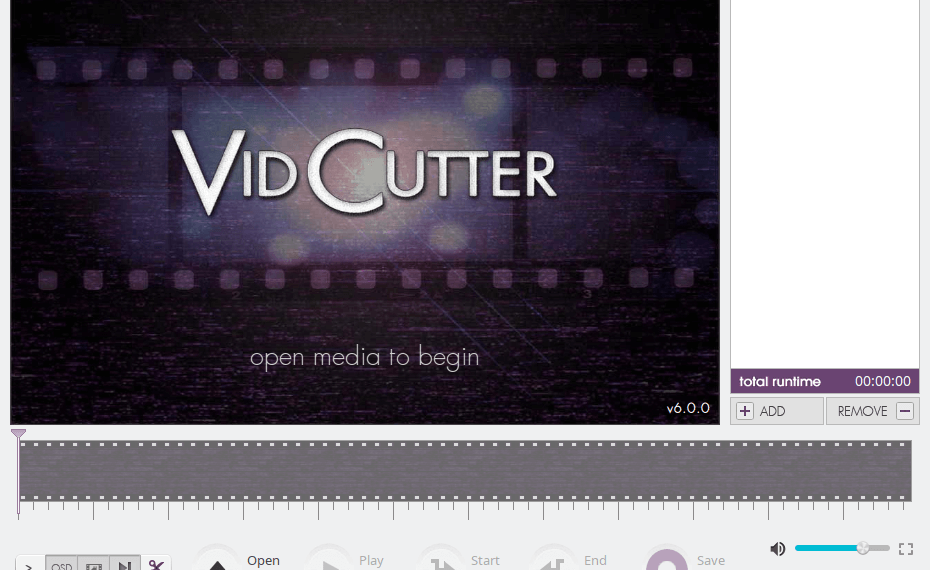 Overview Features:
Supports most of the popular file formats (excluding ProRes, RED, etc.)
Trimming and merge video clips
VidCutter is a no-nonsense video editing software by which you can simply cut and merge multiple video clips. It only supports some of the most common video file formats.
The user interface is simple. Of course, you cannot do a lot of editing with this one, but if you just need to trim any of your videos (post-processed already), you can use it.
Wrapping Up
There are a lot of Linux video editors available as we mentioned above – you can install just about anything you like if it is for your personal basic needs. If you want something for your professional usage, you need to take a look at the features a video editing software focuses on before installing.
Hopefully, this list of best Linux video editing software answered your queries about video editing solutions for Linux. Which Linux video editor are you going to try? Let us know in the comments below.
Related Resources: