We already have a great collection of the best karaoke apps for Android. But, what if you have an iPhone? Are the same karaoke apps available for iPhone as well? Well, you will find some of the popular karaoke services available both for Android and iPhone. However, there are some iOS exclusives iPhone karaoke apps as well. These exclusive karaoke apps for iPhone are best in terms of quality and feature some of the best Karaoke songs ever.
Undoubtedly, Karaoke apps would come handy while you attend a birthday party and people request you to perform. In either case, iPhone is a perfect device for music lovers with a lot of music making apps as well.
Also Read: 10 Best Free Music Downloader Apps for iPhone and iPad Users
Top 7 Best Karaoke Apps for iPhone
If you are someone who loves music, you can utilize the best iPhone karaoke apps to practice or to perform at an event simply. Here, we have compiled a list of best karaoke apps for iPhone that you can make use of.
Sing! Karaoke by Smule is a quite popular karaoke app available for both iOS and Android. It presents you with one of the biggest karaoke database ever offered by an app. Along with a good collection of karaoke music tracks, Smule does offer an online community of users forming a social network where you can share your recording. You also join up with anyone online (a user who also uses Smule) to perform a duet.
Having a database of some of the best karaoke songs ever, Sing! Karaoke by Smule is the first choice for many karaoke lovers. You can give it a try at 10 USD per year, or you could opt in for a monthly subscription plan. While considering it is something you will have to pay, this iPhone karaoke app is definitely worth it.
Also Read: Top 10 Best Mp3 Music Downloading Apps for Android
Karaoke – Sing Unlimited Songs by Yokee is one of the best karaoke apps for iPhone. It is a free karaoke app to have installed, but it operates with you having credits to utilize karaoke music tracks. Similar to Sing! Karaoke by Smule, it offers a lot of karaoke music tracks. The quality we experienced was good enough. While you install the karaoke app, you get certain free credits. It is more like a trial credit; you could make use of it to see what the service has to offer if you are going to purchase a VIP access membership plan.
In addition to its membership plans, you can earn free credits by simply watching video advertisements. If you do not make use of a karaoke app much often but want all of your favorites on it, Yokee should be your best take without needing to spend a penny. You may try this Karaoke app for iPhone by downloading from the App Store.
StarMaker – Sing Karaoke Songs is an impressive karaoke app for iPhone. It houses a lot of popular karaoke music tracks as well. In addition to the availability, it lets you add great effects which enhance your voice recording – something that makes this iPhone Karaoke app out from the crowd.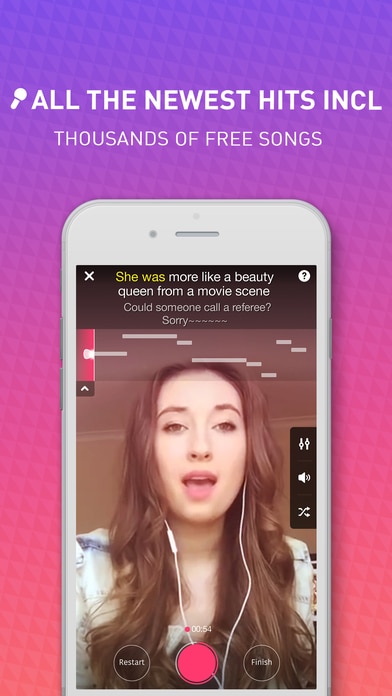 Also, you get a pitch pointer to rectify your recording. You might have heard about the tech that makes you a singer even if you ain't one – Auto Tuner. Although, it's not much accurate yet it does the work if you are close enough. If that's something makes you excited, download this karaoke app on your iPhone to enjoy singing karaoke songs.
SingTrue is not really a karaoke music app which you can make use of to perform and show the world what you are made of, but instead, it helps you learn to sing better (properly). The "so-called" karaoke app for iPhone is a result of hard work done by its developers – Easy Ear Training. The developer claims to teach anybody to sing in perfect tune with the help of the SingTrue app.
So, if you are the one who utilizes karaoke apps to learn singing, this would be the alternative, and that is the reason for it being listed here. It does offer karaoke exercises but aims only to help you learn. Thus, by practicing the exercises, you hone your skill. If you are looking for the best iPhone karaoke app with a purpose of learning to sing better, this is the karaoke app you need.
Voloco is yet another interesting karaoke app for iPhone which specially focuses on the vocals. We will assume that you already have a couple of karaoke tracks loaded onto your device. With Voloco, you just need to utilize your local library to load up the song, and then you can start recording your voice.
Voloco provides an auto-tuner tech which helps rectify your tune according to the music. It is intelligent enough to guess the key to the song and correct yours. Voloco does offer a decent user interface. It contains in-app advertisements. So, to get rid of the ads, you can opt in for any of the in-app purchases.
The Voice by StarMaker is one of the best karaoke apps for iPhone that lets you experience something awesome and helps learn more while you use it. It presents the karaoke tracks as a part of the game.
The more you keep recording cover songs, the more karaoke music tracks you would unlock. So, it will definitely keep you hooked on. With this, you can make a video of yours and share it with the world by utilizing a lot of cool effects. You can also watch cover songs other users shared with the world. So, it's not just a cool iPhone karaoke app; instead, it's a platform to sing karaoke and show the world.
Also Read: 7 Best Equalizer Sound Booster Apps for Android to Boost Sound Quality
7. SingSnap Karaoke
SingSnap Karaoke is one of the most loved karaoke apps for iPhone. Fortunately, here, you will observe a lot more karaoke music tracks available for free when compared to other karaoke music applications for iPhone. The user interface is good enough, and availability of nearly a thousand music tracks for free gives a reason to try it out if you are not interested in paying for a karaoke app on your iPhone. However, while it does offer a lot more karaoke music tracks for free does not mean you get everything for free.
So, to access each of karaoke music of the service, you will have to subscribe to a monthly plan. Also, it brings in a community where you can share your work to get feedback. The in-app community gives you the ability to comment, message, and participate in the forums (to solve a problem). It is a free karaoke app for iPhone, and it's worth trying.
Also Read: 5 Best Free MP3 Music Tag Editors for Android to Modify Music Tags
The Pro Review from TechReviewPro
Finally, you now know the best karaoke apps for iPhone. You can utilize these iPhone karaoke apps to unleash the singer in you. Why wait for someone to play an instrument while you have great karaoke applications for iOS to do the job?
So, for what purpose do you intend to use the karaoke apps for? Did we miss any of your favorites? Let us know your thoughts in the comments section below.
Don't Miss: