No matter how good you sing, the voice editing tools always come in handy for the final touch. It makes a "good" voice better and so on. While you take a look at the Play Store, you will find a lot of voice editor apps for singing. But, do they all really work? Do those singing voice editor apps make you sound good?
No! Also, why should you waste your time endlessly searching for the best singing voice editor apps while we put all of the best voice editor apps for singing in a single article?
Do note that these singing voice editor apps were meant to enhance the voice texture by adding certain filters and performing a couple of tweaks. Unfortunately, you just can't get a Studio-like output with these voice editor apps for singing.
Also Read: Top 10 Best No WiFi Music Apps that Don't Need WiFi
8 Best Singing Voice Editor Apps That Make You Sound Good
Previously we have listed the best karaoke apps for Android that make you sound good. There is some Garageband alternatives music making apps for Android as well. In this article, we are going to explore the best singing voice editor apps that make you sound good.
WavePad Audio Editor Free is an audio-editing app for Android that can help to make your voice sound good. It's more like a singing voice editor apps as it allows you to record voice and edit them as well. You get the ability to add a variety of effects to enhance the voice or audio. In a nutshell, you get to record, edit and share the audio with the world.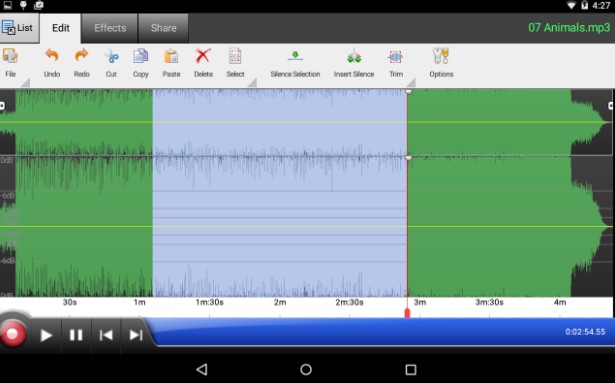 While it does not feature advanced editing tools for singing voice editing but offers almost everything that a professional requires. It lets you amplify, normalize, and add echo to the audio. WavePad supports .wav and .aiff files as well. To improve the clarity of the sound, you can utilize its high pass filter.
FL Studio is already a popular name among the music professionals out there. The majority of the professionals choose to utilize it on Desktop. But, what if you want something similar on the go?
FL Studio Mobile is the solution for that. You can edit the audio while traveling to commute. Unfortunately, it is not a free solution that you can have installed. FL Studio Mobile is definitely expensive, which costs you 15.99 USD.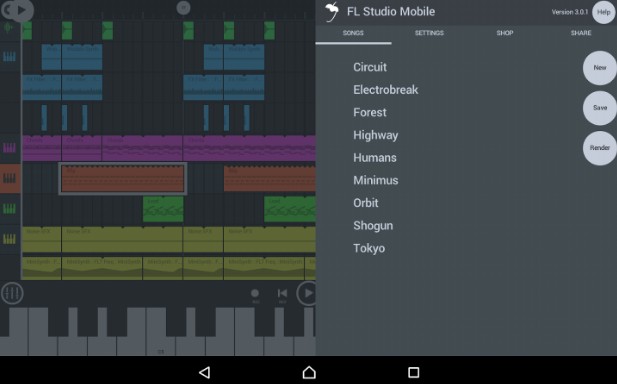 Compared to the previous one, it surely does offer a lot but being a paid stuff, it isn't the preference for every user. It is not just another audio editor but a compact studio utility for Android devices. Unquestionably, this is one of the best singing voice editor apps that make you sound good. It offers a variety of effects and filters. Also, it lets you make the music track for a song with the MIDI controller support.
Next app on our list is Sing! By Smule. Smule is a popular Karaoke app and may not primarily be a feature-rich singing voice editor app but does its job as expected. It is primarily a karaoke app which provides you the original music track (without the voice, of course!). While it allows you to record your voice along with the music, it also lets you add amazing audio effects to your voice which helps in a big way.
Though it doesn't offer much when it comes to singing voice editing, as you might miss the ability to trim and other crucial features that make a singing voice editor app great. But the audio effects surely make you sound good.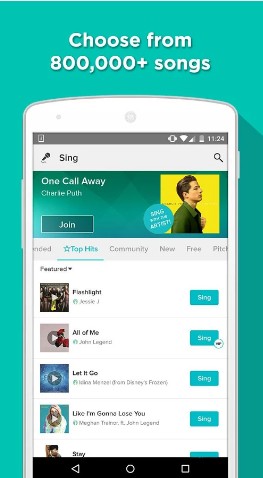 In addition to its voice enhancing capabilities, you can share your recording with the Smule community. Once you are done with recording, you can publish the song publicly and share with the Smule community, where other users may listen to your voice and provide you feedback. You can use those feedback to improve your singing and make your sound even better.
The free version of the app comes with some limitations which makes me understand their monetization model – obviously, they want you to opt for VIP subscription. But sometimes ads are very annoying – something I hate about this app.
4. RED Karaoke Sing & Record
RED Karaoke is yet another karaoke app which you can utilize as a singing voice editing app only to enhance the voice texture without the ability to cut, paste, or trim. Yes, you won't get the ability to cut, paste, or trim the audio. But it does the basic stuff well. You can perform basic editing like adding effects, filters, and voice balances. Although limited in the free version.
Once done with editing, you can publish your recorded song publicly to let other community members listen to your song. The app also offers privately publishing in case you are shy or just want privacy.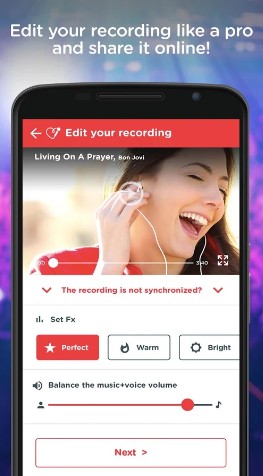 It lets you record a duet as well and add audio effects to your voice recording. As a bonus, you get the ability to add video effects as well and share the complete recording (video+audio) with the community. Also, it comes with the Chromecast support.
What I love about this app is: it's community-based newsfeed, where you get to find some new talented singers, as well as you, get little exposure if you're someone who wishes to get some fan following. Well, as a singing voice editor app, it lacks important features like cut, copy, and trim – which is a shame.
Audio Evolution Mobile Studio is an alternative to FL Studio available at a lower price, i.e., 6.49 USD.
It is one of the most powerful multitrack audio editor available for Android devices. It lets you add effects to your recording in real-time. Also, you get the ability to automate the mixing process, ensuring a uniform recording quality.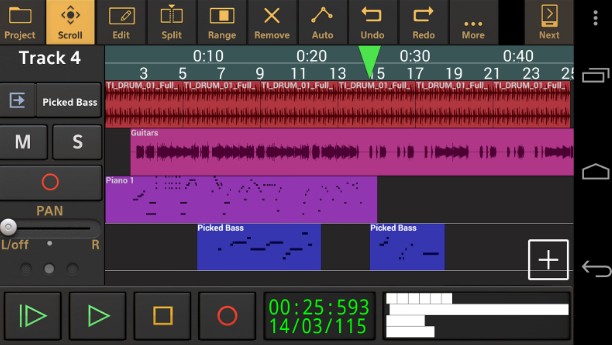 If you do not have a problem spending a few dollars, you should get this. It also lets you import WAV file, AIFF files, and MP3 files. It also gives you the ability to correct the latency mismatch. The classic metronome comes included as well.
BandLab is one of the best singing voice editor apps for Android. It is not meant for just the vocals but everything that matters while making music. Tap on + icon, you'll get four options: New Band, New Collection, Give a Shout, and Start Project. Here you'll find options for recording any sound either using mic or voice directly.
You get various options for editing the recorded tracks, adding lyrics, and other options like increasing or decreasing tempo, latency fix and real-time input monitoring. It supports recording of up to 12 tracks that includes a vocal track as well. You get to add effects and also collaborate with other music creators.
Once done with your project, you can add title, description, artwork and publish in your preferred band. As a music maker, BandLab music maker offers you various options like importing pre-recorded tracks from other sources, plug in Guitar, Bass, and Looper for beats and loop packs. You also get tracks recommendations just in the case, you need some inspiration. BandLab music maker supports recording of vocal tracks and adding effects while editing music, but it's not limited to that only.
BandLab Music Maker is another good singing voice editor app for Android. What I love most about this singing voice editor app is its collaborative feature. It allows you to collaborate with others to get help. You just have to share your creation with someone and then he/she will be able to continue from where you left. So, with a collaborative effort, you can get a lot better output than just one person working on it.
The amazing newsfeed, power to explore and much more – you can't expect just a music maker app to be so awesome. What more could you expect with singing voice editor apps?
Music Studio Lite offers a complete package for music production on your Android device. Similar to FL Studio and Audio Evolution, it comes with MIDI controller support as well.
You will not be able to do everything with the Lite version. So, to remove the limitations, you need to purchase the full version for 14.99 USD. It also features 117 studio-quality instruments to complement your vocals.
With this singing voice editor app installed, you get to edit your voice completely (add effects, filters, and so on.) and mix it up with a great tune to produce a great music from scratch.
Lexis Audio Editor is focused on letting the user edit the vocals on the go. With this, you can change the speed and pitch of your recording.
It does not offer much but lets you normalize and perform noise reduction for better clarity of your voice recording. It is free to try, but you will have to upgrade it to the pro version through in-app purchases to continue using it.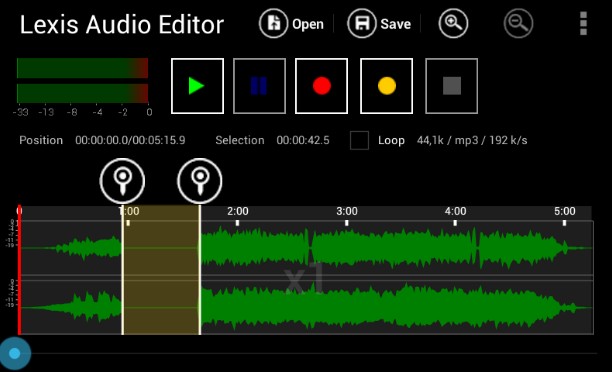 Although, it isn't much expensive. It costs you around 2.5 USD, and it is definitely worth it. It is actively maintained by the developers and offers you the basic tools to take care of the vocals after recording it.
Also Read: Top 7 Best Song Lyrics Apps for Android to Know Lyrics of a Song
The Pro Review from TechReviewPro
As you just saw, there aren't really much-dedicated voice editor apps for singing. If you find one, it wouldn't be as good as it gets while using a complete music production package. So, if you want the best of your voice and edit it on the go to make you sound good, we would recommend the applications mentioned above to have installed on your Android device.
You have both free and paid alternatives. Which one would you go for? Did we miss any of your favorite singing voice editor apps? Let us know your thoughts in the comments section.
Don't Miss: