If you are a Mac user, you would love to upgrade your system and enhance the performance of the same. However, with macOS Ventura, several doubts often trouble users, and rightly so.
macOS Ventura comes with several latest features and advancements that directly impact the user experience, and for most, on a positive basis.
However, there are certain drawbacks, too, that might trouble you when you upgrade to macOS Ventura. This blog post further on gives you insights into macOS Ventura, the benefits of upgrading your system along with the drawbacks too.
Also Read: How to Get Apple Music Free Trial for 3 Months if not 6 Months?
What is macOS Ventura?
macOS Ventura is a major update by Apple that introduces a multitasking experience and adds several capabilities around the system. It is simply meant to help users work with more efficiency and increase the overall user experience.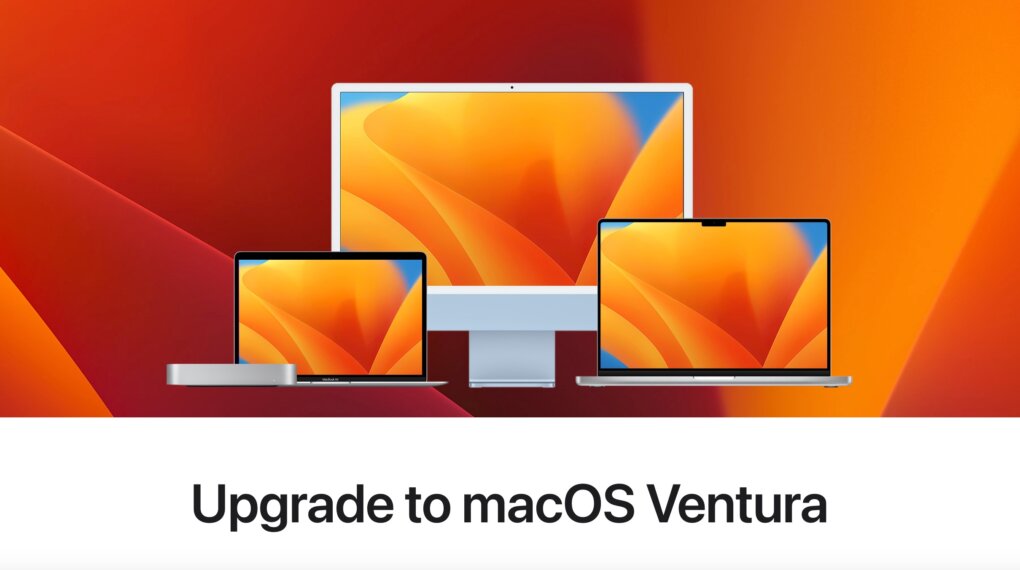 Yes, Apple does keep on introducing updates, but macOS Ventura is worth a discussion as users often get confused about whether they should upgrade their system or not.
Every coin has two sides. Let's go through both sides of the coin today to figure out if it is worth upgrading to macOS Ventura or not.

5 Reasons to Upgrade Your Mac to macOS Ventura
Read about the five major reasons why you must upgrade to macOS Ventura below.
1. Streamline Multitasking with the Stage Manager
Stage Manager is one of the best efforts by Apple to help you improve your work productivity. With Stage Manager, the window you are working on is at the center, and other windows are on the side. The main window is big in terms of size, and others are minimized, yet visible.
You can quickly switch between the windows according to your requirements. If you are updating any application and is not on stage, i.e. not in the center, it still keeps on updating, hence, no disruption to your work at all.
You need not pause your work just to keep an eye on the ongoing update or any other work in the other window. You can just minimize it, and continue your priority task on the window on the stage. The task in the minimized window will be accomplished without any disruption.
2. Improve Video Call Quality by Using iPhone as a Webcam
Yes, you have an option of a built-in webcam, but you might have noticed that it lacks clarity. macOS Ventura update allows you to use your iPhone as a Mac camera. However, you must have either iPhone XR or the above model running on iOS 16 to use this feature.
When you enable this video call feature, your Mac will detect the iPhone and automatically activate its camera. Hence, you can take meetings on your Mac, but using the camera of your iPhone.
With this feature, you also get plenty of options to play with a webcam. For instance, if you desire to give that wide-angle view, your built-in webcam might not allow it to do so. However, with this feature, as your iPhone camera comes into play, it's no longer impossible.
Plus, you can use various effects offered by your iPhone camera. Be it brightness or anything, you can adjust things the way you want. Now, if video call quality is amazing, naturally, it would impact your meeting positively too.
You might have experienced the lack of video and sound quality playing a disturbing role during the meeting, but now with the macOS Ventura update, not anymore!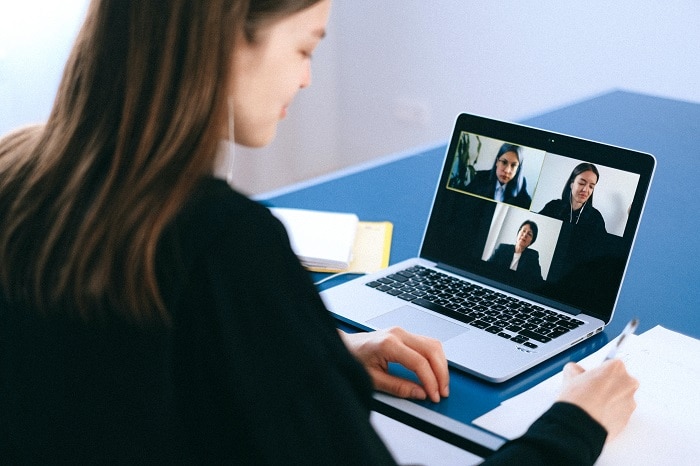 3. Improve your Emailing Experience
macOS Ventura has done some minor yet important changes to the native Mail app, which directly improves your user experience.
For instance, now you can schedule your email or cancel the same within 30 seconds. Hence, if you want to send an email at a specific time, you can just schedule it and continue with your routine.
Next, you also get an alert about an attachment missing before you send an email. Hence, that common problem where people simply send a text, but forget to add an attachment won't be prevalent anymore.
There are several instances where you are expecting a reply from someone, but you don't get a reply. A follow-up is a must here. However, your busy schedule might make you forget to take follow-ups. Now, the native Mail app will give you follow-up email suggestions which will remind you of sending a follow-up email.
Apple has introduced advanced search functionality in the native Mail app. It actually reduces the result-show time for the search you make here. Be it emails, names, contacts, or anything, the results will be displayed in a few seconds.
4. Improve Your Gaming Experience
Are you an avid gamer? If yes, then updating to macOS Ventura can improve your gaming experience considerably. This update improves the visual performance of the game, along with making it consume less power.
Also, the update covers the fast-loading base, which directly reduces your waiting time before you start enjoying yourself. Thus, improving your overall experience considerably.
5. Make Sharing Easy with Message and Photo-Sharing Features
macOS Ventura update allows you to create a photo library. With it, you can share the entire library of photos with the people with whom you regularly share the photos, and edit them the way you want. You will also get the suggestion of adding photos to this shared library. Here, powerful AI and machine learning will come into the picture.
The message-sharing feature allows you to undo and edit the messages. Did you make any mistakes while writing a text? No worries, you can now edit the same message.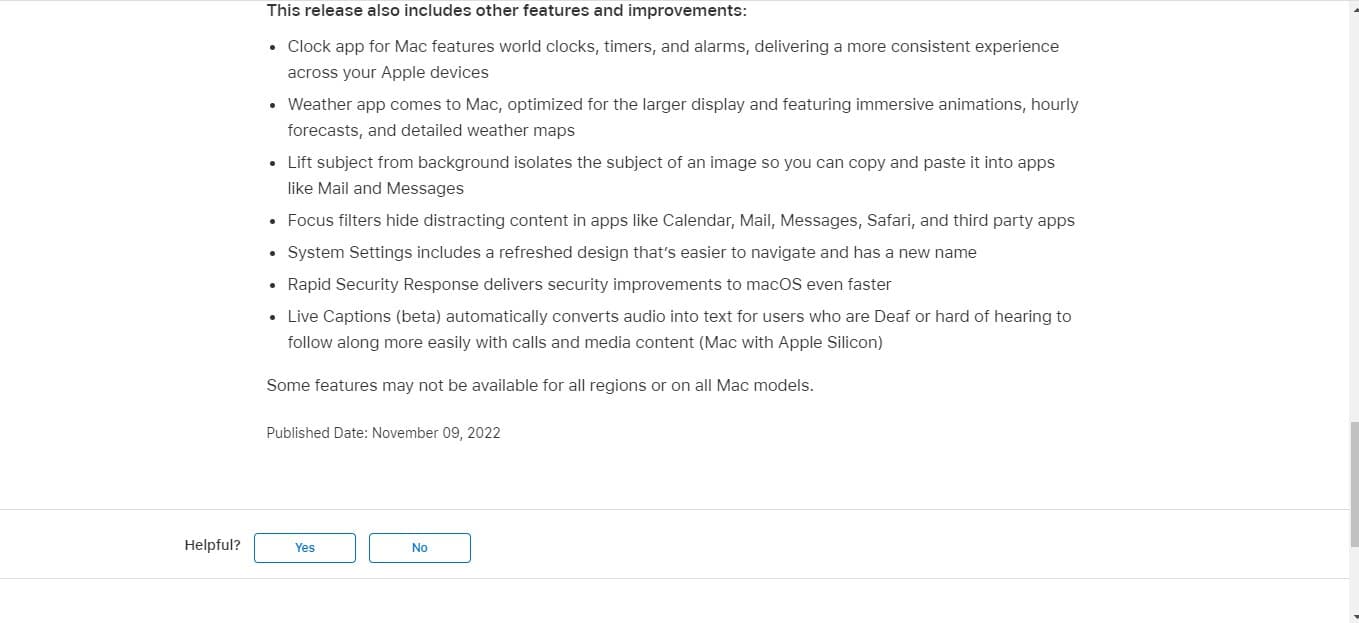 Also Read: 9 Best Text Editors for Mac – Paid and Free Mac Text Editors
5 Reasons Not to Upgrade Your Mac to macOS Ventura
Of course, if there are pros to something, there are some cons too. There are some reasons why you should not upgrade your Mac to macOS Ventura, at least, not now. What are they? Check them out below.
1. Availability of Features
Several major features like Freeform are expected to be introduced in the later updates. Freeform is a sketch board app in which you may brainstorm ideas, design mood boards, and create free-form boards.
Further, it allows comes with easy collaboration options that make it easy for you to work in a team. Hence, if you desire those features to help you make your work life easy, I highly recommend waiting before upgrading your device.
If you aren't in that dire need of an upgrade, and your Mac doesn't require it at this point, it's good to wait for some time and upgrade to incorporate macOS Ventura and other advanced features that Mac is going to make available.
2. To Avoid Bugs
macOS Ventura is still in its early stage. Hence, chances are high that several bugs might be unaddressed yet, and hence, you might face them when you upgrade your Mac.
Hence, it's better to wait for some time, let the bugs come to the attention of Apple, and let them get resolved. Once it's done, you can upgrade your Mac. It would ensure that those bugs don't trouble you and that you actually get a smooth user experience.
It's not only about macOS Ventura, but whenever any update is in its early stage, there are several bugs that might affect user experience. Hence, I always recommend waiting for some time before upgrading the existing version of anything.
3. Older Applications Might Crash
Well, if there are applications that aren't updated for a long time, chances are high that they might break when you upgrade to macOS Ventura. If these applications are of daily use to you, they might mean a mess for you.
You can still upgrade the system, but it's better to confirm that these apps are tested on macOS Ventura and that the results have been positive. It's always better to continue working on an existing system rather than giving yourself a tough time with the applications that have stopped working and were quite helpful to you.
4. You Don't Have Supporting Device
Well, you must know that macOS Ventura comes with several requirements in terms of device hardware. If your device doesn't meet these requirements, you can't update the same, as Apple has a list of supported devices, and they restrict the availability of macOS Ventura to only those sets of devices. This is just to ensure that, you don't face more troubles rather than a smooth experience.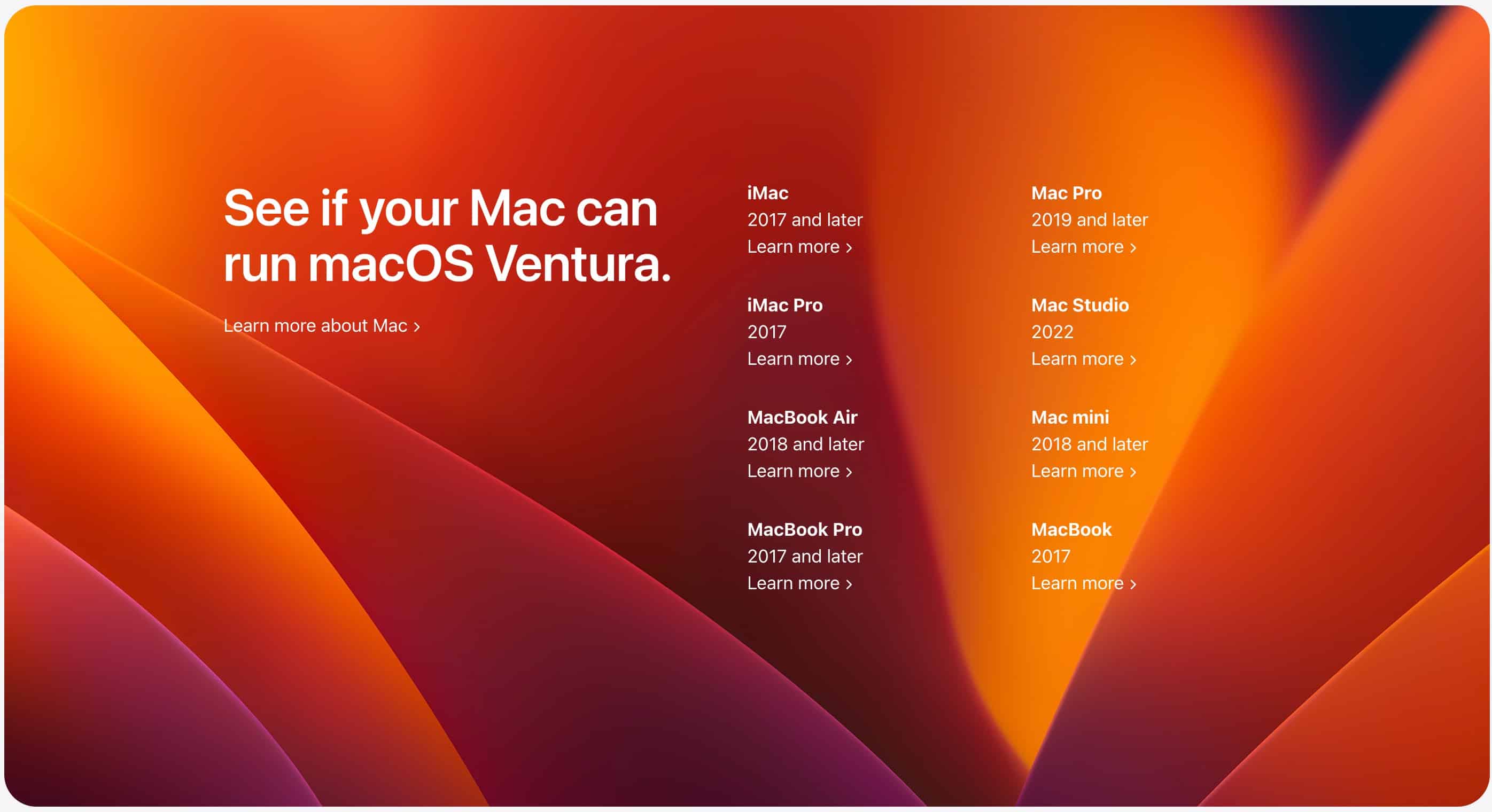 Compatibility is a major factor you need to check before you upgrade to macOS Ventura, and if it isn't compatible with your device, I'm sorry you don't have any choice other than upgrading to a newer Mac device.
5. Limited NTFS Support
macOS Ventura comes with limited NTFS driver support, as Apple has modified the entire kernel-based architecture. Hence, your memory space might not give you the experience that you desire.
This is one major reason why you need to think before you upgrade your Mac to macOS Ventura. If you are using too many apps, avoid upgrading to macOS Ventura at all.
Also Read: 6 Best Data Recovery Software for Mac Users
Frequently Asked Questions About macOS Ventura
With what devices is macOS Ventura compatible?
macOS is compatible with all Mac devices after 2017. It drops the compatibility for the devices before 2017. Hence, if you have a device before 2017, you can't upgrade your system to macOS Ventura.
My device isn't in the list of Apple's compatibility list. Can I still upgrade my system to macOS Ventura?
No, you can't upgrade your Mac to macOS Ventura if your device isn't in the list of Apple's compatibility list for macOS Ventura. macOS Ventura has some features which require specific hardware support. Hence, Apple only allows you to upgrade your system to macOS Ventura if your device is in the list of macOS Ventura compatible list of devices.
How to upgrade from macOS to macOS Ventura?
Firstly, open the Official Page of macOS Venture on App Store and download the macOS Ventura from here. Once done, click "Continue". Then agree to the terms and conditions, and click "Install".
After you initiate the installation process, you will be asked to submit the password to authenticate your identity. Then, click Download.
Before the installation begins, you will be displayed some macOS pop-ups giving explaining the update and terms and conditions. Click "Continue" and then "Agree".
Then, it will start the installation. After the completion of the installation, your system will reboot, and you can now start using the features of this upgrade. In case, you face any troubles with updating, you can reach out to Apple support.
Is the Ventura update available for my iPhone?
No. Ventura update is macOS specific and since you can't run macOS on iPhone, you can't get this update on iPhone. It's important for you to understand that your iPhone has iOS, and your iPad has iPadOS. Both are similar but different. However, your Mac devices have macOS, which is completely different from iOS and iPadOS.
What is the size of the macOS Ventura upgrade?
The size of the macOS Ventura upgrade varies from device to device, but on average, the macOS Ventura size is around 12.5 GB.
How do I check if my Mac is compatible with macOS Ventura or not?
To check if your Mac is compatible with macOS Ventura or not, you may check the list of compatible devices for macOS Ventura in the image that I have added above in this post. As mentioned, if you have a Mac device newer than 2017, this upgrade would work on your system. You need not really invest any extra effort to check the compatibility of your device.
I have upgraded my system, but it is a bit unstable. Can I fix it?
If you have upgraded your Mac to macOS Ventura, but your system is a bit unstable, you can contact Apple Support to let them know and request for bug fixes. Also, you'll have to wait for newer updates that Apple would push later to fix those issues. Further, try updating your apps. Then, you can exit the apps that aren't really useful but use too many resources and impart unnecessary load on your system.
Also Read: Top 10 Best Puzzle Games for iPhone Users to Test Your Puzzle-Solving Skills
The Pro Review from TechReviewPro
Whether to upgrade your Mac to macOS Ventura or not is definitely a confusing question, but consider the above pros and cons and things will get easy for you.
Yes, macOS Ventura is meant to improve your overall experience and help you with multitasking. However, there are several things that might require your attention, and that might actually make you think in the other direction.
With system upgrades, it's just about knowing the pros and cons of the macOS Ventura upgrade, doing some research on possible side effects on your device, and being a bit patient while taking the decision.
So, are you upgrading your Mac to macOS Ventura? Or have you already upgraded to macOS Ventura? If yes, how's your experience with the macOS Ventura update? Do comment it down. Also, don't hesitate to let me know if you desire to get more information about macOS Ventura. I will be happy to provide you with more details.
Related Resources: