There are different instances when you need a data recovery software. You would have deleted some of your important files accidentally. Or, you might have come across data corruption in your HDD or SSD. The case isn't different when we'd come to Mac devices. And, that's why we need to have one of the best data recovery software for Mac.
So, the next time you accidentally delete your Research Paper or a strictly official spreadsheet, you don't have to fear. Just find the best data recovery software solutions, and recover them all! Of course, you can recover data from other storage devices.
Chances are, you have trouble in finding the best data recovery software tool from the vast collection. Free and premium data recovery software tools are available in the industry, but its selection can be tough. Now that you are here don't worry. We have created a well-crafted list of the best data recovery software for Mac.
Also Read: 7 Best Data Backup and Recovery Software to Overcome Worst PC Crash
Top 6 Best Data Recovery Software for Mac Users
If you want to recover accidentally deleted important data and wondering what are the best data recovery software for Mac, without further ado, let's explore best data recovery software that you can get for your Mac.
Cisdem DataRecovery 3 is one of the most popular data recovery software for Mac that you can have, although not free. You can have a free trial, but complete features require paid license.
Ease of use is one of the reasons why Mac users love this data recovery software. Let it be documents, photographs or some huge files; Cisdem DataRecovery 3 can handle the job smoothly. From the main interface, you can choose one of the four data recovery modes — Document, Media, Archive File and Universal Recovery.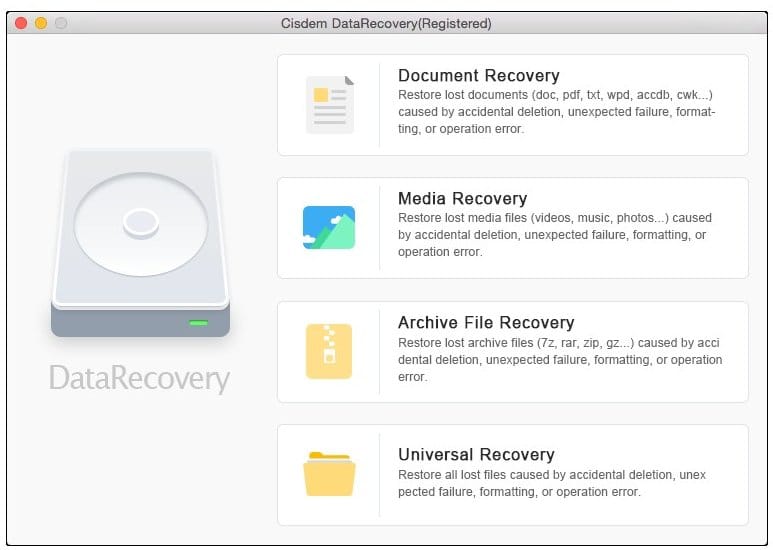 In every category, there's excellent support for the file format. Fully compatible with Mac OS X 10.11 El Captain, the tool is offering support for various file systems like FAT16, FAT32, exFAT, ext3, ext4, HFS+, and NTFS.
Other notable features of Cisdem DataRecovery 3 are full Hard Drive Recovery, Partition Recovery, Preview before Recovery, Filtering options, etc. According to user-experience, Cisdem DataRecovery 3 is pretty safe and convenient for all purposes.
You can get Cisdem DataRecovery 3 for just $49.99.
Stellar Phoenix Mac Data Recovery is another effective way to recover deleted files to your Mac device. You can run this tool on your MacBook, iMac or Mac Pro and there's support for MacOS Sierra 10.12.
If the previous data recovery software tool was recommended for the ease of use, Stellar Phoenix Mac Data Recovery has some amazing features. Also, it has been one of the trusted data recovery software tools too. One of such exclusive features we found is the ability to recover data from encrypted file systems.
This tool packs in a bunch of recovery modes. First, there is the basic Mac Recovery, where you can get back deleted docs, media and almost other popular formats. On the other hand, if you accidentally deleted some volumes in Mac, you would be able to get them back.
Thanks to the advanced scanning modes, finding deleted/corrupted files is an easy task with Stellar Phoenix Mac Data Recovery. Also, the tool offers support for Time Machine backups and BootCamp Partition Recovery.
You can purchase Stellar Phoenix Mac Data Recovery for just $99.
Are you looking for an entirely free method to recover deleted or lost files? EaseUS Data Recovery Wizard for Mac Free seems to be an excellent choice — coming from a trusted developer too.
Used by thousands of people across the globe, there is no question about its reliability or safety. As the basic standard goes on, you will be able to recover videos, docs, music, emails, etc. You can also use removable devices as the source of recovery.
What makes EaseUS Data Recovery Wizard for Mac Free unique is the recovery process. In three simple steps, you'll have all your data back. And, you can choose from the two available recovery modes — Quick Scan and Deep Scan. When the first mode doesn't give you results, just go with the Deep Scan.
Also, there are filtering options and previewing before you recover files. Coming to the compatibility, EaseUS Data Recovery Wizard for Mac Free supports almost every file format we've ever seen. You can run it on MacOS Sierra but the free version limits to 2GB data recovery.
It's free to use, but a Pro version is available.
TestDisk is a free, open-source, multi-platform data recovery software for Mac devices. It's available on other platforms like Microsoft Windows, Linux, FreeBSD, and SunOS. However, in Mac, it brings an impressive form of data recovery — but, it's not so GUI-ish.
There is one thing to be noted, though. TestDisk is not for the common types of file recovery you have been doing. However, if you want to recover a lost Hard Disk partition, you can get it done in no time. The next time you can't find the desired partitions on your Mac, you can simply download and use TestDisk.
Many other advanced features are available in TestDisk for Mac. For instance, you can fix partition tables and fix FAT tables with ease. You can also undelete files from different file systems like NTFS, FAT, exFAT and ext2.
And, you can copy files from those kinds of deleted partitions. Let's warn you beforehand that TestDisk isn't for common newbies. If you know the methods of Terminals, go ahead and use it.
TestDisk is completely free to use.
Also Read: 7 Best Free System Information Utilities to Check Complete System Specs
One of the best data recovery software for Mac, Wondershare Data Recovery for Mac is noted for the blend of simple UI and performance. It's one of the easiest-to-use programs we have ever tried, and it works well with Macs.
Along with the number of features, Wondershare ensures the best level compatibility — regarding recoverable file formats as well as the devices. Of course, you can use the program for different kinds of issues. It does not matter whether you deleted files accidentally or formatted an entire partition; it's all ready to go.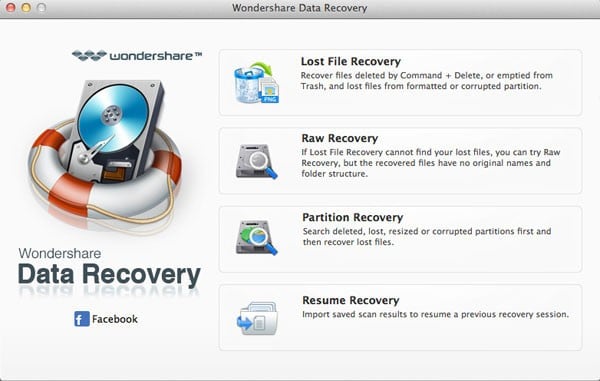 The four options are Lost File Recovery, Partition Recovery, RAW Recovery and Resume Recovery. Regardless the recovery mode you choose, you can do the entire process in just three steps.
However, there is a Deep Scan feature to find files that you formatted. Also, the Preview feature makes things easier for most people. In short, Wondershare Data Recovery for Mac is the best choice if you need a simple method for data recovery.
You can purchase this suite for $89.95.
Also Read: Top 10 Best ISO Mounting Software to Mount ISO Files
To end the list our list of best data recovery software for Mac, we have Prosoft Data Rescue for Mac. It's a premium software that packs a bunch of cool features inside. The basic function is to recover deleted and damaged files from a variety of devices, including your HDD and SSD.
So, if you happen to have a crashed HDD with you, don't worry about the loss of data. Because it's using a 3-step Recovery process, Prosoft Data Rescue is one of the most used and rated data recovery suites for Mac. And, you can use the product to recover different files like Documents, Audio, Video and even Archives.
Coming to the other features, we didn't find anything fancy there. However, using the Dual Scan options and the deleted file scanning, you can have the ultimate recovery process and results.
Besides, you can use Prosoft Data Rescue Clone feature to copy entire information from an HDD to another. In Mac, you get two innovative features named FileIQ and BootWell. Altogether, Prosoft Data Rescue is impressive as a Mac data recovery solution.
You can get Prosoft Data Rescue for $99.00
Also Read: Top 10 Best USB Encryption Software to Encrypt USB Drives
The Pro Review from TechReviewPro
These are the best data recovery software for Mac we found, after a lot of research. We've tried to make this list versatile. That is, each product has some unique features and a unique emphasis.
For instance, the TestDisk is perhaps the most advanced Mac data recovery software you can get. It's free and straightforward, but you need some expertise. However, if you are looking for a simplistic way to regain lost or deleted files, you can go with the products from Wondershare or the first one, Cisdem.
Of course, if you notice, there are products in different price ranges. Meanwhile, you should know what you need, and you should choose the right product. Rest assured, any of these tools will help you restore lost data.
Don't Miss: