You must be coming across several funny faces and a lot of other fun stuff on the Internet. Yeah, some posts on Facebook, Google+ or Reddit include it and you tend to re-share it. But, where do these funny faces come from? There must be funny faces app or an image sharing platform where you would find these funny faces or may be able to generate them, right?
Well, of course, there are funny face apps for iPhone as well as Android phone that generate funny faces for you to share and have a laugh on it. Also, image sharing platforms like imgur.com and 9GAG.com offer the best of both worlds if you want to share a funny face from the Internet with your friends.
Here, we'll have some fun by listing some of the funny faces that we came across on the Internet. Also, we will also be mentioning some of the best funny face apps that you can get installed.
Also Read: Best Random Video Chat Apps for Android
Best Funny Faces That Are Hilarious AF
So let's start with some of the best funny faces pictures that are hilarious.
1. The Friendly Neighbourhood Spiderman
I'm sure you must be knowing this guy here. In case you don't have a clue who this is – well – he is Andrew Garfield who played the role of Spiderman in the "Amazing Spiderman" series. He is a funny chap in both reel and real-life as well. The picture here captures the funny face of the Spiderman in the promotional launch of The Amazing Spider-Man 2.
It is ridiculously funny!
2. Dogo Is Making A Funny Face
Who's the boss here? We humans? No, we're just puny creatures. Dogs are the real deal with amazing expressions and funny faces that will make your day even happier. Here, it seems may be the dog did something wrong which he/she later realized.
Uh-oh! I've done something terrible! Or, what's that noise?
For whatever reason the dog reacted, it indeed calls for one of the funniest faces ever made by a dog.
3. Kitty Is Angry: Cat Funny Faces
Oh wait, did you just lock out your kitty outside of your house? What the hell?
Hooman! You will regret locking me out in the garden the whole night, this isn't fair! I did not get to use the litter box, goddamn it!
I'm guessing this was the situation for this funny face (oh wait, an angry face – if you correct me). The cat isn't happy at all, and the owner gets an amazing picture as well!
It is definitely one of the funniest faces I've ever seen and it deserves to be on our list of best funny faces.
4. Looks Can Be Deceiving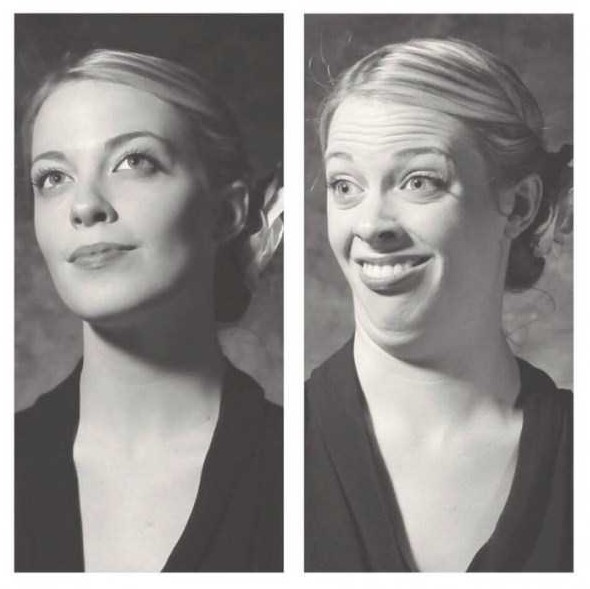 Never judge a book by its cover. And, here, clearly, we see a beautiful woman who makes a funny face that's hilarious af!
That's some raw talent right there!
5. The Three Musketeers
Well, do I need to explain these funny faces to you?
You should really hide under your bed for some incoming stones thrown at you if you do not recognize the three musketeers here!
Of course, the funny faces that we encounter here are photoshopped but it is so damn perfect! For obvious reasons, we will not mention their names – why? It's because I want to live!
6. Monkey-Business
Wow, do you see a monkey? Or do you see the dollar bill? Or maybe Abraham Lincoln by any chance?
No doubt that is one of the best funny faces that we've seen around with some creativity put into making it.
7. Trump's Funny Face
Whoopsie! Does the meme mention a name? Sorry, Mr. Trump, but it's just a fun part of the Internet. People photoshop often. And, this meme took the Internet by storm!
But, it is funny af! Just look at it, so perfectly matching! It looks so damn funny that it's surely one of the best funny faces that we've ever come across.
8. Funny Athlete
It takes a lot of energy for this game and regardless of what game it is – an athelete has a lot of stamina and energy to showcase. Well, in this case, an awkward moment has been captured by the camera which looks hilarious. Don't you think this is one of the best funny faces ever?
9. Bruce Campbell Funny Reaction
If you were born in the 80s or the 90s, you must be knowing about the "Evil Dead" movie series. Bruce cambell had some hilarious moments in the movie, here's one of them!
10. So Purrfect!
I bet you can't photoshop better than him! Wait, what?! Is he catman? Mancat? An Owl face?
It's so correctly edited that the faces merge together to form an even funnier face!
Also Read: Free Anonymous Texting Apps for Android
5 Best Funny Faces Apps for iPhone and Android
Now that you've seen some of the best funny faces around, why not make one with the help of a funny face app available for your smartphone? There may not be loads of such funny faces apps (considering how good they are), but there is still a handful of them which might help to generate funny faces easily.
Note: The funny faces apps mentioned below are in no particular order of ranking.
Face Changer app for Android is a very simple yet powerful face editing app available on the Play Store. You can easily replace face parts, and edit to add funny elements to your pictures. It does feature a lot of elements to play with along with some easy face part replacements. Indeed, one of the best funny faces apps available out there.
2. Face Swap (Android)
The face swap app not only just lets you edit and add funny elements to an image but also supports real-time face swap. Of course, it offers a whole bunch of different elements to utilize and make a funny picture out of it. You can also use this app to make collages if needed. Along with the fun features, you can also perform some basic photo editing with the help of this funny faces app (like adding a frame to your photo, add a filter, and so on). You may check out our complete list of best face swap apps for free.
3. Face Camera – Snappy Photo (Android)
An impressive funny face editing app that has managed to be an editor's choice in the Play Store. It offers very powerful feature that you would possibly need to make a funny face out of an existing or live image. The stickers, wraps, filters, and so on. Everything's right here. You also get some pretty interesting video filters which can be applied in real-time while recording a video. Indeed, an impressive funny face app available for your smartphone.
Unfortunately, not a great deal of funny faces applications for iOS devices. However, we found this one to be interesting where you can perform basic face swap using the stickers with it to make it look funny.
Not much, but it is one of the best funny faces apps available for iOS in the App Store. Are you looking for the best funny face apps for iPhone? Check this out!
Photo Warp is not primarily a funny face app, instead, it is a specific kind of face modification app that usually stretches some portions of the face to make it awfully funny and hilarious. It is one of my favorite app that you can use as a funny face app for your phone!
Also Read: 7 Best Age Progression Apps for Android
Wrapping Up
Now that you've known about the best funny apps available and also observed some of the best funny faces. Wouldn't it be polite to share your fun creations with us? Well, just saying!
Did we miss any of your favorite apps for funny faces? Let us know in the comments section below.
Don't Miss: