By having a Windows emulator on your Mac, you can get the best of both worlds. You're using your Mac and want to try an app, but it's not compatible with it. That's where Windows emulators on Mac come in.
You won't have to buy a Windows computer, and you'll still be able to run Windows-only apps on your Mac. One of the great things about Mac is that it features Boot Camp that allows you to turn your Mac into a dual-boot system.
But Windows emulators for Mac are better since you don't have to deal with the trouble that the Boot Camp feature comes with. If you're not very tech-savvy, one of this options just might be the answer to your prayers.
Also Read: How to Run the Older Version of Programs on Windows 10?
6 Best Windows Emulator for Mac
Although you can run Windows on Mac as dual boot operating system, it's obvious that doing so is not the most efficient solution as you can't use both OS simultaneously. However, if you want is to use Windows as well as Mac operating system at the same time, Windows emulator for Mac is the solution for that.
Many Windows emulators for Mac are available on the internet. How will you find the best Windows emulator for perfect virtual PC on Mac? We have handpicked our top list of Windows emulators on Mac.
1. Parallels Desktop
With Parallels Desktop, you can easily run Windows on your Mac. It not only allows you to run Windows but you can also use other operating systems such as Debian, Chromium, Android, CnetOS, Ubuntu, and Fedora.
While other Windows emulators for Mac only allow you to run a fresh version of Windows, Parallels lets you do that and clone an already existing Windows computer. This is possible thanks to the Transfer Windows from PC feature.
There is a mode called Coherence that allows you to use Windows apps from the Mac Dock. You can also switch between Windows and Mac apps and not have to run two different desktops or reboot. Parallel will also let you play games, but they can't be games that require an extensive amount of processing. Although Parallel allows you to play Windows PC games on Mac, if the game requires high-end graphics and extensive resources, you won't get a smoother experience.
2. Windows Emulator: CrossOver
If the first option is not what you're looking for, you can always try the Windows Emulator: CrossOver option. With CrossOver, you have out of the box support for Windows applications on Mac such as Adobe Lightroom, Excel, Word, MS Office, DirectX, and more.
One thing to keep in mind is that you will need the program installer to install any app. CrossOver can launch apps much faster, but if you're trying to use software that is not supported by Wine it will either be unstable, or it will just not work.
The software can create bottles, in other words, Windows environments where you can easily run your apps. If you download the new version of CrossOver, you won't have to deal with the X Windows System to interact with the keyboard and screen.
Other improvements include font handling that is used for certain apps. You can now use World of Tanks, Quicken and you'll also see some improvements in Microsoft Office.
3. VMWare Fusion
This Windows emulator for Mac is very similar to Parallels but not identical. With VMWare Fusion the Windowed mode support is called Unity and scores great in graphic-related tests. It may not do as good in CPU tests if you compare it to Parallel, but that doesn't mean that it's not a good choice as a good Windows emulator for Mac.
With VMWare Fusion you can run Windows 10, and you can also create and test apps safety in a sandbox. It will also securely share local source folders and files. You can also connect with ESXi, vSphere, and workstation servers to control, launch and handle both virtual machines and the physical hosts.
There is also the option to isolate corporate desktops from BYOdevices. This is possible by deactivating drag and drop, copy and paste, access to USB devices, and shared folders.
4. WineBottler
WineBottler is another option you can try that will allow you to use that Windows app on your Mac. When you first open the software, it will show you a list of programs you can launch. For example, you will see programs such as Firefox, Internet Explorer, and more.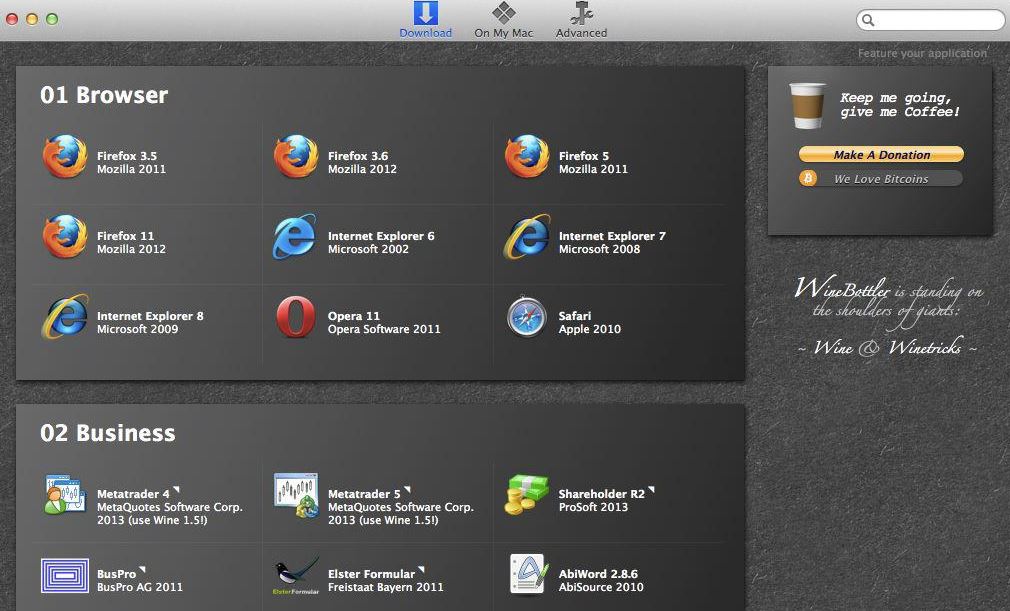 It will have quite a few options, but if you don't see the one you're looking for, you can always just download the .exe file. To open the file you downloaded simply right-click >Open With > Wine. You'll also have the option to either create the .app file and install, or you can execute the file.
Don't be surprised if some Windows apps don't work on Mac using this Windows emulator. You'll know you're dealing with one of these programs because it will either crash or not run at all. With WineBottler different prefixes and made for each app.
5. VirtualBox
The good thing about VirtualBox is that it's open source and that it's free Windows emulator for Mac. But, to set it up you will need to make some system changes. You'll also need a USB drive, installation disc, ISO file to make the installation from.
The Windows Mode in the VirtualBox software is called Seamless Mode, and at least for now, it is not compatible with Windows 10. You'll also need to open the virtual machine manually before you use any of the Windows apps on your Mac.
If all you want to do is just run some basic Windows apps on Mac, and you're not looking to do anything fancy, then this Windows emulator is worth a try. I think you'll like that this software has a modular design alongside well-defined internal programming interfaces. I can't forget about the client/server design as well.
You can also control it from different interfaces at the same time. For example, you can start using a virtual machine in a classic virtual machine GUI, but then you can continue to use it remotely or from the command line.
With VirtualBox, you also come across virtual machine descriptions in XML. All of the configuration settings or virtual machines are completely saved in XML. They are also separate from the local machines and can also be ported to other computers as well.
6. Citrix XenApp
Last, but not least, you have the Citrix XenApp to run your Windows software on your Mac. With this program, you can access any type of app from any device. Every single app is saved in a database, and if you don't have an Internet connection, the program will use the Citrix app virtualization to imitate Windows.
Citrix will also allow various users to access a server individually. It also offers you remote display capabilities, USB redirection, and Multimedia redirection (just to mention a few). The app and sessions are used by endpoint devices using a program client called Citrix Receiver.
The receiver is available for an extensive batch of clients for factors and operating systems.
The Pro Review from TechReviewPro
The best solution to all of this would be to have a Windows computer and a Mac. But, not everyone can afford to have both of them, and if that's your case, any one of the above options will allow you to use a Windows app on your Mac.
Since every user has a different skill level, it's all about trying out the above-mentioned Windows emulators for Mac one by one until you find the one that best fits your needs. Which one do you think that you're going to try first? Leave a comment and let me know.
Related Reading: