In this internet era, everything is somehow connected online, whether it is news, social life or businesses. We now have different needs and processes to handle everything, especially, in the business sector. Businesses depend on online collaboration to share data, communicate with team members and monitor and keep track of the projects from anywhere.
With the growing trend of online collaboration, the dedicated tools have also sprang out. You will find many online project management software that will let you easily communicate and manage your team from anywhere in the world.
Most of these software have a free trial, but in the end you will have to pay on monthly or yearly basis to manage a large team or different projects. If you have a small business with limited need, then you can even manage it for free, but paying for such productive software is always worth it.
Checkout : Top 20 Best Ticket System for Free Online Business Support
Top 10 Best Project Management Software Tools to Manage Projects Easily
Today, we are going to introduce some really handy and best project management software tools that will surely make it easier for you to collaborate with your team. Let's see which software will fulfill your needs.
Basecamp is one of the most renowned project management software tool that is cheap and offers reliable features. Basecamp has a one time free use version with all the features included, it will only let you work on one project and you will have to pay afterwards. Other packages just cost $29 and 79$ per month with no additional fee and unlimited users.
Basecamp will let you discuss with team, store files, make announcements, manage data, create deadlines, keep track of all the changes, history revisions and it also has quite a reliable customer support.
Price: Free for 1 project/ $29/month/ $79/month for package with Clientside feature
Trello is great for people who are looking for a free project management software. Trello is a free app that will let you keep track of your projects using cards. Trello is known for showing everything you need in just a single glance using its cards based interface. You can add people, files, documents and pretty much everything you want to keep track of in the cards.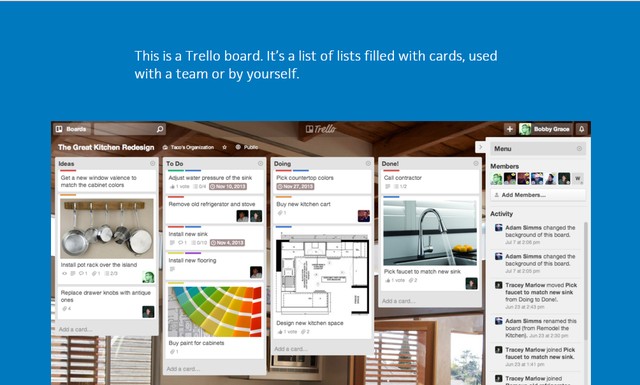 You can easily add comments and upload files from cloud storage or PC for everyone to see. You can do all the other basic stuff like, add notes, make announcements, personally message, invite people, create checklists and more. It does have a paid version costing $45/year, but it only adds some extra space and removes some basic limitations.  
Price: Free/ $45/year with additional control
Zoho Projects is a feature rich project management software with many advanced features loved by enterprises. It has a free version that offers one project at a time with only 10MB of space, may be a very tiny team can take advantage of it. Otherwise, there are 3 different paid packages that offer different number of projects and storage space.
It will let you create a complete project plan with tasks, subtasks, milestones and duties, etc. You can then use Gantt Charts to keep track of progress and compare with the original plan. Some of its features include, Timesheets, detailed reporting, communication tools, upload files and Google apps integration
Price: Free/ $20/month with 20 projects/ $40/month  with 50 projects/ $80/month with unlimited projects
Teamwork Projects is another feature rich management tool with many different packages to satisfy different needs. It has a free limited trial with all the features for up to 30 days, after the trial, you can choose the plan of your choice.
It has a customizable interface that can be customized according to your business theme, like color or logo, etc. Some of its prominent features include, email status updates, 3rd party integration, Risk assessment, multilingual, Backup and time tracking.
Price:  Starting from $12/month for 5 project and up to $249/month with unlimited projects and 400GB storage.
As the name suggests, Freedcamp is a free project management software that offers almost all the required features for free. If you are not satisfied with the free version, then you can separately buy different add-ons for extra features or buy more storage.
It has a very simple interface with all information provided in one glance. You can use notes, manage tasks and sync data with calendar. The free version offers unlimited users and unlimited projects along with 200MB free space. Some of add-ons include, Invoices, issue tracker, Wiki and CRM tools.
Price: Free with in-app purchases
Wrike is a productive management tool with features focus towards making sure you and your team gets the work done promptly. It provides workspace to discuss, share documents and collaborate to effectively complete the project. You can see how your team is doing and progress of each member in real-time and plan projects with them in a single interface.
It has a basic free plan for up to 5 users and limited features, you can upgrade to paid version to have access to more users and additional features, like project planning tools, reports and added security.
Price: Free for up to 5 users/ paid packages starting from $49/month
Very advanced service with quite affordable rate, LiquidPlanner offers many automatic features that makes working on your projects a zippy. It can predict total time it may take to complete a specific project using different factors, this can be handy to have a picture of when you should expect a project to finish. You can manage hundreds of projects and see status of all of them in one glance.
It does offers 14-days free trial version, but it's packages are also quite cheap with standard being $29/month and Enterprise being just $49/month. You will get up to 500GB storage, unlimited users and unlimited projects.
Price: Standard $29/month/ Professional $39/month/ Enterprise $49/month
A very cheap online project management software with reliable features for both free and paid users. It has a free version that offers all the features, but it is only limited to 3 projects. Only for $7.99 you can get all the features along with unlimited projects! Furthermore, you can create a custom plan including everything that just you need and only pay for what you use.
You can get status of all the projects in one place and all team members can access the projects to view status. You will get all the basic features like, add comments, sticky notes, announcements, manage task, personal messages and upload files.
Price: Free/ $7.99 for standard package/ Custom package
ActiveCollab is yet another powerful project management software that offers multiple packages to fulfill different needs. It will even let you buy the app with a one time fee to host it on your server. If you are not comfortable with the privacy of your data, then you can also buy the app for $499 and host it on your own servers (you will be responsible for the servers).
The software itself is quite productive with many features like, ability to create milestones, assign tasks, email integration, reply through email, provide access to anyone, track time, create invoice and notifications.
Price: $25/month for 5 users up to $299/month for unlimited users and $499 for lifetime use
Also Read : 7 Best Data Backup and Recovery Software to Overcome Worst PC Crash
This is the best free project management software tool in our list with pretty much all features free. You will get everything free, such as, unlimited users/projects, real-time updates, reminders, assign tasks, comments, track projects and email integration.
You can opt for Pro version for $99/month and get priority support, customize color and logo and integrate with outlook. The tasks are handled similar to a to-do list with the ability check or uncheck completed tasks.
Price: Free/ Pro version for $99/month
Also Read : 11 Best Free Online Resume Builder Sites to Create Creative Resume CV [Curriculum Vitae]
The Pro Review From TechReviewPro
Managing your team is most important part of any project, and proper management leads to a successful project. To ensure you get to manage your team properly, it is crucial to access to the best project management software that fulfills all your needs. We have listed down the best project management software tools above, you should be able to choose the right one from them.
If you are looking for a free version, then Producteev and Trello are great choices, otherwise Basecamp and Zoho Projects are also great choices.
Don't Miss :