Carfax is a web-based service that provides information on used vehicles to potential buyers. We'll tell you some of the best Carfax Alternatives. Carfax issues vehicle history reports for all registered vehicles. If you are considering buying a used car from an independent seller, you might want to know its history. But, you don't necessarily have to use Carfax for that.
How does Carfax work? How does it get its information? So, the way it works is that you're first supposed to enter the Vehicle Identification Number (VIN) of the car you want to buy. After making the payment (yes, it's not free!), it shows you a report with the vehicle's odometer reading, its history that is acquired from state agencies, the police reports, and repair shops.
We're not saying that Carfax is not a good platform, but it's certainly expensive. You'll have to pay $39.99 for one report, $59.99 for three, and $99.99 for six. Seems like a viable option for businesses but not for individuals.
8 Cheaper Carfax Alternatives that are Equivalent to Carfax
There are various other platforms and services that can provide you the same information and are a lot cheaper. We've come up with the best cheaper Carfax alternatives for your next purchase. And the good thing is: these cheaper alternatives to Carfax are pretty much equivalent to Carfax.
AutoCheck is one of the best alternatives to Carfax. It's not free either, but it's a lot cheaper than Carfax, for sure. One report would cost you $24.99 while the $49.99 plan would let you apply for 25 vehicle history reports in 21 days.
Since you're opting for a used car, you would definitely want to check out multiple cars and pick the one that's in good condition. The $49.99 plan seems just right for that.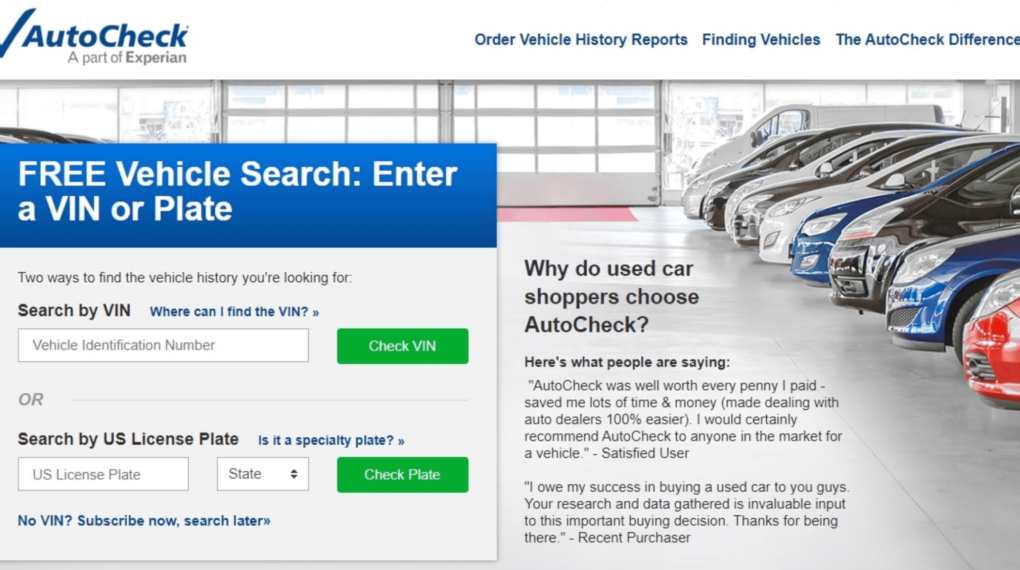 It also supplies free reports that contain basic information about the vehicle, such as its country of origin, its model, and the engine. If you don't have the Vehicle Identification Number, you can also apply for the report using the license plate number.
What makes it one of the best Carfax alternatives? Well, it not only provides you the features that Carfax does but even more, that gives it an edge over Carfax. AutoCheck gives you access to exclusive information that it acquires from two of the largest US auctions.
Additionally, you can compare used cars in the same class. This is a very useful feature. Its patented score meter predicts the vehicle's reliability and gives it a score, which can be used to compare multiple cars.
It has a mobile app for Android and iOS users as well. You can get up to 300 reports on your smartphone or laptop. Sounds like a good deal, doesn't it?
Don't want to spend money on vehicle reports? No worries, VINCheck.info is absolutely free. Even though it's free, it provides you some quality information in its reports. All you have to do is enter the vehicle's 17-digit unique VIN.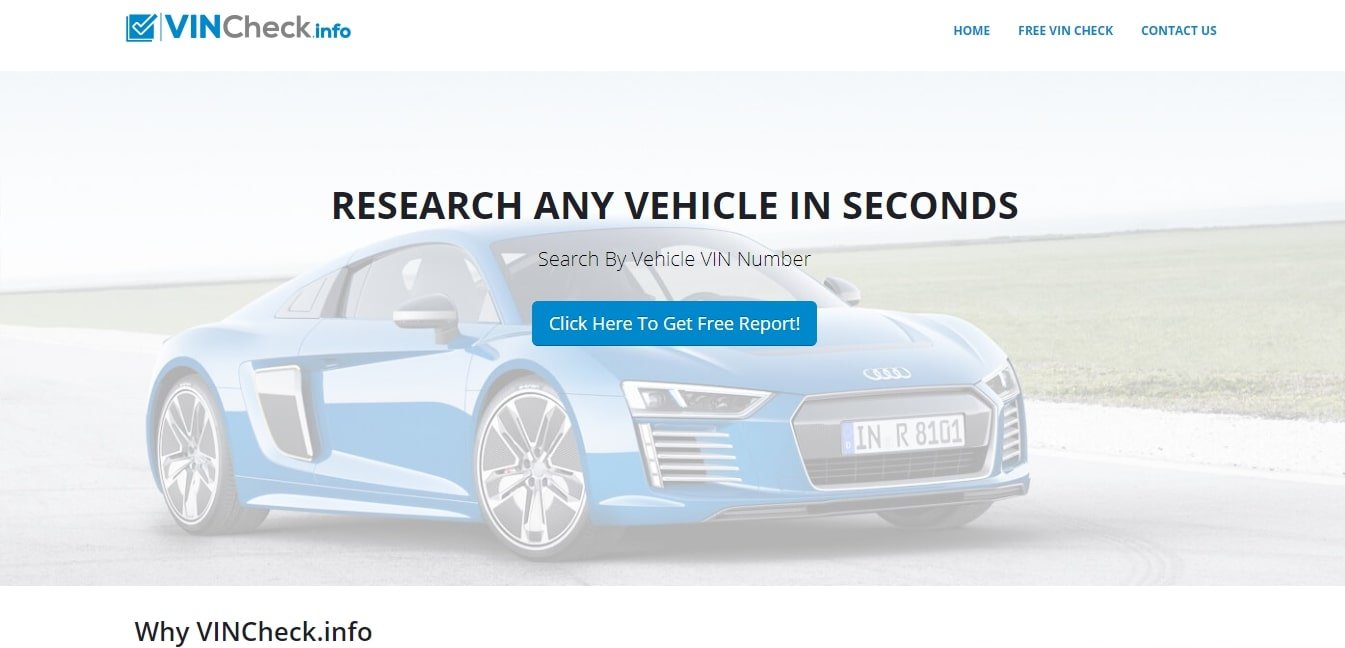 Its report contains information regarding the car's model, its other specifications, and also its sales history. Not just that, you can also fetch its theft history, i.e. the number of times the vehicle has been stolen in the past. Impound and towing events can also be tracked easily. VinCheck.info gets its data straight from NMVTIS.
The web-based service can determine the market value of the model you wish to buy based on other sales of the same model. It provides you a checklist that you can use to inspect the vehicle on your own. Every part of the car, be it suspension, steering or tires, can be examined with the help of that checklist.
It also has a special feature called the License Plate Lookup. It's all free. You're never asked to register on the site or subscribe to a paid service. Is it one of the best free Carfax alternatives? Oh yes, it is!
VINsmart is a quick, reliable, and relatively expensive service that fetches historical and valuation data for any vehicle. The team behind VINsmart is committed to their work and claims that the service provided by them is faster, more detailed, and reliable than all others in the field, including Carfax.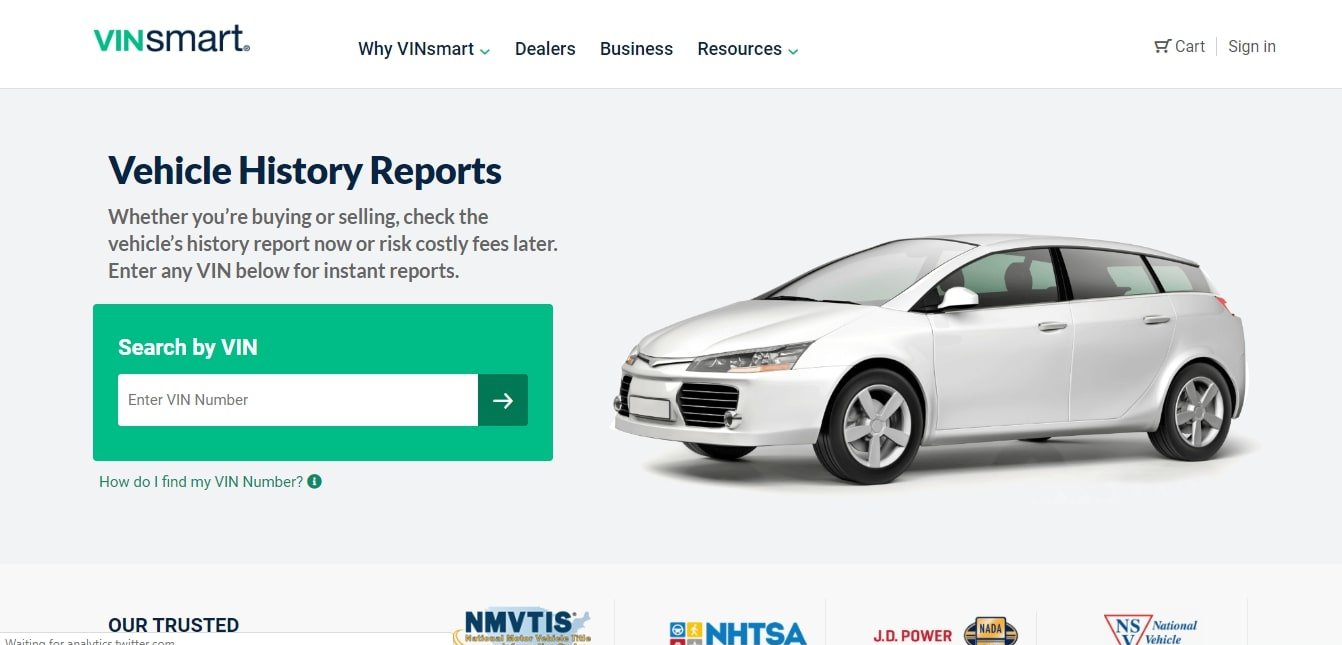 But what we like the most about VINsmart is the fact that the team behind VINsmart is honest about their shortcomings and is realistic about their claims. It even lets you view 5 sample reports for free to know what you can actually expect. The well-detailed reports give you a realistic glimpse of the kind of information there is going to be inside your report.
One report will cost you about $9.95 whereas you'll be charged $6.65 per report for up to 9 reports. If you're applying for more than 9 reports, you are looking at $5.95 per report. It's a seriously good deal!
All of the information is fetched from the NMVTIS which is where most of the trustworthy vehicle history providers get their information from. Insurance carriers, vehicle agencies, and junk and salvage yards submit the information to the National Motor Vehicle Title Information System (NMVTIS), which it stacks up against the VIN of vehicles.
However, sometimes the information provided is incomplete as not all insurance companies and vehicle agencies submit reports to the NMVTIS.
If for any reason, the information in your report is incomplete, you can apply for a refund. You can either get credit for your next report or demand your money. The choice is yours. Only the processing fee which is like $2 will be deducted from the amount.
VINsmart really does care about its customers. There's a live person on the website you can always message whenever you have a query or a problem. VINsmart also has an app for Android and iOS users.
Just like all other providers mentioned above, CheckThatVin gets its information from the NMVTIS which is a trusted source. A CheckThatVin report will only cost you $3.50 which is a lot cheaper than all other (paid) reports in the market.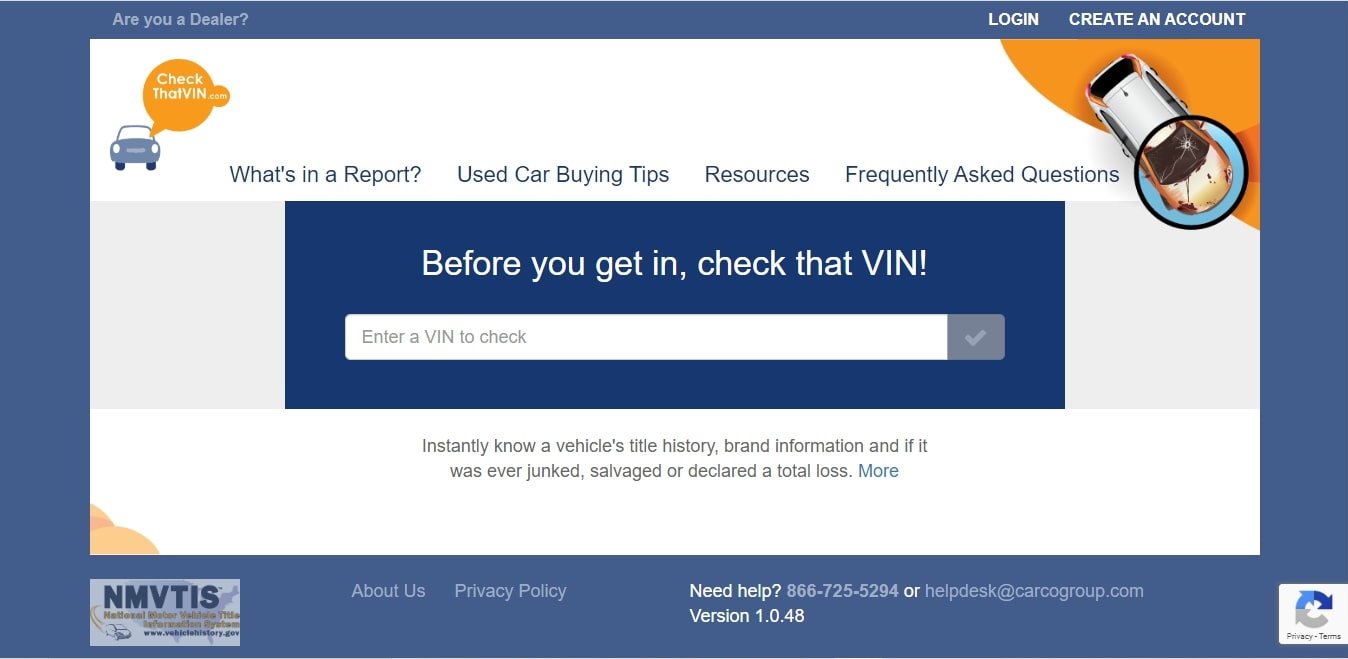 The report supplied includes the vehicle's state of origin, its model, date of purchase, the company it was insured by, and information related to theft, flooding, etc. On the website, you can find a comprehensive list of useful tips you might need while buying a used car. The list has some really good tips and we recommend you check it out!
There's an app available for iPhone users, too. Otherwise, you can always use its website.
Yet another cheaper alternative to Carfax, AutoFax is a vehicle history report provider that does exactly what Carfax does, but at a comparatively lesser price. It's fast and easy to use. The website looks quite simple and plain but it does a great job of acquiring information.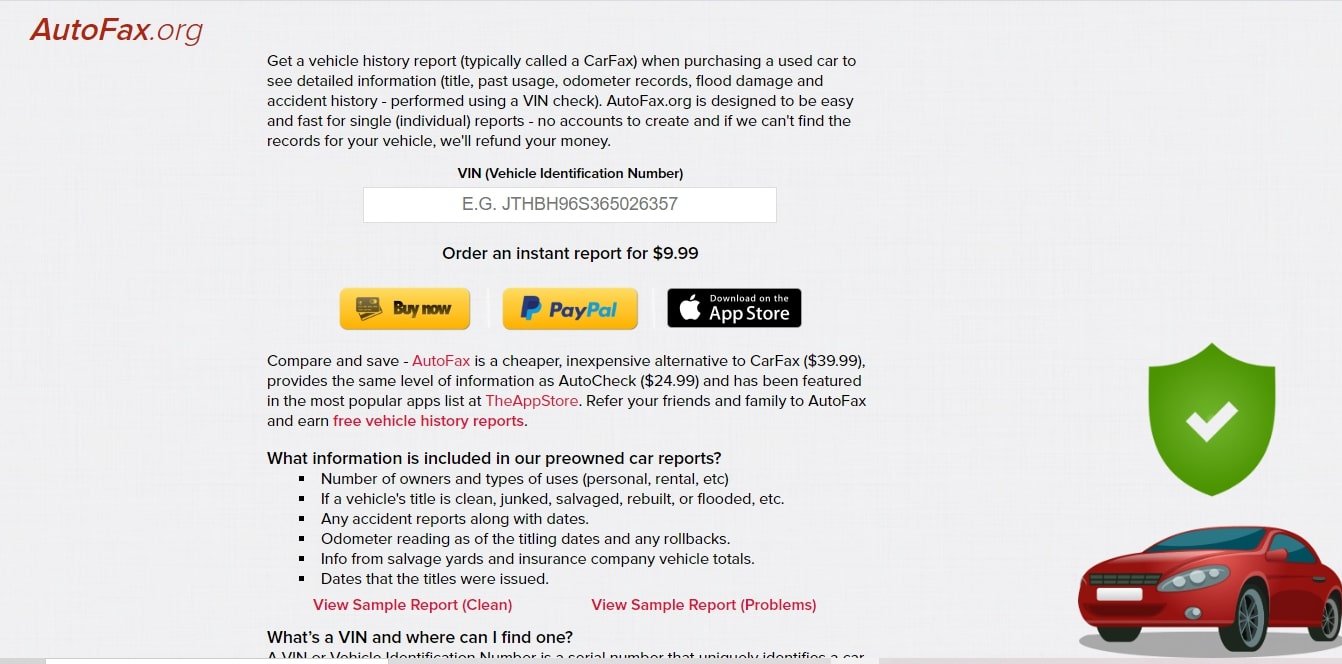 You don't need to create an account to get a report, and if you find yourself unsatisfied with the quality of the information in your report, you can ask for a refund. The amount will be refunded, no questions asked!
There's a Refer and Earn system in place, using which you can earn free reports on the platform. Now, this is definitely something we've not across anywhere, on any platform of this sort. No wonder the app was mentioned in the Best Apps List on The App Store.
The report includes the vehicle's model, the total number of owners, the purpose for which the vehicle was used, accident reports (if any), odometer reading, and the condition of the vehicle. All this for $9.99. When you compare it to Carfax, you realize why AutoFax is one of its best Carfax alternatives.
Titlecheck.us is a service powered by Auto Data Direct. Just like every other platform similar to Carfax, it gets its information from the NMVTIS. NMVTIS was a product of the efforts of the US government to protect consumers from any vehicle-related fraud. Their database contains information from various different sources. The functioning of Auto Data Direct has been approved by the NMVTIS, so rest assured.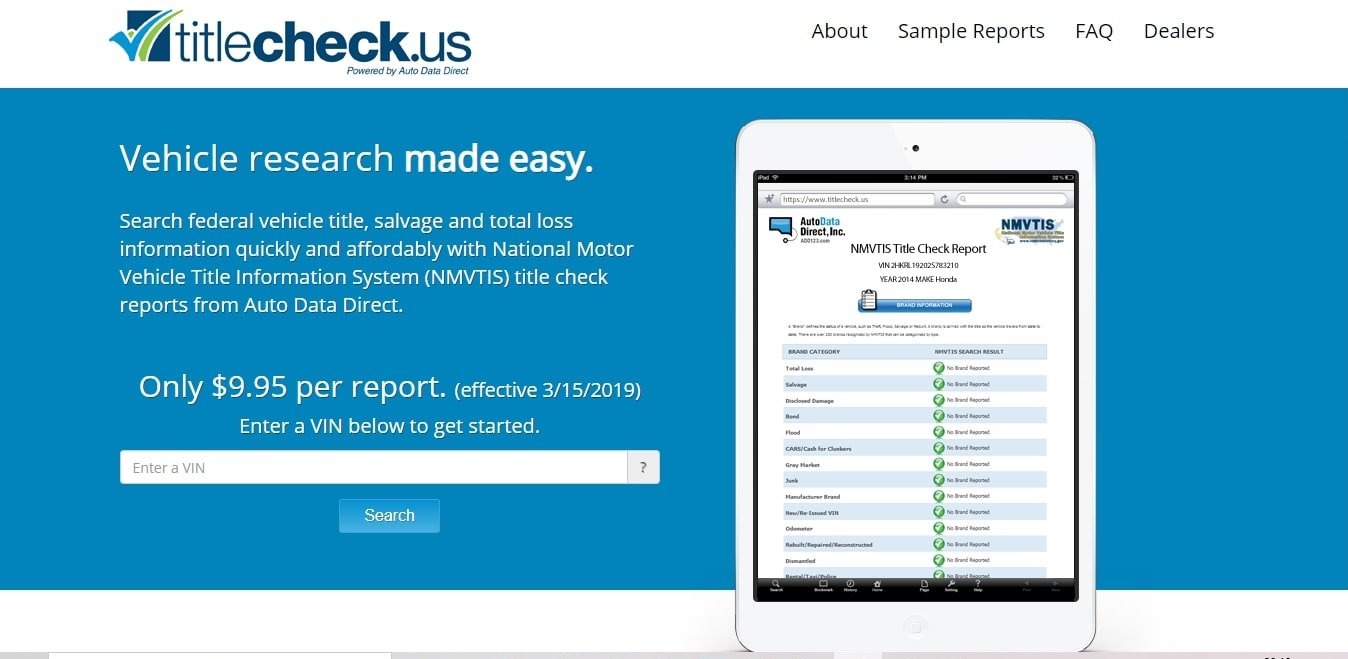 Auto Data Direct's vehicle history report contains information from all the participating insurance companies, salvage auctions, recycles, and any company that deals with junk and total loss vehicles. Keep in mind that the data provided by the NMVTIS does not include the name of the owner, minor car accidents, minor repairs, recall history, and any ownership history.
The report will include the condition of the vehicle when the title was issued, the date on which it was issued, odometer readings at the time, and salvage, junk, and total loss records. The report may or may not include the vehicle's specifications.
There are three different types of sample reports available on the site, including a bilingual sample report.
Kelley Blue Book is much more than just an alternative to Carfax. It's definitely a website you should check out if are serious about buying a car – used or new. The company is based in California, USA, and is known for its automotive research. It also provides a valuation for cars.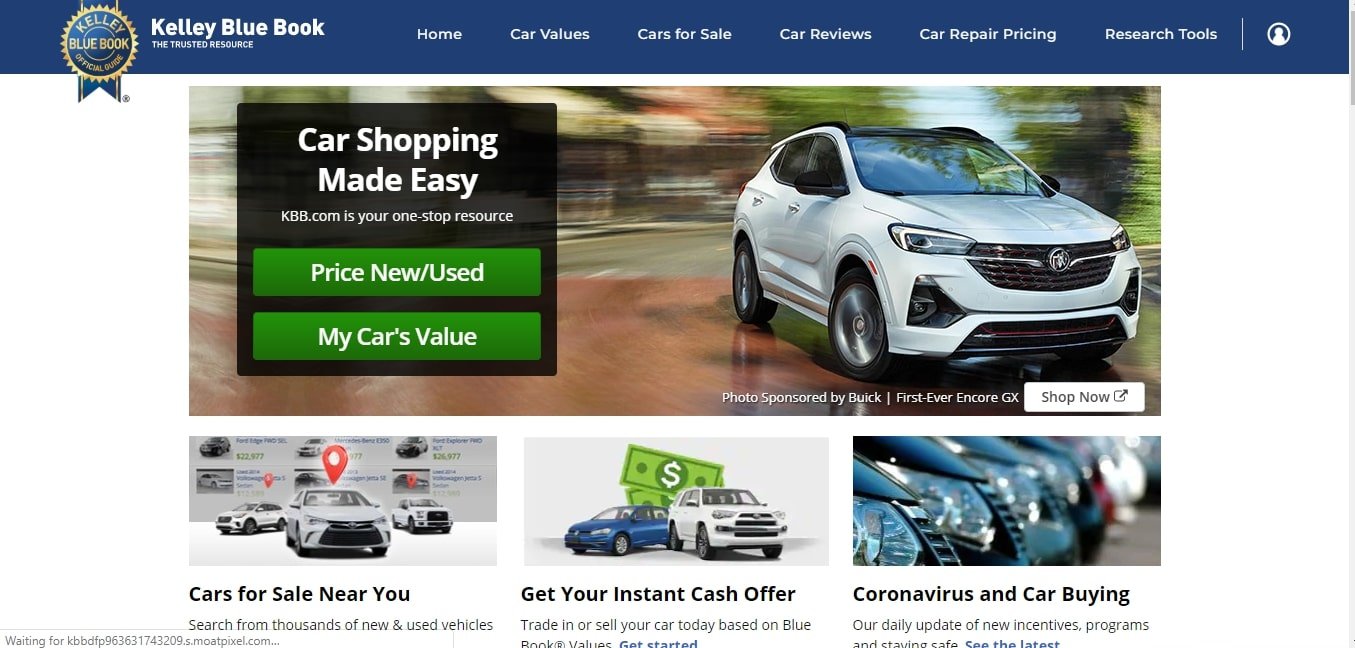 It's a platform that not only guides the buyers but also the sellers. There's a free comprehensive buyer's guide available on the site. There's also a servicing guide if you want to get your car repaired. After you enter all the details of your car, a list of service centers near you will be displayed on the screen.
You can read car reviews, compare different cars, calculate your car loan and insurance, and do so much more. It also supplies vehicle-history reports.
See? Kelley Blue Book or KBB is a really cool company. It may not be the best carfax alternatives but a site very similar to Carfax. The website provides detailed information for free, with a very simple and user-friendly UI.
TrueCar offers a pretty similar experience to Kelley Blue Book. You can choose to buy between a new and used car. If you want to buy a used car, there's more than a million in TrueCar's inventory. If you're looking for a platform to sell your car, TrueCar gives you an estimated value, for free.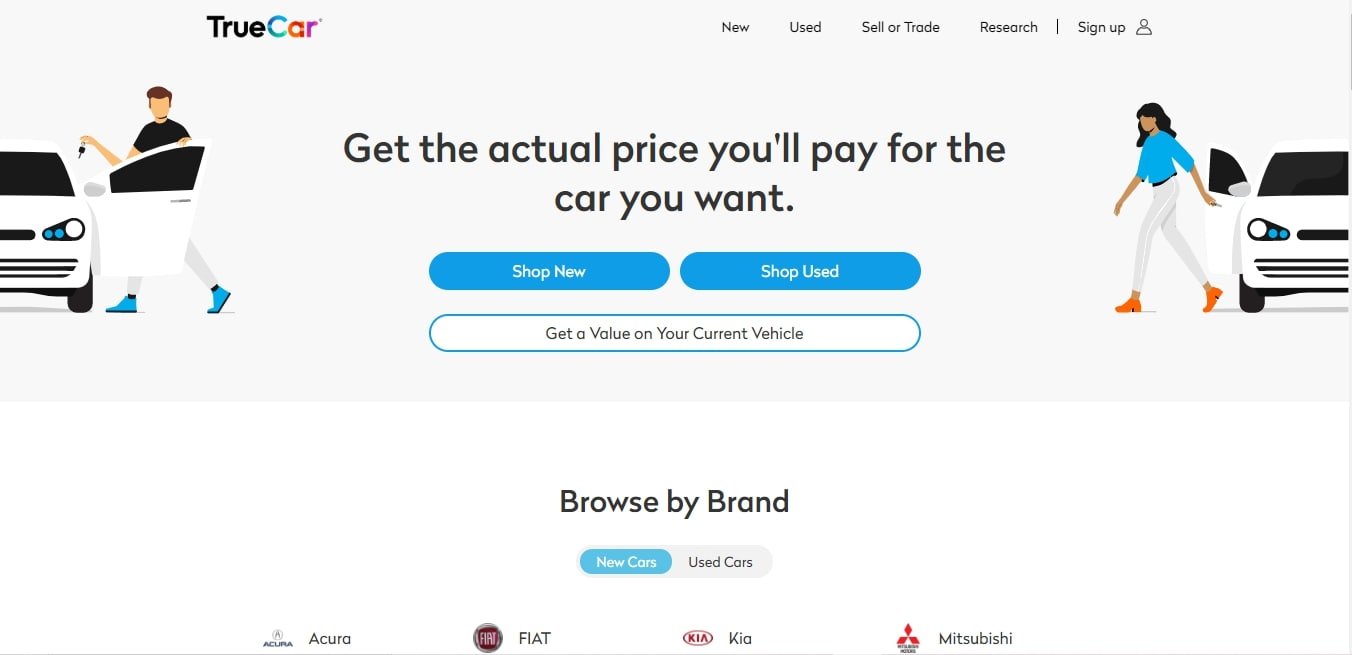 There's total transparency in everything that they do. Want to sell your car? Get your car's estimated value and a cash offer within minutes. They'll even tell you how your car's color, mileage, and other specifications affect its value.
For used cars, information such as their model and specifications, accident history, and owner history will be provided. You'll even get to know whether the deal being offered by the seller is a good one or not.
Conclusion
You asked for the best Carfax alternatives, and there you have it. Carfax is really good at supplying a CarFax, and there's no denying that. However, there are some really good but lesser-known web-based companies that can do exactly what Carfax does and even more. All the 8 companies listed above are the best in this field.
While Carfax charges hefty fees for a vehicle history report, these cheaper Carfax alternatives can provide the same at a lesser cost or even for free. It doesn't matter what your reasons are, but if you are going to buy a new car, you should take a look at multiple sources before you spend your hard-earned money.
With the free guides on some websites, we're sure your new purchase will definitely be worth it! We hope we could help you. If you have any doubts, put them in the comments section below, and we'll definitely help!
Also Read: