Welcome to the age of information technology where you can do almost anything by tapping the screen. The Internet is useless without brilliant websites and websites are useless without the internet. Both have to work in conjunction just like hardware and software to give the user the best experience they are looking for. Reddit is one such brilliant website with a ton of information. Reddit, as well as many other similar sites like Reddit, provide immense knowledge and information on almost any subject or topics.
Talking about Reddit, it is also called the front page of the internet for a good reason. This link aggregator site has set the standard for constant innovation which made it one of the most popular link aggregator website on the internet. From Internet world to technology sector, entertainment, cool inventions, politics and the most celebrated AMAs of famous personalities is what drives Reddit a huge audience. Also, being anonymous helps everyone have free discussions on hundreds of different topics.
Sites Like Reddit: 9 Alternative Websites Like Reddit You Must Know
There is no doubt about the fact that Reddit is one of the most popular sites on the internet, but there is no reason to bank on Reddit only. There are many other sites like Reddit where you can explore a whole new world and learn a lot just like you do on Reddit. If you are looking for some good alternatives to Reddit, your search for best Reddit alternatives end here. In this article, you'll find out the 9 best alternative websites like Reddit. These are the sites like Reddit and you'll get to explore a world similar to Reddit.
Quora is one of the best places where members of the site can take part in meaningful conversations or discussions for better knowledge on the certain issue from experts. Quora allows users to ask anything for other users answers to that question if they got any idea regarding the individual topic.
When it comes to comparison with Reddit, there are some differences like no cool subreddits and when you post something to Quora, it goes live for everyone. It is a site like Reddit but a major difference is: On Reddit, you only get notifications for subreddits of your choice for which you have subscribed, however, on Quora, you may tweak your notification preferences by topics you follow as well as the person you follow. It works more like Yahoo Answers but with a lot more accessibilities like tracking your answer views, adding links, etc. Quora is one of the best Reddit alternatives and if you are looking for an easy to use site like Reddit, you should try Quora.
Hacker News is yet another site like Reddit in several ways, although it's geared more towards tech enthusiasts who love hacking topics. Again, it publishes startup items on a regular basis. If you are interested mostly in Technology related News contents, Hacker News is the best thing you should get with. Hacker News is one must visiting site especially for the people connected to Technology as an entrepreneur.
You can comment on a story to participate in the discussions regarding that individual story and express your opinion regarding that particular matter. News Y Combinator is a place for the hackers, by the hackers.
I would not refer it exactly as an alternative website like Reddit, but if you are onto something new yet fun and exciting from around the internet, this is a perfect place for you. The site is full of funny memes and images, and other entertaining contents. Interesting people from around the world start a discussion on particular post shared on it, and the comment sections are the best part of the fun.
9Gag began as a simple website where different users submitted internet memes and funny images just for the laughs, however, recently it has turned into a big community of amazing people. This Reddit alternative is the perfect place to be if you want to let off some steam and laugh your heart out. 9Gag has added a lot of new sections that cater to people with different interests. There's something for everyone out there.
4Chan is a highly popular community on the web as it allows people to post images and comments to others. They have numerous topics and categories that are being covered. Thus you can rest assured that what you are interested in will be included on this website. You do not have to have an account to post content, and you can do this anonymously.
4Chan has different boards for everything you can think of that include but not limited to, music, video games, movies, technology, Japanese anime, etc. Anyone and everyone can share their images and post comments on their favorite boards without needing an account at all.
Another site like Reddit, which is a great news bowl for Tech-geeks is Slashdot. Slashdot is one place where thousands of news contents are exposed to its users from various sources over the internet. You will never need to search anything important sneaking into dozens of other websites, while you can have all of them in a single place, Slashdot.
Some of these stories will be coming straight from other sources, while others may be more original. There are also discussions and comments taking place on all the stories, so feel free to chime in.
StumbleUpon is another alternative website like Reddit as it is the best in discovering new stuff in the world of internet. People from every corner of the globe, show up on StumbleUpon with their great pieces of things. StumbleUpon is another site like Reddit that is an excellent choice to kick off boredom. The posts you find here are totally random, but you may find them to be fascinating. Here, you can keep stumbling all day, like or dislike stories and save them to read later.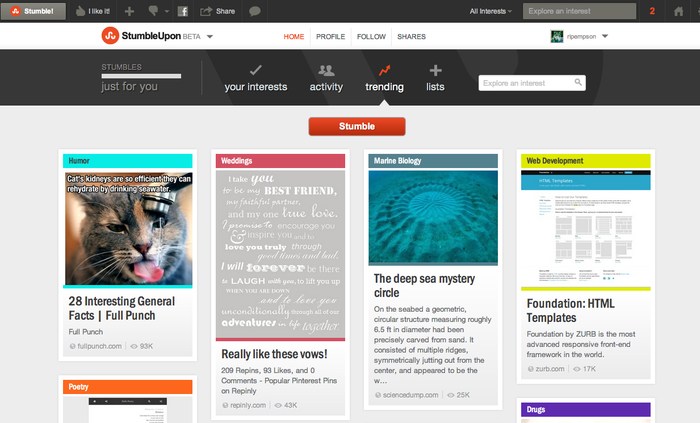 If you want the latest and greatest that can be found online, then StumbleUpon is one of the best options present out there. StumbleUpon is an easy and intuitive website that allows interference of different users.
NEWSVINE is a crowdsourced news source that means that people are submitting stories from around the globe. Also, the website also links to articles that are found from popular news sources like the Associated Press to ensure that every base is being covered when it comes to the news that is out there. You can comment on stories, as well as start discussions with others who visit this website.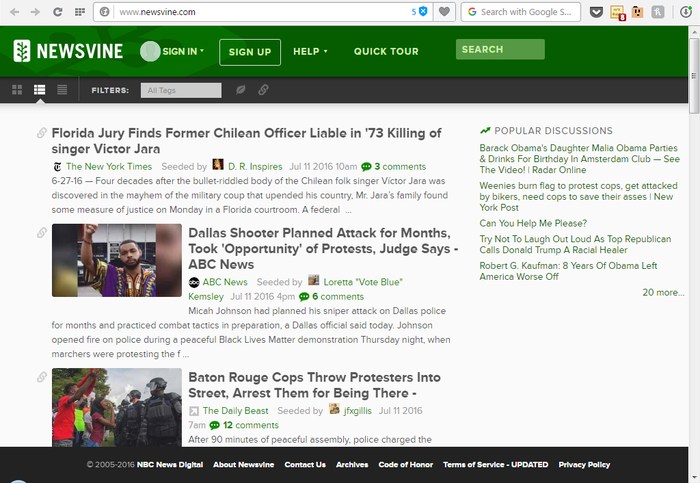 Thousands of users are submitting interesting news stories and reports from around the web to this service. Most popular stories end up on the front page of the site where they are seen by millions of users who frequently visit the site. You can have discussions with other users by creating different nations around your interests.
Product Hunt is another site like Reddit that delivers the best of everything. You can get a list of great products that include, best websites designs, top mobile apps, the hottest games, and much more in the technology sector. People can create their lists and share them with the world. You can comment on other people's creations or create something of your own to share with everyone on the website. People share amazing tech-related stuff with everyone in the community, so everyone can jump in and give their opinion regarding the tech in question.
The entire idea behind this website is to have numerous products listed that are available for consumer use. People are sharing these products with one another, and it does allow for comments to be made. Thus you never know what you are going to find on this site.
If you are looking for a complete clone to Reddit, Voat is the Reddit alternative you need. The site structure and design are completely similar to Reddit. However, there are differences when compared to Reddit. This site is similar to Reddit, but here you get Sub-Verses instead of Sub-Reddits. The idea is simple: to present Voat as one of the most similar sites like Reddit and a Reddit alternative that gets all features like Reddit.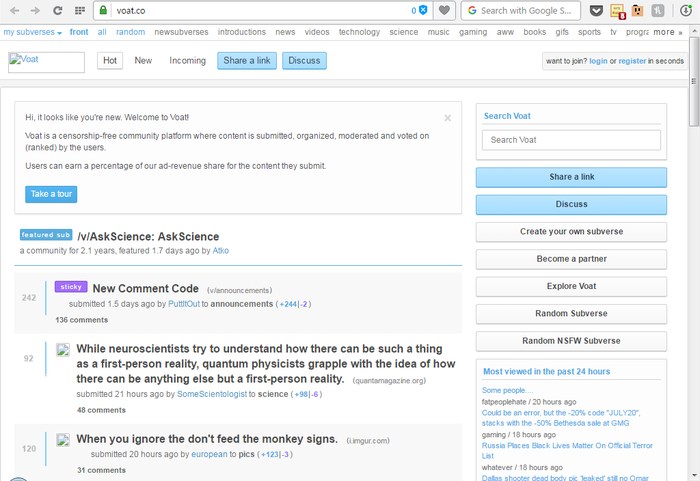 If you are searching for a site like Reddit that get a large chunk of visitors and is a very popular alternative to Reddit, Voat is the right candidate. What is more interesting about this Reddit alternative is that it allows posting and discussions about even those topics that are not allowed on Reddit. In my opinion, Voat is a cool site like Reddit and a very popular alternative to Reddit where you can rely on.
The Pro Review From TechReviewPro
Websites like Reddit are essential. No matter how popular a site or a product is, you always need an alternative. And Reddit is no exception. Alternative sites like Reddit allows you to share your ideas, join discussions, and learn from other people. We are netizens and sites like Reddit hold a very crucial role in educating netizens like us.
For long, Reddit has been the best online bulletin site that offers impervious resources to the user. Simply put, it sits at the top as being the best online discussion panel where anyone can indulge in the entries. However, you would enjoy exploring these alternative sites like Reddit.
Don't Miss: