iPhone Alarm clock not working properly is the most seen issues on the forums. What if your iPhone alarm clock sound is not working properly? Maybe you will lose your job, or you will be late for the meetings, even you can miss an important appointment. Many people are searching the web or asking in forums about the iPhone alarm clock not working but most of them remain unlucky due to the incomplete information.
Are you also facing the same problem? Is your iPhone alarm clock not working as you want? Okay, hang on! I'm here with you to tell you about all the best possible ways to get rid of all the iPhone alarm clock related problems.
How to Fix iPhone Alarm Clock Not Working on iOS 12?
Since iOS 11 was released officially, iPhone alarm clock not working has been one of the many major issue iOS 11 came with. Even after upgrading to iOS 12, there are many users whose alarm clock not working properly on the iPhone. If you are looking for a solution to fix the iPhone alarm clock not working on iOS 12, this article is for you.
1. Check Alarm Volume
Oversleeping is the basic problem which we all have faced in our life but this only happens when your iPhone alarm sound not working as usual. Oversleeping results in missing your important meetings, appointments, job interviews, flights etc. even it also adversely affects your health. While being concerned about not being able to wake up in the morning even after creating an alarm is good, but there must be a reason why you are not getting alarmed.
The answer is maybe your iPhone's alarm sound is not so loud enough that makes you wake up at the time. So follow the steps to fix the issue:
Step 1 – Go to the home screen.
Step 2 – Press the volume up button until the soundbar is full, but make sure there are no any media files playing in the background like music, videos, and any kind of audios. Because if any other media is playing in the background, increasing volume will increase volume for that media rather than alarm tone volume.
So while increasing the volume, ensure that whether you are getting Ringer dialogue or not.
Although iPhone allows you to adjust media volume or ringer volume with the same volume rocker. Yet it only depends on the situation. That's what I have already suggested you for ensuring whether you are increasing volume for media or alarm clock tone.
2. Toggle the Mute Switch off
Sometimes we can solve the iPhone alarm clock not working issue with a simple tweak. Just confirm once, that the mute switch is OFF or not. If not then please toggle that mute switch from ON to OFF by gently pushing it to the upside. And you are good to go.
3. Select the Sound Type
It is important to check that your alarm has which type of sound.
Step 1 – Go to the Clock app, this might be located on your home screen or next to the home screen depending upon your home screen orientation.
Step 2 – Once you are in the Clock app, there might be many options and this is sometimes overwhelming.
Among the various options like world clock, bedtime, stopwatch, timer, and alarm, you need to choose Alarms since we are dealing with a fix for alarm clock not working on iPhone.
Step 3 – Once you tap on alarm, you'll see a list of alarms you have saved earlier. Now you need to tap Edit which is located on the top left corner of the screen.
Step 4 – After you tap on Edit, you'll notice a red minus sign appearing next to every alarm (left side). Select any of the alarm you want to customize.
Step -5  Now you'll be in the alarm editing area where you can do multiple things like changing alarm time, configuring whether you want to let the alarm repeat or not, label of alarm which is nothing but basically the name of alarm to help you better recall it later. You also get the option to turn on snooze for alarm.
However, in order to fix the alarm clock not working on iPhone, we are more concerned with sound. So, tap on Sound.
Do check once, maybe the sound type is selected to be none. Now select any music or tone which you think is loud enough to wake you up in the morning.
4. Create a New Alarm
Have you tried above all the ways to sort out the iPhone alarm not working problem but nothing works? Then you should try this easy but effective tweak.
Step 1 – Go to your iPhone's home screen and launch the Clock app. Again, you'll get a screen filled with various clock options like world clock, alarm, bedtime, stopwatch, and timer. But you need to tap on the Alarm tab.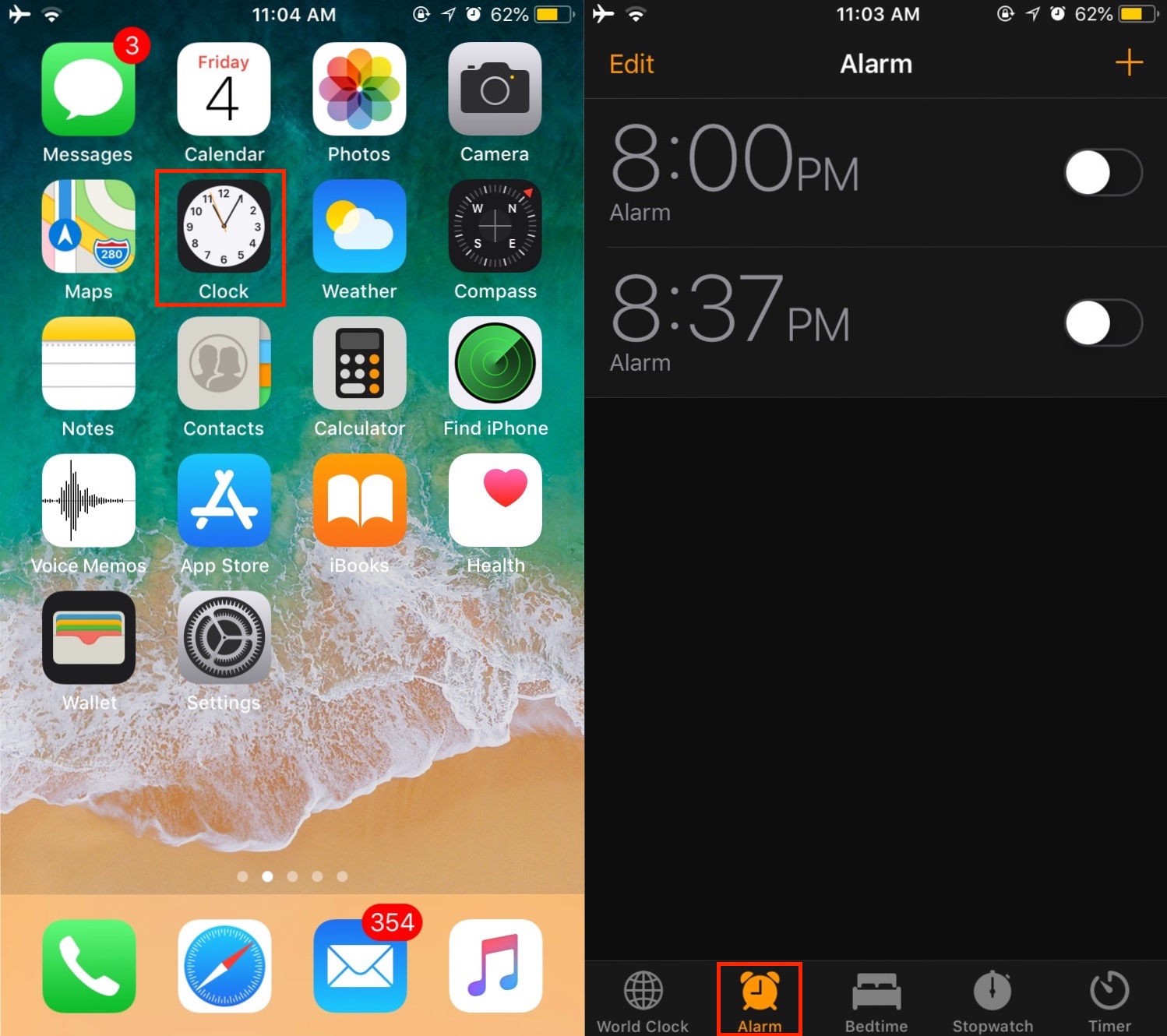 Step 2 – Within the Alarm tab, there will be a list of all the alarms you have set up. Tap on Edit button located at the top left corner and this will present you with an option to delete or modify alarms.
The red minus sign next to each alarm (left side) allows you to delete any alarm while if you tap on the right, you'll get the option to edit and modify alarm clock on your iPhone.
Step 3 – You can either tap on the red minus sign or swipe right to left on any alarm to delete that particular alarm. Delete all the existing alarm by swiping right to left on an alarm and then tapping on Delete.
Or simply delete any alarm clock in one tap by tapping on the red minus icon which is located on the left of each alarm.
Step 4 – Now restart your device using the preferred way. On older iPhone with the home button, you can press the power button for few seconds until "Slide to Power Off" slider comes, tap on it and this will shut down your iPhone.
A few seconds later, power on your iPhone. Technically, this is shutting down your iPhone and powering it on. But it's equivalent to restarting your iPhone.
However, if you want a direct way to restart your iPhone, below is a workaround. Make sure you follow the steps mentioned for your iPhone only as each iPhone has a different way of restarting.
iPhone X, iPhone 8, and 8 Plus users – Press volume up button once then down button once, now press and hold the sleep/wake-up key for 10 seconds until the Apple Logo appears.
For iPhone 7 and iPhone 7 Plus users – Press and hold volume down and power key simultaneously until you will get Apple logo.
iPhone 6S, iPhone 6S Plus, and iPhone SE or even the earlier iPhone users – Must press and hold power button along with the home button.
Step 5 – Once your device is rebooted, go to alarm again and tap on the plus icon to create a new alarm as per your need.
Pro-Tip: When you re-create a new alarm, set the time to a few minutes later so that you can test it and confirm whether it's working or not.
Once you re-create a new alarm, hopefully, Alarm clock on your iPhone will start working. If that's not the case and you are still having a hard time fixing "alarm clock not working on iPhone" error, you need to try the below step.
5. Reset all the Settings
Found out of luck? Try resting your iPhone's settings to default. Most of the times, resetting your device is the best option to fix all the issues and all you need is just a factory reset. But before you do, we recommend you to back up your device so that you don't lose important data.
Although, resetting your iPhone settings will not delete your personal data and media content, yet it's a wise decision to be safe than sorry!
Step 1 – To reset your iPhone, go to Settings >> General.
Step 2 – In general settings, Scroll down until you get Reset option. This will be around the bottom, just before shut down.
Step 3 – Tap on the Reset button, and you'll get various resetting options whether you want to reset all content and settings, just network settings, only keyboard dictionary, reset home screen layout, or rest location and privacy.
Each of these has their own limitations of up to what extent they'll reset your device. But since we are not sure what's causing the iPhone alarm clock not working error on your iPhone, we'll go with resetting all the settings as this will wipe everything out and hopefully the culprit as well.
So choose Reset all the settings.
Note – This will remove all the changes what you have made earlier like Wi-FI password, network settings, display settings, and many more. But this will not be going to affect your personal data.
Step 5 – Now go to clock app again and set a new alarm after your device has rebooted.
Again, this is most probably going to fix the alarm clock not working problem on your iPhone – no matter which iPhone you are using.
But if this method also failed in fixing the alarm clock issues on your iPhone, you need to try the next method mentioned below.
6. Update or Restore your iPhone
Sometimes a software bug can cause the iPhone alarm clock issue so a quick fix to this is updating the software on your iOS device. You can update your iOS device easily if you have a working internet connection and a few minutes of time.
Step 1 – To update your iPhone or iPad, go to Settings >> General.
Step 2 – Now move further and check for the Software Update. Your iPhone will check for software updates and if a new software update is available, you'll get an option to download and install it. And then follow the required steps.
Well, that's how you update your iPhone or iPad and hopefully, this would fix the iPhone alarm clock not working issue. But if that didn't go your way, there is another workaround – restoring your device.
If you have tried everything but nothing worked and still your iPhone alarm not working then restore your device using iTunes.
Note: This is a very effective way to fix iPhone alarm clock not working if alarm clock on your iPhone was working fine earlier and suddenly alarm clock stopped working on your iPhone. A possible cause may be the bug in the update which can be fixed by a fresh installation of the iOS version.
But before you proceed, make sure you backup all the important data. And this is very crucial.
Step 3 – To back up and restore your iPhone, simply connect your iDevice to iTunes using a lighting cable.
Step 4 – As soon as you connect, you'll be asked for permissions and continue with allowing the permissions. Once you do, an iPhone icon will in the top left as shown in the image below.
Tap on the iPhone icon and this will show you details about your iPhone.
Step 5 – As the screen appears with the information and details about your iPhone, there you will get a backup menu along with the options like iCloud, and This Computer.
Select the available option as you want to back up your device but here I'll prefer to go through the local backup on your computer. Backuping to iCloud will cause you data charges depending on the size of your iPhone's backup.
Step 6 – When you are done with your backup, now you are ready to deal with the iPhone alarm clock not working problem.
As shown in the image, right side under the device info there is two option check for update and Restore iPhone. As we've already tried updating iPhone but still iPhone alarm clock not working as expected, now restoring iPhone is only the option we have.
Click on the Restore iPhone option and let iTunes do all the rest.
Restoring the iPhone will take a few minutes, even a few hours because it depends on your internet connection speed. Once you are done with restoring iPhone, you will get a welcome screen on iPhone.
Now use preferred language and follow on the screen instruction like connecting to Wi-Fi network, selecting keyboards, signing in with Apple ID, restoring a backup from iCloud or iTunes, Choosing screen layout etc.
In simple words, you have to set up your iPhone as you do usually with your new iPhone.
After following all these steps, move over to the Clock app and select alarms from all the available options. Now, create a new alarm as suggested in previous steps. This will definitely help you in fixing the issue "iPhone alarm clock not working".
Conclusion
So this is how you can deal with the issue iPhone alarm clock not working. And all these steps also help you even in fixing alarm clock not ringing problem on your iPad. I have also mentioned how to reset your iPhone without losing your personal data, and a step by step guide to backup your iPhone as well as how to restore your iPhone to factory default version.
Hope this guide will help you fix the issue, if not, feel free to let us know your problem. If you countered any difficulties, ask your query in the comment section below. I'm always here to help and I would be happy to do so.
Related Resources: