For many people, waking up in the morning is the most dreaded thing. Some don't even get to wake up in time and miss their schedules. It is where alarm clocks help us wake up in time and continue the day. However, even the annoying alarm sound isn't enough to wake up some people and the snooze button just gets repeatedly pressed until it stops the alarm altogether. If a regular alarm clock or the alarm app in your phone is not helping you wake up in time, then you might like to take things up a notch and go for an online alarm clock.
There are many free online alarm clock websites available that will let you set up a unique alarm to wake you up. There are many advantages of an online alarm clock like you can use your PC's speakers to hear the alarm (the bigger, the better) or place PC away from you so you will have to get out of the bed and stop the alarm.
Also Read: Decode URL Online – 6 Best Online URL Decoder Tools to Know Original URL
Loud Alarm Clock Online: 8 Free Online Alarm Clock for Heavy Sleepers
If this idea convinced you, then we can help you find the best online alarm clock for heavy sleepers that will surely be able to wake you up. Below we have listed 8 best free online alarm clock with unique features, at least one of those free online alarm clock should be able to fulfill your needs.
Online Video Clock is a cool online alarm clock that lets you set a YouTube video as your alarm sound. You already know about the massive database of YouTube that will let you use any video/music. You can go for annoying alarm sounds, laughing children, piercing noise or even fingernails scratching over chalkboard (ouch). To set up an alarm, search for your favorite YouTube right from the Online Video Clock interface and then set the alarm.
It offers four most common alarm timings to set an alarm quickly, but you can also set alarm time according to your need by clicking on the "Custom" button. However, the alarm timings are displayed with a difference of 15 minutes, so it may not be able to pinpoint the exact alarm time you are looking for.
ALARmd is another great online alarm clock that offers some built-in annoying alarms and also uses video and radio alarms. It comes with three basic alarms, including the sound of Siren, standard alarm and a train crossing that are loud enough to wake you up. It also has three motivational video songs to play and directly play indie and rock songs from last.fm.
The problem I found with ALARmd is that it makes it a little hard to setup an alarm, especially for a novice user. You can't set a particular time for the alarm to go off, you have to enter the time manually using the provided format, like this "+7h,+15m". Although, the ability to alarm for a whole week do make up for it.
As the name hints, AlarmTube also lets you use YouTube videos as the online alarm clock sound. It's straightforward and interactive interface makes it better than other online alarm clocks that use YouTube as a source of the alarm sound. Similar to a digital assistant you find on your smartphones, it can also set alarms in natural language. For example, you can type "set an alarm for 6 am tomorrow" and it will set an alarm for that.
After that, you can search for a YouTube video using the below search bar or even find videos using YouTube tags and featured videos.
Kukuklok is a very simple online alarm clock with a very attractive interface. It has a digital clock on the left and an alarm sound customization widget on the right. You can set an alarm in minutes and hours using the "+" and "-" buttons on the digital clock. Afterward, you can select an alarm sound (can be previewed) using five free sounds, including rooster sound, classic clock, beeping, Slayer Guitar and Military Trumpet.
Kukuklok has a 10 minutes snooze timer that sets the alarm to take off after 10 minutes.
Don't get confused by "Naked" in its name, it is just to attract the visitors. And, there is nothing "naked" about this online alarm clock. It is a very functional alarm clock that is simple and very "Loud". You can use arrows on the screen to set the alarm time and also take advantage of little shortcuts to quickly adjust the alarm time.
It comes with four very annoying sounds, including bell alarm, alien sound, digital alarm (not so boring) and military trumpet. All these sounds are deafening and ear piercing, if you don't mind waking up with your heart beating like Dave Grohl's drum, then this online alarm clock could be a perfect solution.
MetaClock is a vivacious online alarm clock that has an attractive interface with loads of fun and morning based alarm sounds. If you want to wake up by an online alarm clock that makes you feel energetic and motivated, then MetaClock is for you. You can choose an alarm tune from 12 different fun sounds, if they are not enough, then you can also upload your sounds.
Furthermore, you can also add a custom message for displaying with the online alarm, and it could be a reminder or a single Good Morning. Adjusting alarm is as simple as selecting required time from a drop down menu.
AlarmBuzz is a very creative online alarm clock website that also offers tips on Insomnia, Wake Up, and late for work excuses. I must say that the tips are handy and you should give them a read as well. As for the online alarm clock, it lets you configure three alarms at a time with a very intuitive alarm interface. You can set an alarm by selecting hours, minutes and even seconds from the drop down menus.
As for the alarm sound, you can use both a YouTube video link and an internet radio stream link. AlarmBuzz provides you all the options you will ever need to set a good alarm sound according to your need. When the alarm goes off, you will be directed to the provided link and you radio channel stream, or YouTube video will start playing. It doesn't offer any snooze or stop buttons as it redirects to the provided URL. So you will have to deal with a continuous radio stream or a YouTube video that will keep switching (if autoplay is enabled).
Daily Alarms is a freaky online alarm clock that lets you set up 1440 alarms in a day at the same time. There are total 1440 minutes in a day so that you can set off an alarm after every minute. It is a little hardcore online alarm clock that will surely help heavy sleepers wake up if you set up enough alarms near your wake up time. For example, you can set an alarm after every minute for 20 minutes near your wake up time, and you will have to deal with 20 alarms!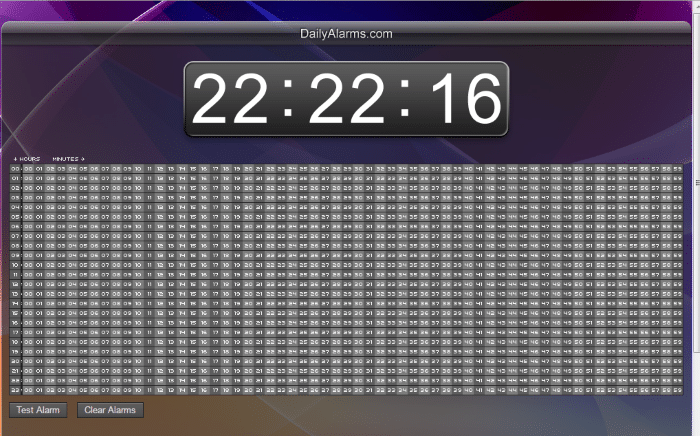 The process is simple. Daily Alarms will list all the minutes in a day right in front of your (that's right, all 1440 minutes). All you have to do is double-click on the required minutes, and the alarm will be set for them. You can also use this free online alarm clock for scheduling multiple alarms at different times to take care of your to-do list. Unfortunately, there is only a single alarm sound, which is a Rock tune.
Check: 5 Best Facial Recognition Search Engines to Search Person's Faces Online
The Pro Review From TechReviewPro
Waking up in time is crucial to keep up with your schedule, and any delay will completely disrupt your daily routine. Use the above mentioned online alarm clock websites to ensure you always wake up in time and keep up with your routine. If you are thinking of using powerful speakers alongside these alarms to wake up, then do bear in mind that regular exposure to such loud tone (especially Bell ring) can lead to hearing issues in the future. So make sure you don't locate your speaker too much near to your ears.
In my opinion, Kukuklok is more than enough for a simple online alarm clock, but you can also go for a YouTube video based online alarm clock like AlarmTube to access any tone. How do you wake up every morning? Let us know in the comments.
Don't Miss: