The importance of a good (and fun) keyboard with Emojis is often underestimated, and that's how we end up having dull and boring keyboards on our Android phones. But this is where third-party keyboards with Emojis come into play; after all, we need to keep ourselves (and our keyboards) updated with the latest emojis, themes, advanced AI support, and other improvements to level up our texting game!
Emojis – these cute, little, animated icons have changed the way we communicate and express our emotions through text messages. Without emojis, text messages are merely some meaningful yet emotionless words strung together, reeking of boredom.
Thankfully, we have third-party keyboard apps offering us an array of colorful and fun emoji keyboards to spice up our conversations. But even having too many choices for emoticons apps on Android can sometimes be a bad thing, as it usually leads to a lot of confusion. The Android app market is currently flooding with third-party keyboard apps claiming to be 'the best keyboard with emoji.' So, we thought why not briefly review some of the best keyboards with emojis that appeal to us the most?
Also Read: 10 Best Emoji Apps to Get Extra Emoticons for Android and iOS
Top 10 Best Keyboards with Emojis for Android
So here you have the list of Top 10 Best Keyboards with Emojis for Android that we think will give you the most bang for your buck. Well, not exactly since most of the emoticons apps for Android reviewed below are free of any charges, but you get the point, right?
1. Kika Keyboard – Emoji, GIFs
Kika Keyboard is a free-to-download keyboard app for Android, and it has everything you could ask for: fun themes, artistic fonts, animated emojis, Japanese emojis, GIFs and much more. There are no in-app purchases in Kika Keyboard, and if you wish to upgrade to the pro version, there's no charge either.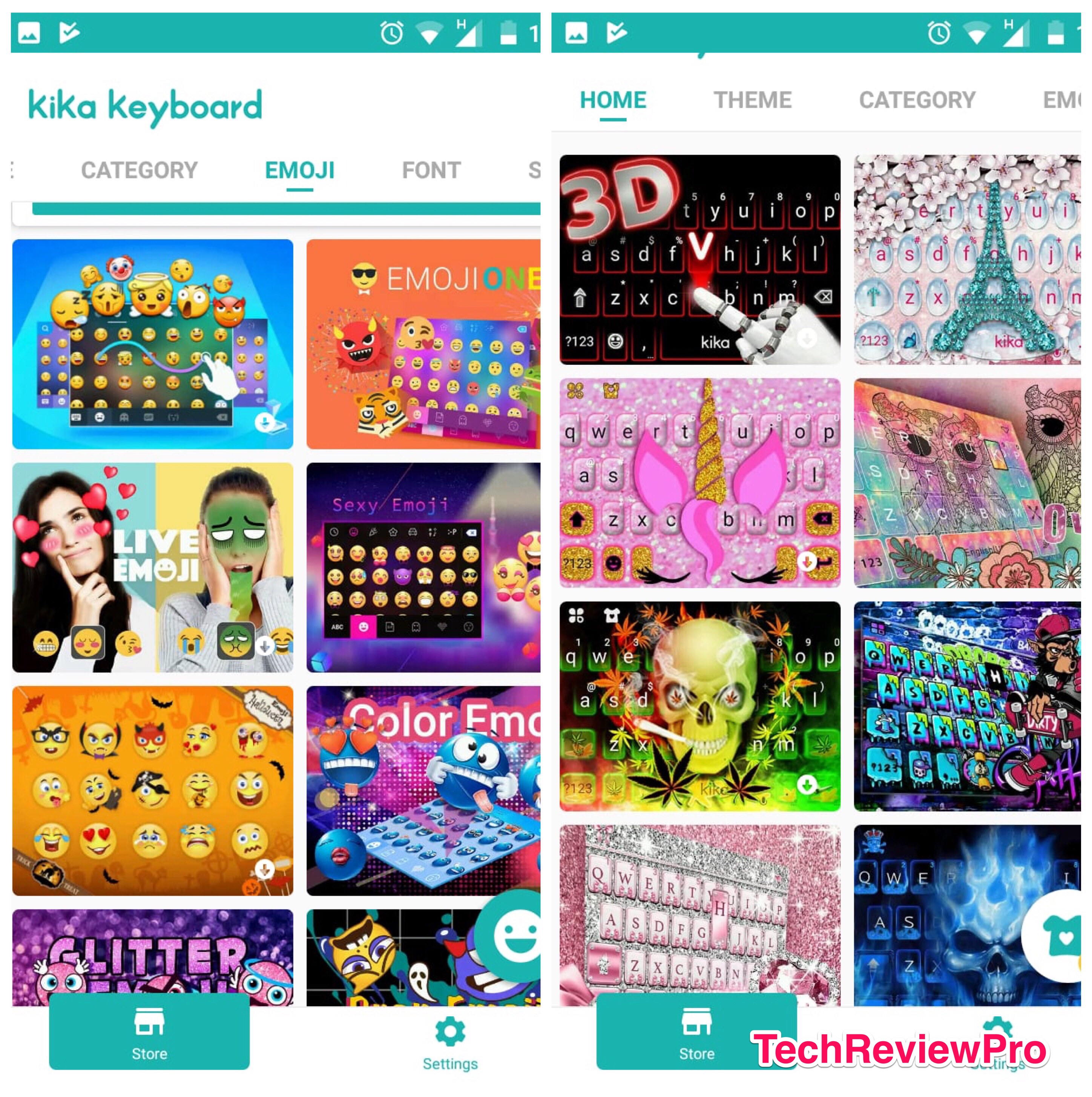 The best feature? Its ultra-smart predictive text and auto-correct are in place to save you from sending embarrassing typos. The keypress sounds of this emoji keyboard app are to die for; you can choose piano, typewriter, violin sounds, among many others. Its multitudinous features such as customizable keyboard screen, thousands of emojis, various typing effects, language support and stylish fonts make it one of the best emoji keyboards out in the market.
But the quality of its themes is okay-ish and not that impressive. Moreover, the theme packs take up a lot of space on your phone. So, this emoticons app for Android is decent, but we feel the hype is a bit over-the-top.
2. TouchPal Keyboard – Cute Emoji & Sticker
TouchPal Keyboard is an award-winning keyboard app for Android which provides you some premium features, including a user dictionary. Its live themes can give a new life to your otherwise dull keyboard. Well, to take things to the next level, you can convert texts into cute GIFs and share them on multiple social media platforms!

This keyboard with emojis for Android gives you the freedom to choose from hundreds, if not thousands, of emojis. It doesn't matter what language you speak as its multilingualism is something to boast about. A live theme called 'Blue Snowflake' caught our eye, but unfortunately, such themes can end up taking up to 10 MB of your space!
Other than that, the only downside we can think of is its obtrusive ads. But you can upgrade to the PRO version (paid) to get rid of these ads. Overall, it's a good emoji keyboard to go for!
3. Facemoji Emoji Keyboard
Facemoji describes itself as an 'emoji-centric' keyboard packed with more than 3500 emoticons, emojis, stickers, and GIFs. The latest version of Facemoji Emoji Keyboard for Android lets you convert any face into an animated emoji. Typing made smoother and faster with its gesture typing feature!
This is our personal favorite animated emoji keyboard app for Android – an epitome of creativity! You not just have access to innovative emojis but also latest emoji trends among the Facemoji community – a community of more than 10 million people!

Its collection of stickers is charming and attractive, and best of all they can be downloaded from the app. It houses a 'Facemoji DIY Squad' where you can find custom themes designed by members of the Facemoji community, along with comments by other users.
Oh, and don't forget to make use of emoji combos for special occasions like birthday combo, holiday combo, etc.
Downside? There's hardly any. So, if you are looking for the best app with animated emojis for Android, we would recommend Facemoji Emoji Keyboard app.
4. Go Keyboard Pro – Emojis, GIFs
GOMO Apps team does the job best when it comes to personalization; be it a launcher or a keyboard. What separates Go Keyboard Pro from other emoji keyboards for Android is – its quality input and smooth UI. This is true not just for its PRO version but the basic version too.
The Pro version includes many unique live keyboard themes, but most of the good ones are a part of in-app purchases and are required to download separately from the Play Store. You can, however, purchase them with the Gold you'll get awarded for watching some sponsored videos.

You may download the free themes quickly from the app. And although there are some fonts available, most of them are actually pretty similar with the only difference being that of Bold, Italic and Regular. However, there are a few fancy ones too.
Over 10,000 unique themes, 100+ fonts, 60+ language support, 1600+ emojis & emoticons give you an opportunity to be creative and also express yourselves better in chats. Its word correction is reliable and corrects your typos immediately, while its predictive text provides you alternatives for your message in the form of stickers and emojis.
5. Typany Keyboard – DIY Emoji Maker
Typany Keyboard combines all the unique features into a single app to enhance your typing experience. It's more like a DIY emoji maker app as you can create your own theme, emojis, keypress sounds. It even has a doodle maker!
Say goodbye to Google Translate (well, don't! Google Translate still rules when it comes to accuracy) as Typany lets you translate your messages into more than a 100 languages without ever switching the app. Moreover, it not just provides you latest GIFs but memes as well. Keep your meme game on!

The app works efficiently, but a few ads do pop up now and then. Also, the emoji maker doesn't live up to our expectations – the quality is extremely poor. To add to these downsides, you have to download every theme pack separately from the Play Store or watch a sponsored video to unlock them. Themes, however, are actually really good.
6. iKeyboard – Emoji, Emoticons
The name makes this keyboard seem like it's an iPhone emoji keyboard for Android and has been designed for Android users to get a taste of keyboard like iOS devices, but that's not true! The iKeyboard app has been designed to bring an excellent emoji keyboard to Android users for free.
iKeyboard has over 100 colorful themes, 1200+ emojis, 60+ language support, multiple screen modes and innumerable stickers and GIFs. The GIFs that you get are all from giphy.com. Honestly, there are many good categories to choose from, but more variety regarding sources wouldn't have harmed anyone!

Hashtag search, its latest feature can be used to get content from platforms like YouTube and Spotify, without switching apps. And many new themes are added regularly, like the Leisure Summer one designed specially to give you a summer holiday kind of vibe. Unfortunately, though, you need to download all the themes separately from the Play Store.
7. Cheetah Keyboard
If you're looking for an emoji keyboard app for Android that offers something different, you might want to check out Cheetah Keyboard. This keyboard provides many themes like the neon bubble, crystal, pink, etc., all of which provide a 3D typing experience. Its theme store has divided the themes into multiple categories such as Glitter, Cute, Nature, etc.
You get a DIY option under 'My Theme,' but much to our disappointment, you'd first have to unlock most tools by watching sponsored videos, so despite being 'free,' the app isn't free.
Well, you might be thinking, why we are talking about an app that offers theme downloads while promised to reveal keyboards with emojis for Android. Right?
Here is the deal – there are tons of emojis to spice up your chat. And these cool emojis are really 'magical and colorful.' Well, it does have some magical fonts and themes to check out!
8. FancyKey Keyboard
After gaining a lot of popularity as one of the best iPhone emoji apps on iOS, FancyKey keyboard is finally available for Android users. It houses over 1600 funky emojis and emoticons, making it one of the best keyboards with emojis on Android. The Android emoji keyboard app is compatible with all of your social media apps, including Instagram, Facebook, and YouTube.
Almost everything on this keyboard is customizable, be it the shape of keys or the font. Along with multiple typing effects, it has more than 50+ key sounds and 30+ themes in place for you. It has become extremely popular on Android as well, and we can see why.
Though the free version comes with ads which are extremely annoying, if you wish to enjoy an ad-free version, you'd have to install FancyKey Plus (paid). Free themes are not up to the mark, with visuals being the utter disgrace to the keyboard.
9. Bobble Keyboard – GIFs, Emojis
Bobble Keyboard has one feature going for it: Personalized emojis and stickers. By that we mean, you can have your face on uncountable emojis, stickers, and GIFs. How cool is that?
Similar to the Hike messaging app, Bobble has a sticker store from where you can download multiple sticker packs on various themes. Currently, its team is also working towards integrating a camera with multiple filters to make your pictures more beautiful and expressive.

It's a Social Keyboard, which means you can also post stories on this app. Language support is amazing; even regional languages have been included! But when we tried to create a bobblehead, the app suddenly just stopped working. User Interface is good, but we hope the developers can soon fix the bugs to make the app more efficient.
10. Flash Keyboard – Emoji and Theme
This emoji keyboard has been well-received by over 500 million people worldwide and not without any reason. Flash Keyboard caters to all your needs and lives well up to the expectations. It has an appreciable collection of more than 3000 emojis, 1000 well-crafted themes, and extremely cute stickers.

Alike other keyboards with emojis for Android that we have mentioned on this list, Flash keyboard has a sound security system in place to protect all your data from leaking.
But its auto-cleaner is extremely annoying and needs improvement. It pops up every 5 minutes or so, and often with sponsored ads. Overall, it's a simple keyboard app which comes with emojis. The highlights would be its sticker collection and smooth user interface.
Also Read: Top 7 Best Meme Generator Apps for Android
The Pro Review from TechReviewPro
So, as you can probably tell by now, these keyboard apps with emojis are the best available on the Google Play Store right now, but there are things that some apps do better than the others. If you are looking for an all-in-one app, we recommend Facemoji – a brilliant creation. If you have a lot of junk on your phone, you could go for Flash Keyboard, as it is a keyboard coupled with a cleaner. Mind you, that cleaner is annoying but does its job with perfection.
Cheetah, Kika, and TouchPal Keyboards are all decent if you're looking for something that gets the job done. iKeyboard for GIFs, Typany for cute anime themes, Go Keyboard Pro for a smooth experience, Bobble for personalized stickers & a social platform, and FancyKey for well, Fancy keys!
So that sums up our pick of best keyboards with emojis for Android. Do let us know which animated emoji app for Android you like the most. If you think any other emoticons app for Android that should be included in this list, let us know!
Don't Miss: