In this article, I'll review the Nokia 6.1 Plus. So without wasting any more time, let's quickly get started with a quick hands-on-on review and unboxing of Nokia 6.1 Plus. Without wasting any more time let's get started!
For me, it all started with Nokia. Back in 2010, Nokia 2690 was my first mobile phone. It was the time when the smartphone industry was blooming and the budget smartphone segment was taken on the storm by the term "Android". Nokia didn't adapt to the market changes and was completely thrown away from the Market.
A few years later, when Nokia made a comeback with HMD Global, Nokia is disrupting the smartphone market for the same term for which people rejected it earlier.
Nokia 6.1 Plus Unboxing and Review by an 8-Year Old Nokia User
Well, Nokia 6.1 Plus is here, and it is here to compete with Redmi Note 5 Pro, Xiaomi Mi A2 and pretty much with Poco F1 as well. So let's quickly unbox Nokia 6.1 Plus and check out what we have got in the box.
Nokia 6.1 Plus Unboxing
In the box, you get this gorgeous Nokia 6.1 Plus, which I'll put aside for a moment and check out what other accessories you get.
There is a USB C-type charger, standard 3.5-millimeter headphone, a USB C-type multi-purpose cable which you can use for charging as well as data transfer. Some papers like the user manual, safety information, and a SIM ejector tool. Now, we'll peel off this protective plastic layer and let's see how it looks.
Nokia 6.1 Plus Design
Starting off with design, the first thing you'll notice is Nokia 6.1 Plus comes with a notch display, well, that's the story with pretty much every Android manufacturer after the launch of notchy iPhone X. But good thing is that Nokia 6.1 Plus offers you the functionality to disable notch if you don't like it. Go to display settings, then status bar, to set the notch to your liking.
Hiding in the notch, there are 16 MegaPixels front facing camera with F2.0 aperture, an earpiece, and a proximity sensor.
Below the notch there is 5.8-inch full HD+ display with 19:9 aspect ratio on the top of a thin chin which I think has been forcefully placed for this Nokia branding.
On the top, you get a 3.5-millimeter headphone jack along with a noise-canceling microphone which I think is a placed at an awkward position especially if you put your phone in the pocket while listening to music via headphone.
On the bottom, there is another microphone, a charging slot for USB C-type charger, and two loudspeakers. Although sound quality is amazing, yet again these two loudspeakers are placed in the wrong place. Because if you ever touch and cover these speakers with your fingers, it lowers down the sound badly. And it's pretty common to cover these unknowingly while consuming media content or playing games in the landscape mode.
Bad decision HMD global! You could place one of these speakers within the notch area just like iPhone X which doesn't lower down music even if I cover the other two speakers.
If you take a look at around the phone, on the right, there is a power button and volume rockers with metallic finish while the device itself has got a nice matte finish. However, on the left, there is a hybrid SIM card slot, for either dual nano-SIM card or a combination of single nano SIM and a microSD card.
On the back, Nokia 6.1 Plus has got the glass back which is aimed at Wireless charging but there is no wireless charger offered by Nokia yet. There is also vertically aligned 16 MegaPixel and 5 MegaPixel dual rear camera, followed by a LED flash and a fingerprint sensor.
I'll discuss more this in the later part of this article, but for now, let's talk about the Price.
Nokia 6.1 Plus Price – Is Nokia 6.1 Plus Worth it?
Nokia 6.1 Plus is priced at 15,999 rupees and it is definitely one the best budget smartphones in the market right now. The device comes with Android 8.1 Oreo in the box.
And, since it's coming with the stock Android One branding, Nokia 6.1 Plus will be one of those phones that'll get Android Pie update as soon as Pixel 3 and Pixel 3XL launches.
This means that Nokia 6.1 Plus will not only be offering stiff competition to Mi A2 which also comes with Android One branding, but also to Redmi Note 5 Pro, and the pricy Poco F1.
Nokia 6.1 Plus Specifications and Performance
When it comes to specs and performance, Nokia 6.1 Plus is powered by a Qualcomm Snapdragon 636 chipset which is pretty good, as you can see it performs pretty higher on Geekbench Benchmark score.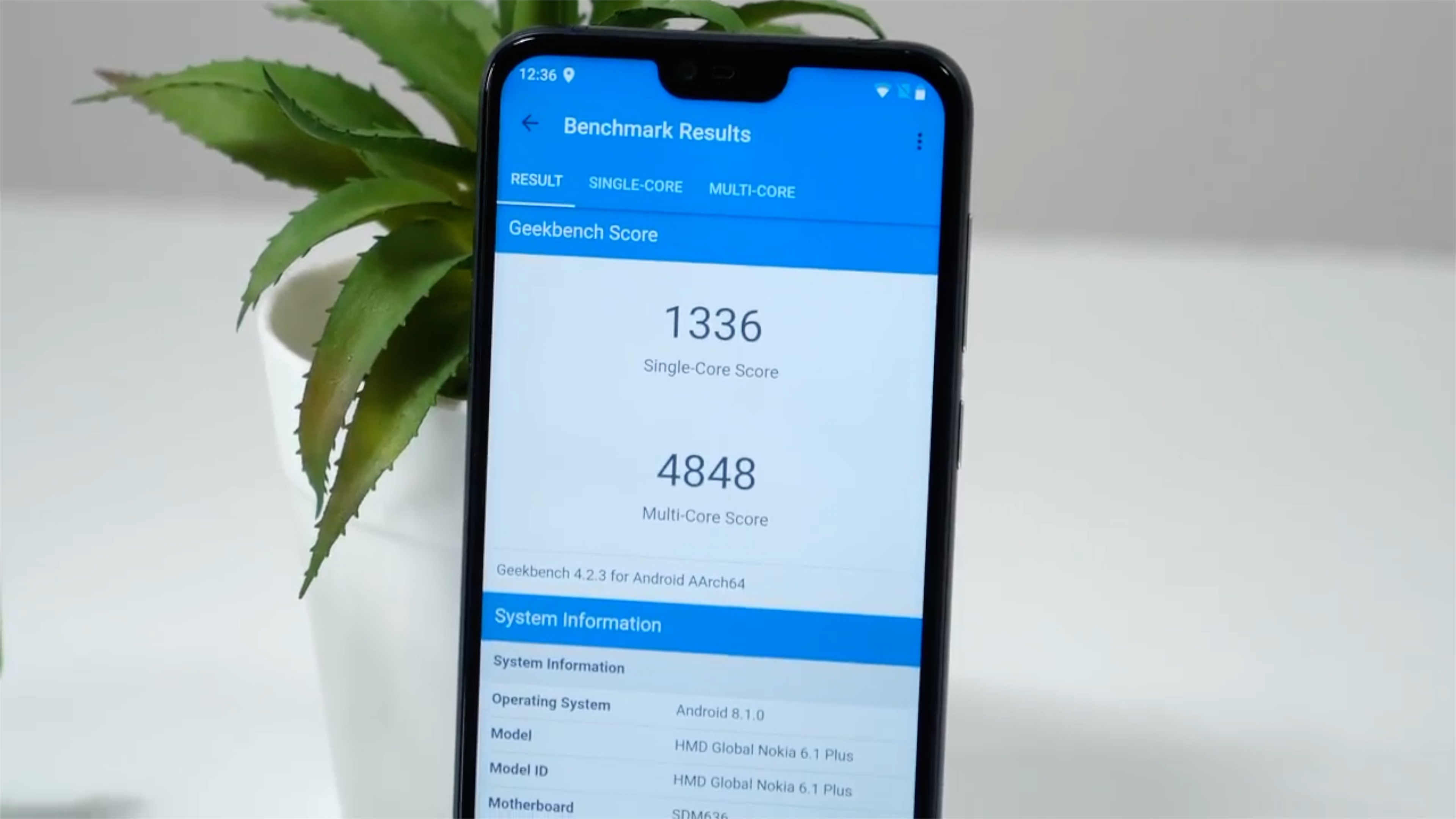 While using it for normal day-to-day tasks like browsing, listening to music, and playing games, I didn't notice any lag. The performance is smooth and I loved it.
However, while playing resource-heavy games like Asphalt 9 and PUBG Mobile, I noticed that the device was heating a bit. But well, that's the story with pretty much every phone this year with a glass back including the iPhone X. Also, the high temperature in countries like India could be blamed for that.
Nokia 6.1 Plus Camera Review
Now let's talk about the camera on Nokia 6.1 Plus. You get vertically aligned two rear cameras with one being 5 MegaPixels F2.4 aperture while other being 16 MegaPixels F2.0 aperture. Both do a pretty good job of capturing high-quality pictures with good focus, contrast, and saturation.
Nokia 6.1 Plus camera has also got portrait mode or bokeh mode – whatever you call it. Nokia 6.1 Plus takes amazing pictures capturing a good amount of light even in low light conditions.
The camera app on Nokia 6.1 Plus is pretty extensive and you'll have to spend some time to get used to it. But once you do, you become a pro at clicking extremely high-quality pictures. And when it comes to capturing color saturation, it outperforms big guns like Google Pixel that over-saturates color.
Nokia 6.1 Plus has got a 16 Megapixels front-facing selfie camera with F2.0 aperture and it does a pretty good job in capturing selfies as well.
Boothie Mode on Nokia 6.1 Plus
Also, just like other Nokia phones this year, Nokia 6.1 Plus also comes with Boothie mode which is a dual camera setup mode allowing you to simultaneously record from rear cameras as well as the front camera. This is particularly good for live streaming on social media as you don't need to switch between primary camera and the rear camera hence and forth.
When it comes to video recording the rear camera allows you to record up to Ultra HD in 4K resolution while the front camera only up to 1080p HD – which is pretty nice. But one area where I think Nokia 6.1 Plus camera lacks is Slow motion videos, you don't get the functionality to set the frame rate.
Nokia-Moji – Nokia's own Emoji
Talking about the fun part, you also get some cool stickers and filters for social media. And there is also its own kind of Animoji or Nokia Moji – I don't know what to call it, but it's decent. Currently, there is only one emoji but I hope it'll increase with future updates.
Nokia 6.1 Plus Battery Test
Nokia 6.1 Plus has got 3060 mAh battery which performed well on my first day of testing. You can easily get approximately 6-7 hours of battery usage with continuous use like watching movies and playing games.
And a day of battery life without worrying about restricting background processes and turning on the battery saver mode. But well, that's how I was able to achieve. Everyone uses their phone differently, so I can't much stress about it.
But thankfully you have got a USB C-type charger in the box which allows you to charge up to 50% within 30 minutes – this is especially good if your phone is about to die and you badly need some battery juice.
You plug it for a few minutes, and it saves you – which is really a good thing in the emergency situations.
Nokia 6.1 Plus Cons
Talking about the cons, the biggest con is not having advanced Face lock of its own. Although Google Smart Lock is there, we all know how secure is Google Smart Lock and I can't rely upon Google Smart Lock for my device security.
There is lock pattern, lock PIN on the device along with fingerprint lock. But I think the fingerprint sensor is placed in the wrong place as you might occasionally touch camera or flash instead of the fingerprint sensor.
Also, currently, there are no navigation gestures on Nokia 6.1 Plus, but I hope it'll get some gestures after Android Pie update.
Apart from the normal heating while playing resource heavy games, wrong placed headphone jack and loudspeakers, and a little camera bump on the back, I didn't notice any cons. However, considering the specs you get, I feel Nokia 6.1 Plus is slightly over-priced. In my opinion, 13,999 rupees would have been the sweet spot for pricing considering its competition.
Conclusion
Well, if you are okay with these pros and cons, go for Nokia 6.1 Plus as with a price just under 16000, Nokia 6.1 Plus has managed to do a pretty good job with camera, performance, design, and size of the device as it perfectly fits even in small hands. And on the top of all this, Nokia 6.1 Plus also comes with Android One branding, which means you'll get 2 years of stock Android updates and 3 years of security patches. So what are you waiting for? Buy it now on Flipkart at an exclusive price.
Well, that was everything about Nokia 6.1 Plus Unboxing and Review by an 8-Year Old Nokia user. Want more? Don't forget to subscribe to TechReviewPro channel on YouTube, we have the more interesting video coming up for you.
Also Read: