Skindex (Minecraftskins.com) is a popular portal to find Minecraft skins. You would not just find a handful of cool Minecraft skins at Skindex but thousands of them indeed. Well, the secret would be the community and the users. Skindex is totally a community-driven Minecraft skin portal where you could find interesting Minecraft skins. Skindex skins are really amazing, and chances are you might find the next cool Minecraft skin you have been looking for.
There are chances that you might stumble upon something very rare while visiting Skindex. If you are wondering about the portal's URL and the name, Skindex simply refers to the collection of Minecraft skins in general.
Unquestionably, you get a collection so popular that you eventually end up endlessly searching for the perfect Minecraft skin or editing something to upload. However, do you know how good those Skindex skins are? Do the number of skins offered necessarily mean those are good? Is there a portal better than Skindex?
Here, we will give you an overview of what Skindex is, what it offers, the best Skindex skins offered so far, and whether it is truly a mind blowing collection.
Also Read: 30 Best Minecraft Seeds to Enhance Your Gameplay
What is Skindex?
Skindex is a collection of best Minecraft skins. It contains both users generated and preset Minecraft skins. 
If you break down the term – "Skindex" – it becomes (skin – index). So, in a nutshell, an index of Minecraft skins is what you get, there's nothing more than that to be explained.
What Skindex Offers?
Skindex being represented by Minecraftskins.com presents community generated Minecraft skins. You can upload the Minecraft skins, and it also lets you add them to your wardrobe. Skindex also lets you download the skins in PNG format and which would be later uploaded to Minecraft profiles to be finally applied.
In addition to that, it lets you edit the skin or simply create a new one from scratch. You can observe the image below where I tried to make a very interesting Minecraft skin but failed to do that.
With the skin editor, you can control the width of the figure (either Alex 3px or Steve 4px). You get to choose any custom color from the color palette generator and then apply the watercolor tool to paint it. To make things easy and fast, you can turn on the mirror mode which automatically applies the right half according to the application of color in the left half.
Also, you can make use of the undo or redo option to take care of things easily while making a Minecraft skin. The skin editor lets you utilize the pencil tool and an auto tone tool to help you make the skin interesting with the least possible effort. You can apply the shades with the darkening or lightening tool for an artistic effect.
You can download the finished skin directly to your computer or upload it. In either case, if you have a PNG file, you can upload it to Skindex skin editor and then edit it according to your requirements.
Also Read: 1800+ Cool Minecraft Usernames and Minecraft Name Ideas
How Good is The Skin Editor Offered at The Skindex?
Well, the Skindex is quite popular for the already available skins. But, the skin editor offered makes things interesting, and it sure is something to be loved.
The functionality equipped with the editor lets a user do almost anything required to make a perfect Minecraft skin. So, no issues here!
Download Skindex Skins: 16 Best Skins to Download from Skindex
The number of Minecraft skins offered at Skindex would surely trick you to spend countless hours to search for a perfect Minecraft skin for your avatar. To save your time, we took the work to filter out the best skins out there and present you some of the quality skins that would look good, funny, or unique.
Without further ado, let us jump in to take a look at the best skins available at Skindex.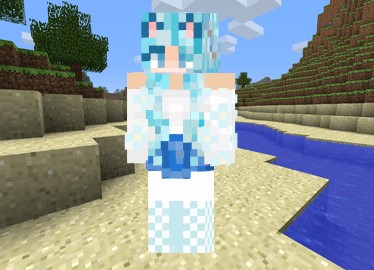 FrozenWing is an interesting Minecraft skin from Skindex that could act as camouflage while in a white texture environment. It is most likely to be seen as a normal object while traveling through a snowy environment.
If you apply the skin, you can observe that it depicts a girl with blue (frozen ice) hair.
Enderboy is a cool Minecraft figure depicting an avatar with hoodies. Enderboy might look scary to some at first sight, but is a delight to have as one's avatar in Minecraft. It is one of the best Skins you can download from Skindex.
Well, this is really creepy. Fire creeper does not look like a powerful figure but a scarier one to be specific. It may not give you any combative advantages but could boost your confidence in the PvP session. It looks like he needs to quench his thirst for eating someone. A good Minecraft skins you can download from Skindex.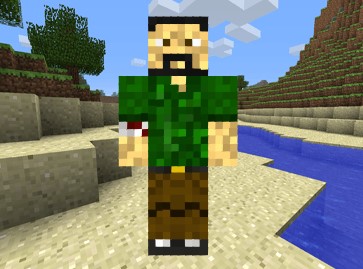 Mike The Survivor is a general Minecraft skin from Skindex which reflects a great deal of real personality through your avatar. If you have a beard and is mostly found wearing formals, Mike the survivor should be a match for your avatar. Seriously! Mike The Survivor looks handsome!
If you are an Android smartphone user, you could be reminded of Nova Launcher. However, there's no relation to that here, nor you get the same color combination in case you are wondering. Nova is one of the cutest Minecraft girl skins that Skindex offers. With the purple-ish hair, the avatar looks very good.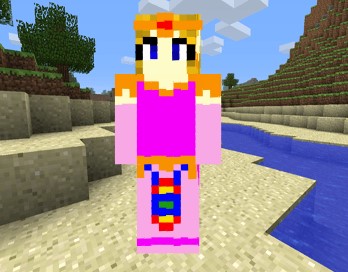 If you are not looking for a general girl's skin to download from Skindex, then Princess Zelda might be a good choice. Princess Zelda is a flashy Minecraft skin at Skindex that depicts a beautiful girl with a golden hair. In the world of Minecraft, you will surely get the attention from a lot of players with this skin applied.
Missed a boy Minecraft skin on Skindex? Here it is! TheCraftZCaptain is one of the coolest user-generated Minecraft skins available on Skindex. As you can observe from the image above, you got a headphone setup along with the hoodie. This Skindex skin reflects your cool personality if you have one.
No matter how weird the name is, the skin is one of its kind. ProStoneius is a unique Minecraft skin from Skindex that would make you look futuristic and deadly at the same time. You can depict yourself equipped with advanced weapon and armor for combat operations. You are either a robot or a future soldier with a man inside operating it just like Iron Man does.
Not looking just for a common girl skin? Not a princess either? Well, you can depict yourself a true girl gamer with a cosplay costume kind of thing with this Skindex skin applied. Well, your avatar would surely get some attention from other players. And, in PvP mode, the opponent might care about you, rather than beating you.
Well, the name might not hint you correctly at the skin offered at Skindex. However, you can consider him as a dragon rider (something similar seen in the movie – how to train your dragon)referring to a boy. Same here comes the hoodies along with the flashy green eyes.
The Red Guy is an interesting Minecraft skin available on Skindex. Here, you get the face side on both sides of your avatar. Well, not exactly in the head section of the back side but in the t-shirt that your avatar has on. So, it might trick your opponents in PvP mode even if you did not notice them from the back side.
12. Red Gamer Boy
After the gamer girl skin from Skindex, I'm sure the boys would be disappointed with no counterparts offered. But, fret not, we have your back! Boys must rejoice that we have filtered out and picked a gamer boy Minecraft skin from Skindex for your avatar as well! The skin from Skindex looks flashy, and the avatar is overall damn good.
You know Batman hates you the most now. Well, this might not be a perfect recreation of the Joker in Minecraft world. But, it sure looks like the Joker in the first look. If you want to have the Joker look on, you should definitely grab this skin from Skindex.
Don't let the incomplete name fool you. The creator of this skin on Skindex may not have chosen a good name to represent the skin, but it surely deserves an eye of an artist.
Gunner 1 actually looks as if you are the protagonist of the game – Halo. It looks cool, combat-ready, dangerous, and futuristic as well. So, the Gunner 1 skin on Skindex is a unique pick for your Minecraft avatar with a variety of features to reflect.
Are you a fan or a follower of the most popular Anonymous hacking organization? Well, it might not be the same for the creators, but for the general analogy, it is cool to refer to. The organization's symbol depicts anonymity and power of common people. If you want to reflect the same with your Minecraft avatar, you should definitely download this Skin from Skindex.
If you were looking for a plain and simple avatar with a touch of creativity, this is the Minecraft Skin you would download from Skindex.
Also Read: 32 Best Minecraft Mods of All Time
The Pro Review from TechReviewPro
If you are looking to download Skindex skins, these are the best skins from Skindex you can find so far. You can download Skindex skins by browsing with your choice. Ready to download Skindex skins? Also, let us know about the Skindex skin you downloaded in the comments below.
Don't Miss: