Minecraft Mods are incredibly popular. If you have no idea what a "mod" is – it simply is something which manipulates the code and affects the functionality of the game with a lot of difference. There are a lot of Minecraft mods across the Internet; we filtered out the most popular Minecraft Mods among all to let you know about the best Minecraft mods without wasting much of your time searching endlessly.
Do note that Minecraft Mods can only be applied or installed in a PC version but not in a console or Pocket Edition. Also, you have to be careful while adding a mod. A mod cannot always be trusted (unless you are sure about the source) or have tried it before. You must ensure parental guidance, or if you are a parent, you have to be careful while adding Minecraft Mods because some of them might contain inappropriate content.
I have worked on to locate 32 of the best Minecraft mods of all time. This article includes a variety of different mod types – we have mods for the decorators, mods for the fighters, mods for the explorers, and plenty more exciting mods. No matter why you play Minecraft, you should be able to find a mod in this list that appeals to you. You may even find that all of the mods on this list appeal to you. Download them to your client today to enhance your Minecraft experience in new ways.
How to Install Minecraft Mods?
Installing Minecraft mods is not too hard, but it isn't easy if you do not know much about modifying files and folder and keeping backups as well.
First, you need to install Minecraft Forge from their official download page. Make sure to download the recommended installer. After you download Minecraft Forge, you need to get the mods downloaded.
Now, head to the mods folder in your Minecraft installation directory. On Windows, press Windows key + R to bring up the run dialog box and then type %appdata%\.minecraft\ and press Enter. This will open up your Minecraft installation directory. Now, search for a folder "mod." If there is none, create it yourself. If you are on a Mac, you can refer StackExchange's thread to find the location.
Just place the mod downloaded in the mods folder, and while in-game you can directly call the mod to open and perform the action required. That's it!
Also Read: 30 Best Minecraft Seeds to Enhance Your Gameplay
32 Best Minecraft Mods of All Time
If you are unsure what are the best mods for Minecraft, stay tuned as I explore 32 of the best Minecraft Mods of all time. Looking for the best Minecraft Mod packs? Here is a list of best mods for Minecraft. You can also download these Minecraft Mods following the provided download links for each of these Minecraft Mods. There's no doubt that mods can completely change the gameplay experience in Minecraft. Let's get straight into the mod list!
32. Flans Mod
Flans Mod is one of the best Minecraft mods of all time. It is one of the most expandable mod packs available for Minecraft. It is so big that modders have started making mods for Flans Mod. To start, you must download the basic Flans Mod package. From there, you can download weapons mods, vehicle mods, plane mods, and plenty more.
Once you've added the mods that interest you on the Flans Mod website, you can then play on your own, or jump into a Flans Mod supported server!
31. OptiFine
OptiFine is one of the best Minecraft Mods ever. It lets you bump up the graphical performance by giving you the ability to tweak further to optimize the gameplay experience.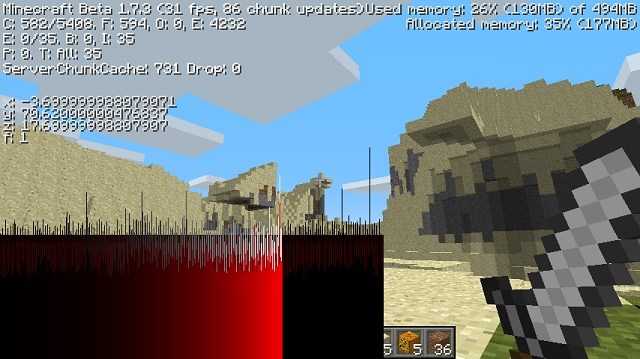 It gives you the ability to incorporate HD Textures in the game and have control over them. Basically, it gives an FPS boost which naturally decreases lag spikes and smooths gameplay. It also comes baked in with a Smart Advanced OpenGL option. Other notable options include – Dynamic Light, Shaders, and so on.
Also Read: 20 Best Minecraft Skins for Girls and Boys that are Really Cool
30. Journeymap
There is no official inclusion for a map like GTA V on Minecraft. So, this is one of the most useful Minecraft Mods. You can mark your points of interest (checkpoints) while you explore the vast Minecraft world.
The journeymap also works like a radar – it lets you know about the enemies approaching you. So, a map that comes handy is surely a good Minecraft Mod.
29. Twilight Forest
Well, the Minecraft Mods adds or enhances certain functionality. But, why not let us add a whole new world within Minecraft?
With this mod, you can add a dense forest to your world. The forest looks both beautiful and dangerous. Also, not by the looks of it. It also contains treasures and monsters as well. So, be prepared to have one of the best Minecraft Skins applied.
28. Botania
Botania is one of the most interesting Minecraft Mods to date. As the name suggests, it adds a lot of flowers to your world. However, there is a twist.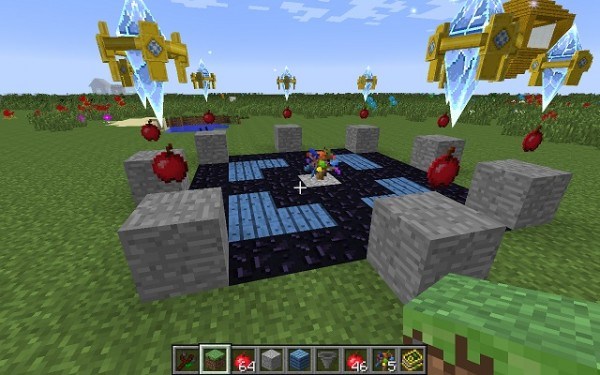 The flowers added to your world has a lot of functionality. To mention some, the flowers could help heal you, the flowers that feed animals! And, the flowers which trick the hostiles to go after each other. Well, as a matter of fact, the flowers eat cake as well!
In addition, you utilize them to create a magical portal (we will not spill the beans out – you have to try it yourself!)
27. Fastcraft
Fastcraft is a unique mod which is definitely one of the best Minecraft Mods ever. The interesting thing about it is – it comes loaded with a lot of other Mod packs (as a compliment).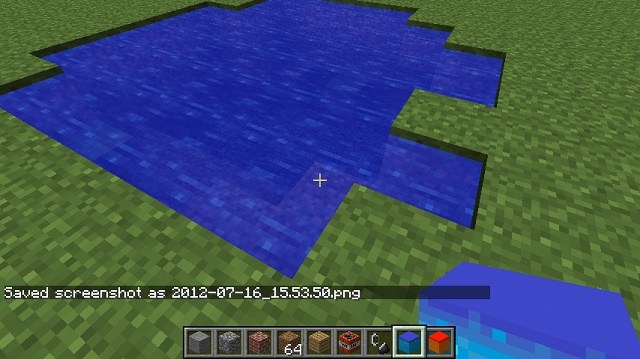 Fastcraft is a mod that aims to increase client-side and server-side performance. It may not be as effective as OptiFine in some cases. But both of them could act as a complement to each other. If one fails, you could give the second one a try!
26. WAILA
WAILA stands for What Am I Looking At. It is one of the best useful Minecraft Mods that you will find across the Internet. It does not enhance your graphics performance, nor it introduces a new element but instead, it adds more functionality to help you know more while you are in the Minecraft world.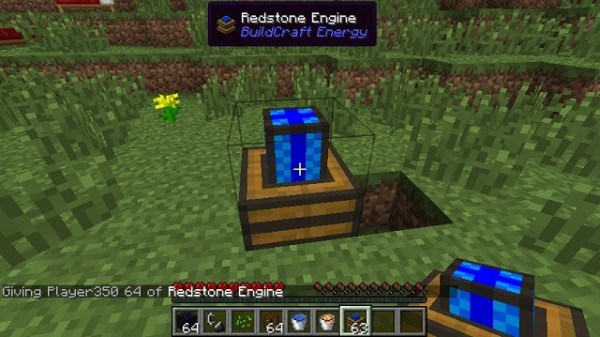 What Am I Looking At – as the name suggests – gives you the ability to inspect an element that you are looking at in the Minecraft world? The details include the description, how is it generated, which mode generated that element, etc. So, WAILA would definitely be one of your friends if you have a lot of mods installed.
Also Read: 1800+ Cool Minecraft Usernames and Minecraft Name Ideas You'll Love
25. Decocraft
Decocraft is a very cool Minecraft mod tailored for the people who like a lot of decorative stuff. This mod would help you add a lot of things to your world which includes – craftable chairs, tables, bowls, bottles, lamps, piano, stuffed toys, and a lot of similar things.
You could make a boring place look lively with the help of this mod. Starting to like it already?
24. Thaumcraft
Thaumcraft is an impressive Minecraft mod which adds a lot of twists to your world. From a normal explorer, you get the ability to be a sorcerer.

With this mod installed, you get to craft a lot of things which include magical wands, colored jars, and so on. Not only just create it, you can interact with it for discovering new spells as you keep progressing utilizing the mod!
23. Tinker's Construct
Tinker's Construct is one of the best productive Minecraft Mods available. This mod gives you the ability to create something useful with "not so useful" resources. You get the opportunity to make the most out of what is available in your bag.

With Tinker's Construct, you can upgrade your equipment, repair them, or even make something else from them. You can choose to make basic fundamental tools that you need daily or craft high-end tools that are rare to find (but you know how to make it).
22. LotsOMobs
LotsOMobs is a disturbing yet challenging mod. As the name suggests, you get an overwhelming amount of mobs to spice up your Minecraft world.

You can get weird mob figures that include elephants and other cute creatures as well!
21. Big Reactors
When you have a desire to make technological improvements to your world – it needs power. A couple of small things won't matter unless you are in for the big treat i.e Nuclear Reactors.
The big reactors mod lets you add humongous generators that beef up the capacity of power to be supplied. It also integrates with the ComputerCraft Mod, which is yet another exciting mod to talk about next.
20. ComputerCraft
ComputerCraft is one of the geekiest Minecraft Mods developed. It exists for over 5 years and is finally open source to let others contribute to this amazing mod.
With this mod installed, you can add programmable computers in Minecraft and you can start hacking!
Well, not technically true, but you can do a lot of stuff with this mod. Also, as we mentioned earlier, Big Reactors would help you to power such systems.
19. CandyCraft
CandyCraft is a sweet-packed Minecraft mod as you can guess from its name. It fills your world with everything sweet possible. Well, even your armor would taste sweet because it is tailored with the help of honey. So, there is a whole lot of similar things that would make you feel living in the Candyland.
18. RailCraft & Steve's Carts 2
Ever tried out the minecarts in Minecraft? Well, that's what this mod aims for!

RailCraft mod adds more functionality to the rails laid down for the passage of minecarts. You get a new type of junction, signal lights, and so on! For Steve's part, it aims to modify the functionality of Minecraft with added enhancements like brakes, shields, and drills.
17. Booze
Want to brew your own beer? Well, with this Minecraft Mod installed, you can produce beer just like it takes 7 days to make it in reality.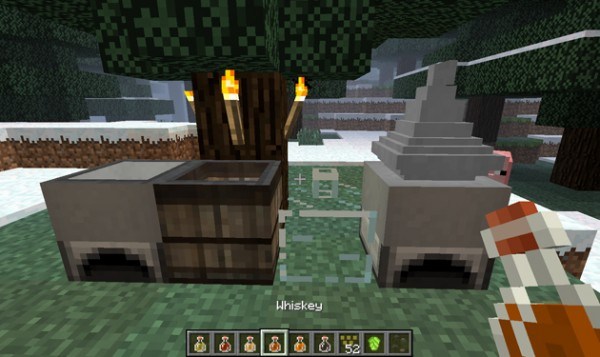 Booze is one of the most interesting Minecraft mods that you can find across the Internet.
16. VoxelMap
The basic map in Minecraft is very limited. Not only do you need to craft it first before using it, but it's tough to navigate with. VoxelMap makes navigation far easier by adding a small minimap to your user interface at all times.
You can use it to see nearby players, check the terrain in the area, and more importantly, use it to make sure you never get lost while exploring again!
15. OreSpawn Mod
OreSpawn is the best Minecraft Mod overhaul you'll be able to get your hands on. With this Minecraft Mod, you'll add dozens of new mobs, new weapons, new items and hours of new fun. OreSpawn adds new opportunities for farming, new places to explore and new dangerous mob bosses to fight for epic loot.
You can even get your companion with the OreSpawn mod! You can learn more about OreSpawn and download it on their official website.
14. Instant Massive Structures Mod
Sometimes, building your structures is just too much hard work. If you want to build a server spawn area, build a city within seconds, or simply want to have fun with building in a new way, the Instant Massive Structures Mod is for you.
With this Minecraft mod, you can spawn in structures with the tap of a button. There are over 80,000 structures to choose from!
13. JurassiCraft
JurassiCraft is one of the best Minecraft mods of all time because it adds dinosaurs into Minecraft. In this Minecraft mod, you can create dinosaurs by extracting DNA from fossils and amber.
Once you've brought a dinosaur to life, you can place them in your own Jurassic Park. Tame dinosaurs, breed them and build a dinosaur farm. This is certainly a unique and one of the best Minecraft mods currently.
12. Better PvP Mod
Better PvP Mod is one of the best Minecraft mods of all time because it improves the PvP experience for Minecraft players. Let's be honest, even with the recent combat changes, Minecraft PvP is still quite clunky.
With the Better PvP Mod, everything has been redesigned from the ground up. This Minecraft mod adds an RPG-like action bar system to your user interface, and plenty new ways to make use of your earned experience points.
11. Morph
Morph has always been considered one of the best Minecraft mods of all time, and it always will be. With Morph, you can transform into other mobs. You must first kill the mob you'd like to transform to gain their life source.
Each mob you transform into has its own unique set of abilities. Morph adds a whole new level of exploration into the world, and it makes finding everything from bats and zombies to withers and creepers exciting again.
10. Backpack Mod
Minecraft is an exploration game at heart. Most exploration games give players a backpack to give them more space to hold their items. Surprisingly, Minecraft doesn't have backpacks. The Backpack mod for Minecraft adds much-needed backpacks to the game.
You can find materials like leather to create backpacks with a crafting table. By using dyes, you can change the color of your backpack. This Minecraft mod is simple, but it adds so much more depth to the gameplay.
9. MightyPork's Power Craft
MightyPork's Power Craft mod completely changes the mining experience. With this Minecraft mod, you're able to build machines to speed up the mining process.
This Power Craft mod also adds plenty of new machinery to speed up another process, improve the functionality of Redstone and speed up mechanics like farming. If you're tired of mining in vanilla Minecraft, this mod will change your life.
8. Armor Movement Mod
Armor in Minecraft serves only one purpose – to provide you with protection against damage. With the Armor Movement Mod, the purpose of armor is transformed. The Armor Movement Mod adds gliders, parachutes, life vests, jet packs, helicopters hats, and more!
If you're a fan of unique item mods, then you'll agree with me when I say the Armor Movement Mod is one of the best Minecraft mods of all time.
7. MaggiCraft's Star Wars Mod
This Minecraft mod is still not complete, but it's the perfect mod for any Star Wars fans out there. With MaggiCraft's Star Wars mod, you'll get access to lightsabers, spaceships, stormtroopers, Tatooine, and much more!
The great thing about MaggiCraft's Star Wars mod is that it's still getting a lot of love.
6. Advanced Lightsabers
If you're not too bothered about the Star Wars features in the Minecraft mod mentioned above, but you would like to wield a lightsaber, the Advanced Lightsabers Mod would be a better choice.
In this Minecraft mod, you must find a crystal cave and then mine your lightsaber crystal. Once you have your crystal, you can then craft your lightsaber. There are also unique structures like Sith Temples to be found, and there's the possibility to build classics like Kylo Ren's lightsaber.
5. Mrcrayfish's Furniture Mod
Mrcrayfish's furniture mod is one of the best Minecraft mods of all time. It completely changes the house building and decoration game. No longer do Minecrafters have to use stairs for chairs and trap doors for tables.
With this Minecraft mod, you can design your house interiors with unique furniture pieces. Place down sofas, kitchen units, ovens, better beds, and much more. There are also plenty of outdoor furniture options.
4. Ferullo's Guns Mod
While Flans Mod is available for weapons, Ferullo's Guns mod is a standalone mod that's far easier to install and set up. The guns in this Minecraft mod are also far more advanced. They turn Minecraft into a first-person shooter game.
Ferullo has finished the mod completely and has since moved onto his Counter Craft mod, which brings the popular Counter Strike game into Minecraft.
3. Special Armor
The Special Armor Mod is another unique armor mod that adds new mechanics to the armors found in the game. You can use the Special Armor Mod to fly, glide through the air and do much, much more.
The Special Armor Mod currently requires you to play on Minecraft 1.7.10, but it's still worth trying out if you aren't a fan of the other armor mod that we shared.
2. DaftPVF's Tree Capacitator
I previously posted a Minecraft mod that makes it easier to mine; now it's time to share a mod for Minecraft that makes it simpler to cut down trees. DaftPVF's Tree Capacitator mod is one of the best Minecraft mods of all time because it makes cutting down trees a million times easier.
With this Minecraft mod, trees will act as they should in real life. If you cut down a wood block on a tree, all wood blocks above it will fall too. This means you can cut down the bottom blocks of a tree and the entire thing will topple down.
1. EyeMod – Real iPhone in Minecraft
Our final Minecraft mod on this list is unique. The EyeMod mod adds a real iPhone in Minecraft. With this Minecraft mod, you'll be able to add an iPhone to your inventory. You can use the iPhone interface just like you would be able to in real life.
You can spend diamonds and gold to purchase new apps for your iPhone and repair it with the iPhone charger block.
Also Read: Games Like Minecraft: Top 10 Best Building Games Like Minecraft
The Pro Review from TechReviewPro
So, the above-mentioned Minecraft mods are the best you can find anywhere. Do note that the mods are more likely to break or crash the game if not compatible. So, make sure to keep a backup of your original installation directory.

I hope you've enjoyed reading through the list of the best Minecraft mods of all time. Without a doubt, there are mods here that will suit everybody. If you'd like a mod to speed up resource collecting, try DaftPVF's Tree Capacitator, or MightyPork's Power Craft.
If you'd prefer something that adds new mobs to the game, try OreSpawn or JurassiCraft. Alternatively, if you're looking for new armors or items, make sure to check out the Special Armor Mod, Ferullo's Gun Mod, the Lightsaber mod, or Flans mod. Which Minecraft Mods do you think are best of all time? Do you know about some more Minecraft mods which are damn exciting? Let us know about them in the comments section below.
Don't Miss: