Every great business starts with a dream and there needs proper execution to turn that dream idea into reality. So if you have planned to transform your innovative idea of online business into reality, you need a website to get your business found and noticed on the web.
And for a website, your first requirement is a top level domain which represent your brand and identity. A domain name is the first requirement of any online business and is considered to be deciding factor in success of that business. But sometimes new entrepreneurs and start-ups get confused in selection of best domain registrar websites to buy cheap domain names.
The idea is simple, you want best because you want to be on top in your business but at the same time you ask for cheap registrars because you are new and just starting. And that is understandable because new entrepreneurs have comparatively lower investment budget as compared to others.
But real confusion starts when you realize that the registrar who provide cheap domain name might not be the best. While  the one who provides best domain names is quite costly. So how to keep a proper balance between cheap and best ?
To help you keep a good balance, today I'm sharing 5 best domain registrar websites to buy cheap domain name. In this post I have set a basic parameter for selection which is – buying a top level .com domain name for 1 year.
I have previously shared some great tips to select a perfect domain name for profitable online business. I recommend you to learn those tips before buying so that you might not commit some crazy mistake while buying and harm your business.
5 Best Domain Registrar Websites to Buy Cheap Domain Name
A domain name is that magical factor which changes a raw IP (Internet Protocol) address in to proper brand name. An IP address is bot friendly but your business is for humans and that is why you need a domain name which is human friendly. New businesses, entrepreneurs, bloggers, webmasters or anyone who need a website often get confused in choosing best domain registrar websites to buy cheap domain name.
So here is a quick list of "Best domain registrar websites to buy cheap domain name" for them as a solution.
GoDaddy is one of the most popular name in the domain industry now. They are "Daddy of all domain registrars". Now a days, GoDaddy is first choice for many. The reason being Godaddy offers many discounts and promotional coupons at regular times.
This makes it quite cheaper as compared to others not only for buying new domain but also for renewals. Though now a days, GoDaddy makes .com domain available for 1 year at a price of only $1.99 (INR 120) but considering renewals and others costs it costs around $10 per year on an average.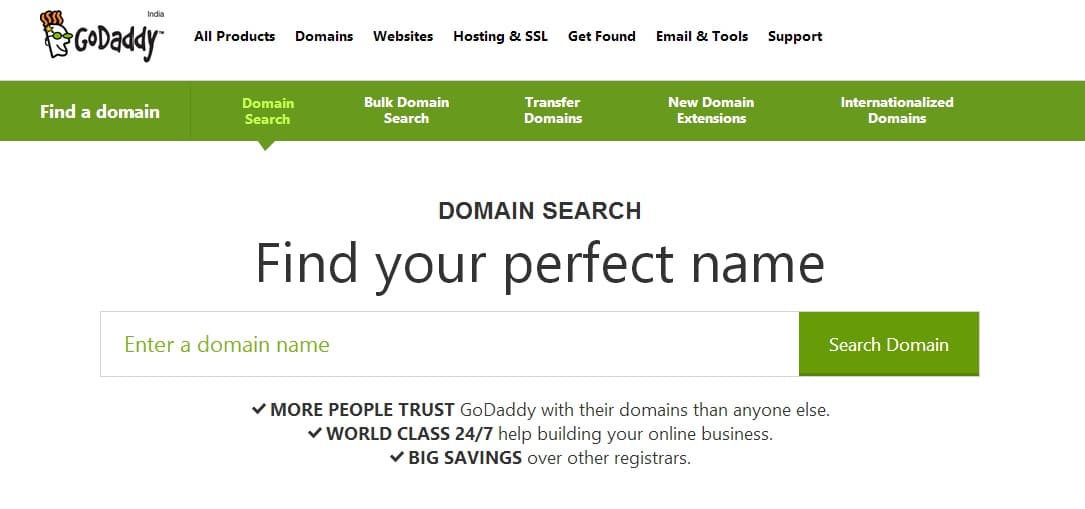 Though it might seem quite higher but considering the level of service its worth your money. The 24*7 support is very quick and c-panel is easily controllable. In fact, my first .com domain registrar was GoDaddy. And they have never felt me regretting for buying. And that is why I recommend GoDaddy as one of the best domain registrar websites.
Domain.com is again one of the most popular name for domain registration. With the .com domains starting at $9.99 per year, Domain.com is certainly one of the best domain registrar websites for buying cheap domain name at very low cost. Domain.com has been around since 2000 and is considered very trustworthy registrar.
The process for registration is quite simple and a 24*7 quality support makes it quite easy for new customers. Apart from domain names, it offers many other services too.
Like GoDaddy, Domain.com also offers many coupons and promo codes which sometimes make it even more cheaper to buy your dream domain name. The good service quality, better support and best price makes Domain.com stand in the list of best domain registrar websites.
As you reverse the two words – Name Cheap, you get Cheap Name. That is what NameCheap offers you.
Though NameCheap has built its good reputation in the world of best domain registrars, yet there are other services too which are offered by NameCheap. It offers top level .com domain names at a very cheap price of just $3.98 for the first year.
However, an additional 0.18 cent of ICANN (International Corporation of Assigned Names and Numbers) fee is included. Considering renewal charges, on average it costs around $10.69/year for .com domains.
The service is really excellent and support is awesome. That is why NameCheap remains one of the common choice among various best domain registrar websites, if you wish to buy domain names at a very low price.
Yet another name having great reputation and fame in the field of domain industry is – Name.com. Name.com is one of the very trusted name among various domain registrars. Name.com is first choice for many people. The top quality service and world class customer service ensures you don't have to worry after buying.
On average a .com domain costs $10.99 per year and it remains constant. Unlike GoDaddy and other domain registrars where many promos and discount coupons is available, getting discounts and promos is tough with Name.com. One simple reason I guess is – they have shut down their affiliate program in April 2014.
But considering the quality of service, I hope you wouldn't mind spending that much amount for your best domain name.
BigRock is one of the fastest growing domain registrar which has seen immense growth in last few years. In fact, the only name which is most talked for domain registration these days after GoDaddy is – BigRock. Their services and specially the toll-free phone support is incredible.
Now a days, you can get a .com domain name from BigRock for only $1.65 (INR 99) for first year and that includes many other costly stuffs in the deal. But on an average it costs around $9 per year – quite better than GoDaddy.
Last year, when I was researching for service quality of BigRock domain names, I came across many opinions where BigRock was reviewed as a low quality service and users were irritated with BigRock services. But when I came to know it costs only INR 99 [$1.65] for first year, I  bought one for myself.
And I was surprised with their bonus inclusion worth Rs. 5000 in the deal. And I'm still confused whether those reviewers were telling a lie or BigRock has improved their quality of services ??
Whatever be the case, BigRock is one of the best domain registrar websites to buy cheap domain names these days !
The Pro Review from TechReviewPro
Though there are many other domain name registrars available but I think these 5 are best and cheapest. Hope this list of 5 best domain registrar websites to buy cheap domain name would help you to grab your best domain name.
However, when buying keep other aspects in mind like domain forwarding cost, ICANN fee and ease in DNS setting, technical support etc. I think one should never compromise with quality of service for the sake of cheap cost. After all, your domain name play a very deciding role in success of your business.
I hope you enjoyed reading this post. So which is best domain registrar according to you ? Do let me know, please. However, if you want to include any different name other than listed above – Don't hesitate to share in comment box below.
Also Read :