Having a blue light filter app on your Android device is a must these days to protect your eyesight. Even if you don't work in the tech industry, you definitely check your phone every few minutes or so. You either receive Emails or social network notifications you need to see.
That constant exposure to the blue light can cause digital eye strain that can cause some severe damage in time. The following free blue light filter apps will help keep your eyesight safe, and you won't even have to pay a single dime to use them. They are the most used on Google Play for a reason, so they are certainly worth installing.
Also Read: Top 7 Best Projector Apps for Android Phone Users
Top 7 Best Blue Light Filter Apps for Android
If you are looking for a blue light filter iPhone app, it's unfortunate for you that there doesn't exist any good blue light filter apps for iPhone and iPads. The reason for no availability of blue light filter iPad and iPhone app is that Apple already introduced blue light filtering feature in iOS. However, when the blue light filter feature came to iOS on iPhone and iPad, Android users started feeling the need for blue light filtering on Android devices as well.
Though Google introduced night mode feature in the developer's preview of Android Noughat, they removed it in the final release of Android 7.0. Later, Android got this feature on Android Oreo. But, unfortunately, not every Android user can taste the latest Android Oreo. So blue light filtering is still not available for many Android users. Fret not! Thankfully, some free blue light filter apps for Android are available. Until you get it from stock Android, enjoy blue light filtering from these third-party apps for blue light filters. In some cases, they are better than stock Android's "Night Light" functionality.
1. Bluelight Filter for Eye Care
Thanks to Bluelight Filter for Eye Care you'll finally won't have any problem when trying to fall asleep. As soon as you install this blue light filter app on your Android phone, it applies a pre-installed filter to help protect your eyes from the blue light.
If you're not happy with the filter that the blue light filter app applies, you can always create your own. There are several colors to choose from such as green, gray, brown, red, orange, yellow, and green.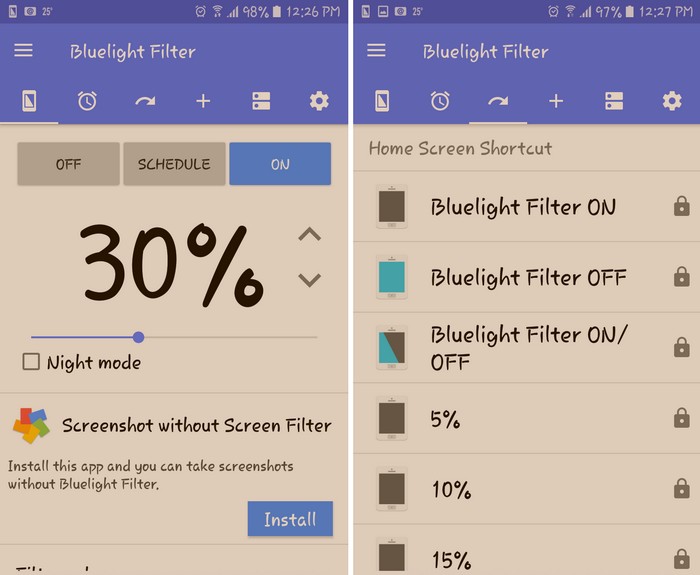 The Blue Light Filter for Eye Care app adds an icon to your notification bar so you can quickly turn the app off and on. If you don't want the blue light filter ON all the time, there is a schedule feature where you decide the times the filter is ON.
Another good thing about the app is that it does not drain your Android device's battery. An essential feature of any app. You can also decide if you want the app to launch automatically at startup or not. This is an excellent option if you notice that your Android device is getting slower and slower when booting it.
2. Twilight
Twilight is another cool app for filtering blue light on Android. The blue light filter app has nothing to do with the Twilight vampire movie that inevitably popped into your mind when you heard the name. It's specially made to help prevent that annoying blue light eye strain we all experience. It has over 5 million downloads, and it has the features to justify those numbers.
The filter intensity of the app is changed according to the sun cycle based on the sunrise and sunset of your current location. Twilight can lower the screen backlight beyond the capability of your controls on your Android device.
Just like the first app for blue light filtering that I mentioned above, Twilight allows you to create a program where the blue light filter is enabled and disabled automatically. Twilight is made to not only work on Android phones but to also work on tablets, Android wear, Chromebooks, Android TV, and Philips HUE bulbs as well.
There is one thing to keep in mind when using this blue light filter app. The app could cause some secured buttons such as install APK, grant permissions, etc. to become inaccessible. It is recommended that you turn off the app before using these kinds of features.
3. Blue Light Filter – Night Mode Eye Care
Another favorite blue light filter app is Night Mode Eye Care. On the app's main page you can see five filters that you can apply. They are called Night Shift, Candlelight, Dawn, Incandescent Lamp, and Fluorescent Lamp.
When you turn on the timer the time is automatically set from 10 pm to 7 am, but if you tap on the time, you can change it. You can also pause the blue light filter app for 60 seconds to install an app and by using the slider, decide how much you want to dim your display.
If you're not happy with the blue light filtering app adding an icon to the notification bar you can quickly take that out. Just toggle off the dedicated button. If you tap on the hamburger icon in the top left corner, there's even a troubleshooting section. This is very helpful since any app can cause problems from time to time.
4. Dimly – Screen Dimmer
Dimly – Screen Dimmer is the simplest of all the best blue light filter apps on the list. When you install the app, you'll automatically see a slider to control the brightness of your phone's display. Tap on the drop-down menu to the right and toggle on the blue light filter.
If you want to see more option, select the cog wheel to go to Settings. You can do things such as add Dimly to the notification area, lower or raise brightness, shake to restore brightness, adjust motion sensitivity, program the timer, and upgrade to Premium if you're not happy with the free version.
The app will add an icon to your Android device's home screen, and every time you launch it, only the brightness slider will appear. Unlike the other apps for blue light filter mentioned on the list, this one doesn't open an actual app.
5. Blue Light Filter – Eye Care
Blue Light Filter – Eye Care may not be as popular as the other blue light filtering apps for Android, but it does have fantastic reviews from those who have used it. The layout of the app is fundamental and easy to understand, something those who aren't very tech-savvy are going to appreciate.
This app has 5 filters to offer: Moon, Candle, Lamp, Sunset, and custom. In this last option, you can adjust the color temperature, intensity, and screen dim. You can also set up a program so the blue light filter will only turn ON during a specific time frame.
Sick and tired of notifications? If so, under notification settings, you can toggle off features such as the one that enables the notifications and the one that makes the notification icon visible. If you are looking for a simple yet useful app for filtering blue lights on Android devices, Blue Light Filter – Eye Care is the app for you.
6. Night Owl – Screen Dimmer
I personally liked Night Owl – Screen Dimmer, because of the good-looking layout it has. It has the basic blue light filter features you would expect any blue light filtering app to have. For example, it has a screen dimmer and a color filter. The advanced filter allows you to modify the RGB value of the filter manually.
You can also manually adjust the colors of the filters. For example, you can decide how much red, green, and blue you want to add by adjusting the sliders. The scheduler feature is also great since you have a manual setup and a sun timer set up.
The downside to the sun timer feature is that you have to purchase the premium version of the app. But, with the premium version, you can also enjoy an app with no ads, that can sometimes get really annoying. There is a feature that when you shake your phone, the blue light filter is automatically turned off.
7. Night Screen
Last but not least you have the Night Screen blue light filter app. This is another app (that when launched) will automatically display a slider on your display. Before you can start using the app you will need to make some changes in your device's settings or else the app won't work.
By tapping on the cog wheel, you can access settings and make all the changes you want. For example, you can keep the screen on, hide the brightness percentage, among other features.
If you go premium, you can enjoy features such as a beautiful one-click widget, no ads, night screen and an auto start and stop function. The app has a basic design, but not as lovely as the other ones on the list. Overall, it's a good app to have on your Android devices if blue light filtering is what you want from this app.
Also Read: 10 Best Police Scanner Apps for Free on Android
The Pro Review from TechReviewPro
It's critical that you take the necessary measures to protect your eyesight. Using any of the listed blue filter apps for Android will definitely help. Some have more options than others but all of them share the most crucial feature: the blue light filter.
All of the above apps for blue light filtering are free, but some of them have in-app purchases to enhance the app's experience. Thanks to these blue light filtering apps, you'll finally be able to go to sleep without having to count sheep or to 1000 because you just can't fall asleep. Which of these apps do you think you're going to try first? Leave a comment below and share your thoughts.
Don't Miss: