Nowadays the mobile gaming scene has evolved a lot after the introduction of Battle Royale games like PUBG and Fortnite. But, if you're someone who's looking to take a break from those games and try out some zombie shooting games or zombie gun games, you've come to the right page.
Of course, we'll mention the best zombie games for all the platforms that include Android, iOS, Windows (PC), and PS4. So, no matter whether you are a mobile gamer or a part of PCMasterRace or a console player, we have listed something for everyone.
15 Best Zombie Gun Games for Zombie Shooting Games Lovers
To start with, let us take a look at the best zombie gun games for Android:
Note: The games listed are in no particular order of ranking.
Zombie Gun Games for Android
First, let's take a look at the best zombie gun games for Android users. If you love playing zombie shooting games on your Android phone, one of these zombie games will surely entice you.
Zombie Frontier 3 is one of the best zombie FPS games on Android. You'll love the boss fights in it and the weapon loadouts available. It packs in heart-pumping action-filled levels and sniping is absolute bliss.
Even if it is an FPS zombie shooter, it houses RPG elements that will make the game exciting as you progress!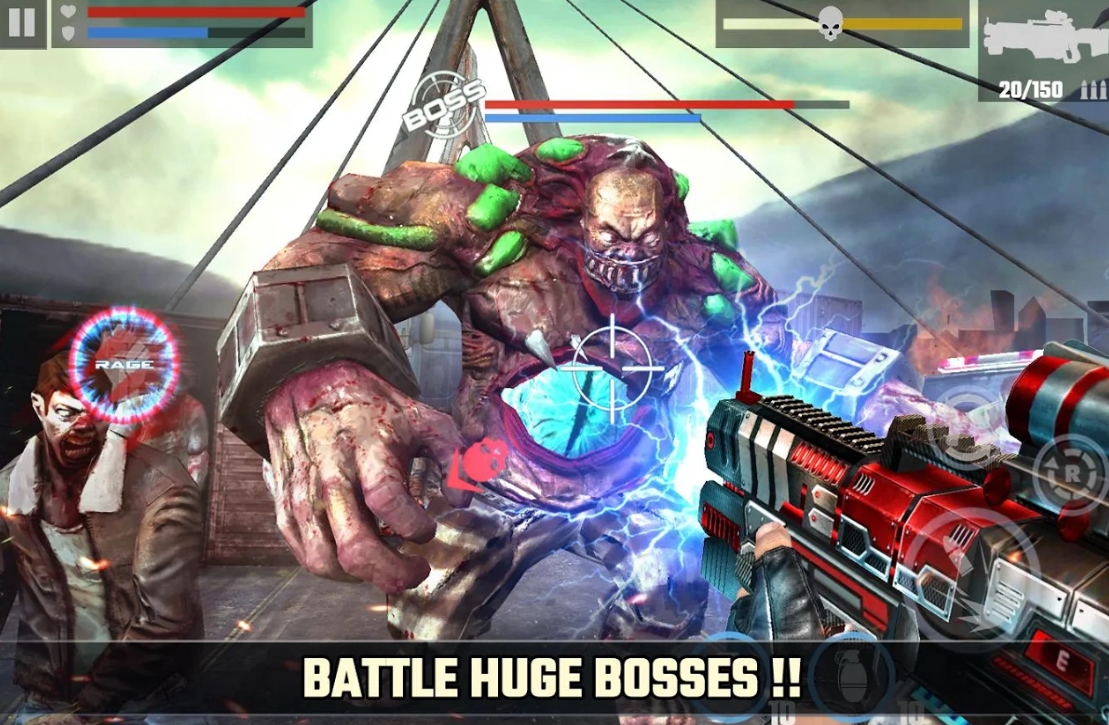 Dead Target is an Editor's choice game at the Play Store – so that explains half of the story. If you're still curious about what I think, I'll briefly mention that it is the best offline zombie-killing experience for Android smartphones. Yes, graphics-wise, the game isn't a masterpiece but it is an enjoyable zombie shooting game.
I probably don't need to describe this zombie game (I assume you already played the game). In either case, Dead Trigger is an absolute masterpiece when it comes to zombie killing, survival experience, and shooting experience. The game features rich graphics which makes up for an immersive experience on your smartphone (no matter whether you have a high-end device or a low-end device).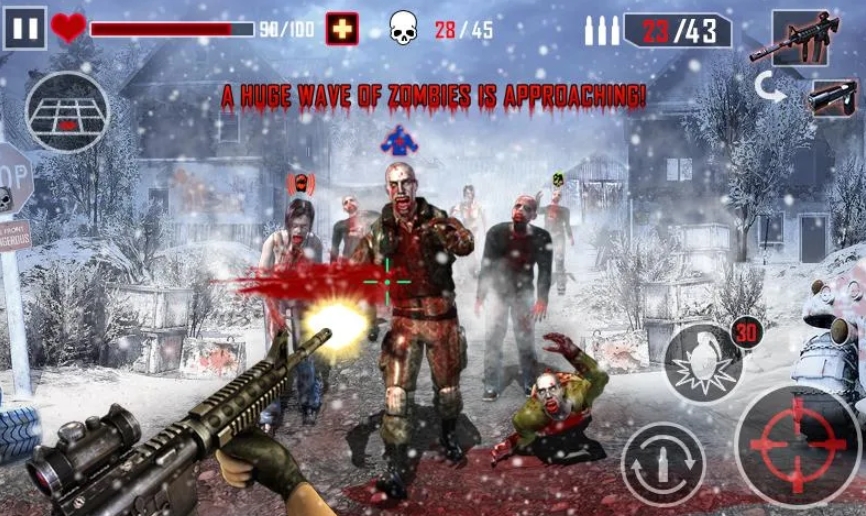 Zombie Killing is yet another Zombie gun FPS game but it's different. It focuses on classic gameplay with improved graphics and cool weapons. You don't have to rush in anywhere – instead, you will get a static setting and zombies will come towards you – just eliminate them all!
If you are sick of popular zombie games which you've played a lot of times, I recommend you to try this unique Battle Royale game. If Battle Royale is your preferred genre, Zombie's are here too!
Although it is a 2D game, the battle royale experience makes it an interesting take with Zombies in it. I'm really enjoying this zombie game!
6. Zombie Shooter 3D
If you don't like 2D games, it's alright. Zombie Shooter game is a 3D zombie killing experience with mutated wolves and humans turned zombies. You know what to do!
Zombie Shooting Games for iOS
After Android users, it's time to provide the best zombie shooting games for iPhone and iPad users. If you are looking for some of the best zombie gun games for iOS, you'll surely find one of these zombie games exciting.
You must have played a lot of FPS zombie survival games but now it's time for a change. Mini DAYZ is a pixel art presentation of a deadly post-apocalyptic world where you need to survive and kill a horde of zombies coming your way.
The interesting part of this game is the randomly generated map – so you will always have something unique to explore and keep killing zombies as you want. It also includes some elements of crafting by utilizing the items you've collected. So, that adds a bit of grind in the game – which makes it challenging.
I'll definitely recommend you to have it installed!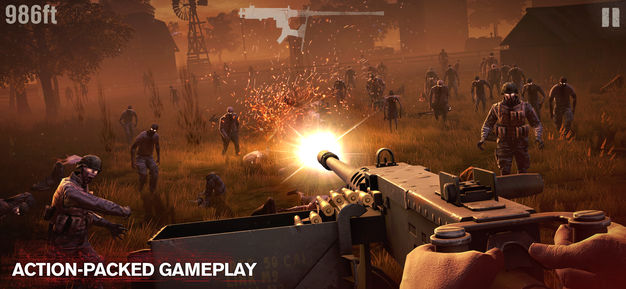 Into the Dead 2 is an all-time popular zombie shooter game. It showcases amazing gameplay with an evolving story as per your choices. The items available in-game are exciting enough but includes in-app purchases (worth noting, if you are not a fan of in-app purchases).
You can even have a canine companion to help you out move through the horde of zombies and clear all the stages successfully. The game also presents daily/weekly challenges to keep things interesting always.
We've already mentioned Dead Trigger 2 for Android – but you wouldn't want to miss it on iOS devices as well. The game is popular for its polished FPS gameplay experience. I love the boss fights and it's my personal favorite.
Zombie Gun Games for PC
Nothing can be more pleasing than killing zombies on your PC, that's why we haven't left PC gamers guessing for the best zombie gun games. Here is a list of top zombie shooting games for PC: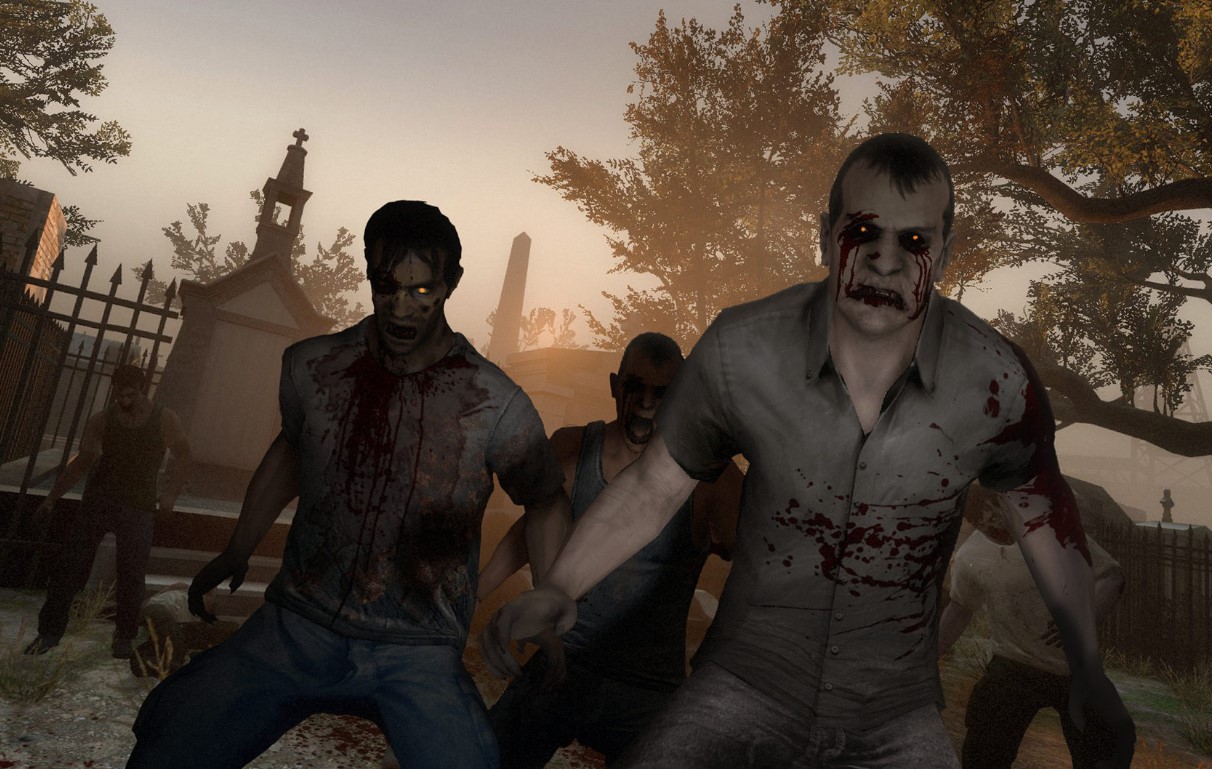 This is probably the best zombie gun game for PC out there. Of course, if you don't mind the age-old graphics, you will enjoy the game just fine. Even if it's not an F2P game, it will cost you about 2 USD in a bundled offer. In either case, it is still good to buy if you are a fan of zombie killing games on PC.
You can either play the original Left 4 Dead or the sequel to it – both are great games. It's available on Steam.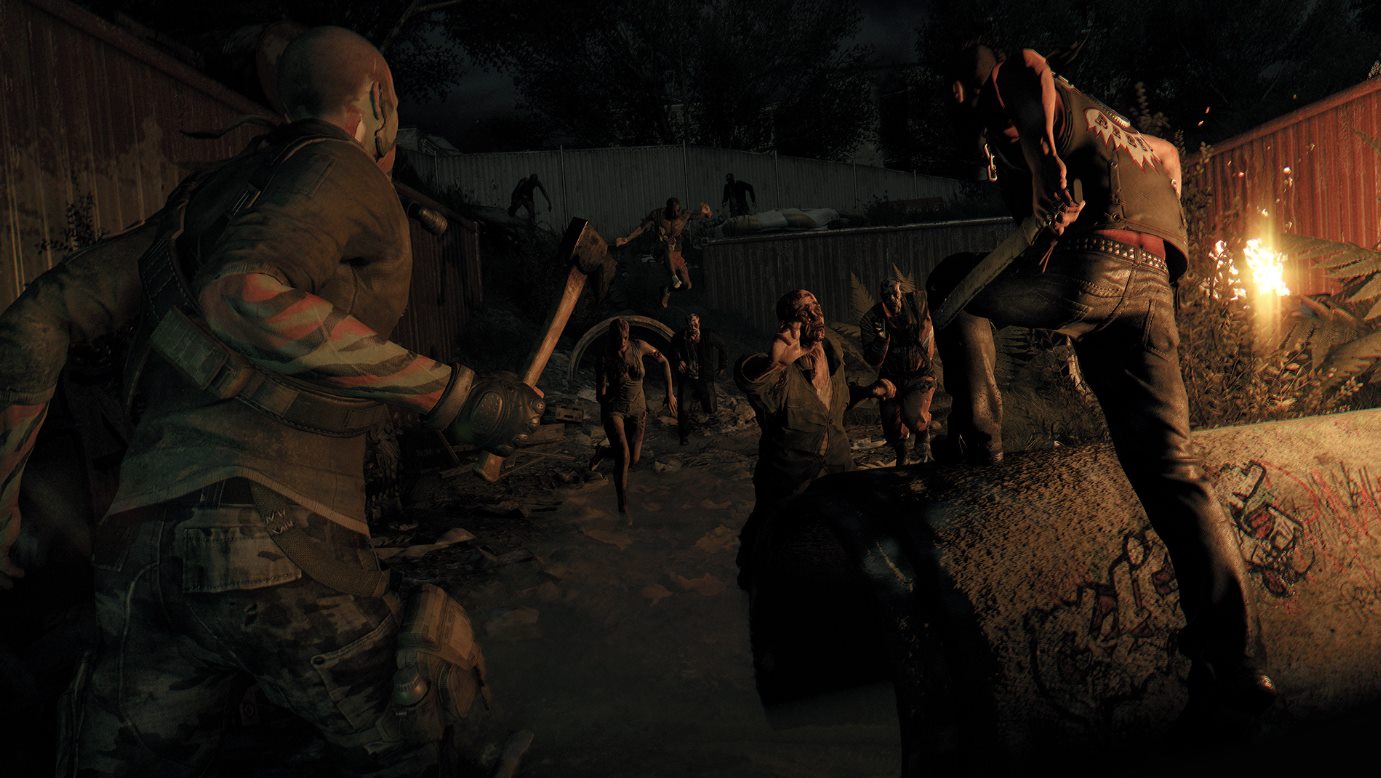 Don't want a restricted sandbox? Well, you've got Dying Light – which is an open world survival zombie horror game. You can either opt to get the enhanced edition with the new DLCs or go with the standard edition. You will end up with a great gaming experience no matter what edition you purchase.
It doesn't feature an age-old game engine – but offers a highly immersive FPS experience for zombie shooter fans. Now, go and get them!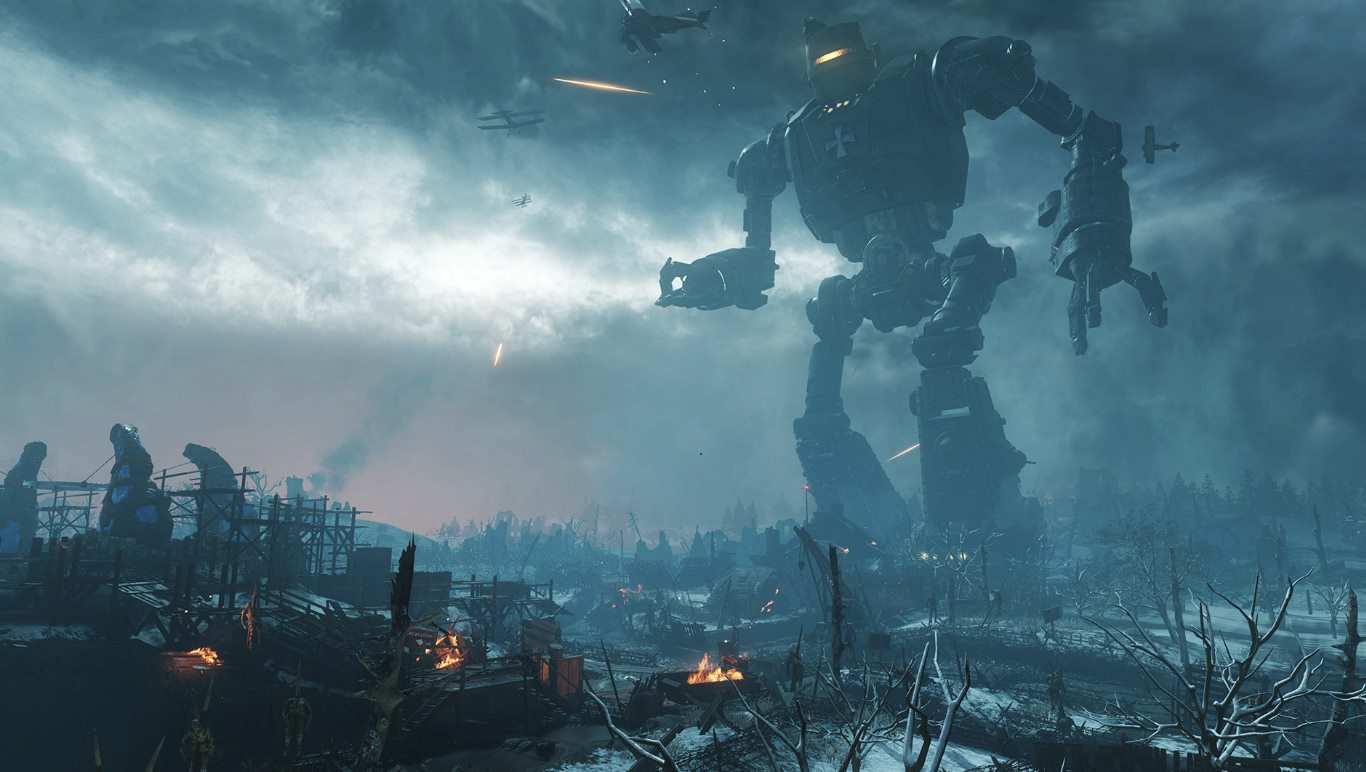 Okay, calm down. I'm aware that Call of Duty hasn't been performing well compared to the classics we loved. But, it's still worth to get Black Ops II or III for the Zombie mode it offers. Story-wise it wasn't much appreciated – but the Zombie mode is the perfect FPS experience to play a shooter game with Zombies in it. In my opinion, it is going to be the best zombie shooting game for PC – I like the weapon loadout (cool weapons!).
Zombie Shooting Games for PS4
If you have PS4, check out these zombie gun games for PS4.
Now that you already know that Dying Light is the best open world zombie-based shooter game – it also makes it one of the best pick for console players. As I mentioned earlier, I'll let you look for a good deal on Dying Light (enhanced edition) with new DLCs.
Killing Floor 2 is an amazing FPS game which is also available for PC. It features mind-blowing graphics and exciting gameplay. Also, if you are looking for a zombie gun game with the ability to co-op, this game lets you play with 12 of your friends vs. Survival mode! What are you waiting for?
We've already recommended you this for PC, you can also enjoy it on your console. If you want a cinematic setting with cool weapons and a rich zombie killing experience – this game will not disappoint you on PS4.
Wrapping Up
Now that you've known about the best Zombie shooting games, experience the best killing experience ever!
We'll keep this list updated with new zombie gun games – and also tell us your favorite games in the comments down below!
Happy zombie hunting!
Related Resources: