Gone are the days when watches could be used to see time only. Now the watches have got digital and smarter. And we are quickly moving towards the era of new wearable tech gadgets. If you are looking for the best wearable tech devices, smart watches are certainly the perfect choice as the innovation in wearable technology is booming at an increasingly faster pace. Some of the best smart watches can perform much essential daily life functionality, including health and fitness related activity tracking. That is why the smart watches are becoming more popular than other wearable gadgets.
Despite some initial failures and question over the success of smart watches, we have seen many brands taking the initiative in introducing new smart watches in the recent years, and surely we may expect the launch of few more best smart watches in upcoming years. The competition is definitely for being the best smart watches on the market as every brand is looking to establish their supremacy over others.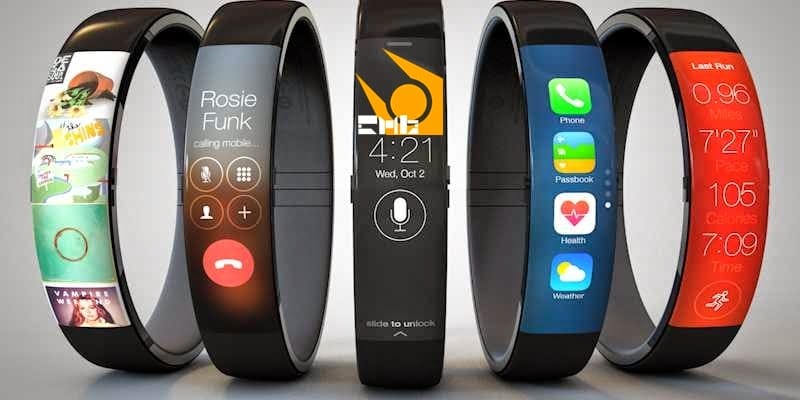 So here is a quick information about the best smart watches on the market right now. After reading this article thoroughly, you'll come to know – What is smart watch? Why do you need a smart watch? And finally, what are the top 10 best smart watches on the market right now [2015]?
Also Check: Top 6 Best Selling Earphones and Earbuds at Low Prices
What Are Smart Watches?
Smart Watches are wearable technology gadgets that connect wirelessly to your other smart devices say smart phones and perform enhanced functions that your traditional wrist watches are not supposed to do.
Smart watches are computerized wrist watches that you can wear on your body and perform various activities more than just watching time. Such activities are those tasks which you perform using your smartphones. According to the wiki article, the earlier models could perform simple tasks like calculations, translations and game playing but new models are getting more and smarter with latest features and market needs.
Why Do You Need Smart Watches?
Though I have already discussed six reasons to buy wearable tech gadgets like smart watches yet, I would like to share my views why you need best smart watches.
Having the new smart watches means keeping yourself updated with latest technology trend where you can perform various tasks like listening music, playing videos, playing games, snapping pics, recording videos/audios, installing apps, tracking health & fitness activities, checking notifications, answering calls, etc. and more importantly right through your smart watches that you wear on your wrist.
So with the best smart watches, you don't have to keep your hands busy in searching your smartphone in pockets or bags whenever a new notification strikes. 🙂
Check: Top 10 best Wireless Bluetooth Headphones for Running
Which Are The Best Smart Watches? – Top 10 Best Smart Watches
In 2015, smart watches were going to be a great buzz in the wearable market. So here is a list of top 10 best smart watches available on the market right now in 2015.
1. Pebble Steel – Overall Best Smart Watch
Pebble Steel is one of the most popular and overall best smart watches that are worth buying. Though square design and not having a high-resolution, colorful screen may not be liked by many, with all-metallic construction and powerful Corning gorilla glass display, it is certainly the most featured smart watch.
The watch works on both operating systems – iOS as well as Android. So you have got 1000's of apps to install & run. It has also got an LED that indicates its charging status. Now Pebble is available in brushed stainless and matte black too. The users can also have leather or metallic band of their choice.
2. Apple Watch [Not iWatch]- Most Innovative Smart Watch
Apple iWatch is one of the most rumored smart watches so far. We came across many rumors over their design, features and releasing date. But finally Apple unveiled its design in September 2014, but surprisingly the name is "Apple Watch" instead of being "Apple iWatch." 🙂
Though quite late to join the game, with new Apple Watch, Apple has justified its name to bring innovation in the tech world. Apple Watch has redefined the category of smart watches with its master piece that is very attractive in design. The Apple Watch comes in two sizes which may be configured using four different cases and six different bands -all these make it the most customizable smart watch ever.
3. LG G Watch R – Best Android Smart Watch
LG G Watch R is comparatively new smart watch in the market. A sharp screen, wrist friendly design, and longer battery life is something that makes LG G Watch R best Android smart watch perfectly suited for Google's smart watch platform.
Running on Android 4.3 and later, including latest Android 5.0 Lollipop, it has got a huge number of apps to be installed from Google Play Store. It doesn't only keep you updated with quick notifications but also track your heart beat. It is getting very popular these days in the market.
4. Samsung Gear 2 – Best Smart Watch Having Voice Functionality
Samsung Gear 2 is probably the best smart watch having voice functionality right now. It has got an inbuilt microphone and speaker that lets you make calls and answer calls keeping your smart phone in the pocket.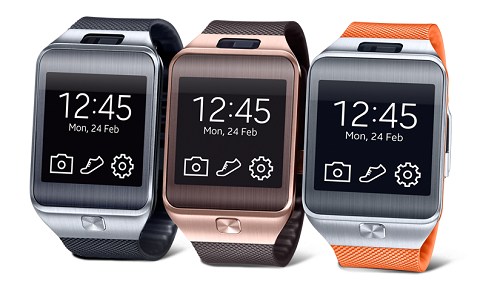 It is a stylish, smart watch packed with many features. One of those features is to look up notifications, check the weather, see contacts, etc. using Samsung's S Voice. You can also monitor your heart beat rate, and it has also got features on other health related tracking.
5. Moto 360 – Best Smart Watch in Design
Motorola Moto 360 is another fantastic smart watch which is known for its excellent quality, attractive design, and affordable price tag. It has got a very attractive stainless steel design and powerful gorilla glass display.
Running on Google's wear operating system, it has got many awesome quality features as it supports voice commands, Google now alerts, phone's notifications, etc. The smart watch is perfectly suited for design lovers as it has a sleek circular band.
6. Samsung Gear Fit – Best Fitness Tracker Smart  Watch
The Samsung Gear Fit is a decent, smart watch with plenty of features. It has a gorgeous look with curved OLED display and an intuitive touch interface. The built-in heart rate monitor which faces the top of your wrist, not only tracks and monitors your heart beat but also provides you real time coaching of what precautionary measures you should take up to get your fitness back.
It also delivers you notifications of calls, text messages, locations, etc. right through your phone to your smart watch screen. Summing up all these features, the Samsung Gear Fit is certainly a superior product than its predecessors, which you may also term as the best fitness tracker smart watch.
7. Pebble – Best Budget Smart Watch
If you are impressed by the Pebble Steel smart watch's powerful appearance but don't like its traditional stainless steel, probably Pebble is the right choice for you as it has got even smarter with different colored non-metal designs. Though you won't get powerful metal, you have got independence to choose it in the color of your choice as it comes in five colors – Red, White, Black, Orange, and Gray.
You may also download a huge number of apps from Pebble store right through your smart phone – including both iOS and Android users. With water resistant feature and even much lower price, Pebble is certainly the best budget smart watch that you could ever have.
8. Cookoo – Long Battery Life Smart Watch
Cookoo is another fantastic smart watch with stylish design. It has got a stunning appearance with its stylish round dial. Available for both operating systems – Android as well as iOS, you have got 1000+ apps to install and run right through your smart phone.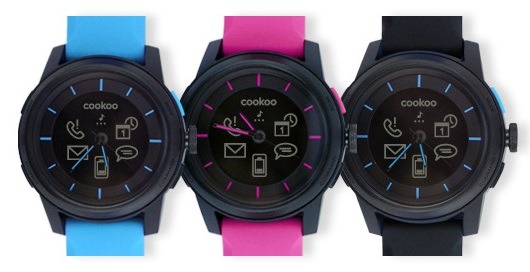 Though Cookoo is a comparatively new name in the smart watch market yet when it comes to water resistance and longer battery life, this is the name which is mostly cited all around among smart watch lovers.
9. Sony Smart Watch 3
While most other brands are gearing up to launch their first smart watch, isn't it surprising that Sony is launching one after another smart watches without compromising the quality as the users are getting exactly what they expect from a top quality brand like Sony?
Sony has launched Sony Smart Watch 3 with all features that you could wish to have like a smart watch buyer. The biggest strength of Sony's smart watch 3 is its built in GPS. It has also got a USB charging port. The better looking transflective screens make it even better than the preceding release of Sony.
10. Alcatel OneTouch Watch – Newest Smart Watch
During the showing of best wearable tech devices at CES 2015 [January 2015], Alcatel showed off a smart watch that could be a serious contender to compete with Apple Watch. The OneTouch Watch will work with both iOS and Android devices for just the price of $149 and will be available starting March[Source].
Packed with heart-rate monitor, altimeter and other sensors – it is being seen as one of the best affordable smart watches to be featured in upcoming days.
Also Check: Top 13 Best Laptops for College Students- Top Rated Laptops
The Pro Review from TechReviewPro
If you are looking to purchase the best smart watch, you must consider these important factors while choosing the best smart watches:
How well it looks like? – Design and look matter as it has to fit with your own body's beauty.
How much functionality of your smartphone can it perform?
How well it handles each task you want to perform using it?
Finally, how long is the battery life? – Of course, you don't like to keep it plugged into an electric socket.
Another important factor you must look for while choosing the best smart watches is – its resistivity against water.
No matter what others think and say, I strongly believe that the smart watches are going to be much more successful during this year 2015. And these best smart watches are rocking the market as of now.
Must Read: Perpetuall Keeps Your Contacts Updated – Free iOS & Android App
So here concludes our list of "Top 10 Best Smart Watches 2015". Hope you enjoyed our guide to buying the best smart watches and now you can buy the perfectly chosen best smart watches of your choice.
Enjoyed this review? Share with your friends on Facebook, Twitter and Google+. 🙂
Is there anything missing from this story? Want to add your favorite smart watch to this list of best smart watches? Add it now, using the comment section below.
Also Read: