FTP stands for File Transfer Protocol. Even if you are not a computer geek head, you can surely know that the FTP clients deal with some File transfers. However, the FTP clients do not involve transferring files from your computer to a pen drive. It involves a server and a client. You are, of course, the client, and you want to establish a successful connection with a remote server to download/upload/move/modify files.
To establish an FTP connection, you need to make use of an FTP client which enhances the capability of manipulating files by giving you the ability to pause or include an in-house powerful text editor and so on. So, to help you along, we have compiled a list of 10 best FTP clients that you can make use of.
Also Read: Top 10 Best PDF Editors for Windows to Edit PDF Files
Top 10 Best FTP Clients for Mac, Windows, and Linux Users
We have already shared some free large file sharing tools to share large files securely. You also know about the P2P file sharing software for peer to peer file sharing. However, if you are looking for the best FTP clients for Mac, Windows, and Linux users, you are going to know in a moment. So let's find out which are the best free FTP clients.
FileZilla has always been one of the best FTP clients out there. It is my personal favorite as well while connecting to a server I own. It is a cross-platform free FTP client that is available for Windows, Mac, and Linux as well.
Although the user interface of an FTP client does not matter much, if it is what you give priority, FileZilla will not disappoint you (it brings in a simple UI). Whether you are a novice or an expert, you will find FileZilla FTP client easy to use. Nevertheless, FileZilla is an open source software which is continually developed and improved.
WinSCP, as the name suggests is an FTP client available only for Windows. It is yet another open source software that is actively developed and maintained. You will notice a similar interface to FileZilla with quite a few things different. Overall, every FTP client would have the same options featured. WinSCP supports both SFTP and FTP connection.
WinSCP provides batch file scripting and offers a command line interface for SSH access operation. Unquestionably, WinSCP comes with an integrated text editor through which you could access all your PHP files and modify it on-the-go while you are connected to the server. It also supports integration with PuTTY.
Cyberduck is a powerful FTP client for Mac and Windows. Yes, it is available for both Windows and Mac. It definitely deserves its spot as one of the best FTP clients available on the web. Cyberduck's user interface is more inclined towards a beautiful user experience than being easy to use. It presents a compact look by combining the options through icons. However, it would require you to know which one's for what purpose. Whereas, the text options on FileZilla proves to be quickly accessible, even if you are using it for the very first time and want to perform an operation.
It also supports SFTP connection and also provides you the ability to connect to the various cloud storage services like Google Storage, Amazon S3, Dropbox, and Rackspace.
FreeFTP is yet another loved FTP client available for Windows. It is a free counterpart of a premium tool, i.e., Direct FTP. It may not be as much powerful or featuring similar features as other free FTP clients but does the work as expected. FreeFTP supports both FTP and SFTP type of connections.

If you are a professional and already like what it offers as a free FTP client, then you can upgrade it to the premium version to unlock all of the advanced features. As FileZilla offers, you get a similar drag and drop mechanism to quickly initiate file transfers rather continuously browsing for the file to transfer.
Transmit is one of the best FTP clients for Mac that you can have installed if you have a Mac. Yes, it is an FTP client available for Mac OS only. Transmit is primarily known for its optimization and capacity to handle file transfers allowing the best transfer rate. Apparently, being one of the best FTP clients for Mac users, it does support both FTP and SFTP connections.
Also, you may connect to any of the cloud storage services like Amazon S3 or connect using WebDAV protocol. You can get a license for it at just 34 USD. It is definitely worth it if you are going to utilize its advanced features (fixing crashed file transfers and so on).
coreFTP is a free FTP client for Windows. It supports FTP and SFTP connection as well. You can connect to any remote server and download/upload files. It does offer a pro version to it as well, i.e., Core FTP Pro. But, that's none of your concern if you simply want to perform basic file transfer operations between your system and a remote server.
Although if you do upgrade it to Core FTP Pro, you can schedule file transfers to happen whenever you want. Also, you also get the ability to encrypt and decrypt the files you would be transferring. You do not need to keep an eye out on your system because you will be notified via an email about the status of your transfer with Core FTP Pro. Surprisingly, you can also view thumbnail images of the files present on the remote server which other not all of the FTP servers offer.
FlashFXP is yet another impressive FTP client for Windows users. It is available for Windows systems only. It is not a free software to utilize but a premium one. However, you can definitely try it with a 30-day trial period.
It offers all of the common features that you usually find with other FTP clients mentioned. Also, it lets you collaboratively use the FTP or SFTP connections by sharing them with your friends or co-workers.
FireFTP is not a standalone FTP client that depends on an available platform, but you can readily use it across all the platforms with Mozilla Firefox browser installed.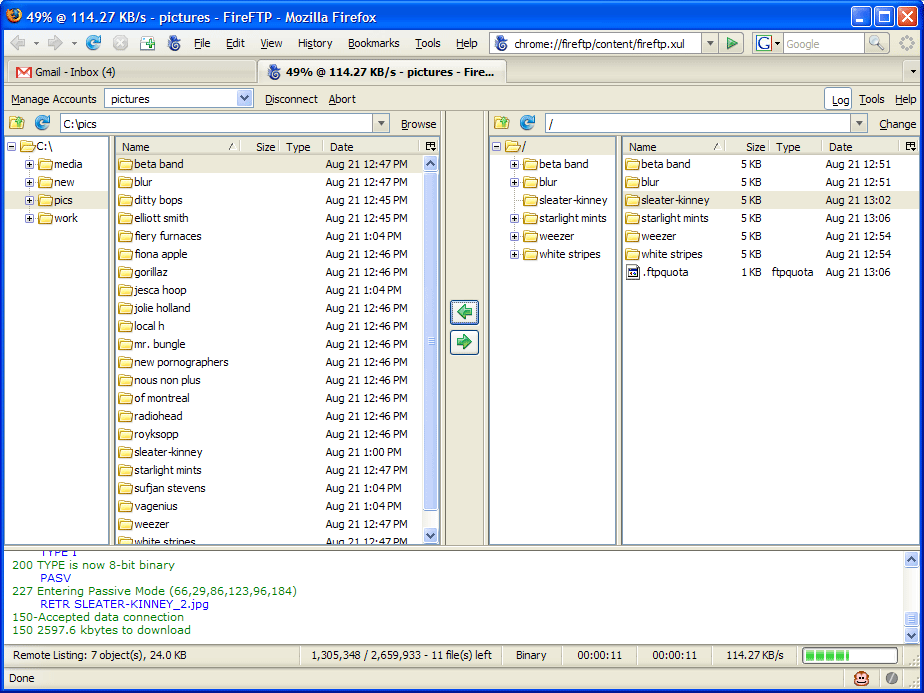 It is best suited for the users who have Mozilla Firefox set as their primary browser. You won't find any advanced features, but it does support both FTP and SFTP connections. Also, you will observe an improvement in your system's performance while you use this integrated FTP client in place of a dedicated one consuming more resources. You can download the add-on here.
SmartFTP is yet another important FTP client for Windows. We surely observe more FTP clients available for Windows than the number of FTP clients found for Mac and Linux. It offers a simple yet customizable interface for an enhanced user experience. SmartFTP also lets you choose a theme to customize the look of the FTP client.
It is indeed a premium FTP client that comes in a variety of editions starting at 69.95 USD. It may be out of the ballpark, but its user interface is damn good to be appreciated. Also, it offers you the ability to automate file transfer processes.
CrossFTP, as the name suggests, is available for Windows, Mac, and Linux as well. Yes, you heard right. If you are looking for the best FTP clients for Linux users, CrossFTP is the FTP client you should go for. It supports batch transfer and also supports FTP/SFTP connections. It lets you encrypt the files with a password.
CrossFTP is a free cross-platform FTP client but does also offer an enterprise solution if you need more control and more power to what you perform through FTP.
Also Read: How to Create WiFi Hotspot Using Command Prompt and Share Files Easily?
The Pro Review from TechReviewPro
So, finally, now you know about the best FTP clients for Mac, Windows, and Linux users. These are some of the best paid as well as free FTP clients available on the web. Several other FTP clients might already be your favorite considering your requirements.
Which FTP client do you use? Do you want to tell us about an FTP client that is super cool but not popular? Let us know your thoughts in the comments section below.
Don't Miss: