Ever since The Elder Scrolls game first came out in 1994, it is a game that has hooked many to this very day. Bethesda Game Studios sure knew how to create one of the best Action role-playing games out there. Ever since the series began, gamers from various consoles have been able to enjoy a game that has kept them coming back for more year after year.
It doesn't matter if you are on Xbox, Xbox 360, PS3, XBox One, PS4 Mac, or even Windows, you are still able to enjoy this very addictive game. One game out of the whole series you will surely love is Skyrim. The game is the fifth installment after The Elder Scrolls IV: Oblivion and it is a game where everyone wants to be the best and has the best name possible.
Also Read: 50+ Best Skyrim Console Commands to Make Skyrim Console More Exciting
Top 10 Best Skyrim Name Generators for Argonian, Dark Elf, and Nord Names
Can't think of a name that everyone will be jealous of? Trying to think of the perfect name on your own can be time-consuming and very frustrating. Those days of trying to think of the perfect name on your own are gone because you are going to find the top 10 best Skyrim name generators for Argonian, Dark Elf, and Nord names on this list. No more headaches from spending so much time trying to think of the perfect name.
Run & Monkey has a Dark Elf name generator that is going to help you get the perfect name. The name generator is very easy to use. Scroll down a bit, and you will need to choose if you are male or female. After that, you need to enter your full name and click where it says Become one with the darkness to get your name.
If you don't like the name you get, you can always mix things up. You can add your first name and your last name and see what you get. Type in your first name and your nickname and see what the generator gives you. You will also find fun name generators for other things, just in case you want to check that out too.
Also Read: Top 10 Free NO WiFi Games – Best Free Games Without WiFi
If what you are looking for is the perfect Nord name, then you have come to the right place. With this Nord name generator, you will get ten names that will give your Skyrim name character the finishing touch you are looking for.
The site not only gives you the perfect Nord name but it also explains how it puts the name together. It mentions that the names are created using the same rules the game uses to create the names. It doesn't matter if you are male or female, both will have the same last name.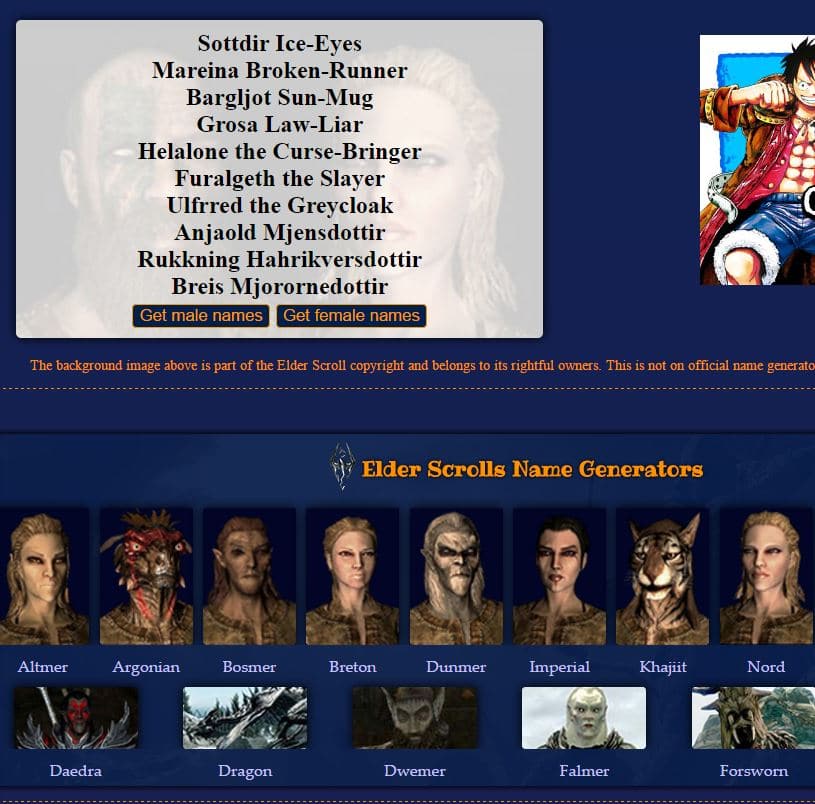 The chapter you play also weighs in in the last name you get, a feature that personalizes your name even more. In the game, some players have great titles such as Trollbane or The Colossus while other have a real last name. The Generator makes sure that you get the best of both worlds. If you are not happy with the ten names the generator gives, click on the Get Male/Female names button again. You can click as many times as you want to and you will get new names every time.
On some Skyrim name generators site, you can only get names for either Dark Elves, Nord's, Etc. With this Skyrim name generator, you can generate the perfect name for various types of races. For example, you can choose between Imperial, Argonian, Dunmer, Nord, Altmer, Bosmer, Khajiit, Breton, Redguard and Orc.
Selecting a race is easy. Just click on the drop-down menu on the first box and choose your race. Make sure you choose if you are male or female and then the name will appear. It will give you a first and last name and even a title, just in case you are looking for one. You can either have the generator create a random name or can select so that the name is generated from Skyrim. If you want a fresh start, just click on the reset button.
With, the Elder Scrolls Online Name Generator you will get so many name options that you won't know which one to choose. Just like in the previous name generator site, you can pick a name for different races, including the Argonian's and the Nord's. This site has a much nicer design and even shows you a picture of what the race looks like.
The name generator has more than 8 thousand names to show you, now that's what I call variety. Click on the gender and the race you are interested in, and you will get a list of ten names. If you don't like any of the names you see, click on the image with the race you are interested in and the names will keep refreshing.
If the only race you care about is the Argonian's, then this Skrim name generator will give you the name you've been looking for. The Aronian name generator is pretty straightforward. All you have to do is click on the button that says Generate! And watch the name automatically appear.
If an Argonian name with two words is not enough, you can always get one with three words. Both generators work the same way.
For some reason, some Skyrim name generators leave out the Dunmer Dark Elf. With this name generator, you can choose male or female names for all kinds of races. You can make a choice between Redguard, Orsimer, Nord, Khajiit, Imperial, Dunmber, Breton, Bosmer, Argonian and Altmer.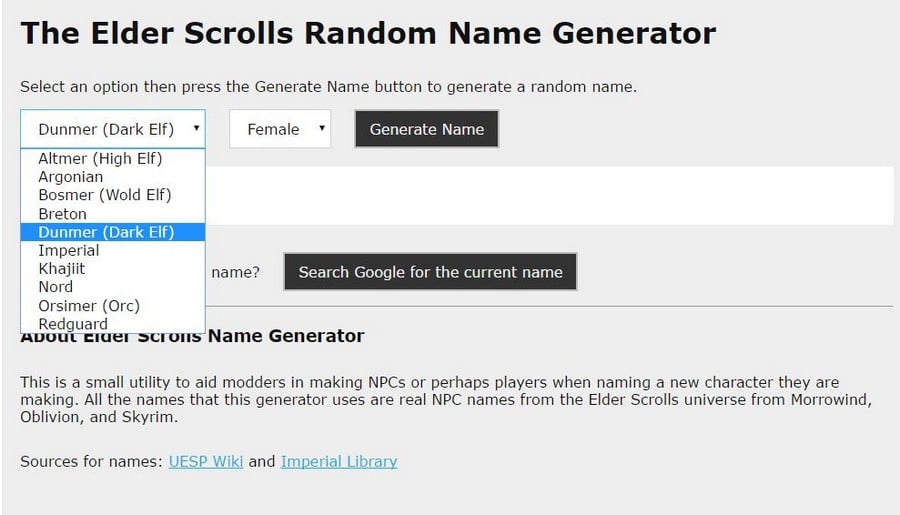 The site is not very beautiful to look at, but you're there for the names, right? Once you have chosen the gender and the race click on the generate name button. You will see your new name appear right below.
This Dark Elf name generator offers other options that the other Skyrim name generators don't. To the right, you will see a box that says Your Options. In the first drop-down menu, you can either choose to get a Clan, First or full name.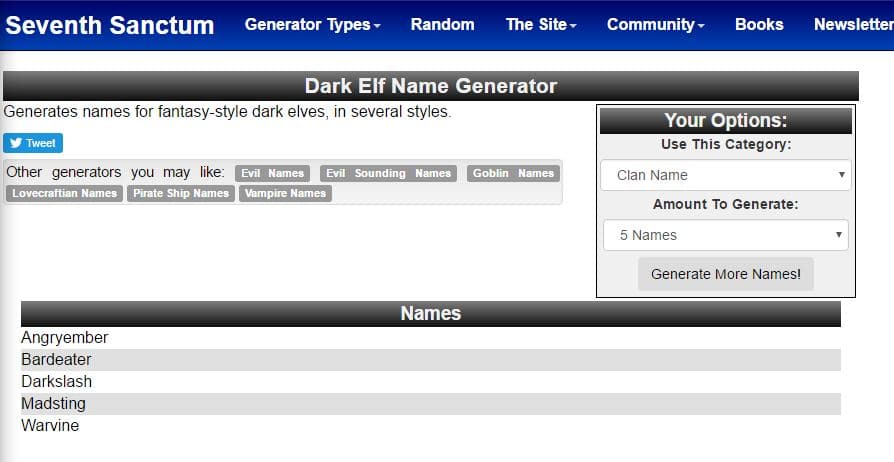 In the second drop-down menu, you can choose how many names you want to see. You can either make a choice between 1, 5, 10, 15 or 20 names. Once you have made your selection, click on the, generate more names to get results. If you want to see more names, keep clicking on the Generate more names button, and you will simply get more and more results.
8. Skyrim Character Name Generator
You can't complain about the amount of names this Skyrim character name generator gives you, but I would change one thing. It would modify the fact that to get the 119 first names it provides, you have to go to one page and to get your last name you have to go to another. It would have been nice to get both first and last names on one page, don't you think?
If this is something you don't mind doing, you get as many names as you want, but only 119 at a time. You can refresh the site as many times as you want and each time it will give you new names.
Enhanced games site also has a Dark Elf Generator that you might be interested in. Besides having a beautiful design, it also gives it a unique touch to creating your Dark Elfe names. How so? The names on the other Dark Elf Name generator sites were short and easy to pronounce, but these names are real tongue twisters.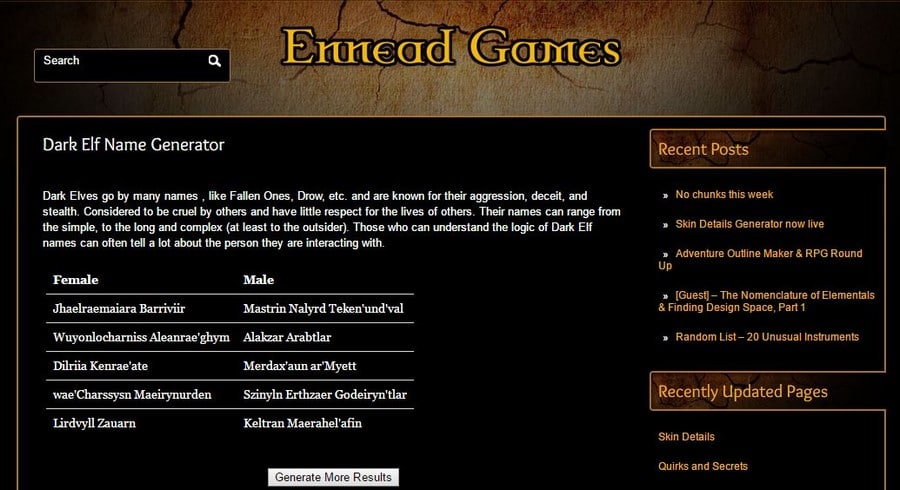 For example, try pronouncing this name Szinyln Erthzaer Godeiryn'tlar. See what I mean? You will also see two columns, one for female names and another for male names. In each column, you can choose between five names, but if you don't like what you see, you can always refresh by clicking the Generate More Results' button.
The site may not give you as many options, but you can refresh as many times as you want. The design of the site is also beautiful to look at.
10. Argonian Name Generator
Last but not least, you have the Argonian Name Generator, by namegenerators.net. It's the perfect generator for those gamers that like to keep things simple and only want to go by one name.
That sounds like a good idea since some of the greatest artists of all times have only used one name. You have Adelle and Prince if they can go by one name, why can't your Argonian character?
When you click on the Generate name button, you will only see one name right above. If you changed your mind and wanted to remember a name you saw a few clicks back, scroll down to see the names that have been generated.
If you see one you like, click on it, and to your right, you will see a Favorite names column where all the names you select will appear. You can click on as many names that will fit into the column, and when you have added all the ones you want, you need to copy them before you leave or they will be erased.
If you have some time and feel like reading a little on the Argonian culture, the site gives you that information as well. You can read about Argonians and how difficult creating a name for then can be. The reading material is only a few paragraphs long so that it won't take too much time away from you.
The site also explains the prefixes it uses to create the Argonian name. For example, the site uses prefixes such as Antigon, Claud, Alex, Dioclet, Andros, Acles, icus, ula and much more.
The Pro Review from TechReviewPro
With all these Skyrim name generators for Argonian, Dark Elf, and Nord names you are bound to find at least a few you will like. I found quite a few that I thought were perfect fits for me, but there is one issue.
The only thing you might have trouble with is choosing which one to go with since there are so many good options on each and every one of the Skyrim generator sites. Just remember to think carefully since once you choose the name, there is no going back. What kind of name are you looking for?
Also Read: