Other sites like Craigslist? Well, the title might seem awkward to you. Craigslist is one of the best online classified ads sites. So why you need other sites like Craigslist? There may be many reasons why you may need to find other sites similar to Craigslist. I'll tell you the serious downside of Craigslist shortly, but before that let's know what is Craigslist, in the case, you don't know.
Craigslist was one of the best things that have happened to the Internet. It brought our digital world to the modern concept of classified advertisements. As you know, these classified ads are short and crisp but help you get the right buyers or sellers. Having started in the 90s, Craigslist is still one of the most popular places on the World Wide Web.
Nevertheless, there are some serious downsides you'll find with Craigslist, the lack of transparency being the major one. So, chances are, at some point, you will need a better Craigslist alternative for your online classified advertising needs. As it turns out, there are some excellent other sites like Craigslist to get the job done.
Also Check: Sites Like Pinterest: Top 8 Websites and Apps Like Pinterest You Should Know
Other Sites Like Craigslist: Top 10 Best Free Online Classifieds Sites Similar to Craigslist
To help you with the selection, we are here with a collection of the top 10 best other sites like Craigslist. We have been careful enough to choose the best websites, based on our experience and user-opinion. So, you would have the best online classified advertising sites similar to Craigslist in the end.
Oodle.com is one of the most popular sites similar to Craigslist and a sure-shot competitor. It was started as a competitor for Craigslist but offers many more features. The best part about Oodle.com is that it does not limit results to website content. Instead, you can find classified listings from sites like eBay, Local Ads as well as platforms like MySpace and ForRent. So, better results are a reason to go for Oodle.
In comparison, Oodle has a minimal interface, and you can log in using your Facebook account. It's available in United States, United Kingdom, New Zealand, Australia, Canada, Ireland, and India.
Recycler is another name you can count when you think Craigslist isn't enough. It also started its service as an alternative-cum-competitor for Craigslist, a few years back. One of the best things about Recycler is its in-depth social media integration. You can easily connect your Facebook account and share the listing on the News Feed or Timeline.
Also, Recycler has an impressively wider collection of classified ads, including those for categories like Jobs and Music. In short, Recycler is an excellent shot if you are looking for a better set of collection and features. It's completely free to use, but you can have a premium account if required.
Also Read: Picasa has Gone Away – 6 Best Photo Organizing Tools and Alternatives for Picasa
Are you looking for an advanced yet simple other sites like Craigslist? Then, OfferUp should be an optimal choice which is similar to Craigslist. It backs itself by a fully-fledged smartphone application, which you can use for posting classified ads. Suppose you have a table to sell., you can simply capture a picture using the mobile phone and share it directly.
Also, you can have better communication with the seller. If the buyer thinks your price is too high, you can involve in a short bargaining session. Summing up, OfferUp offers a bunch of extra features for security and ease of use. That is, you can get the job done in a few taps and all.
Close5, earlier known as eBay Classifieds, is a superb alternative site similar to Craigslist. It comes from eBay, which is a popular online marketplace for new and used products. Unlike eBay, however, Close5 is made for classified ads and nothing else. One thing about Close5 is the availability of smartphone apps for Android and iOS. If you have a Close5 account, you can find and post listings from any part of the world.
Being a product from eBay Group, Close5 is trustworthy and transparent. When compared to Craigslist, it's offering better options for buyer-seller communication and purchase protection. It's available for the most part of the US.
Also Read: 6 Best uTorrent Alternatives for Windows and Mac OS X
eBay is popular as an online marketplace, we know. When you have something to sell, you can use eBay with confidence. You just need a free account to do that. It doesn't work like classified advertisement sites, though. You can put up a page with details of the product for sale — regardless it's new or old. Just as the case with other online shopping sites, people can click the 'Buy Now' button and get the product shipped to home.
When compared to Craigslist, eBay is offering better purchase protection and the professional level quality for sales. The best part is that you can directly pay the seller and get the item shipped — and, vice versa.
Geebo is the typical other sites like Craigslist and one of the best sites in the category. Just like Craigslist, Geebo is having a wide-enough collection of classified ads — including Construction, Real Estate, Employment, and Vehicles. The chances are high that you can find the suitable category for your to-be-sold product or service.
In comparison, Geebo is a lot more user-friendly choice for those who need better results. The same easiness is there when you want to find the product you need. There are many options for having better seller protection and purchase features. What's more, it's available in a variety of locations.
Also Read: 3 Google Authenticator Alternatives to Secure Your Online Accounts
ClassifiedAds.com has been in the industry for a long while and is considered as one of the best sites similar to Craigslist. As you can guess, it's a free website that covers different areas of classified ads. For instance, you can publish advertisements in Jobs, Pets, Personals, Services and Community sectors. And, there are smaller categories for all these, if you are not satisfied.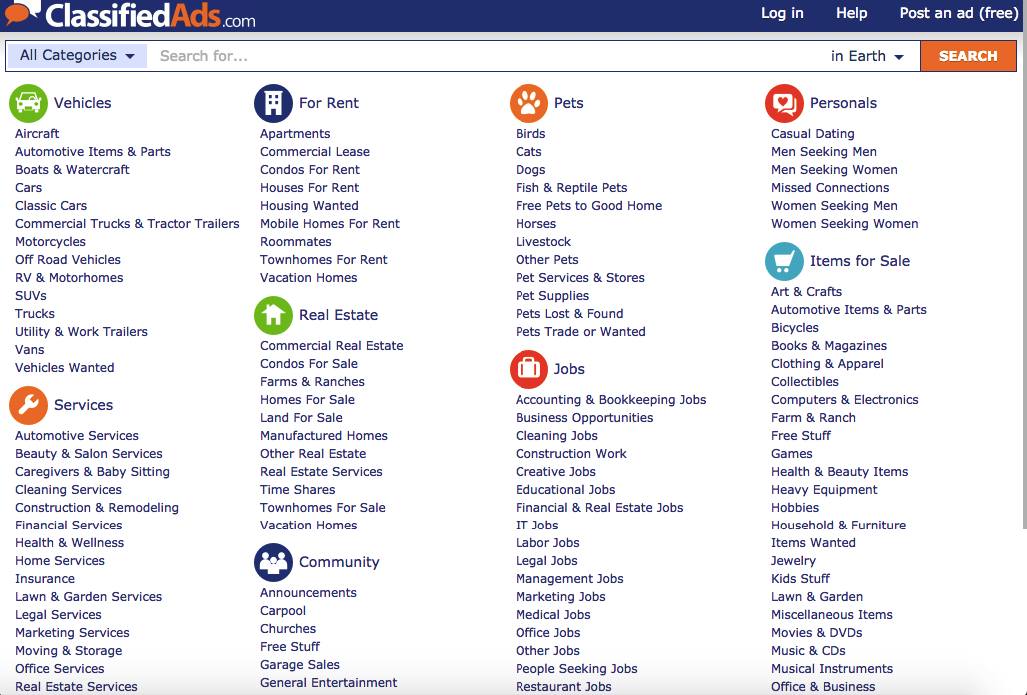 Based on our experience and user-data, we think this website has a better collection of classifieds and user-reach than other sites like Craigslist on our list. Also, the design is simple and truly minimalistic. You can have a Global Search or a location-specific search.
Also Read: Google Alternatives: Top 10 Best Free Search Engines Other Than Google
Backpage.com is another dedicated platform for publishing and finding classified advertisements. It's easy to use and covers different locations. In United States, Europe, Canada and Asia, Backpage.com serves a huge number of countries and specific cities. So, at the same time, Backpack.com is a global and regional-focused solution for selling and buying used/new products.
It works exactly like Craigslist because you have no option for buyer protection or anything. You can simply post an advertisement and let people contact you over that. However, there is an option to purchase Credits, which you can use throughout the site. Overall, it is a good Craigslist alternative option if you are looking for other sites like Craigslist.
Sell.com is one of the best Craigslist alternatives if you need other sites like Craigslist with a fully-fledged platform for selling products. It's offering a bunch of integrations and features similar to Craigslist. For instance, you can import products from eBay or other commerce platform and make them available in Sell.com.
Judging by the looks, Sell.com is more or less like a shopping site — though, not much professional-looking. And, you can find almost any type of product in the list, including DVDs, Electronics, Clothes, etc. In short, we recommend Sell.com if you are looking forward to other sites like Craigslist for professional-level buying and selling.
Also Read: What was Yahoo Pipes? How did Yahoo Pipes Work? – Top 8 Best Yahoo Pipes Alternatives
Last but not the least, we have Fiverr on our list of best online classified ads other sites like Craigslist. Fiverr is an exclusive online marketplace for professional services. It is the best choice if you are offering some services or need someone. You can count on Fiverr when you are looking for digital services like writing, translation, video content, programming, tech, advertising, and even music.
There is the best-quality buyer-seller protection. Everything is delivered digitally, and you can pay via Fiverr. You may have to pay some commissions or something, but results are assured. It's the best pick when you need instant results.
Also Read: Sites Like Reddit: 9 Alternative Websites Like Reddit You Must Know
The Pro Review from TechReviewPro
These are the best other sites like Craigslist we've found through our research. As you can see, some of them are common alternative sites similar to Craigslist, but while limit themselves to advertisement posting. If you are looking for the professional service collection, you can go for Fiverr. But, if you need a global audience and reach, we would recommend Close5 or Oodle.com. Also, before choosing, you should consider the availability of protection as well. That said, all the listed other sites like Craigslist are trusted and used by thousands of people worldwide.
Don't Miss: