No matter whether you control a public WiFi or just have a basic personal WiFi network, knowing who is connected to your WiFi always helps. Who knows, maybe someone might have unauthorized access to your network. So knowing who is connected to your WiFi network can certainly help you stop unauthorized users from accessing your network by connecting to your WiFi.
Because, no matter whether someone's accessing your WiFi without your permission or with your consent, you should always monitor the devices connected to your WiFi. But, how do you do that? How do you check your WiFi status or how do you know if someone is connected to your WiFi network?
Fret not, there are multiple apps (for smartphones and PC) to help you monitor the devices connected. In addition, you can access the stats from your router as well.
How to Know Who is Connected to My WiFi?
In this article, we will tell you everything you should know about it. We'll share some of the apps to monitor who is connected to your network on Windows PC, and Mac.
You'll also find some of the best Android and iPhone apps for checking who is connected to your WiFi. Finally, you'll learn a way to checking the WiFi connection status directly from the router.
So, after reading this article, you'll be able to find out who is connected to your WiFi network and also monitor your WiFi network connection.
Apps to Check Who is Connected to your WiFi on PC and Mac
WiFi Inspector 2.0 by Riverbed Technology is a WiFi management application. You need to sign up for the trial with valid details that includes your contact number in order to try it.
You can definitely try it out – however, I will recommend this for enterprise users (or professionals) who need to manage their WiFi network and monitor who's using their network.
To talk about the features, you can search for WiFi networks, troubleshoot issues, verify WiFi coverage, control the WiFi connection, detect connected devices, and can do a couple more things using WiFi Inspector 2.0.
It is available for both Windows and Mac. So, try it out if you think this is the one you were looking for.
If you want a simple software tool for your Windows PC just to see the devices connected to your WiFi – this would be my best recommendation.
A lightweight application to get the job done. It detects the network adapter company, IP address, device name (for PC), MAC Address, current status, and the detection log as well.
You can also add your own user text when the software detects a device so that you can easily identify it.

GlassWire is a free WiFi management application that gets a lot of things done. You can purchase the full version to unlock all the features and use it to its full potential.
It is an impressive app with a beautiful interface. Let's talk about it what it offers:
You can monitor your network activity using GlassWire. In my opinion, this would be the favorite go-to application to know who's connected to your WiFi.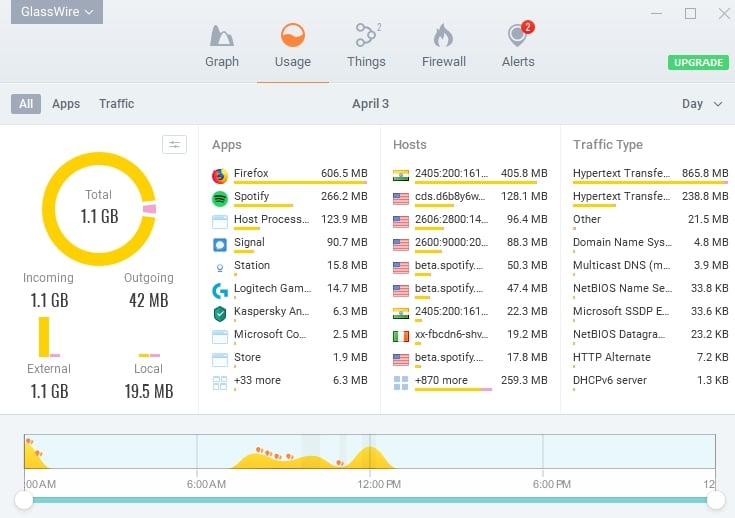 In addition to this, you can monitor which applications utilize your network traffic and when. If you detect something that looks malicious, you can block it via the firewall of your Antivirus or Windows Defender.
It doesn't end here – you also get to know the data usage and the details of the host server to which the data is being transmitted on your network. Heck, you can even enable scanning via Virus Total so that the applications and services remain in check.
However, you can upgrade it to retain more history and issue licenses for multiple PCs if required. For most of the common users, you won't be needing the paid version, but it is still an option for you.
Apps for Checking Who is Connected to your WiFi on Android
A quite popular app to monitor WiFi activity and to secure your network in case you think your personal hotspot connection is being abused.
You can scan all the connected devices using this application and then manage the connections easily.
Net Master (Android)
Net Master is yet another Android app to help you monitor your WiFi network and protect it against unauthorized access by detecting the devices connected to your hotspot.
It also includes free VPN – in case you want to get around a content restriction over the Internet.
If you want a simple app for your Android smartphone to get the details of your WiFi network and the devices connected to it – this should be the one to have installed.
It's rather a very simple solution with not-so-impressive UI but displays the required information. If you want more detailed insights, you can opt-in to upgrade or purchase the WiFi Monitor Pro.
Apps to Know Who is Connected to your WiFi on iPhone
Fing is a free network monitoring app for iOS devices. It is one of the most popular tools available for checking who is connected to your WiFi network on the iPhone. You can check your Internet speed, nearby WiFi networks, and also monitor the devices connected to your WiFi.
There's actually two version of it – one is the full-fledged version (Network Analyzer Pro) and this is the lite version. For advanced network info, you need to purchase the pro version.
If you just want the basic details along with the connection info to know who's connected to your WiFi, the free version will work just fine. The user interface may not be appealing enough – but it provides all the necessary details you will ever need.
Using the Router's Admin Panel to Know Who is Connected to Your WiFi
Did you know that you can monitor your WiFi network using your Router's admin panel – if you happen to be using one?
For example, you have a router from D-Link, TP-Link, or NETGEAR. You will be able to monitor the network activity from right there.
Although, you need to make sure that you know what you are doing – or else you can mess up your own network configuration.
Note: In some cases, the network equipment manufacturer does have official apps to help manage your WiFi network – so you need to ask them just to be sure.
For reference, you can check out TP-Link's official FAQ page to block connections using a mobile app. Similarly, look for official guides or seek support from the respective manufacturer if you want to access the admin panel of your router and manage things from there.
Conclusion
Now that you know the variety of ways with which you can easily monitor your WiFi network and see who's connected to your WiFi – start securing your network and prevent people from abusing it.
If you are using a Windows machine, I will definitely recommend to try out GlassWire because it lets you know which applications use your network and when. Nowadays, people get worried about their privacy – so this application should help you in some way.
In either case, you've got mobile apps and desktop counterparts – use what you feel comfortable with. But, be careful before making any changes via the router's admin panel.
Let us know what you think about it. Do you know some interesting ways by which we can monitor our network? If so, feel free to tell about it in the comments below.
Related Resources: